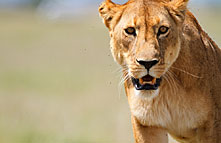 Meru Mountain Treks & Safaris
4.0/5 – 27 Reviews
Located In:

Size:

10-20 employees (Founded in

2004

)

Member Of:

Kilimanjaro Association of Tour Operators

Tour Types:

Budget & mid-range tours with set start dates and a fixed itinerary

Destinations:

Price Range:

$160 to $550

pp

per person

per day

(USD, excl. int'l flights)

Meru Mountain Treks & Safaris
Rating Breakdown
ERic
–
Visited: May 2014
Reviewed: May 30, 2014
20-35 years of age | Experience level: first safari
Serious honest and hardworking for a fair price
Communications, food service and accomodations was very satisfying. I hoped we had seen more animals, maybe the driver could have driven to more different places within serengeti. We drove a lot on the same area. At the end I was very comfortable wit meru treks! Thanks
Ivan
–
FR
Visited: October 2014
Reviewed: Nov 18, 2014
35-50 years of age | Experience level: first safari
Amazing Safari
I did the 5 days safari (Tarangine, Serengeti, N'gorongoro, Manyara) with 3 other persons ( i joined a group). So five days were very intense (lot of driving) but it worths every km and mn.
I took the tent camp safari. The camp sites were beyond my expectations: Panorama camp site (2 ights), camp site in Serengeti (1 night) and camp site Simba A (1 night). And the last night in Arusha (Raha leo guesthouse) was included in the price aswell.
It was low season so the Park were "empty" so we could enjoy the view and the animals without any disturbance.
Regarding the company, we had the best guid and cook ever: Mickael and Amani. Those two were the reasons why this safari was perfect.
I really recommend this company.
Ivan, french traveller
Matthieu French
–
FR
Visited: July 2014
Reviewed: Jul 23, 2014
20-35 years of age | Experience level: 2-5 safaris
An incredible Safari, a good logistic, very nice guide and cook who fulfil our projects!!!
The overall experience with Meru Moutain treks and safari has been amazing. This is a budget Safari but you definitively get everything that you need. I went for a 4 days, 3 nights safari in Tarangire, Serengeti and Ngorongoro Crater. Everything has been working perfectly. The guide was friendly and very knowleadgeable. He drives safetly and took time to show us a lot of things and to listen our wishes which match with the scheduled. We had some amazing game drive in the different parks and we saw a lot of animals and we have been most of the time in a good timing to be some of the first one where the action was. The cook was very friendly and cook for us good meals, with everything needed (vegeteables, meet, starchy food) and more than enough concerning the quantity. It has been a life time trip that i will never forget. I can only recommend to you to go travel with them. Thank you again for everything!
Dong-Soo Jeong
–
KR
Visited: June 2014
Reviewed: Jul 3, 2014
Email Dong-Soo Jeong | 50-65 years of age | Experience level: 2-5 safaris
Detail information, kind explanation before travel and truehearted service during travel
I can get a detail information and kind explanation from a managing director before travel and a feeling of satisfaction from the truehearted service of both driver and chef during travel. Also the price is reasonable.
Lilian and Renato
–
BR
Visited: November 2015
Reviewed: Nov 15, 2015
Just perfect!
All went perfect in our 3 night safari. Mr Ibrahim always tried (successfully!) to accomodate all our needs, and we consider flexibility and dedicated customer care to be one of the qualities of this company. Our guide Johnson was a great 4x4 driver and had very good knowledge of the wildlife. We had an unforgettable experience, fully pleasant, with reliable professionals that knew how to do their jobs well. Thank you very much, Mr Ibrahim.
chen valdman
–
IL
Visited: September 2015
Reviewed: Nov 15, 2015
Email chen valdman | 20-35 years of age | Experience level: first safari
excellent safari - meru treks
we were very satisfied with meru treks - excellent services and excellent guid!
meru treks is very attentive to the needs of travelers and will do everything in order to give you the best safari experience
Jagna
–
PL
Visited: September 2015
Reviewed: Nov 3, 2015
Email Jagna | 20-35 years of age | Experience level: first safari
Fantastic experience, welcoming and helpful staff
My boyfriend and I went for a 5-day safari including Serengeti, Ngorongoro and Tarangire Park. The experience provided by Meru Treks exceeded our expectations. The manager Ibrahim suggested a very good itinerary, was very well informed and helpful. He picked us up when we arrive in Arusha and took care of our accommodation after the safari.

Our guides were very nice and approachable. Although they have been driving in the parks so many times, they still understand the first timer excitement. Thanks to them we were able to enjoy the wilderness to the fullest. The chefs were excellent as well. I have few dietary requirements and although it is not particularly easy to cook in the bush, they made sure everyone's need was met.

Regarding the flat tires that somebody mentioned in his/her review, every safari group I saw on the way face the issue. Most of the time it was our guys who were helping the others. People are friendly and safari is not meant to be a highway drive. It is bumpy, wild and full of awaiting adventures.

Meru Treks highly recommended!
yarden and ori
–
IL
Visited: September 2015
Reviewed: Oct 12, 2015
Email yarden and ori | 20-35 years of age | Experience level: first safari
excellent
It is highly recommended!
We booked the tour from our country ( Israel ) in advanced.
When we arrived at the airport , Ibrahim picked us up and took care of everything. showed us a restaurant, transformation.
The guide was excellent and also the chefsis his best. we saw all the animals .
Everyone was kind and patient

yarden and ori
It was great \ Recommended;
Lucian
–
RO
Visited: September 2015
Reviewed: Oct 8, 2015
Email Lucian | 20-35 years of age | Experience level: first safari
Very good company with great staff
We had a five days safari and everything went perfect. We had the chance to interact with two different drivers and two different chefs and all four of them were great to us, same as the manager, Ibrahim. Definitely would recommend this company.
Jonathan
–
BE
Visited: July 2015
Reviewed: Sep 20, 2015
Email Jonathan | 35-50 years of age | Experience level: first safari
Great time, good service, good prices
We are very happy to have choosen with Meru Treks in Tanzania.
The company and Ibrahim, the manager, are very reliable. They have organized our safari (5 days in Serengeti, Tarangire and the crater) and our Kili Trek (5 days trek on the Marangu Road) in a few days, just before doing those trips…
So we could book everything in Arusha and that was very very much cheaper than doing it from home.
The service was great and the guides (Olé for the safari and Julius for Kili) were perfect !
After a few talks with different agencies, we could bargain the price with Ibrahim and he was ready to do it.
It's note the most luxurious agency… it's simple, comfortable, reliable and not so expensive
Enjoy !
Disclaimer
All corporate and/or tour info is provided by Meru Mountain Treks & Safaris, not SafariBookings
The tours offered by Meru Mountain Treks & Safaris are subject to their terms & conditions