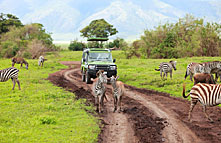 Encounter Africa Safaris
5.0/5 – 273 Reviews
Located In:

Size:

5-10 employees (Founded in

2009

)

Member Of:

Association of Uganda Tour Operators

Tour Types:

Custom budget tours that can start every day

Destinations:

Price Range:

$50 to $300

pp

per person

per day

(USD, excl. int'l flights)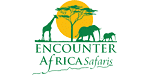 Nina and Erik H.
–
US
Visited: August 2017
Reviewed: Aug 25, 2017
Email Nina and Erik H. | 20-35 years of age | Experience level: 2-5 safaris
Informative Lifetime Experience
My wife and I were planning our honeymoon to East Africa and of course, had to see gorillas during our travels. We came across Encounter Africa online and couldn't have been happier with our choice. From the very beginning communication with the agent was clean, cut and clear and provided us with an enjoyable trip from the time we were picked up at our lodging in Entebbe to Bwindi and until the time we were dropped off at the airport in Entebbe.

Going into detail a little further, we were picked up by a driver named Paul. Words cannot express how grateful my wife and I were to have Paul as our driver, guide and in the very end, a friend forever. After all, you spend 8 hours in a comfortable van each way from Entebbe and Bwindi National Forest, so there is a lot of questions and discussion to be had. Speaking of which, Paul answered so many questions that we had for him. He explained in detail everything we saw from plants, trees, villages, farming, economy, food, animals and of course, gorillas. I could type more about everything we discussed, but trust me, every questions was answered in length and we both felt fully informed on everything Uganda has to offer.

Upon arriving to Bwindi, we were greeted by kind hosts who showed us our lodging which was accompanied with a bottle of wine and flowers for our honeymoon (we were not expecting that). Our lodge was overlooking a valley of the rain forest where we sat for some time watching the wildlife up close. We had two double beds in our tent that were extremely comfortable and dressed with heavy blankets for the chilly nights. The bathroom was extended off the back of the tent to a solid foundation that was very clean and open.

Food: Amazing. Really it was. My wife and I planned our safari and gorilla trekking for our first leg of the honeymoon thinking we would lose some weight roughing it for a week before hitting the beaches of Kenya for our final week. Well, we were wrong. The food was unbelievably great. Superb job by the chef. I still talk about the fish we had one night.

Gorillas: Words can not describe the rush during this experience. The pictures, video and even the extremely close encounters we had with the gorillas was breathtaking. The guides were friendly and very helpful making this experience the way it was. Again, I can go into length about this experience but I'll just sum it up as you cannot miss out on this opportunity during your lifetime. If you are contemplating going gorilla trekking, just go. You will not regret it.

One last shout out goes to our driver Paul. He went above and beyond his service provided. Thanks for stopping roadside so we could buy raw honey. Thank you for stopping at the bank so we could pick up cash. Thank you for dropping us off at a restaurant for dinner on our last day since our flight wasn't for several hours later and then you came back to drive us to the airport. You're a great asset to your company.
Thank you again for everything!


Brooke & Chris
–
Visited: July 2017
Reviewed: Aug 9, 2017
Email Brooke & Chris | 20-35 years of age | Experience level: 2-5 safaris
Incredible Experience and Highlight of our Trip
To begin with, the booking of the tour was extremely smooth and easy. Communication with Chris at Encounter Africa Safaris was fantastic, always getting back to us within 24 hours, if not earlier. Making payments for the tour and confirming arrangements was extremely easy. This was the best value for money tour we have ever completed in our travels, it did not break the bank yet was the most incredible travel experience of our lives. Jason our Airport transfer and driver was the most welcoming, accommodating and knowledgeable driver. The food at the Broadbill Forest camp where we stayed was the best food we had on our travels through Africa, The accommodation was impeccable and the staff delightful. The tour to see the Gorillas was incredible, we felt so lucky to be able to have the experience and get so close to these beautiful animals. Encounter Africa Safaris did an incredible job or organizing our tour without blowing out our budget, like many other tour companies do. Highly Recommended!! and we will absolutely be back to use the same company in the future.
Annette
–
Visited: July 2017
Reviewed: Jul 16, 2017
Email Annette | 35-50 years of age | Experience level: first safari
Good experience, a few suggestions for improvement
The email communication from the beginning was very prompt and helpful. The payment was a bit complicated, because we had to pay in cash from Rwanda but they arranged for someone to pickup up the deposit and we paid the rest on day of tour. The vans are old and quite rattly, also it is hard to see out the windows if you are tall. A/C in the van wasn't turned on and we had to open windows which created a lot of dust. Also, we didn't get our free water in the vehicle until we reached our destination! Also, the music was on in the van and it was hard to hear each other talk. A metal pole broke off the side of the van and was hanging down (dangerous) so we tied it up ourselves because the driver didn't seem to care. Our driver guide was very good and knowledgeable. Though, on the day to drive home we felt like we were rushed to be up at 6am so we could get back to Kigali because he then had to drive back Uganda after he dropped us home. We really wanted a sleep in (after our hard hike to gorillas) but we felt pressured - I think that this should have been our call to leave later (we left Kigali at 9am so should have left Uganda at 9am). The stop in Kampale on the way home was a bit ad-hoc and odd - sat at a restaurant on a busy street to eat our packed lunch, then went to find 2 craft stores and driver had to have the car washed at the same time. We think that the car should be washed at a time when the passengers are not using it, or else it feels like we are spending our tour time waiting for the car. Overall, if you are looking for a more budget tour option then this one is a good choice. If you want to spend a little more for a better vehicle and nicer accommodation then you should shop around.
Cameron
–
US
Visited: July 2017
Reviewed: Jul 13, 2017
We booked a last minute gorilla trip with Encounter's helpful services and had a great time.
Chris was very helpful with our last minute booking and was able to give us exactly what we wanted. Our guide Tolbert was very professional, helpful, and very sharp.
Simon Poulter
–
Visited: May 2017
Reviewed: Jun 12, 2017
Email Simon Poulter | 35-50 years of age | Experience level: first safari
Well looked after and very knowledgeable guides.
We used Encounter Africa while filming around Cities and villages near Jinja and Mbale. Mark our fixer was very knowledgeable about the wildlife and was pretty much part of the filming crew by the time we left. I'd thoroughly recommend Encounter Africa.
rob and maddy
–
Visited: May 2017
Reviewed: Jun 1, 2017
Email rob and maddy | 35-50 years of age | Experience level: over 5 safaris
excellent and memorable trip.
From being referred by a friend to being dropped off at the end, our trip was superbly organised by Chris and his team. Our guide, Joseph, was very friendly and was constantly checking that we were comfortable and enjoying ourselves.
The trek to see the gorillas was superb and enough of a challenge for us to feel that we had earned the privilege of spending some time with them in their habitat.
If you are considering a gorilla trekking experience; Chris, Joseph and Co. are fantastic!
Scott Horsfield
–
Visited: May 2017
Reviewed: May 30, 2017
Email Scott Horsfield | 35-50 years of age | Experience level: over 5 safaris
Uganda Film Fixer Services
I don't think you could find a better fixer service in Uganda.

From initial contact to dropping us off at the airport, Encounter Africa Safaris were professional and excellent. What's more they are all thoroughly decent chaps you can have a laugh and chat with. We had a two week shoot across two locations for my client's volunteering programme. It involved continuously changing schedules and complexities but Edson and his team dealt with everything with patience and a smile. Mark our driver/fixer was way more than a fixer, he was a fourth crew member. He would watch how we work and seamlessly fit in helping out wherever he could. He shielded us when we had the authorities asking us questions, provided suggestions for shots and got us out off any tricky situations before they got too tricky. What's more he was a thoroughly great guy as interested in telling us about Uganda as he was in finding out about us. He really did become another member of the crew, making the long drives more enjoyable with his knowledge and sense of humour. I cannot recommend them enough.
Eva G
–
AE
Visited: May 2017
Reviewed: May 24, 2017
Email Eva G | 50-65 years of age | Experience level: 2-5 safaris
6 Day Trip with emphasis on Wildlife (Gorillas!)
Both, Chris in the office and Tolbert 'on the road', were extremely helpful and flexible, making this an awesome experience all around! Thank you very much.
Max
–
DE
Visited: April 2017
Reviewed: May 14, 2017
Email Max | 20-35 years of age | Experience level: first safari
Wonderful experience during off-season - individual tour with a great personal touch
Lets be honest, I didn't know much about the country, except that you can see gorillas, chimpanzees und much more wild animal in their natural habitat.
So I was very glad that I found Encounter Africa Safaris, in person Chris, who arranged an individual tour for me including the following major activities and lodges:

- Lake Mburo NP / Lake Mburo Safari Lodge
=> Game drive, boat ride at Lake Mburo
- Bwindi Impenetrable NP / Broadbill Forrest Camp
=> Gorilla tracking
- Queen Elizabeth NP / Buffalo Safari Resort
=> Game drives, boat ride at the Kazinga Channel
- Kibale NP / Rwenzori View Guest House
=> Chimpanzee tracking, Bigodi Wetland walk
- Murchison Falls NP / Murchison River Lodge
=> Game drives, boat ride at the nile, visiting top of the falls

I started planning my tour in january 2017, Chris always replied very fast and competently, always trying to make my wishes come true. Payment worked out without any problems, I felt well looked after all the time.

When I arrived at Entebbe, my guide and driver Joseph picked me up at the airport and brought me to my hotel for the first to nights in Kampala. I liked Joseph from the first moment I met him. He is a very funny guy but he is also very wise and has a wide range of knowledge of wildlife and the country. I wish I could have remembered everything he told me. He knew a lot of people along the route, so he was always informed about the best routes or places to spot the animals. When I had specific wishes for things so try or bring as a souvenir, it was no problem for hin the help me out great, he also had an eye on me, that I didn't have to pay way overpriced "mzungu-prices". He also knew some special activities (like going to Lake Katwe and getting some volcano salt or having a seperate boat ride to the hotel after visiting Murchison falls) or places to have great local food.

One special thing was my surprise birthday party after the gorilla tracking. I didn't know anything about it, and after dinner the complete staff of Broadbill Forrest Camp came by with a birthdaycake, which we all had together. Thank you for that once again very much!

All the local people I met, where very friendly and helpful, I didn't feel unhappy at no point of time.

All in all I can only highly recommend going to Uganda, even during off-season / rain-season. There where very less tourists. During my 12 days there where only a few hours of rain, which didn't bother me or the activities planned. Also I can highly recommend Encounter Africa Safaris, they are a small, relatively young company, but in my eyes they absolutely know what they are doing.
Really planning to come back!
Last but not least, I want to give a special thank to my guide Joseph; if you are planning to go to Uganda ask for him as a guide, you won't be disappointed.

One more point if you are really planning to go to Uganda and you want to do something good for disadvanteged children, ask while booking. You can do great things with reasonable expenses. Thank you!
Hanne
–
BE
Visited: May 2017
Reviewed: May 12, 2017
Email Hanne | 20-35 years of age | Experience level: first safari
Filming in Northern Uganda
We have organized a filming trip in the Northern of Uganda (area of refugee camps) very short notice. Edson was very helpful to get everything sorted before the departure of our crew and really thinks ahead. Communication with Encounter Africa Safaris went very smoothly and was very professional. They know what they are doing! On the ground our crew was very pleased with fixer Patrick.
Disclaimer
All corporate and/or tour info is provided by Encounter Africa Safaris, not SafariBookings
The tours offered by Encounter Africa Safaris are subject to their terms & conditions