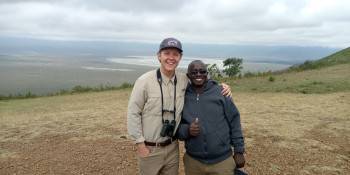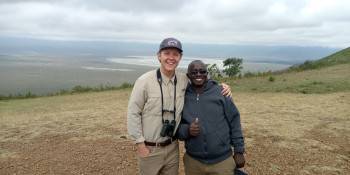 Earthlife Expeditions
5.0/5 – 97 Reviews
Located In:

Size:

10-20 employees (Founded in

2011

)

Member Of:

AMREF

, TTGA & TLTO

Tour Types:

Custom mid-range & luxury tours that can start every day

Destinations:

Price Range:

$175 to $650

pp

per person

per day

(USD, excl. int'l flights)

Shernaz
–
US
Visited: June 2018
Reviewed: Jun 29, 2018
Email Shernaz | 50-65 years of age | Experience level: first safari
Beyond Excellent!!
I contacted several safari operators before deciding on Earthlife and I am SO glad that I did! Communicating with Deo, the owner was easy and prompt. He was a true professional, and very honest. He used to be a guide, so knows first hand about the pros and cons of the various safari destinations. He did not steer us wrong.

We are a very well traveled family and this was by far our most favorite trip! The accommodations were absolutely fantastic and the food was amazing! Deo gave us exactly what we would have wished for. The safari vehicle was well maintained. Our guide Jeff was MORE than amazing! He could find even the most illusive animal and we were always the first ones on the scene! He was also quicker than a google search in telling us about each bird, animal or flower AND he had eagle eyes! He spotted the endangered black rhino from about a kilometer away and then sure enough when we drove closer - he was right!! He also cleaned out the vehicle every day and was just such a nice human being of great character. After eight days, we felt like family! On our way home, we broke journey in Doha and the hotel concierge recommended a desert safari. Our adult boys without hesitation, told us "no Jeff no safari!!" That says it all!

I would highly recommend EarthLife Expeditions, Deo and Jeff without a moment's hesitation! Asante Sana Deo and Jeff!


Jenna
–
US
Visited: May 2018
Reviewed: Jun 12, 2018
Too Many Great Things to Say About Earthlife Expeditions
My husband and I absolutely loved our trip with Earthlife Expeditions.

The communication with Caudence before our trip began was phenomenal. She was able to plan our incredible safari with such short notice. The accommodations that she booked for us were beautiful, had delicious food, and great ammenities.

Our guide, Joe, was incredible. Your guide can make or break your trip, and he went above and beyond. Not only was he personable and easy to talk to, but we quickly became friends. He was funny & full of tons of knowledge. He even taught us a bit of Swahili, which impressed the hotel staff that we'd chat with. Because of Joe, we saw the Big 5, a stunning sunrise over Tarangire National Park, & had a honeymoon that we'll never forget! Asante Rafiki (Thank you friend)

If you're browsing tour companies, stop looking, you've found the best one.
Betsy
–
US
Visited: January 2018
Reviewed: Apr 5, 2018
Email Betsy | 50-65 years of age | Experience level: 2-5 safaris
Deo was great to work with.
We had the trip of a life time. Our guide Paul was awesome this was my 3rd safari first to Tanzania but by far the best. The camps where well equipped and the food was great.
I would highly recommend Earth life we are now planing a trip to the Southern circuit.

Debbie Lodewijk
–
CA
Visited: March 2018
Reviewed: Mar 30, 2018
Email Debbie Lodewijk | 35-50 years of age | Experience level: first safari
We are seasoned travellers amd this was our favorite vacation ever! Top notch service and experience
We had a trip of a lifetime with our guide Junior (Godlisten) of Earthlife expeditions. All staff very very helpful and went the extra mile many times during our adventure. Our luggage was delayed 4 days and our guide purchased clothing and basics for us so that we could enjoy our first few days, he even gave my fiance his own clothes to wear (shirt, shorts, sandals) and then drove hours to pick our luggage up that was a detour from our itineray while we rested at our homestay. Our itinerary was a dream, we saw everything and so much more than we hoped. Our guide was very talented at positioning the vehicle and reading animal behaviors for extraordinary photo opportunities, I noticed we had better vantage points often than other safari vehicles. All accomodations were excellent. We asked for a trip to Kilimanjaro and a local village homestay and these were added on without any issues to our itinerary. We met many local people and had a wonderful cultural experience in addition to the safari that was authentic and private. I was very impressed with the skills and talents of our guide, he was fluent in 5 languages, a mechanic and handy man (which is important on the rough roads), great help negotiating at local markets and with guides. I have a keen interest in agriculture and ethnobotany and Junior made sure I had many opportunities to learn, including an improptu bush walk with the local Masai people to learn about medicinal plants. We had a surreal experience of coming uncomfotably close to a lioness while at an observation point in a park out of the vehicle (a place permitted to be out) and he was calm, and instucted us on what to do in a way that minimized our stress and fears, the lioness continued on her way, an experience we won't soon forget! Junior cleaned the vehicle every day and there was a fridge and charging ports in the car which were muchly appreciated as camera batteries don't last long with all the photo opportunities. We shopped around with several companies and feel we had excellent value and a wonderful safari vacation with Earthlife. At the conclusion of our safari they even booked our domestic flight to Zanzibar and met us at the airport with our tickets and arranged transport to our next hotel even though our tour with their company had concluded. We highly recommend and are grateful for the memories and experience we had!

Louise
–
Visited: March 2018
Reviewed: Mar 21, 2018
Email Louise | 35-50 years of age | Experience level: first safari
Trustworthy operator - highly recommended
We selected Earthlife Expeditions after contacting a number of highly rated safari operators in Tanzania. Only Earthlife provided the itinerary that we were looking for, with the type of accommodations we had asked for and the requested number of nights.

Communications with the owner Deo were prompt and polite. We also contacted a number of previous customers who gave positive feedback.

Unfortunately we had to cancel our safari several months before travel due to a change in circumstances. In accordance with Earthlife's terms and conditions (provided before booking), a portion of the deposit was transferred back to us within a matter of a few weeks. Trust is a huge aspect of booking directly with an operator based remotely and Earthlife have proved themselves to be reputable and trustworthy.

We will certainly use them in the future.

Gabrielle M
–
CA
Visited: November 2017
Reviewed: Feb 15, 2018
Email Gabrielle M | 50-65 years of age | Experience level: first safari
Excellent company - Trip of a life time
We picked Earthlife from seven responses for information I received from a recommended 10 companies I saw. Caudence was quick to respond with a very comprehensive proposal. She gave an outline of a potential itinerary and explained what we would see, with the suggested accommodation to review. We wanted a taste of Tanzanian's animals, landscape, culture, flora and fauna and that is what we got. We also wanted to visit the mountain gorillas in Uganda and she arranged that for us. Through a few prompt communications we completed an itinerary to suit us including a trip to the base camp of Killimanjaro.
Our driver/guide Aggrey was there to pick us up in Killimanjaro to start our adventure. He was so accommodating. It was a private tour for my husband and I so he was there to suggest, recommend and implement "the plan". He was an excellent driver and easily spotted animals that we never even saw. We had a fun time with him and there was no clock watching, he was there for us!!
The company was professional and very friendly. We even visited their offices for a pre and post trip briefing. Everyone made sure we were happy and we certainly were. We highly recommend Earthlife and have a life time of memories. Thank you.
Linda and Don
–
CA
Visited: January 2018
Reviewed: Jan 23, 2018
Email Linda and Don | 65+ years of age | Experience level: first safari
Fabulous, Gilbert is the best! He is polite and makes sure your needs are met. Goes out of his way
The whole trip was fantastic! Gilbert made sure we saw as many animals as possible. Accommodations and food were excellent. The whole experience was wonderful and certainly lived up to our expectations and more.

We would highly recommend the company and Gilbert as a guide.
Navya
–
SG
Visited: August 2017
Reviewed: Jan 14, 2018
Email Navya | 20-35 years of age | Experience level: first safari
A phenomenal and memorable experience!
I am so happy I stumbled upon Earthlife Expeditions online. I reached out to various tour providers online, however Mr Deo's immediate and prompt response, along with a detailed itinerary and a bunch of different tips and suggestions instantly stood out from the other providers. I was organising a family holiday, which was a task made even more daunting by the fact that my parents wanted a laid back, luxurious safari, and my younger brother wanted adventure.

Mr. Deo was not just understanding and accommodating, he was also incredibly flexible with the itinerary and gave us great recommendations. Having been in the industry for so long, he really knows it inside out. In addition to that, he is very warm, and goes the extra mile to make sure his clients are well taken care of. He really does make it a point to see to things personally.

Our trip started in Tarangire, and we continued on to Manyara, Central Serengeti, Northern Serengeti (to see the migration) and finally the Ngorongoro Crater.
The team took care of everything, from accommodation bookings, to food, drinks and the entire travel with all permits. The quality of the lodges and camps were phenomenal. Like something from the movies! There were enough and more safety precautions taken, and we never felt scared or worried. The food was absolutely delicious, and we ended our trip in Zanzibar where we stayed in a small boutique hotel (which was absolutely beautiful!).

Our guide, Mr. Gilbert, was very friendly, and incredibly knowledgable about all the animals and the birds. He is so warm and friendly, we really took to him immediately. He had a great sense of humour and we were really very fortunate to have him as our guide.

As unforeseen issues can affect anyone, we did have a slight issue towards the end of our trip with the car, which unfortunately was difficult to rectify as we were in the middle of nowhere. However what was heartening were the steps Mr Deo took to make sure that we were comfortable and duly compensated for any inconvenience. He made it a point to meet us at breakfast before we left for Zanzibar to take down all of our personal view points and to make a note of our feedback. This not only demonstrated great service but also showed us how personally involved Mr Deo is with all of his clients, and that he will go the extra mile to make sure we have a good holiday.

Issues can happen with anyone, anytime. The real difference is when you're well taken care of throughout, and the tour providers go the extra mile to make you happy.

This really was a trip of a lifetime, memories I will carry forward with me for life. We witnessed the great migration, were fortunate enough to see a Lion and Buffalo hunt from start to end (the buffalo escaped a pack of 4 lions!) and Mr Gilbert made it a point to show us everything we possibly could within the time frame.

I will recommend Mr Deo and Earthlife Expeditions to my family and friends in a heartbeat, every single time. Thank you so so much for making our holiday so memorable!


Jane U.
–
Visited: December 2017
Reviewed: Jan 8, 2018
Email Jane U. | 65+ years of age | Experience level: first safari
The perfect Christmas getaway
Wow! A trip of a lifetime adventure. From start to finish Earthlife came through. Caudence answered questions quickly and was very helpful to my changes. When our flights changed the night before we were to fly, Caudence handled it quickly. We had a small problem with my final payment not going through, but Deo and Caudence were helpful to solve the situation.

The tented camps were amazing. They looked like it was set up for a movie. The team were very caution for our safety along with their team. The lodges were beautiful and food was great. The hotel in Zanzibar was awesome and it was like we were at a family's home for a Holiday. The only problem was the distance into a shopping area.

The best part of the safari was seeing all the animals and of course, Gilbert our driver. He was so knowledgeable about the animals, land and the culture. He had a wonderful and friendly personality along with his great sense of humor. By the end of the safari we were like a family.

Thank you for the lasting memories of the safari and new friendships formed.

Nicolas Castaneda
–
CA
Visited: December 2017
Reviewed: Dec 30, 2017
Email Nicolas Castaneda | 20-35 years of age | Experience level: first safari
Everything was beyond what we expected!
We looked around many places trying to find a company that gave us confidence for our safari honeymoon trip. The guys on EarthLife were always available to respond all our questions and very quickly which gave us a good idea. The paying plan also make us feel very safe in the decision we were making. Once we landed everything was smooth sailing. Moison picked us up and took us to their office and they greeted us with the best smile and enthusiasm. Moison took us to buy sim cards for our phones and to our first hotel which was brilliant!.

From this point forward all hotels were incredible, the food to our surprise was delicious everywhere we went. We didn't take a friend's advice and bought a bottle of our favorite whiskey beforehand as the hotels have a limited stock of booze. They always found a way to make us feel like our honeymoon was special.

Moison our guide was the best guide you could wish for, he was a seasoned guide with many miles on the serengeti and a TRUE MAASAI! He always took the longest routes and made sure we covered everything, and his efforts paid off! we saw the big 5! and plenty other animals, he followed his gut and his knowledge to separate himself from the other tours and gave us spectacular views of the animals and sites. You could even see him give directions to the other tourguides and you could tell he was well respected!

All in all this trip became me and my wife's all time favorite trip and this was all thanks to the services provided by EarthLife and its team.
Average User Rating
Rating Breakdown
5 star

94
4 star

3
3 star

0
2 star

0
1 star

0
Write a Review
Disclaimer
All corporate and/or tour info is provided by Earthlife Expeditions, not SafariBookings
The tours offered by Earthlife Expeditions are subject to their terms & conditions