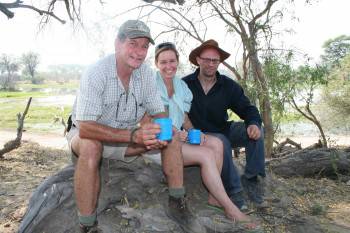 Gondwana Tours & Safaris
5.0/5 – 78 Reviews
Offices In:

Portugal

Germany

Size:

10-20 employees (Founded in

2008

)

Tour Types:

Custom mid-range & luxury tours that can start every day

Destinations:

Price Range:

$100 to $1,200

pp

per person

per day

(USD, excl. int'l flights)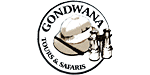 Lissa Halliday
–
US
Visited: April 2019
Reviewed: Jun 23, 2019
Email Lissa Halliday | 65+ years of age | Experience level: 2-5 safaris
Excellent
They interpreted our needs perfectly and the holiday exceeded our expectations.
Daniel
–
US
Visited: February 2019
Reviewed: Feb 13, 2019
Email Daniel | 20-35 years of age | Experience level: first safari
Life time experience exceedi expectations for a very spoiled and seasoned traveler and nature lover.
I always wanted to go to subsaharian africa to experience safari. I had the chance to go in February this year, as I was on work related matters in Botswana. I had no idea about how it works, what are the options, tourist traps and so on. I also had a limited time to plan. My first encouter with gondwana was on Safaribookings where I was ghoing through offers and reviews. I wrote a generic and very simple and naive set of requests and sent it out to 5 tour operators. I had a fixed date for the Safari, between 31 January and 8th February. Did I mention that first contact made was on 21st January? Yes. it took only 10 days between my first contact with Mark Hathaway from Gondwana to the actual start of my safari. apparently people plan it months ahead. I had not the luxury to do so.

anyway, based on my very rudimentary perspective what I want and what I THINK I want, Mark was a perfect consultant. dont get me wrong, the other offers I received were also interesting, at least I had three final contenders. However Mark was the must responsive, quickest in responses and grasping what my wishes are and what I can have in such a short time frame. I also had the feeling like talking to a real person doing a personalized safari for me, not like being tossed a prepared safari schedule.

I gave my financial limit so we can plan more easily and Mark came up with several options, in my opinion stretching as much as possible the benefit for me. I know for sure he could have sent me to some mediocre places and have another customer in his pocket.
I to four different places, Splash camp by kwando, Lagoon by Kwando, Pangolin in Chobe, and one night at Vic Falls. everything was seamles, meticoulusly planned. The camps were faboulous. when Mark suggested one site I was not so much sure about given my preferences I have not raised before, he was responsiove and changed the offer and customized it - to my absolute satisfaction. I went during !low season! but I have not seen anything low in my experience, except of the number of people - there were times when it was just three people in the whole camp with all the activities. Or the animales, the game, I had encouters I would never dream off. Marks choices of the sites was perfect. the staff at kwando properties is super professional, friendly, and curteous. I really enjoyed every minute spent there. Pangolin in Chobe with their photographic equipment was an amazing end for the safari, before I went to the Vic Falls. Mark knew exactly what I wanted, or at least he had enough customers to help lost causes like myself who want to see as much as possible but dont know enough. I really assure you that it is worth going with gondwana, instead of the usual safaris I have seen in chobe, overcrowded cars with 9 people staring and trying to get a picture of one animal. tracking, walking safari, boat cruises, in lagoon and rivers, mokoro, all that was perfectly managed and complemented with the professional attitude of the Kwando staff either in camps or outside such as the guides or trackers. superb Job!

I would definitely recommend Mark and Gondwana Tours. And I am definitely coming back.


Vijay
–
US
Visited: October 2018
Reviewed: Oct 31, 2018
Email Vijay | 50-65 years of age | Experience level: 2-5 safaris
An Amazing experience in Botswana and Namibia - thanks to Gondwana Tours
My wife and I worked with Mark Hathaway to set up a three week tour that started in Botswana and ended in Namibia. It was one of the most wonderful experience of our lives. Gondwana Tours really worked with us to tailor the trip to our needs and the whole trip was a blast. We especially want to thank Mark Hathaway. He was incredibly patient and knowledgeable and worked with us to get the tour details right. He was also extremely patient with our countless questions and his suggestions were spot on. I would highly recommend Gondwana Tours and Safaris if you are going to Africa and I cannot say enough good things about Mark Hathaway.
Lisa C
–
US
Visited: April 2018
Reviewed: Apr 11, 2018
Email Lisa C | 50-65 years of age | Experience level: first safari
Outstanding safari agent
I contacted multiple agents via Safari Bookings to request proposed itineraries for our family's first ever trip to Africa and Mark of Gondwana Tours took the time to ask us questions and really understand our needs before putting together an amazing itinerary for us, really just head & shoulders above what other agents had given us.

Throughout the process he was beyond patient and super responsive with regards to my many (many) questions & requests. The trip itself was more than we had ever hoped for and outstanding in every respect - I would say it was the trip of a lifetime, but we are already planning to return in 2019 and will be using Gondwana Tours & Safari again.

Ming
–
US
Visited: February 2018
Reviewed: Feb 15, 2018
Email Ming | 20-35 years of age | Experience level: over 5 safaris
Great safari in the Okavango Delta
I booked a 6 day/5 night safari at 2 different camps in the Okavango Delta through Mark at Gondwana Tours. Mark ensured everything went very smoothly from the booking to the actual trip, and thoroughly answered all questions I had. The camps and the staff and guides were fantastic, and I had some great animal sightings. I was very with the experience and would happily book with Gondwana again.

Mike Nissen
–
US
Visited: November 2017
Reviewed: Dec 7, 2017
Email Mike Nissen | 65+ years of age | Experience level: first safari
Mark at Gondwana set up a safari tour that was all I was hoping for and more!
From our initial email to being met by Gondwana rep when I arrived in Botswana, Gondwana made me feel extremely comfortable about my trip. I had informed Mark that my main goal of this trip was to view as many animals as possible, with a emphasis on elephants. He did not disappoint. From the first morning at the Nxai Pans camp when I walked out of my cabin to see a group of elephants drinking at the waterhole about 150 yards from me, to the last game drive of my trip, I saw elephants every game drive for the entire 10 day trip.
All 4 camps were staffed with very knowledgeable guides who made each drive a unique and memorable experience. This safari tour more than lived up to my expectations and I would recommend Gondwana to family and friends in a heartbeat. I will use Gondwana for my next safari without a doubt.
Lisa
–
DE
Visited: February 2017
Reviewed: Jul 21, 2017
Email Lisa | 20-35 years of age | Experience level: over 5 safaris
Individually tailored safaris, awesome expertise and a wonderful trip - highly recommended!
After having travelled to Botswana with Gondwana Tours & Safaris in May 2015 and falling in love with the bush, we decided to return to Botswana in green season this February and experience the country in a different season. As we were more than happy with our first trip, it was absolutely clear that we will book our travels again with Mark Hathaway from Gondwana Tours. His expertise of the lodges and parks is outstanding and you notice constantly that he has been living in Botswana (Africa) for considerable time. It is remarkable, you always get a quick, friendly and competent answer no matter at what day or time you contact him and for longer planning sessions it is easy to arrange skype calls. We were welcomed met by the airport again flying in and out of Maun and the travel and transfers between the lodges were smoothly and accurately organized. Experiencing Botswana in the rainy season and seeing the country so green was definitely a very interesting and different experience. I can only recommend you to book with Gondwana Tours & Safaris! Thank you again, Mark for planning such an unforgettable journey for us.
Lisa
–
DE
Visited: June 2017
Reviewed: Jul 21, 2017
Email Lisa | 20-35 years of age | Experience level: over 5 safaris
Third travel with Gondwana Tours: Unique journey to Zambia and Zimbabwe
We just came back from a stunning, exciting and to Zambia and Zimbabwe. It was already our third trip with Gondwana Tours & Safaris and again perfectly organized by Mark Hathaway. During booking our second trip with Mark from Gondwana Tours to Botswana, Mark told us about Zambia / South Luangwe, that it is still wild and he believes it would be ideal for us. To be honest we had never considered Zambia as a destination before but were completely enthusiastic about the information, stories and lodge suggestions he shared with us. Thus, we started planning our third trip with Gondwana Tours. The service and consultation was again fabulous, the routing was a bit complex and Mark was extremely patient in answering all our questions and rearranging the journey so it fit our flight dates. The travel was as always perfectly organized, the lodges knew all our wishes and preferences and everybody knew that we are Mark's clients. Also during our holiday in Zimbabwe, when one information about the flight was somehow "lost" at the hotel and not transferred to us, Mark was within seconds available via WhatsApp and immediately solved the problem for us (even though it was a holiday). We loved South Luangwe National Park and Mana Pools and had wonderful sightings and stayed in fabulous camps. To sum it up, we can only recommend Zambia and Zimbabwe and will never book our Africa travels with another agent again. Thank you Mark for proposing us Zambia and planning this unforgettable trip for us!!!
Lisa
–
DE
Visited: May 2015
Reviewed: Jul 21, 2017
Email Lisa | 20-35 years of age | Experience level: 2-5 safaris
Outstanding, individual consulting, great responsiveness and a perfectly organized trip
It was always one of our dreams to visit the Okavango Delta in Botswana. However, after contacting and seeing the (totally overrated) prices of several big German tour operators, we doubted that we can realize our dream due to our budget restraints. Thus, we reached out to several local tour companies, including Gondwana Tours & Safaris, Mark Hathaway answered and immediately stood out from the rest with his extreme responsiveness, individual consulting and high expertise and knowledge of Botswana. Thus, it was the easiest decision only to continue our travel plans with Mark. Mark immediately understood what we are looking for, proposed us great camps and did a great job in tailoring a perfect and very individual safari for us. The journey was perfectly organized, the transfers worked out perfectly (even though we had several border crossings in our trip!) the camps completely met our expectations and ideas and it was great to meet Mark in Maun and to know someone is close just in case sth. goes wrong. Gondwana Tours & Safaris did not only provide much better service and individual consultation than german agents (who do not really tailorize journeys but rather sell and combine modular blocks) but above all was significantly cheaper and reasonably priced, which is why I cannot understand why people still book with German agencies. In summary, I can only recommend you to book your travels with Gondwana Tours & Safaris. You won't regret it!!!



Sarah
–
NZ
Visited: January 2017
Reviewed: Jun 28, 2017
Email Sarah | 35-50 years of age | Experience level: 2-5 safaris
Honeymoon in the Delta
We were initially mind boggled with options on how to best spend time in Southern Africa, and definitely wanted to go to the Delta. We didn't have a huge budget and were starting to think it wouldn't be possible, but then came across this company: Gondwana Tours & Safaris. Mark Hathaway was superb in his dealings with us: all the advice, knowledge, patience and expertise he had was fantastic. The itinerary we chose suited us perfectly for the land and water options we were keen on, and the locations and prices. We had an amazing 4 nights at Guns & Pompoms. We were surprised with a candle lit dinner by the water as a honeymoon surprise, had some memorable wildlife encounters , and everything met our expectations.Thanks Mark for all your help !
Average User Rating
Rating Breakdown
5 star

78
4 star

0
3 star

0
2 star

0
1 star

0
Write a Review
Disclaimer
All corporate and/or tour info is provided by Gondwana Tours & Safaris, not SafariBookings
The tours offered by Gondwana Tours & Safaris are subject to their terms & conditions