Bamboo Ecotours
5.0/5 – 66 Reviews
Office In:

Size:

5-10 employees (Founded in

2012

)

Member Of:

Association of Uganda Tour Operators

Tour Types:

Customizable private tours and fixed group tours

Destinations:

Price Range:

$110 to $600

pp

per person

per day

(USD, excl. int'l flights)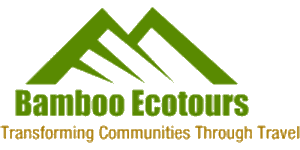 Request a Quote


for a custom tour
Your request will be sent directly to the operator
If preferred, you can contact the operator directly
Rye
–
US
Visited: December 2021
Reviewed: Dec 3, 2021
Email Rye | 50-65 years of age | Experience level: first safari
Edison as top notch in planning and Chance was a fantastic guide in the field.
I had a brilliant Safari. Starting with the guidance and planning provided by Edison. I can not imaging anyone being more accommodating, professional, and just plain helpful with all of adjustments and changes.

Chance, my guide, was knowledgeable and informative in all aspects from the places to the wildlife to his local knowledge. He was a pleasure to be with.

My trip was incredible, the accommodations were perfect, the transportation was on time, and I felt taken care of from the first moment getting picked up to the last moment jumping aboard the plane from the grass airstrip!

I never lacked for information and my questions (planning & traveling) were always answered and valued as a solo traveler.

I can not give a more heart felt and enthusiastic recommendation!
Renate
–
DE
Visited: December 2021
Reviewed: Nov 23, 2021
Email Renate | 50-65 years of age | Experience level: 2-5 safaris
Very professional tour operator with exceptional service
Great experience in a beautiful country!

Bamboo Ecotours is very professional and tailored our trip perfectly to our schedule and our wishes.
Everything was perfectly organized and we stayed in awesome lodges.

Exceptional service !!!

Highly recommended!
Christer
–
SE
Visited: July 2021
Reviewed: Oct 16, 2021
Email Christer | 50-65 years of age | Experience level: first safari
Excellent driver and Bamboo Ecotours is very easy to communicate with throughout the trip.
I did the 6-day trip with Kibale chimphabituation, Gorilla trekking and Queen Elisabeth NP. Very good value for the money.
Federico
–
US
Visited: October 2021
Reviewed: Oct 2, 2021
Email Federico | 50-65 years of age | Experience level: over 5 safaris
Excellent and complete service !
Traveling in these times has become an ordeal thus the importance to rely in trustworthy service providers.
Bamboo Ecotours and his owner, Edison, is just one of the few tour operators in this part of the world that combine quality, fair prices, overall care, kindness, patience and , most important, making you feel safe.
From selecting the "right" suppliers to accommodating dates and changes, having exceptional guides, taking care of travel related COVID assistance and being one step ahead of my needs.
Congratulations to Edison and his team, in particular, my very careful and knowledgeable driver - guide Fred !
Thanks !!!

John and Madoka
–
US
Visited: October 2021
Reviewed: Sep 19, 2021
Email John and Madoka | 65+ years of age | Experience level: 2-5 safaris
Honest and trustworthy company run by compassionate local people.
We made our last minute decision to book our Gorilla and Chimpanzee trekking tour. We contacted 5 different tour organizers and chose Bamboo Ecotours! The reason that we decided on this tour operator was because the quote we received was precisely laid out and it was very easy to compare from budget to midrange price lodges and from a driving option to flying option. Edison gave us complimentary upgrade to Rushaga Gorilla Lodge! He was always on top of everything and explained to us thoroughly regarding our concerns of current COVID travel restrictions. He made sure everything would go smoothly. He also programmed our PCR tests in our itinerary so we could have the results back on time for our flight home. We arrived Uganda from Kenya on August 31 and the next morning, Herbert our guide picked us up from our hotel in Entebbe. Because of current travel restrictions, tour companies cannot pick up their clients from Rwanda and cross the border into Uganda so he had to drive out of his way (which we believe it was a long distance) to meet us in Entebbe. As soon as we met him, we got along very well. He has a sweet and friendly personality and is passionate about his profession. He speaks English fluently! He drove us from Entebbe to the trekking location, which was Rushaga sector of Bwindi Impenetrable National Park. On the way via the equator crossing, we stopped for lunch. The buffet lunch was very nice. We loved the chicken soup, freshly squeezed passion fruit juice, and some local dishes. All of them were delicious! We wished we had stopped there one more time on our way back. The next morning we did gorilla trekking. The trekking took about only 2 hours, and we could see a family of Silverback, mom, siblings, and baby gorillas. My partner is 67 years old who has a pain in his abdomen and back resulted from his surgery two years ago, but he made it through with a help of a porter. It only costs $15 (before tip) and makes a huge difference! The porter was a young person from the community and he carried his backpack and took his hand to help him climb the steep up and down. After the trekking, Herbert took us to Batwa community where we took a tour around the village. Elias was the guide of this community. He was very passionate about his local community and help them raise funds for their necessities. The performance by the whole member of the village was very special. Chimpanzee trekking at Kalinzu Forest was another great experience. We could see and hear many chimpanzees and were able to take pretty close up videos as well. We even saw them walking on the trail paths. We can say that we recommend both of our lodges Rushaga Gorilla Lodge and Engiri Game Lodge at Queen Elizabeth National Park. All of the staffs were very friendly and accommodating. We also enjoyed our boat cruise at Kazinga channel. We came from Kenya and Tanzania before Uganda, but we saw nothing like this prior to Uganda because we had never seen the forest elephants by the lagoon with hippos surrounding on the lake. We saw so many hippos there. We already miss our guide Herbert! He picked our PRR COVID test results from the lab and took us back to the airport. He is an excellent guide with a kind heart. We recommend Bamboo Ecotours for everyone that is looking for a honest and trustworthy tour company in Uganda!
Kendrick
–
US
Visited: August 2021
Reviewed: Sep 3, 2021
Email Kendrick | 20-35 years of age | Experience level: 2-5 safaris
They've got you covered
Edison was on top of communication prior to the trip and Herbert went above and beyond during the trip and even after with my extra day in Entebbe and Kampala. (Wouldn't have been half as enjoyable with him.)
Tim M
–
US
Visited: July 2021
Reviewed: Aug 14, 2021
Email Tim M | 65+ years of age | Experience level: first safari
Fantastic!
Bamboo Ecotours are fantastic! We had to postpone our trip for over a year due to COVID after our permits had already been purchased. Edison did a great job communicating with me on WhatsApp and email, alleviating any concerns. Our driver Fred was very informed and made the drive to Bwindi and our "African Massage" very interesting. And though the airline lost our luggage, Herbert drove sixteen hours round trip to deliver it to us in time for our trek! They are such a great company! The lodge Edison suggested, Rushaga Gorilla Lodge, was amazing and very close to the forest entry gate. Oh yeah, the gorillas! What can I say? Spectacular!
Petros NM
–
GR
Visited: July 2021
Reviewed: Jul 31, 2021
Email Petros NM | 50-65 years of age | Experience level: over 5 safaris
Bamboo Ecotours: The Pearl of Tour Companies!
What an incredible trip!
Uganda: land of rare primates – our closest relatives. Land of stunning landscapes you'll dream about, of a rich biodiversity you can rarely find elsewhere, of the waters power at its strongest form, of that mythical temperature always. Land of a fertile red soil full of delicious fruits, vegetables and flowers! The food is clean and honest even for sensitive intestines, many accommodations are surprisingly elegant, minimal and often ecofriendly, and many roads are doing for free a lot of African massage! :-) This is Uganda, safe, hospitable, gentle, open and vulnerable, almost clean and ready to hug you with sincerity love and huge African smiles!

For sure, if you'd like to see in a minute thousands of wild animals, you have to choose a different country in the area. The relatively small Uganda, in my opinion, can offer a more complex and unique life experience, if you are not there "only" for the undoubtedly amazing gorillas!

An experience that will be never complete without meeting as much Ugandans as you can. The Ugandans I think were by far the 'highlight' of my trip. Lovable, polite, peaceful, sociable, optimistic. The Batwas and other Communities are a 'must stop' to explore the local life and traditions and to help local institutions as much as your soul and your wallet can afford. It's always better to ask for a receipt or to register your donation in their books. I'll never forget the sweet Karamojong people in the North East and all the shocking, deeply human lessons I had from them in such a short time. My most impressive pictures are with their clear faces that I have to respect, as my very personal emotions.

Rich country – cause of soil and subsoil – with poor people. Things have to change, anachronistic laws have to be modernized here, like almost everywhere in Africa, but are the locals to find the …uneasy way for it. Uganda has lasting peace. That's for sure important!

I was too lucky to find on my own way to Uganda two prominent Ugandans: Edison, my tour operator and Herbert, my driver & guide. Both working for the serious and reputable tour company "Bamboo Ecotours" that I'd like to highly recommend.

No other person in my life reply to so many emails and phone messages – also during the deep night – as Edison did, very kindly and without any nervous breakdown :-) I bought the gorilla permit on January 2020, then I had to cancel the whole trip and rescheduled it for July 2021. Since then, only Edison knows how many questions I had. What he do not know yet is what a polite company he was for me during the lockdown :-)
The plan made by Edison and me was of an excellent result. Although it was the most expensive trip I ever did, I think it was worth every cent. All his information, ideas and suggestions were precious. Some words that characterize him are: willingness, seriousness, efficiency, honesty, professionalism, flexibility, kindness, knowledge, experience, logic… What else do you need from a tour operator? :-) It's really a pity I never met him.

The other crucial person, Herbert, is absolutely a great driver for those difficult roads, good guide with enough English knowledge, professional, too serious sometimes, too honest always, particularly attentive on covid issues as many Ugandans, precise, open minded, loyal… It's hard to find anything negative about him. Maybe a bit stubborn sometimes… :-))) For sure a good friend!

Some recommendations:
Stay in meticulously functional "Isunga Lodge" with great views, beautiful gardens and 'haute cuisine' close to Kibale. Try to visit the spectacular Kidepo Valley and Karamoja. Go to Mabamba Wetlands to maybe spot a shoebill bird. Don't miss Kazinga Channel boat trip. Eat tilapia fish fillets grilled or cooked with tomato sauce, and mashed potatoes. Try the local gin "Uganda Waragi". Maybe Banange Beer? you will hate it or love it :-) In the cities, great choice and wonderful value for money in Entebbe the "2 Bedroom Cozy Cottage" from Airbnb and in Kampala the hotel "Explorers Hub" from booking.com in a posh central and quiet place.
Visit the Pearl of Africa using the Perl of Tour Companies: "Bamboo Ecotours"! :-)

Charles Larson Jr
–
US
Visited: July 2021
Reviewed: Jul 14, 2021
Email Charles Larson Jr | 50-65 years of age | Experience level: over 5 safaris
Truly outstanding trip. Bamboo did an amazing job coordinating the logistics.
Hi. We had a very logistically challenged trip because of COVID and that my 14 year old needed a waiver to trek to the the gorillas. Bamboo EcoTours moved Heaven and earth to make it all happen - it it was truly the best service I have ever had.
Nicole
–
JO
Visited: July 2021
Reviewed: Jul 3, 2021
Email Nicole | 35-50 years of age | Experience level: 2-5 safaris
Excellent from start to finish
We had a great experience and a wonderful trip with Bamboo Ecotours. They are professional, organized, responsive, and knowledgeable. We really appreciated that they're all locals and they can plan trips with a focus not just on the big attractions but also on local communities. We also felt that the package they put together for us was great value for the money. Edison, the founder, did a fantastic job communicating with us in the beginning, graciously answering all our questions and proactively providing helpful information to guide us toward the best trip for our goals and budget. We had Godfrey as our guide and driver, and we had a great time with him. He made sure we arrived safely and on time, while also adding a local's perspective and insider tips. We were delayed on our arrival due to poor weather, and both Edison and Godfrey communicated with us during the delay, helped us book last-minute accommodations, and stayed in touch with us through the whole delay. Traveling during COVID also added complexity and Bamboo helped us navigate all our requirements and some COVID-related changes that went into place just as we were starting our trip. There were many moving parts to our 11-day, multi-destination itinerary but the Bamboo team handled everything and we were able to focus on enjoying the trip. We highly recommend Bamboo Ecotours!
Disclaimer
All corporate and/or tour info is provided by Bamboo Ecotours, not SafariBookings
The tours offered by Bamboo Ecotours are subject to their terms & conditions