Bamboo Ecotours
5.0/5 – 71 Reviews
Office In:

Size:

5-10 employees (Founded in

2012

)

Member Of:

Association of Uganda Tour Operators

Tour Types:

Customizable private tours and fixed group tours

Destinations:

Price Range:

$110 to $600

pp

per person

per day

(USD, excl. int'l flights)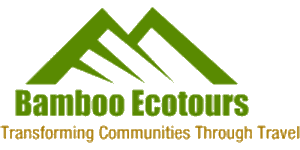 Request a Quote


for a custom tour
Your request will be sent directly to the operator
If preferred, you can contact the operator directly
Kendrick
–
US
Visited: August 2021
Reviewed: Sep 3, 2021
Email Kendrick | 20-35 years of age | Experience level: 2-5 safaris
They've got you covered
Edison was on top of communication prior to the trip and Herbert went above and beyond during the trip and even after with my extra day in Entebbe and Kampala. (Wouldn't have been half as enjoyable with him.)
Tim M
–
US
Visited: July 2021
Reviewed: Aug 14, 2021
Email Tim M | 65+ years of age | Experience level: first safari
Fantastic!
Bamboo Ecotours are fantastic! We had to postpone our trip for over a year due to COVID after our permits had already been purchased. Edison did a great job communicating with me on WhatsApp and email, alleviating any concerns. Our driver Fred was very informed and made the drive to Bwindi and our "African Massage" very interesting. And though the airline lost our luggage, Herbert drove sixteen hours round trip to deliver it to us in time for our trek! They are such a great company! The lodge Edison suggested, Rushaga Gorilla Lodge, was amazing and very close to the forest entry gate. Oh yeah, the gorillas! What can I say? Spectacular!
Petros NM
–
GR
Visited: July 2021
Reviewed: Jul 31, 2021
Email Petros NM | 50-65 years of age | Experience level: over 5 safaris
Bamboo Ecotours: The Pearl of Tour Companies!
What an incredible trip!
Uganda: land of rare primates – our closest relatives. Land of stunning landscapes you'll dream about, of a rich biodiversity you can rarely find elsewhere, of the waters power at its strongest form, of that mythical temperature always. Land of a fertile red soil full of delicious fruits, vegetables and flowers! The food is clean and honest even for sensitive intestines, many accommodations are surprisingly elegant, minimal and often ecofriendly, and many roads are doing for free a lot of African massage! :-) This is Uganda, safe, hospitable, gentle, open and vulnerable, almost clean and ready to hug you with sincerity love and huge African smiles!

For sure, if you'd like to see in a minute thousands of wild animals, you have to choose a different country in the area. The relatively small Uganda, in my opinion, can offer a more complex and unique life experience, if you are not there "only" for the undoubtedly amazing gorillas!

An experience that will be never complete without meeting as much Ugandans as you can. The Ugandans I think were by far the 'highlight' of my trip. Lovable, polite, peaceful, sociable, optimistic. The Batwas and other Communities are a 'must stop' to explore the local life and traditions and to help local institutions as much as your soul and your wallet can afford. It's always better to ask for a receipt or to register your donation in their books. I'll never forget the sweet Karamojong people in the North East and all the shocking, deeply human lessons I had from them in such a short time. My most impressive pictures are with their clear faces that I have to respect, as my very personal emotions.

Rich country – cause of soil and subsoil – with poor people. Things have to change, anachronistic laws have to be modernized here, like almost everywhere in Africa, but are the locals to find the …uneasy way for it. Uganda has lasting peace. That's for sure important!

I was too lucky to find on my own way to Uganda two prominent Ugandans: Edison, my tour operator and Herbert, my driver & guide. Both working for the serious and reputable tour company "Bamboo Ecotours" that I'd like to highly recommend.

No other person in my life reply to so many emails and phone messages – also during the deep night – as Edison did, very kindly and without any nervous breakdown :-) I bought the gorilla permit on January 2020, then I had to cancel the whole trip and rescheduled it for July 2021. Since then, only Edison knows how many questions I had. What he do not know yet is what a polite company he was for me during the lockdown :-)
The plan made by Edison and me was of an excellent result. Although it was the most expensive trip I ever did, I think it was worth every cent. All his information, ideas and suggestions were precious. Some words that characterize him are: willingness, seriousness, efficiency, honesty, professionalism, flexibility, kindness, knowledge, experience, logic… What else do you need from a tour operator? :-) It's really a pity I never met him.

The other crucial person, Herbert, is absolutely a great driver for those difficult roads, good guide with enough English knowledge, professional, too serious sometimes, too honest always, particularly attentive on covid issues as many Ugandans, precise, open minded, loyal… It's hard to find anything negative about him. Maybe a bit stubborn sometimes… :-))) For sure a good friend!

Some recommendations:
Stay in meticulously functional "Isunga Lodge" with great views, beautiful gardens and 'haute cuisine' close to Kibale. Try to visit the spectacular Kidepo Valley and Karamoja. Go to Mabamba Wetlands to maybe spot a shoebill bird. Don't miss Kazinga Channel boat trip. Eat tilapia fish fillets grilled or cooked with tomato sauce, and mashed potatoes. Try the local gin "Uganda Waragi". Maybe Banange Beer? you will hate it or love it :-) In the cities, great choice and wonderful value for money in Entebbe the "2 Bedroom Cozy Cottage" from Airbnb and in Kampala the hotel "Explorers Hub" from booking.com in a posh central and quiet place.
Visit the Pearl of Africa using the Perl of Tour Companies: "Bamboo Ecotours"! :-)

Charles Larson Jr
–
US
Visited: June 2021
Reviewed: Jul 14, 2021
Email Charles Larson Jr | 50-65 years of age | Experience level: over 5 safaris
Truly outstanding trip. Bamboo did an amazing job coordinating the logistics.
Hi. We had a very logistically challenged trip because of COVID and that my 14 year old needed a waiver to trek to the the gorillas. Bamboo EcoTours moved Heaven and earth to make it all happen - it it was truly the best service I have ever had.
Nicole
–
JO
Visited: June 2021
Reviewed: Jul 3, 2021
Email Nicole | 35-50 years of age | Experience level: 2-5 safaris
Excellent from start to finish
We had a great experience and a wonderful trip with Bamboo Ecotours. They are professional, organized, responsive, and knowledgeable. We really appreciated that they're all locals and they can plan trips with a focus not just on the big attractions but also on local communities. We also felt that the package they put together for us was great value for the money. Edison, the founder, did a fantastic job communicating with us in the beginning, graciously answering all our questions and proactively providing helpful information to guide us toward the best trip for our goals and budget. We had Godfrey as our guide and driver, and we had a great time with him. He made sure we arrived safely and on time, while also adding a local's perspective and insider tips. We were delayed on our arrival due to poor weather, and both Edison and Godfrey communicated with us during the delay, helped us book last-minute accommodations, and stayed in touch with us through the whole delay. Traveling during COVID also added complexity and Bamboo helped us navigate all our requirements and some COVID-related changes that went into place just as we were starting our trip. There were many moving parts to our 11-day, multi-destination itinerary but the Bamboo team handled everything and we were able to focus on enjoying the trip. We highly recommend Bamboo Ecotours!
Leah
–
US
Visited: June 2021
Reviewed: Jun 21, 2021
Email Leah | 35-50 years of age | Experience level: over 5 safaris
Excellent tour company, very accommodating
Communication with both Edison snd Herbert was excellent, far better than any other tour company. We had an amazing trip to Uganda, every step of the way Herbert was extremely accommodating and Edison planned an incredible itinerary even with our very limited budget. We had every experience we had hoped for and their suggestions and expertise were unparalleled.
vas
–
DE
Visited: June 2021
Reviewed: Jun 13, 2021
Email vas | 35-50 years of age | Experience level: 2-5 safaris
The perfect way to discover Uganda
Me and my wife were travelling from Germany and were looking for a reliable tour operator in Uganda for a 12 day Uganda Wildlife trip. After a long search, we decided to get in touch with Bamboo Ecotours and we are so happy we did! Our first point of contact was Edison, who is running the communication: he answered our questions with a high reactivity and a perfect English (I stress this point because it has not always been the case for us in the past). We explained in a few sentences what we wanted to do and also were we needed minor adjustments to their displayed trip. In no time, did he get back to us with an amazingly done website where you find all the details: tours, stops, daily activities, accommodations (with pictures), meals provided... etc. That website itself answered 99% of our questions! We then continued our exchange as we needed to adjust a few details (such as the exact lodge names within the accommodation range selected: budget, medium, or luxurious) , and Edison was always very quick to react and advised us along the way with full transparency. Once we agreed on the full trip, with received the invoice that we had to pay. I have to say it was very intimidating for us to pay a couple of thousands of dollars to a bank account in Uganda... but we took a leap of faith and did it. I initially faced some issue with a bank transfer as Uganda uses Swift rather than IBAN, so my bank rejected the transfer at the last minute (although Edison told me other customers had no issues proceeding with their transfer). Luckily, Bamboo Ecotours also provide the possibility to make a credit card payment (Xpresspay) - unfortunately the company is charged some extra fees for that type of payment, but given our last minute transfer rejection, this is the only solution we had left. One reason they need an advance payment is because they have to book the permits (Gorilla, Chimpanzee...) in advance - these are non-refundable. In any case. we did not regret making the payment and booking our tour! Once we arrived at the Entebbe airport, we were received by our driver/guide Godfrey. He took us to our guesthouse in Entebbe and the trip started. I can't go through all the details of our trip, but I will confirm what the other reviews are saying: this is a lifetime experience! Incredibly friendly people, amazing accommodations, tasty food (we were offered a lot of diversity as vegetarians) and of course an unforgettable wildlife - this is truly the adventure we were looking for! Godfrey offered us amazing driving skills (the roads can sometimes be very bumpy!) as well as great knowledge as a local guide (culture, people, wildlife, customs, food...). In particular, when driving through big cities like Kampala, it is really helpful to have a someone that can drive 'Ugandan style'
James J
–
NG
Visited: February 2021
Reviewed: Apr 18, 2021
Email James J | 20-35 years of age | Experience level: first safari
Don't hesitate and look no further.
This was a fantastic adventure. The 5 day gorillas and chimpanzee trekking safari was phenomenal and I highly recommend that you go with the option to take the river cruise. The accommodations were great and our driver Fred was a gem! Adding on the cruise and the chimpanzee trek really rounds out the trip nicely. Do not hesitate and look no further because these guys are responsive and will take care of you.
James
–
US
Visited: March 2021
Reviewed: Apr 14, 2021
Email James | 35-50 years of age | Experience level: first safari
Amazing trip in an amazing place.
I cannot recommend Bamboo Ecotours enough. I had the journey of a lifetime going through Western Uganda and seeing all of the parks. I had experiences people write about in travel books, but surely they don't really have them? Wrong! They do have those experiences as I can now attest. Fred is a phenomenal guide and driver. Edison's communication is so clear and concise. I cannot recommend this company enough.


Victor
–
AT
Visited: March 2021
Reviewed: Apr 2, 2021
Email Victor | 20-35 years of age | Experience level: 2-5 safaris
11 days west Uganda safari + Ruwenzori hiking
After having a tour with Bamboo Ecotours in the difficult COVID year 2021 it is my joy to review the trip here!
Organisation of a costume trip as we wanted it and as it was possible due Corona restrictions was no problem with the kind help of Mr. Edison.
He gave us great tips for price discounts in Hotels and in Parks so we were offered a very fair and affordable trip. Many thanks for that!
The trip was organised very good and Herbert was a very skilled driver with the best eyes to spot any wildlive in the parks.
Picking and dropping at the airport and our hotel in Entebbe was included and he also offered us help and a free taxi drive to a COVID testing facility for the flight home, which i found particularly nice!
All together i can highly recommend Bamboo Ecotours for an exciting, save and fair priced safari in Uganda.
Greetings from Austria and i hope to come back some day : )

Disclaimer
All corporate and/or tour info is provided by Bamboo Ecotours, not SafariBookings
The tours offered by Bamboo Ecotours are subject to their terms & conditions