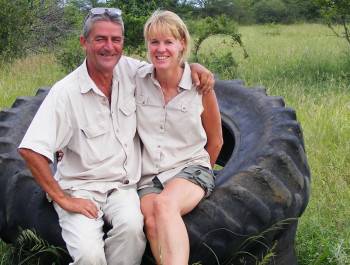 Wildlife Encounters
5.0/5 – 15 Reviews
Located In:

Size:

5-10 employees (Founded in

2000

)

Member Of:

Kruger Lowveld & Go Limpopo

Tour Types:

Custom mid-range tours that can start every day

Destinations:

Price Range:

$127 to $413

pp

per person

per day

(USD, excl. int'l flights)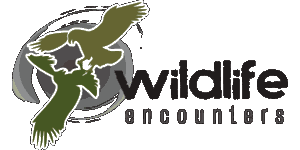 Rating Breakdown
5 star

15
4 star

0
3 star

0
2 star

0
1 star

0
Jessica Henderson
–
Visited: May 2013
Reviewed: Dec 17, 2016
Email Jessica Henderson | 20-35 years of age | Experience level: over 5 safaris
The most amazing safari guides we've encountered!
From the first moment we arrived in Hoedspruit we felt so welcomed and excited. 5 days of absolute Kruger bliss were about to begin! We were picked up by Bruce, his son and his friends who were all training to be safari guides at the time. We jumped in their open air jeep and enjoyed the drive to our new home for 5 nights. When we arrived I was blown away by the picturesque grounds and the accommodation. The room and ensuite was spacious, clean and beautifully decorated. The dining room, lounge and outdoor area were spectacular with their high ceilings, wooden rafters and the African decor made you remember what a special place you were in. We even had a giraffe wander by while we were sitting outside enjoying the lounges! Waking up early for a game drive, tea and rusks is the best way to start everyday! And then you end each evening with a sunset game drive. Bruce was full of wildlife knowledge and so was his son and friends. We loved having them along for the game drives too as it was great hearing them practising all of their animal and tracking studies. Game drive sunset drinks were an absolute highlight! I will never forget the atmosphere and the sounds of the African bush, one night the hippos and a leopard were taking in turns making their calls! We got to do some on foot tracking too which was so exhilarating!! One night we had just gone to bed and heard lions roaring in the distance, what an amazing sound. At night we would have the most amazing dinners, actually every meal was incredible! We ate so much and one morning we even got treated to impala livers as a side to our breakfast. We love trying new and interesting foods when traveling so this was a real treat. I remember stories by the campfire at night, reading from the amazing book collection during the day, watching animals wander by while lying in the sun, amazing elephant encounters, the list goes on!! Bruce and Judy were seriously the most amazing safari guides we have ever encountered and we have travelled through 11 African countries. They had endless knowledge of the bush and the animals but also welcomed us so lovingly for those 5 days that we felt like we were part of their family! We are so looking forward to returning one day and taking along our daughter this time!
Michiel Reyskens
–
BE
Visited: September 2015
Reviewed: Nov 25, 2016
Email Michiel Reyskens | 20-35 years of age | Experience level: over 5 safaris
They don't do it for the money, the do it to share their love for nature!
I spent 3 nights in nDzuti as a solo traveller and had a amazing time ...
Judy and Bruce are the perfect couple for this, nDzuti is the perfect accomodation in the real wild Africa.
I've been to (South) Africa over a dozen times, always on safari trips and nothing beats their area.
It was the wildest I've seen so far and with all the sightings to yourself.
Bruce doesn't need a radio and a dozen other vehicles with drivers to help him find the animals.
I've met a lot of guides and trackers but I've never met a person that knows the bush this well!
I would definitly go back there because you really feel at home there, with only 4 rooms in one building it really is their home.
The area in front of their house is perfect to spot game, we had elephants at 2m from the fence.
During the drives we saw a lot of game and also the small game was special for them.
One night during diner, Judy ran into us jelling we had to go and grap the camera's because Bruce was coming to pick us up because he felt that there where so things to happen.
He waited the whole day, in the sun in his car, close to a kill under a bush. When he finally decided to go home he crossed 2 hyena's very close to the death animal.
He came to pick us up, we drove up there and we did all our light out ....
The feeling that you have when you're in the dark and the only noise you hear is the sound of the hyena's crushing the bones of that aninal, is not to tell in words. But the show was only to start ...
So now and then, Bruce puts on his spotligt and in the backgroup you could so 2 eyes, and then 2 more ....
Lionesses, coming to steal the kill, and all this, next to the road on 2m from our 4x4.
It was amazing. But the next part even made it better, a huge male leopard used to car to sneak up to the scene. He moved the spotlights over to the other side of the car and there the leopard was sitting and waiting for his moment, it was huge, the biggest I ever saw! The lions were busy with the hyena's so the leopard moved in and stole the kill. He moved it over to a big three on top of a small hill close to the scene, the legs of the death animal scratching our car ... We all did this with only now and then the use of the spotlight, the moon gave us just enough light to see the spectacle. Bruce's vision about not interrupting nature is great.
Back to the story, because all the great stories have a great end ... The leopard toke the kill up into the three, but the lionesses wanted it back so they climed up in the three aswell. A small fight happed and the hyena's toke the leftovers but the lions had to give it to the leopard and had to back off because he was so fast and huge. nDzuti is in the Klaserie, and their part of the Klaserie is the real Africa!
My story is the luck of the day, but all stories made in Africa are great!
Don't doubt, go there!

Leanne Horobin
–
Visited: February 2023
Reviewed: Feb 16, 2023
Email Leanne Horobin | 20-35 years of age | Experience level: 2-5 safaris
Fantastic!
Had the most fantastic experience at nDzuti safari camp last week. Bruce and Judy couldn't have been more welcoming, even the herd of elephants arrived at the waterhole near our tent to say hello when we arrived. Troy, their son, was an amazing guide and found the elusive leopard and rhinos for us, as well as ellies, lions, hippo, giraffe, buffalo and many other animals! The food was outstanding and the sundowners at the end of a game drive went down a treat! We loved the rustic feel of the unfenced camp and the outdoor showers made it all feel very authentic and wild. We'll definitely be back soon!
Kathryn
–
Visited: November 2022
Reviewed: Nov 21, 2022
Email Kathryn | 20-35 years of age | Experience level: first safari
Wildlife Encounters gave me the best experience I could have asked for.
I had an absolutely incredible time at nDzuti Bushcamp for so many reasons.

1) The Safari: because the bushcamp is in a quieter area of the reserve you can drive for hours without seeing another vehicle. It gives you a real sense of a private drive experience. The guides are absolute experts and had so much information to share. I was lucky enough to see 4 out of the big 5, as well as many other incredible animals on my 2-night stay.

2) The accommodation: with the verandas of the tents looking out at the watering hole, I was able to see so much wildlife just while chilling at the camp. Elephants, wild dogs, baboons and warthogs were just some of the animals that I saw from my tent. The tents themselves are also spacious, clean and have super comfy beds. Each tent also has its own ensuite bathroom where you can shower under the canopy of trees. For me this really added to the magic of the experience.

3) The food: Every meal I had at nDzuti was absolutely delicious and very filling.

4) The people: Judy and Bruce were lovely hosts and Sabre was an excellent guide. Although I happened to be the only guest at the camp at the time, I never felt lonely. They really made me feel welcome and I thoroughly enjoyed getting to know them. Additionally, all the on-site staff were very friendly and helpful.

Overall I would definitely recommend a stay at nDzuti Bushcamp. I hope to be back soon!
Max Landrey
–
Visited: August 2022
Reviewed: Oct 23, 2022
Email Max Landrey | 20-35 years of age | Experience level: over 5 safaris
Excellent
Saw everything in our short stay, great sightings, very professionally conducted game drives. Excellent food and very nice accommodation.
Debbie
–
CH
Visited: September 2022
Reviewed: Oct 21, 2022
Email Debbie | 20-35 years of age | Experience level: 2-5 safaris
Amazing experience!
I stayed 3 nights at Ndzuti Safaricamp and I just loved it! The accommodation is so special, because there is no fence around the camp. I could watch elephants, giraffs, antilopes, warthogs and baboons drinking at the water holes while I was sitting in front of my tent. You really feel that Judy and Bruce run this camp with passion and so much experience, you learn so much when you just talk with them! Judy, Troy and Sydney did a fantastic job at the game drives, Sydney spottet so many animals, it was amazing! Troy can tell you everything about the animals and even though I had a scary moment with an elephant, I felt safe with them, because they knew, it wasn't dangerous. Oh and the food was amazing, too! I just want to say thank you and would definitely recommend this place! I'll come back, that's for sure!

Larissa
–
CA
Visited: August 2022
Reviewed: Aug 31, 2022
Email Larissa | 20-35 years of age | Experience level: first safari
Excellent Experience!
We had the most amazing time at nDzuti with Wildlife Encounters. Seriously, do not go anywhere else! We were out at the bush camp and loved it. It felt like an extremely authentic experience. The waterhole is very near the tents and you can often see animals stopping by. The tents were sturdy, roomy, and the beds very comfortable. It was nice having a shower and a toilet right outside the tent. The food was absolutely incredible during our stay. The safari itself was a dream come true. We were able to see evidence of all big 5, with plenty of viewings of elephants, lions, and so many other amazing creatures. Our guide Justin was exactly who you would want for the experience. He is extremely knowledgable and provided top notch service. The camp is intimate and we were able to get to know other guests during our stay. Can't recommend them enough!
Jolynn
–
US
Visited: May 2022
Reviewed: Jun 28, 2022
Email Jolynn | 35-50 years of age | Experience level: first safari
Absolutely incredible!
My time at little nDzuti with Bruce and Judy was the most memorable adventure! Their bush camp completely exceeded all expectations. I was blown away by their hospitality, enthusiasm, and Safari expertise.
Camp was simple and beautiful, completely engulfed in nature with no fenses. My tent and outdoor shower were perfectly gorgeous.
Every day was a new experience - from a full day at Kruger National Park, to an invigorating "Ferrari" Safari with Jesse and Sydney (tracking down elusive African Wild Dogs and Lions who made a fresh kill), to a more relaxed bush drive with Sabre (explaining intricate details of the ecosystems). The knowledge of their guides was outstanding.

It was so wonderful to sit and watch warthogs run through camp in the morning, laugh at the elephants pushing boundaries during the day, chatting with Judy and Bruce over a gorgeous dinner in the evening, and hearing the lions roar from my bed each night.

11/10 can't wait to return!

Matic Krajnc
–
SI
Visited: May 2022
Reviewed: May 23, 2022
Email Matic Krajnc | 20-35 years of age | Experience level: first safari
Awesome stay and experience
We spent 4 nights at little ndzuti camp everything was amazing. Accommodation, food, camp, game drives and the hosts. We were able to see a lot of wild life, specially lions that we saw every day. The hospitality in the camp was on next level, really above any expectations. Beeing there feels like living in a luxury resort (with no fence). And that makes the camp really uniqe, as we had elephants and warthogs running around the camp all the time. Would recommend to anyone, and we're looking forward to come back and experience it all over again! :) Bruce, Judy, Sabre and Sydney thank you for everything, you're the best!
Charlotte
–
Visited: March 2022
Reviewed: Apr 10, 2022
Email Charlotte | 35-50 years of age | Experience level: 2-5 safaris
Wonderful Experience!
It was wonderful to experience the African bush with such knowledgeable and passionate people. All the staff from the guides to the chef were so welcoming and friendly. The tented accommodation is comfortable while still feeling a little wild. I loved the open air bathrooms and being able to hear the animals from your tent at night. If you're looking for a down-to-earth, authentic bush experience, then you've come to the right place! Thank you Bruce, Judy and team.
Average User Rating
Rating Breakdown
5 star

15
4 star

0
3 star

0
2 star

0
1 star

0
Write a Review
Disclaimer
All corporate and/or tour info is provided by Wildlife Encounters, not SafariBookings
The tours offered by Wildlife Encounters are subject to their terms & conditions