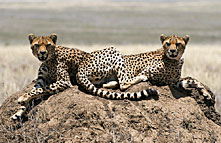 Siafu Tanzania Safaris
5.0/5 – 84 Reviews
Located In:

Denmark

Size:

10-20 employees (Founded in

2014

)

Member Of:

TATO

&

TTB

Tour Types:

Custom mid-range & luxury tours that can start every day

Destinations:

Price Range:

$130 to $400

pp

per person

per day

(USD, excl. int'l flights)
Rating Breakdown
5 star

83
4 star

1
3 star

0
2 star

0
1 star

0
Siim
–
EE
Visited: July 2017
Reviewed: Mar 21, 2018
Email Siim | 20-35 years of age | Experience level: first safari
A really fun, enjoyable and relaxing experience.
We had an amazing time in Tanzania over our 10-day stay. We spent most of our time out and about in 2 different Safari parks. Our guides Emmanuel and Douglas were very knowledgable and helpful. Always willing to adress our concerns or satisfy our whims. It really was sort of like build your own adventure. A couple of specific encounters come to mind. Like when we asked to try true local cuisine we were shown to this nice and cozy, out-of-the way place which you would probably never find by yourself. They were willing to make extra time for us to do stuff that wasn't originally planned. Like taking us to a snake centre because one of us really wanted to see snakes. During the safaris themselves they showed excellent knowledge of the wild-life. For example the habits of the animals, where to find them, local folk tales and legends, all sorts of bits and pieces and even if we managed to stump them with a question they had books on hand to find the answers for us. Maybe most importantly of all they were extremely friendly and approachable. They made us feel welcome and that we never had to hold back.

All in all we had the time of our lives and left feeling like we had found a home away from home.
Martin
–
DK
Visited: August 2016
Reviewed: Sep 19, 2016
Email Martin | 20-35 years of age | Experience level: first safari
Great safari with Siafu Tanzania Safaris
We found Siafu Tanzania Safaris on the internet and saw that they also have offices in Denmark, and we are glad we chose this company. I was with my work colleagues, 6 persones group and we had a wonderful time camping safari for 4 nights. Meals were freshly cooked each day by our own cook, packed lunch provided, some vegetarians in our group were well catered for. Our guide spoke good English and provided a lot of good information regarding the animals and nature. Leading up to our safari, communication was good, everything went smoothly including payment, and information concerning accommodation. The day before our safari, Guide from Siafu visited us at our hotel in Arusha to welcome us and ask if we had any questions. The next day the time for pick up was respected (not african time) and the 5 days spent on safari were fantastic. I can recommend Siafu Tanzania Safaris as a reliable company.
Henrik Folmand
–
DK
Visited: August 2016
Reviewed: Aug 25, 2016
Email Henrik Folmand | 35-50 years of age | Experience level: 2-5 safaris
Great Safari experience
We (4 persons), ent on a safari tour with Siafu Tanzania Safaris February 2016 and we enjoyed it very much. The communication and customer service of Siafu Tanzania Safaris is top notch, and this was a trip of a lifetime. We were able to see the animals at a close distance and the tour guide, Emmanuel was patient and made sure that we were able to get good pictures. Every thing was amazing right from the lodges, food, and safaris. I will definitely recommend Siafu Tanzania Safaris to my friends and anyone looking for an excellent safari tour! This was one of the best experiences of my life!
Arno
–
EE
Visited: October 2018
Reviewed: Oct 22, 2018
Email Arno | 20-35 years of age | Experience level: first safari
Excellent experiance!
I had 14 days trip planned to Tanzania! Trip what i planned had to include kilimanjaro climb and three days of safari so i would also have time to visit other places and to do some other available tours aswell near Arusha. After searching around and asking for offers i decided to choose Siafu Tanznia Safaris. They made me excellent offer and were really helpful while planning the trip. After arriving one of the company owners was waiting me at airport and transported me to hotel. He anwsered to all my questions and introduced local life to me. Since i had first day free after arriving he organized visit to local neighbourhood what included visit to waterfall near Arusha, some local banana and coffee farms. Also had nice lunch in my day guide home with Tanzanian food and coffee what was excellent experiance. Kilimanjaro climb was organized well - guides, cook and porters were top level and helped out with everything. After Kilimanjaro i had three days safari at Serengeti and Ngorongoro crater. They guide knew best places and talked alot about local animals and their life. Saw some amazing scenes what i had seen only in nature movies (lions pack hunting wildebeest, lions with cubs etc.)! Safaris where oranized very well, we slept in tents since im used to it, but if you would prefer sleeping in lodges then they can organize it aswell.

I also suggest you that if you are into birdwatching then let them definately organize visit to lake duluti. Duluti Green Foundation Coffee farm is also good place to visit if you love coffee. They give you nice overview of coffee plantation and its history, also you have change to make your own coffe from dried beans (cleaning, roasting, grinding etc.).

Overall it was excellent experiance and i definately suggest you to use Siafu Tanaznia Safaris as trip organizer.
Anto
–
EE
Visited: June 2018
Reviewed: Oct 7, 2018
Email Anto | 35-50 years of age | Experience level: first safari
Brilliant, precise and helpful.
We took the tour to Klimanjaro and 3-day safary afterwards. Everything was working with minute accuracy (which is not so common in Tanzania) and we got the best suggestions about the route and schedule. Also the driver/guide was really professional and knew exactly what he was doing (for example where the animals are active at certain moment) and told us colorful stories about local way of life so we understood more. Anyway it was priceless experience and thank you for this.
Frederik Saaby Eklund
–
DK
Visited: April 2018
Reviewed: May 6, 2018
Email Frederik Saaby Eklund | 35-50 years of age | Experience level: first safari
Amazing, once in a lifetime trip with the best tour guide.
Tanzania is truly one of the most exciting and beautiful countries you could ever wish to visit. Our guide Ene Lepp did everything in her power to make our trip special and made sure that we saw a lot of wildlife. She knew all the animals and their behaviours. She had an answer for all our many questions, was friendly and helpfull. You could tell that she loved the animals and her job. We saw over fifty lions along with hundreds of elephants and giraffes, just to name a few.
Thank you Ene Lepp and the rest of the team for an amazing experience. We will hopefully see you soon again.
Eve
–
EE
Visited: March 2018
Reviewed: Mar 24, 2018
Email Eve | 50-65 years of age | Experience level: over 5 safaris
A fantastic experience!
At the end of January, I took part in a safari in Tanzania with them. A fantastic experience! Ngorongoro, Lake Manyara and Tarangire national parks, masai people and other friendly locals. I got the best photos of my life! I got a lot of fabulous memories. Many thanks to the tour guides, especially Ene Lepp. I definitely would like to discover Tanzania with them again. The Serengeti remained unidentified ...
Tanel
–
EE
Visited: December 2017
Reviewed: Mar 14, 2018
Email Tanel | 35-50 years of age | Experience level: first safari
Flexible service for all your needs in Tansanya - Mt Meru, Mt Kilimanjaro, Safari etc.
We had a 4 person group and we took full package of services. Co-owner Emmanuel meet us at the airport in the middle of the night and took us to the hotel ( we came with two different flights and Emmanuel drove 2 times to aurport that night). Flight company lost our luggage and Emmanuel organized our luggage to us as soon as it came to the airport. We took i guess full package of services, first fi went mountain hiking to mt Meru for three days, our guides and other team (cooks, porters) we excelent, very fiendly and helpful, very nice guys. After couple of days resting we went to 7 day hiking to mt Kilimanjaro via Machame route. there we had one other guide, who wasn`t in mt Meru, he was very experienced and knew everything we wanted to know and both giudes did everything and mre to took us to th summit. Weather in the summit day was very extreme, but we made it 100%. After mt Kilimanjaro hiking we went to 3 day safari, our group grew up to 8 people with our friends, who came later. Company owner Ene Lepp personally came to safari help us. It was wery proffessionally organized. Between hiking and safaris company`s assistance organized everything what we needed and what came to our heads, they took us places, where other tourists are not going very often and showed us real life. One of our hiking guides took us even to the party and stayed with us whole night and helped us to get to the hotel. In the end company organized everybody personally to her plane, some went home, some went further to Sansibar. So if you want vero good and professional service, personal approach, flexibility, You need to contact with them.
Triin E. Raili
–
US
Visited: August 2016
Reviewed: Sep 7, 2016
Email Triin E. Raili | 35-50 years of age | Experience level: first safari
Fabulous experience!
My husband and I stayed at Zanzibar via Siafu for our honeymoon. After beach holiday we spent 5 nights on a safari. Neither of us had previously safari experience. We visited Serengeti National Park and stayed Kati Kati Tented Camp. This was one of the best vacations we-ve taken. A special mention and thanks has to go to our guide Emmanuel. He was amazing! He taught us a lot about the animals and always put us in the right position for the best shots. The entire staff team was great! We have enjoyd our time in Tansania very much! We recommend Siafu safari operator and Tanzania to anyone! Good people and nice country!
Stayed August 2016. Travelled as a couple.
Triin and Edward
Helene
–
DK
Visited: March 2016
Reviewed: Sep 3, 2016
Email Helene | 35-50 years of age | Experience level: first safari
Amazing experience with excellent customer service.
Amazing experience with excellent customer service from the moment we were picked up at Kilimanjaro Airport to the moment we returned. Siafu Tanzania Safaris operated with the utmost of professionalism. Understanding that not all factors are within their control, the drivers and other associated staff conducted their tour with courtesy, humor, and a wealth of knowledge that definitely enhanced my experience. We were able to see many of the animals present within the park (big five) and our guide was responsive to our remarks and comments if we happened to see something that we wanted to stop for. I would absolutely go on safari with Siafu Tanzania Safaris again.I would definitely recommend using their service if you happen to find yourself in Tanzania and have the means and time to visit National Parks.
Average User Rating
Rating Breakdown
5 star

83
4 star

1
3 star

0
2 star

0
1 star

0
Write a Review
Disclaimer
All corporate and/or tour info is provided by Siafu Tanzania Safaris, not SafariBookings