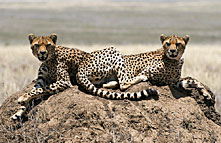 Siafu Tanzania Safaris
5.0/5 – 85 Reviews
Located In:

Denmark

Size:

10-20 employees (Founded in

2014

)

Member Of:

TATO

&

TTB

Tour Types:

Custom mid-range & luxury tours that can start every day

Destinations:

Price Range:

$130 to $400

pp

per person

per day

(USD, excl. int'l flights)
Rating Breakdown
Arbo
–
EE
Visited: March 2023
Reviewed: Apr 23, 2023
Email Arbo | 50-65 years of age | Experience level: first safari
Great customized trips
Operator Ene is putting up the programme according to your interests - main parks (Serengeti, Ngorongoro), or other ones, tribes, village walks, art galleries, markets, hiking, mountaineering or beach. And options accoding to your budget - more or less costly accomodation.
We had 10 days drive - Tarangire, lake Natron with flamingos, river hike to a remote waterfall, remote villages by small roads, Serengeti and Ngorongoro, Hadzabe bushmen tribe with morning hunting, Datoga and Masai village visits and half a day by the hot water pools. Really enjoied it and reccomend!
Drivers-guides are real experts.
Mari-Ann
–
EE
Visited: January 2023
Reviewed: Mar 15, 2023
Email Mari-Ann | 50-65 years of age | Experience level: first safari
Excellent
It's hard to put into words everything we experienced during this trip! It was thrilling, eye-opening and relaxing all at once! If we previously thought that we have some kind of an understanding how life is like there, down below, in Africa, then looking back, we must admit, we didn't know much!
Our tour was put together by Ene Lepp and Siafu Safari. Our trip had a good rhythm, and everything was very well thought through. We got good quantities of nature as well as culture.
Our adventure started with visiting Nkoaranga and Aker village – places that are connected with Evald Ovir, an Estonian missionary in Tanzania in the end of the 1800s. After this we visited the national parks – Tarangire, Ngorongoro and Serengeti. And while everything else was amazing, then the national parks were the highlight of our trip. We saw a leopard lazily eating his prey on top of a tree. We saw a lion catch a zebra. We saw the baby grazers barely on their feet and their moms teaching them their first steps. And yes, we got lucky and managed to see The Big Five – lion, leopard, black rhino, elephant, and buffalo.
In between of visiting different parks we had a chance to get more familiar with the culture of the local tribes and different villages. We visited the Masai, Tatoga and Bushman tribes and saw how they live, how they hunt (Bushmans), how they cook, what they eat and how they dance. This hunting bit might have been the most shocking for some of us! But we also saw how they live in local villages, in Mto wa Mbu and in Babati. Some why though all those village visits ended up with tasting local beer  We also spent a few days in Mwansa – a town on the border of Lake Victoria. There we again had a great chance to learn how one of the biggest tribes – Sukumas – lived and are living today.
Our trip ended with the real relaxing part in Zanzibar. But as it's hard to just stay 7 days laying under the sun, we did have some nice experiences there as well – we went snorkeling, visited a spice farm and went to see the giant turtles. This was definitely the highlight of Zansibar!
Big big thanks for everybody for making this happen – Ene, Emmanuel, Francis and the whole Siafu team.
Laura Kohava
–
EE
Visited: January 2023
Reviewed: Mar 14, 2023
Email Laura Kohava | 20-35 years of age | Experience level: 2-5 safaris
Asante sana, Siafu Safaris
The first time I visited Tanzania was through Ene and Emmanuel in 2020. We had a 7 day Safari trip with Emmanuel.
When our flight first arrived, Ene and Emmanuel were already at the airport waiting for us. Everything was exciting, exotic and cool. The first place we visited was the Tarangiere national park, Emmanuel joked that there is no point in taking photos of the animals you see in the first 20 meters because the phone memory will get full and you will not be able to take a picture when we see a lion 3m from us. We thought that it was a joke and we will probably not get to see any animals this close. We were wrong. There were cheetahs on top of the car, lions as close as 2m laying on the road so it's not even possible to pass them with the car and so on. After the first Safari trip with Ene and Emmanuel we were all amazed by the Tanzanian nature, culture, lifestyle and of course by Ene and Emmanuel. After this trip we were totally in love with the country and we told our whole family how amazing Tanzania and the Safari is.

Now 3 years later we put together a larger group and revisited Tanzania. During these 3 years we were constantly in contact with Emmanuel.

This time we did not have any guides waiting for us, we had our friends Emmanuel and Ene. This trip also started in Tarangiere it was a good intro into the Safari life. In Tarangiere we saw the first monkeys, giraffes and other animals, and of course a ton of elephants. We also managed to see a Cheetah running around with 4 of its cubs.

The next day we were in Mto Wa Mbu, a very beautiful and interesting village. In the morning we saw how the tuk-tuks were carrying large amounts of bananas. Emmanuel had organised a guided tour of Mto Wa Mbu for us, the guide took us to see a local art garden. The local artist are extremely talented and spend a lot of time working on new paintings. They use a variety of techniques for the paintings. We bought more paintings than we did 3 years ago. We also visited the Makonde tribe and a banana plantation. Also we got to try local banana beer and wine. The tour of the village was extremely interesting and we learned a lot of new things about the local life. On our way to see rice fields we passed a big group of children playing football, we gave them candy. The children were really sweet and fun. We spent the night in Motto Cottages, a very nice hotel with a pool. The hotel was in the city and there were monkeys running around the garden, they were very cute and a little shy.

The next morning we went to Lake Manyara Treetop Walkway. Even though I am afraid of heights it was a cool and beautiful experience. The walkway goes higher with every tree and it is in the middle of the jungle. This jungle is home to many species of monkeys and you can expect to see the smallest 5 animals in Tanzania there. From there on we visited the Ngorongoro crater, a very unusual national park, where you can expect to see a lot of lions. For the night we stayed in Rhino Lodge which is surrounded by wildlife on the border of the Ngorongoro crater. After we arrived there we treated ourselves with the local Tanzanin beer called Safari. It tasted amazing. In the evening after it got dark some of the animals decided to sleep next to the Lodge, for example there was a group of Buffalos and a few Waterbucks who you could see on the terrace.

From there we went to the Serengeti national park. Last time in Tanzania it was mu favourite and so was it this time. Endless fields filled with all kinds of animals. If you imagined an African safari then this is it, only this is 50 times more amazing than you could ever imagine. We saw 3 rhinos, the first time we were in Tanzania we unfortunately saw 0. It is amazing how Emmanuel can spot animals a mile away. We saw dozens of lion families with cute little cubs. One of these families managed to hunt down a buffalo who they were eating. Also we managed to spot 3 leopards and managed to see one very close. One of the leopards we spotted was still quite young.

On our way to the Osero Tented Camp we got caught in a very powerful tropical rainstorm, an amazing experience. The camp was better than we could have imagined. It was already starting to get dark outside and we were sitting around a campfire with Emmanuel. If the previous trip's song had been Jambo Bwana, this time we kept singing Hakuna Matata, made famous by Lion King. Osero's family had prepared a cake for dinner that read "Welcome back to Tanzania". This was followed by 15 minutes of singing and dancing, it was once again such a memorable and special moment that I even shed a few tears of joy. At night we heard several animals, hyenas, buffaloes and lions through the tent. It was so exciting that I couldn't sleep. We stayed in Osero for two nights.

After the Serengeti we went to Lake Victoria. On the way, we visited a local tribe and learned a lot about the history and customs of the tribe. When we arrived at Victoria, a boat tour on the lake awaited us. Wonderful views. We spent the night at the Tilapia Hotel. At dinner, Emmanuel and I talked for a long time about life and nature. By that time Emmanuel and I had become so close, as if we were a single family who had known each other all our lives.

The next morning Emmanuel and I said goodbye for a couple of days and moved to Zanzibar. While in Zanzibar, Emmanuel and I constantly sent pictures. About his safari and our island life. Zanzibar was also very beautiful and nice. We went snorkeling and explored the local village. We enjoyed the Indian Ocean and digested how lucky we were on the mainland. After five days on the island, it was time to go back to the mainland.

On the mainland, we met once again with Ene and Emmanuel. We shared impressions, ate dinner and so on. We spent two nights at the Eco Banana Lodge on the Arusha side, which was a very nice hostel in the middle of a banana plantation. On the last day, Emmanuel took us to the hot springs. It is a very, very beautiful swimming spot with crystal clear water in a palm grove.

And it was time to say goodbye to Ene and Emmanuel once again. The goodbye was hard. We had become so close in these few weeks, but it is comforting to know that Tanzania has become a place so close to our hearts that we will always want to go back there. And best of all, knowing that we are always welcomed back. Many thanks to Ene and Emmanuel, who once again made the trip so memorable and special and took care that everything went smoothly with no problems. Emmanuel and Ene themselves are such awesome and broad-minded people who managed to answer all of our questions. As a group of six people, we were constantly asking them an insane amount of questions regarding different topics, and we always got an answer to everything. I wholeheartedly recommend traveling to Tanzania through Siafu Safari. Thank you Tanzania, thank you Siafu Safari, thank you Emmanuel and Ene!

Karri &Lagle
–
EE
Visited: January 2023
Reviewed: Mar 14, 2023
Email Karri &Lagle | 35-50 years of age | Experience level: first safari
Excellent experience
Fantastic experience with excellent customer service from when we were picked up at Kilimanjaro Airport to when we returned. Siafu Tanzania Safaris operates with the utmost professionalism. Understanding that not all factors are within their control, the drivers and other associated staff conducted their tour with courtesy, humour, and a wealth of knowledge that enhanced my experience. We were able to see many of the animals present within the park (big five) and our guide was responsive to our remarks and comments if we happened to see something that we wanted to stop for. I would go on safari with Siafu Tanzania Safaris again. I would recommend using their service if you happen to find yourself in Tanzania and have the means and time to visit National Parks.


Maire
–
EE
Visited: February 2023
Reviewed: Mar 13, 2023
Email Maire | 35-50 years of age | Experience level: first safari
Unforgetable :)
Thank you very much for the good organization. Everything worked very smooth and like clockwork
Caress
–
EE
Visited: February 2023
Reviewed: Mar 11, 2023
Email Caress | Experience level: 2-5 safaris
Reliable, trustworthy, well organized, friendly, super communication, well equipped,
We ( me and my wife I) have used Siafu Safaris two times. The first time we went with Siafu on a safari was in 2021. It was covid time and we made quite a last-minute decision. We started communicating with one of the owners Ene and she was so understanding about our worries, she gave us confidence if something happens we don`t lose our money, and we decided to go. She took more risks than we did. When we arrived, everything was perfect. She and the other owner Emmanuel wait for us at the airport. Next few days we visited a lot of places and natural parks and we got high-level service everywhere. Everything went as promised and we were super thankful.
After 2 years we arrived for the second time in Tanzania for a safari. As we had a super experience with Siafu we decided to use them once again. During this, time, the owner Ene made us another program for 6 days and it was super cool. The highlight was 2 nights in a tented camp in Serengeti, also we visited lake Natron and a lot of other places and it was an amazing experience once again. We were super lucky that we saw cheetahs, leopards, rhinos, a lot of lions and...It was such a fantastic experience to feel that you are in the middle of supernature and everything you see is so close. Our drivers were so experienced and they know where to go :) Even today when I write all these memories come alive and it`s incredible.
We definitely recommend Siafu Tanzania Safaris to everyone because they really are wonderful and trustworthy and they have a super professional team.
Kati+family
–
EE
Visited: February 2023
Reviewed: Mar 10, 2023
Email Kati+family | 35-50 years of age | Experience level: first safari
Best Safari at Mikumi!
Our big group went to Tanzania mainland(Mikumi) and zanzibar isalnd for a 2 week trip. All the trips and hotels were wonderfully organized by Siafu Tanzania Safarid company and Ene. Everything ran smoothly and we had an excellent holiday experience. 5 stars to Ene and Siafu Tanzania Safaris
Frida, Albert, Katariina
–
EE
Visited: February 2023
Reviewed: Mar 4, 2023
Email Frida, Albert, Katariina | under20 years of age | Experience level: first safari
Our safari
We were on the three day safari where we saw lots of different animals and birds for example zebras, elephants, giraffes, ostriches, even lions and rhinos. The three days were long and very hot, but interesting and quite fun, the lunches were very delicious. Maybe the days should have started earlier beacause the animals are more active in the nighttime and morning. The guide was helpful and very friendly.
In conclusion, on safari we saw extraordinary animals that you would not see in ordinary life. The trip was exciting and once in a lifetime experience.
Pille Konno, Hjalmar Konno and friends
–
EE
Visited: November 2022
Reviewed: Dec 11, 2022
Email Pille Konno, Hjalmar Konno and friends | 35-50 years of age | Experience level: first safari
Tanzania is a true kingdom of animals!
We spent a memorable vacation in Africa: 1 week on a safari followed by 1 week in Zanzibar. Ene Lepp helped to book everything. She is a very lovely, open and hospitable person and admire how well she has adapted to the Tanzanian way of life. The most unforgettable parts was the safari, guided by Emmanuel Bildad. I was in admiration of the warmth and respect which Manu displayed the animals. If only everyone could conduct themselves in that manner, then the world would be a better place. I remember seeing a cheetah just 2m away from us. In fear of disturbing the moment, I didn't even dare to breathe. But most of all I remember, and perhaps what will stay with me for the rest of my life, are the majestic lions, which were surrounded with an aura of power. And no Picture I could capture, or words I could write, will ever do it justice. Tanzania is a true kingdom of animals!
Margit
–
EE
Visited: October 2022
Reviewed: Dec 7, 2022
Email Margit | 50-65 years of age | Experience level: 2-5 safaris
Adventure, magical place for vacation!
We had our first Africa trip 5 years ago to Kenya and we are back again, but this time in Tanzania. The travel agency recommended Ene Lepp, she made our trip plan. We started 3 days at Victoria lake town name Mwanza, called Stone Town. Two guides took us around, fishing on lake, sunset on the rocks with amazing view to town and lake Victoria, local food, historical village with the dance and singing and walking in town. After that started Serengeti safari. Our guide Emmanuel took care of us for 3 days, he new exactly where to drive that why we were lucky to see BIG 5 (Lion, Leopard, Rhino, Elephant and Cape Buffalo) plus the Cheetahs, Hyenas, Jackals, Zebras, Antelopes, Gazelles, Hippos, Giraffes, Wildebeests, Crocodiles, Baboons and Monkeys and many other animals and varieties of birds. The tented lodges were an experience onto themselves. The people at the lodges were super accommodating. The lodges were literally in the middle of it all; right in the bush, lion just behind the tents and in the morning first you see zebras. Our trip ended in Zanzibar for 5 days, good hotel, nice beach ,amazing food. When you go Africa you reach back in time to a place where we all come from. Tanzania is full of beauty that only mother nature can create, and we were lucky to have experienced it. The people in Tanzania are so warm. Thank you Ene and Siafu Tanzania Safaris team, it was wonderful . Asante Sana.
Disclaimer
All corporate and/or tour info is provided by Siafu Tanzania Safaris, not SafariBookings