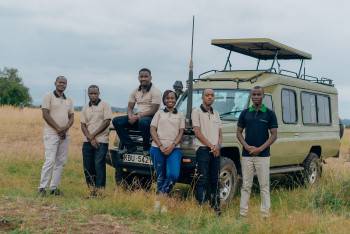 Reny Safaris
5.0/5 – 41 Reviews
Office In:

Size:

10-20 employees (Founded in

2011

)

Member Of:

KATO

& Eco Tourism Kenya

Tour Types:

Custom budget & mid-range tours that can start every day

Destinations:

Price Range:

$100 to $650

pp

per person

per day

(USD, excl. int'l flights)
Elena
–
RO
Visited: August 2021
Reviewed: Aug 30, 2021
Email Elena | 50-65 years of age | Experience level: first safari
Great experience of unique safari
Me and my husband booked 5 days/4 nights safari tour at Naivasha Lake, Nakuru Lake and Masai Mara. We communicated very well with Regina in order to arrange the tour.
The greatest experience was in Masai Mara, the place where we saw almost all the Africa's animals in their place due to our good driver/guide Danka. This was fantastic!
We highly recommended Reny Safaris!
Belinda
–
US
Visited: July 2021
Reviewed: Aug 10, 2021
Email Belinda | 65+ years of age | Experience level: first safari
Great overall experience on our Kenyan Safari
From the beginning, Regina with Reny Safaris was extremely helpful in planning this dream trip. When the airlines started cancelling our flights, Regina was very understanding and accommodating in rescheduling our trip. The guide Reny provided, Mr Lawri, was amazing. We saw animals that exceeded our expectations. The lodges were very appropriate for what we imagined lodges in these parks would be. From the initial planning, through thousands of questions, medical/paperwork required, changing dates, being picked up at the airport through all the travels, arranging our COVID test for our return, and helping us navigate the airport, Reny Safaris did not disappoint. We highly recommend using Reny Safaris.
Diane en René
–
NL
Visited: July 2020
Reviewed: Aug 9, 2020
Email Diane en René | 50-65 years of age | Experience level: first safari
Perfect Service
Due to the Covid 19 our trip to Kenya unfortunately could not take place.
Reny Safaris had organized a hotel Nairobi, 6 days Safari and a hotel Dania Beach, including airport transport for us. Reny Safaris canceled everything and correctly refunded the advance we paid!
Thanks to Regina!
Top service and if we book again it will certainly be with Reny Safaris.
Stay healthy and greetings from the Netherlands
Diane and René
Mark
–
US
Visited: August 2019
Reviewed: Feb 14, 2020
Email Mark | 35-50 years of age | Experience level: first safari
Reny made a trip just for us.
They provided much more than just a safari. The team of Regina, Francis, and David were all wonderful. Our group enjoyed pre safari time on the coast south of Mombasa. The resort and amenities were very relaxing. Relaxing done, it was time to meet our driver David who would drive and guide for us as we visited five of the major parks. David's knowledge of the wildlife was extensive and thorough. Just as importantly he provided us many hours of knowledge about the country and the people. The accommodations and the food were very good. The lodging near the parks were very important for early morning trips and on site viewing of wildlife. Planning well in advance and understanding your own desires of what to see and experience are very important to know while you are planning your trip. Reny Safaris did an excellent job of helping us to see and experience what we desired.

Olga Heckmann
–
DK
Visited: August 2019
Reviewed: Oct 29, 2019
Email Olga Heckmann | 35-50 years of age | Experience level: 2-5 safaris
Great professional tour operator
Totally great and fully professional tour operator for Masai Mara. We were on 3 days trip (2 nights) at Sentrim Lodge. Lodge is ok with very nice accommodation and pool. Massage is available at lodge. No WiFi!!!! Not even in the lobby!!!
We had Obama ( yes, his real name) as our guide. All Big 5 in one day! Obama was very nice and informative. We had a lot of fun which made all trip very easy and enjoyable.
I will recommend Reny Safaris to everybody who wants quality safari at favorable price.

Pierpaolo Pigliacelli
–
FR
Visited: August 2019
Reviewed: Oct 7, 2019
Email Pierpaolo Pigliacelli | 35-50 years of age | Experience level: first safari
They came to search for us at the airport. The safary was personalized.
The guide explained the tour before. The guide speak a good english
Sharon Stehr
–
US
Visited: September 2019
Reviewed: Oct 7, 2019
Email Sharon Stehr | 65+ years of age | Experience level: 2-5 safaris
Amazing experience
Safari was everything we expected, including a gorilla trek in Uganda. All staff, including our driver David in Kenya, were professional, knowledgeable and courteous. Regina did a fantastic job of alleviating our concerns about booking through a company in Nairobi. Magical trip viewing wildlife. Would recommend.
Jun Suk Kim
–
KR
Visited: August 2019
Reviewed: Aug 24, 2019
Email Jun Suk Kim | 35-50 years of age | Experience level: first safari
Perfect trip and wonderful staff!
My wife and I had a wonderful time with The Reny safaris. Our trip was for 4 days 3 nights visiting the lake Naivasha and the Masai mara safari. Regina and Francis welcomed us from the begining to the end. They told the itinerary exactly and was performed the same as it was told. And most of all, our driver-guide Fredrick was fantastic. He told us about all the animals we seen in the tour and took care of us safe and comfortable.
Thanks to the Reny safaris for the wonderful memories we had in Kenya. I would love to recommend the Reny Safaris to everyone who are willing to visit Kenya.
Wilai Deelert
–
TH
Visited: May 2019
Reviewed: Jun 7, 2019
Email Wilai Deelert | 35-50 years of age | Experience level: first safari
The review below is the personal opinion of Wilai Deelert and not that of SafariBookings.
Bad travel agent in Africa
Me and my husband booked 6 days 5 nights safari tour in Kenya with this company. Ms.Regina and Jecton the driver were cheating people.
They changed our itinerary on spot. They tried to avoid to pay for the National Park to save the budget which makes us miss the morning and evening safari.
One day on our itinerary, we have to do evening safari in Amboseli National Park but the driver try to delay the drive to arrive late in hotel because he doesn't want us to visit the park and he can save at least 140 us dollars.
We paid money for safari but we miss two times Safari because of this bad people, Regina and Jecton
Don't use this company if you don't want to disappoint with your Safari experience..


Reply
from

Reny Safaris

Posted on Aug 28, 2019

First of all we appreciate Wilai Deelert for them giving us an opportunity to serve them on a successful trip generally save that little misunderstanding on park fee in Amboseli at the tail end of entire trip.
The 6 days safari through Masai Mara, Lake Nakuru + Amboseli all on Sopa lodges generally went on so well. The matter on contention is pegged on Amboseli Sopa proximity to the park, this being outside the park made their game drives in/out of the park as quite different from Nakuru's or Mara's whose locations are within the park boundaries.
The game drives had to vary from arrival to departure during these 2 nights at Amboseli National park - timing being a factor here we had to have an early exit to meet shuttle bus at Namanga for Arusha/Tanzania transfer.
The couple were extending their tour at the end of Amboseli visit to Tanzania (on their own) and we had booked a connecting shuttle bus from Nairobi to Arusha through Namanga border town, so we had to make a transfer drive across the park in time for the bus schedule . At this point we had to make a re- entry pass through Amboseli park as the only convenient and shortest way possible to get over to the border point to catch the bus. It was in order, so we told them we will pay park fees twice as a rule to the authorities. But from the on set they regarded us as 'cutting down costs' on them as if intending to charge extra or double on the demand and were going to spare less time for the sake of 'catching' a bus ...It did not go down well for them ( Wilai Deelert) as this developed into disagreement of opinion between us but we could not risk missing the bus for their transit either.
We however did not wish to push the whole issue too far so we humbly backed down and recently asked for their address and sent them the money as a way of solving the misunderstanding - a refund of $ 120 dollars was made despite their refusal to undertake surcharge as demanded by park authorities - hoping this will be a settlement point. We are glad they have not mentioned any unethical reaction nor sub standard service or missed on any offer that we had charged for but failed to provide. All the services went on smoothly and we beseeched them to get to know that adventures sometimes do take a little changes at times to meet up to the planned schedules so as to fulfill expectations We beg for our due respect after responding to their demand of the $ 120 dollars that we have remitted to them so far and had the hope this matter was settled. We look ahead to provide very quality services with dedication to every client who comes our way, Thank you!
Serena
–
DE
Visited: December 2018
Reviewed: Jan 17, 2019
Email Serena | 35-50 years of age | Experience level: 2-5 safaris
Awesome safaris!
We travelled 13 days with Reny safaris and overall we had a fantastic experience. Our guide and a member of staff picked us up at the airport early in the morning and we immediately drove to Tsavo. Although this park was not supposed to be the highlight of the tour, for us it was one of the best experiences, maybe because it was the first, or perhaps because of the red elephants. The tour was overall well organized and we loved most of the lodges and tented camps. Our itinerary was well thought out, starting from Tsavo, then Amboseli, Nanyuki and Ol Pejeta, Nakuru, Naivasha, Hell's Gate and ending in Masai Mara. We discussed the itinerary with Regina before booking and she was very helpful to accomodate our requests for a few changes. Our guide, George, was amazing and surely one of the reasons why the travel was so enjoyable and everything ran smoothly. He was always available, very informative and very knowledgeable and we always appreciated his suggestions for activities. Our minivan was always well taken care off, was very comfortable and it was able to climb mountain roads as well as sandy, muddy and rocky trails in parks. 13 days may seem like a lot of time, but for us it was just one discovery after the other and it never got boring. We could easily have stayed another 13 days and I would certainly come back to see the locations that we skimmed but didn't have time to visit, like Mount Kenya, Mount Longonot etc. Overall, highly recommended!
Disclaimer
All corporate and/or tour info is provided by Reny Safaris, not SafariBookings