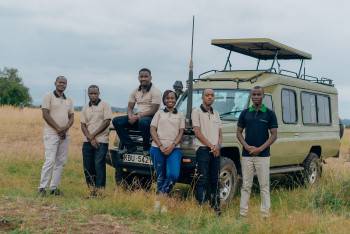 Reny Safaris
5.0/5 – 43 Reviews
Located In:

Size:

10-20 employees (Founded in

2011

)

Member Of:

KATO

& Eco Tourism Kenya

Tour Types:

Custom budget & mid-range tours that can start every day

Destinations:

Price Range:

$100 to $650

pp

per person

per day

(USD, excl. int'l flights)
Rating Breakdown
Esteban
–
CH
Visited: September 2023
Reviewed: Nov 28, 2023
Email Esteban | 35-50 years of age | Experience level: first safari
Outstanding service and amazing experience
With Reny Safaris, communication was always clear and quick. They were super flexible to accommodate our dates and arrival schedules, as well as departure. When we arrived in Nairobi, we were welcomed in the hotel by our driver, Elisha and the tour manager, Japheth. From here Elisha took us on his van and showed us the best of what the national parks of Kenya have to offer. Always being very respectful, flexible and providing us interesting insights into the daily life of Kenyans and the nature that surrounded us. The hotels picked for our tours had incredible views, that have stayed in our memories. We remain grateful to the team of Reny Safaris and specially to our great guide and driver, Elisha and Japheth for the organization.
Óscar & Séfora
–
ES
Visited: October 2023
Reviewed: Oct 18, 2023
Email Óscar & Séfora | 35-50 years of age | Experience level: first safari
Incredible safaris
We have returned from a 5-day Kenya safari now in October (Lake Nakuru, Masai Mara and Lake Naivasha).
The treatment received by both Japheth and Silas, our guide/driver who accompanied us throughout the tour, was spectacular.
We loved Silas' treatment, he is great at the art of driving, finding animals, etc. It shows that he has experience.
They have super competitive prices and they configure the itinerary for you according to what each one starts from.
They have taken care of every detail and even gave us a beautiful little detail when we were leaving.
Indeed when we repeat the African safari it will be with them!!!
Many thanks for everything!!!
Alexandros
–
ES
Visited: August 2023
Reviewed: Sep 4, 2023
Email Alexandros | 20-35 years of age | Experience level: first safari
Delivered on everything they promised and even more!
Once in Nairobi, Japheth and Edwin arrived right on time to collect us and bring us to Masai Mara national park. They were exactly on time and we had no issues whatsoever. The drive to Masai Mara was very pleasant, the car was in excellent condition, very clean, comfortable, and we had great conversation with Edwin. He was happy to stop at any point we wanted to see views, take photos etc.

Once we arrived, again Edwin was completely flexible depending on if we wanted to go on a drive that evening or relax at the lodges etc. We opted to go for a drive that evening, full drive the next day and a half-day drive the following day. Edwin was more than happy to take us as we requested.

On the drives, the car was extremely comfortable and Edwin was a great driver. We always felt safe in the car and we were happy that Edwin was a very ethical driver, avoiding driving too close to animals as some other drivers seem to do. Apart from being able to answer every question we had, Edwin was also knowledgeable on how the animals behave and there were times where all drivers went one way but Edwin when another so that we could get an even better view - and it always worked! On the other hand, he was always quick to move to anywhere in the park that had a high-interest animal such as cheetahs, lions, even the black rhino!!

Our return was equally as comfortable. In Nairobi Japheth came out to visit us with a little token of appreciation which we greatly appreciate. These small touches made a lot and made our experience of Kenya and the Kenyan people even more amazing than it already had been. I would recommend Reny Safaris to anyone thinking of going on one.


Trishna
–
Visited: August 2023
Reviewed: Sep 2, 2023
Email Trishna | 35-50 years of age | Experience level: first safari
Trustworthy, well organised and tailored to perfection! Highly recommended Reny Safaris
We booked a 10 day safari experience with Reny, months in advance and totally did not know what to expect. Japeth was brilliant with his communication at every single step of the process. He created a personalised itinerary for us which included Masai Mara, Lake Naivasha, Amboseli, Tsavo East and three nights at Daini beach resort. David and Elisha, our guides were knowledge, kind, funny and did not hesitate to go the extra mile to provide the most fantastic experience during our entire holiday. We choose the open top safari vans instead of the jeep and each van was very comfortable for a family of four. There was plenty of bottled water always available. The guides ensured we saw all the big fives plus many many more animals and some predators, very up and close too. Their patience and experience helped us to not only spot animals but understand their stories too. We stayed in 5 different lodges and at the beach resort in the end. Each accommodation was unique with great ambience, food and facilities. Our children 14 and 12 years enjoyed the facilities at the lodges in the evenings. Japeth took extra care to ensure we get the best rooms with sea view in the beach resort which was a great extra touch. He arranged the scenic train travel for us from Mombassa to Nairobi on the way back which was a pleasant experience. Japeth, David, Elisha and Walter were available for our airport pick up and drop off. The masaai village visit, the zebras trying to cross the Mara river, picnic in the park on day two, lake view cottage at Naivasha, sunset at Tasvo East, view of Kilimanjaro from Amboseli park, the white sands of Daini beach and the Animal Stories which I still dream about. We cannot thank Reny Safaris enough for this unforgettable experience. Thank you!
Megan
–
ES
Visited: August 2023
Reviewed: Aug 30, 2023
Email Megan | 20-35 years of age | Experience level: first safari
Accommodating, responsive, and personable. Great service and experience overall!
My boyfriend and I did a 3-day safari in Maasai Mara. The entire trip was very easy to organise and our contact, Japheth, was extremely helpful from start to finish. The safari itself was fantastic and our guide, Edwin, was able to answer all our questions along the way. He also ensured we saw as many animals as possible (much more than we expected). Both Japheth and Edwin also had a great sense of humor and just seemed like genuinely nice people. I would highly recommend Reny Safaris. The lodge was also very comfortable, clean, and had a great selection of food at each mealtime.
Toni
–
US
Visited: August 2023
Reviewed: Aug 26, 2023
Email Toni | 35-50 years of age | Experience level: 2-5 safaris
Excellent Choice (10-day Safari)
I've been on safari in South Africa & Zambia so my expectations were high & Reny Safaris didnt disappoint! Our driver, Elisha, was on time & took us thru each park as if he were vested in the experience. We took our time & he made sure we got to experience all the sights and sounds of the beautiful Kenyan nature. We saw all 5 Big Game and more! I've got amazing photos that I'm being encouraged to print & hang for all to see. Beautiful, natural art! Japheth was top-notch in ensuring we had everything we needed prior to arriving in-country & throughout the trip. He & Elisha make a great team. Food & lodging was good, too. Loved being @ the beach at the end of our journey! Perfect way to unwind.

Michelle
–
US
Visited: August 2023
Reviewed: Aug 23, 2023
Email Michelle | 50-65 years of age | Experience level: first safari
Amazing family trip and top notch service
Amazing experience with Reny Safari. From my first inquiry to the last day of our trip I was met with professionalism and excellence. Regina was so helpful in all the scheduling and answering of my MANY question, and always in a timely fashion. We were referred to Reny Safari from a friend who had done two multi week trips with them. Reny came highly recommended by this trusted friend.

On the trip, everything met and exceeded our expectations. Our guide was top notch and very knowledgeable. He was a Masai tribe member so he had all the inside information and connections to make our trip just perfect. The Sopa Lodges were lovely. The Lake Nakuru Sopa knocked our socks off. Wow! It was so gorgeous in every way and the staff was so warm and professional. We were treated so well there and created many special memories in those spaces. The Mara Sopa Lodge was nice as well but more dated. They didn't have quite the level of service as Lake Nakuru.
The safari drives were amazing. I think we saw every animal on our list except the illusive leopard. We had front row views of a lioness and her cubs eating a zebra, herds of wildebeest, zebra, giraffe, hyena, elephant, rhinos, hippos, ostrich, impala, gazelle, crocodile, and so many more! Jonathan our guide educated us about our views.

Thank you for an amazing, once in a lifetime trip! The people of Kenya are dear to us and this place will hold a special place in our hearts.

Sarah
–
US
Visited: August 2023
Reviewed: Aug 13, 2023
Email Sarah | 35-50 years of age | Experience level: first safari
Reny Safaris brought to life a trip we could only imagine.
We had a great experience working with Reny Safaris. Japheth was our contact person and was an excellent communicator. He was flexible with dates and helped to make sure we had everything we needed before we arrived in Kenya. He continued to check in throughout our 10-day tour to ensure we were having a great trip and even arranged a driver for an extra day we spent in Nairobi after the tour. Elisha was the perfect guide for us. He was friendly, dependable, and sought out experiences. He also allowed us to make the trip our own, not pushing a specific agenda. The trip would not have been so amazing without him there. We stayed at 4 different lodgings, each with ample comfort and delicious food. There was plenty of bottled water in the van to keep us hydrated while on the road and on safari. Over the 6 days of the safaris we saw the big 5 as well as a multitude of other animals, identified by name for us by Elisha. We saw some special areas like springs and lava rocks, too. We spent 3 days at Diani beach, a beautiful, relaxing way to cap the tour. The express train back to Nairobi was a fun experience. I highly recommend Reny Safaris and the 10-day tour. It was a great value for the support, no-stress planning and travel, and wonderful tour.
Raj
–
MY
Visited: July 2023
Reviewed: Aug 3, 2023
Email Raj | 50-65 years of age | Experience level: first safari
Accommodative
The staff from this tour operator are truly exceptional. When we arrived at Nairobi airport around 1 am, the manager, Mr. Japheth, along with the driver, Mr. Alisha, warmly welcomed us. They accompanied us all the way to the hotel, assisted with the check-in process, and patiently waited until we settled into our rooms.

Though the van was a bit small to accommodate all seven of us, it didn't hinder our enjoyment of the safaris. Our big game drives in Amboseli, Nakuru, and Masai Mara were unforgettable. In Masai Mara, we decided to hire a special open-type jeep at an additional cost, and it was worth every dollar. The guide, Mr. Jackson, was fantastic. His knowledge of every nook and cranny inside the Masai Mara park was remarkable, and he was relentless in showing us all the incredible wildlife, including the awe-inspiring great migration. It was a momentous trip for me, and Mr. Jackson's expertise and passion together with friendly and helpful Mr.Japheth and Mr.Alisah were the main reasons for this unforgettable experience
Nadarajah Kasy
–
MY
Visited: July 2023
Reviewed: Jul 31, 2023
Email Nadarajah Kasy | 50-65 years of age | Experience level: 2-5 safaris
Spectacular!
I book this tour with Reny Safaris.We enjoyed every moment of the game drive starting from Amboselli to Nakuru and finally Masai Mara.Thanks to Mr Jackson and Elisha ,their indepth knowledge of the park,animals and their passion for wildlife enable us to sight many animals.Thanks to Mr Japheth ,kind and honest person.He delivered what he promised.He was very helpful especially when we had problem in one of the lodge we stayed,he manage to solve the issue.
I would surely go back to this tour operator if i visit Kenya again.
Disclaimer
All corporate and/or tour info is provided by Reny Safaris, not SafariBookings