Daily Expeditions
5.0/5 – 52 Reviews
Office In:

Size:

10-20 employees (Founded in

2017

)

Tour Types:

Small & medium group tours (Budget & mid-range)

Destinations:

Price Range:

$130 to $950

pp

per person

per day

(USD, excl. int'l flights)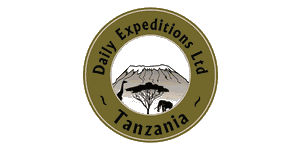 Request a Quote ›
Your request will be sent directly to the operator
If preferred, you can contact the operator directly
Eva
–
SE
Visited: January 2020
Reviewed: Jan 11, 2020
Email Eva | 35-50 years of age | Experience level: first safari
Fantastic tour with very wonderful driver Matata.
We had a wonderful tour throug the Daily Expeditions (Whats App Frank tel. 255754686905). The driver Matata is very compitent. Matata has been working for 6 years in another safari and now he has worked as driver for 6 years in Mikuni safari. Matata can explain everything about animals, knows all the roads in Mikuni safari and he is very frienly. We were one full day in safari and saw all animals except lions. Second day we had time only 1 hour to visit safari. Matata did that during that hour we could see lions in the front of our car. He drives a car very saftly. We have 3 kids with us and even it was a long drive from Dar Es Salam, I never become afraid. At nigt we stay in very nice lounge with swiming pool and good dinner and breakfest. We even saw the Massai Tribe, which was very intresting. We really recommend Daily Expedition.
Lydia Rochelle
–
Visited: October 2019
Reviewed: Nov 15, 2019
Email Lydia Rochelle | 20-35 years of age
Brilliant time especially thanks to Matata (our driver)
Despite arriving to pouring rain - and lots of rain across the three days of our safari - my partner and I had a brilliant time.

Matata our driver was wonderful. Really friendly and knowledgeable. On our second day I wasn't up for a full day hike and he helped us amend our plans really easily.

The food was great and Camp Bastion in particular, whilst basic was lovely.
Salvatory
–
Visited: September 2019
Reviewed: Oct 27, 2019
Email Salvatory | 35-50 years of age | Experience level: first safari
Everything worked fine and Frank always very helpful and attentive.

We thought that this safari could not have been better. We were very lucky. We had an excellent guide, Matata always attentive to follow the best animal spots to see all the animals. We saw the big 5 twice.it was very rewarded.
We heartily recommend it.
Damour
–
Visited: March 2018
Reviewed: Oct 26, 2019
Email Damour | 20-35 years of age | Experience level: over 5 safaris
Magnificent
Had an amazing experience with DEL, I didn't have enough time to explore everything and then I contacted This safari and they honored me and helped me to have an amazing overview of zanzibar visiting different and meaningful places

Muthe Mathias
–
Visited: April 2019
Reviewed: Oct 25, 2019
Email Muthe Mathias | 20-35 years of age | Experience level: first safari
Excellent organisation
Everything was as well as announced in the program.

Good camp, good meal, good safaris

It really deserves to be rated 5 stars
Alex
–
US
Visited: September 2019
Reviewed: Oct 25, 2019
Email Alex | 20-35 years of age | Experience level: 2-5 safaris
Excellent
Excellent , I hope I will visit soon, I will recommend you to visit bTanzania when you go to Africa
Martin Bromwich
–
Visited: October 2019
Reviewed: Oct 25, 2019
Email Martin Bromwich | 35-50 years of age | Experience level: 2-5 safaris
Daily Expeditions went above and beyond to provide our family with an unforgettable three day safari
I visited Moshi to work for a week, so we decided that this was a great opportunity for our family (especially our 3 year old son) to join me and go on safari afterwards. After contacting numerous companies for quotes and itineraries, Daily Expeditions were recommended to me by one of the people I would be working for in Moshi.....and I'm glad I chose to contact them. Right from my initial e mail, the correspondence from Frank was superb. Most of the other companies I had been in touch with were much more expensive (double the price in some cases) and also unwilling to change any aspects of the trips they were offering. Daily Expeditions, on the other hand, were very accommodating, were very honest when it came to arranging a trip that was within our budget and that would be suitable for our son, and nothing seemed to be too much trouble for them. Frank answered all of my questions (and there were a lot) swiftly and concisely - it was very important that everything was right for our son in particular - sending pictures when necessary to give us a more complete picture of what to expect from the trip. With Frank's advice and information, we decided on a 3 day trip to Tarangire, Ngorongoro Crater and Lake Manyara - we decided the Serengeti was too far, and didn't regret it.

On the first morning of our trip, Frank met us at the hotel with our driver Karim to wish us a great trip, which was a lovely, personal touch and put us all at ease straight away. Karim was great, making sure that our son's car seat was completely secure before we started our journey, and driving with great care at all times. In fact, he noticed a problem with the jeep about halfway to Tarangire (we didn't have a clue), informed us of the situation, told us he would rather get it checked out (especially with a child on board), took it to be assessed while we had a break at a roadside stop, and returned with the good news that we could carry on. It was a very long drive, but Karim was constantly providing us with information about the places we were passing through, things that we could see, and encouraged us to ask as many questions as we wanted which made the journey time seem much shorter than it was. He was extremely knowledgeable, interesting to talk to and made every effort to engage with our son too.

If I'm completely honest, Tarangire was a little disappointing. A lovely area to drive round and explore, but, unfortunately, the weather hadn't been kind to us the few days before and it had appeared to have an affect on the number of animals being out in the open. However, we know that you are not always guaranteed to see anything, so considering it was a half day, we were really happy to see a leopard, cheetah and her cub, and giraffe (our son's favourite). Karim did his best to find more animals for us, staying as late as possible, but it just wasn't to be. That said, we did encounter a large group of giraffe on the roadside on our way back to our accommodation which is always amazing to see.

The next morning we headed to Ngorongoro Crater. A pretty treacherous drive at times - we saw a lorry hanging over a sheer drop at one point - Karim once again drove very carefully. The views from the top of the crater were stunning, and once we were inside, it soon became apparent that this would be what everyone expects from a safari - animals wherever you look. Having seen a leopard the day before, within 30 minutes of being in the crater we had seen the rest of the big five. Having encountered a large group of elephants within about ten metres of the jeep, we were lucky to see two rhinos (albeit through binoculars) followed by two male lions along with the remains of a buffalo. We went on to see the hippos wallowing in the pool and just driving around we saw hundreds of zebra, buffalo, wildebeest, (a few) hyenas, different types of birds, impala, waterbuck and ostriches. The scenery here is breathtaking, and was made all the better by the clear blue skies which provided some amazing colour contrasts, especially with the salt lake in the centre of the crater. Just as we thought we were taking a scenic route out of the crater, it became apparent that Karim was taking us to see a group of lions that were hunting a lone buffalo. We all watched as the buffalo outwitted them and one-by-one the lions gave up and strolled right past our jeep (stopping to rest in the shade of some of the other jeeps around us). It was amazing to see to be so close to them, and the perfect way to end a superb day. We headed back very happy, and Karim stopped once to show us some more of the great views that were on offer, and again as he had spotted a female ostrich sitting on her eggs. Karim had earlier explained the nesting ritual that ostriches have, and we soon saw it in action as a large male appeared for the night shift. The drive out of the crater gave us more incredible views, which rounded the day off superbly.

The final day was a half day in Lake Manyara. The first few hours were a bit disappointing (mainly because we had seen so much the day before) and we only really saw monkeys, a handful of zebra, buffalo and hippos, but then we had some amazing views of large numbers of elephants. They were so close to the jeep that each time we came across a group we just sat and watched them for ages. At one point a bull was about two metres from the jeep staring straight at our son, something that we will never forget (and hopefully he will remember too). When our time was up we passed more herds of elephants, and ended the trip on a high as we spotted two adult and one baby giraffe in the distance -- we were desperate for our son to see some one last time, and his reaction to seeing them really finished our three day trip off in style.

Having been on safari before, we were fully aware that there are no guarantees. We could have happily gone into Ngorongoro for three days, but then we wouldn't have seen the cheetah, or had the close-up experience with so many elephants, so although Tarangire and (to an extent) Lake Manyara were slightly disappointing, we don't regret choosing to visit all three parks.

I cannot recommend Daily Expeditions highly enough. From the first time I contacted them to the moment we returned to the hotel to be met by Frank again, the service was exemplary. Karim was a great driver and guide, was brilliant with our son, and went over and beyond his duty to make sure that we were happy with everything. Overall the safari fulfilled our expectations, and provided us with a lot of unforgettable memories. If we ever return to Tanzania, I would not hesitate to use daily Expeditions again, whether it be for a safari or a different trip.



Mitchel Johnston
–
US
Visited: October 2019
Reviewed: Oct 24, 2019
Email Mitchel Johnston | 35-50 years of age | Experience level: over 5 safaris
BEST TOUR COMPANY
Best experience and amazing moment with Daily Expeditions Limited.My wife and i had a wonderful Mikumi safari with this company,we would strongly recommend them as the best operator in Tanzania.
Andy Shawn
–
US
Visited: September 2019
Reviewed: Oct 23, 2019
Email Andy Shawn | 20-35 years of age | Experience level: first safari
Best Selous/Mikumi Adventure so far
We enjoyed everything about our safari with DEL the safari exceeded our expectations.Our guide Mr Muddy was very friendly and gave lots of information,accommodation at Camp Bastian was very excellent,the price for the safari was excellent for all that we got.I would definitely do more tours with Daily Expeditions Limited.
Samwel Thomson
–
US
Visited: October 2019
Reviewed: Oct 23, 2019
Email Samwel Thomson | 50-65 years of age | Experience level: over 5 safaris
AMAZING MIKUMI TOUR
We had an amazing Mikumi/Udzungwa tour with Daily Expeditions Limited, our guide was very reliable he knew the best timing and places and we saw all animals.He was also very friendly and taking good care of us.The owner Mr Frank was very professional in arranging our tour from the first email communication to the end of our tour, i would definitely recommend this company to any person.
Disclaimer
All corporate and/or tour info is provided by Daily Expeditions , not SafariBookings
The tours offered by Daily Expeditions are subject to their terms & conditions