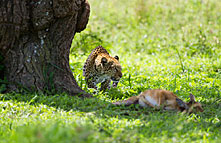 Bright African Safaris
5.0/5 – 80 Reviews
Located In:

Size:

10-20 employees (Founded in

2007

)

Member Of:

TATO

,

TTB

& TLTO

Tour Types:

Custom mid-range & luxury tours that can start every day

Destinations:

Price Range:

$50 to $85

pp

per person

per day

(USD, excl. int'l flights)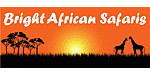 Rating Breakdown
Kathy Henderson
–
US
Visited: September 2023
Reviewed: Nov 6, 2023
Email Kathy Henderson | 50-65 years of age | Experience level: 2-5 safaris
Absolutely Amazing Company !!
This was our second trip with Bright African Safaris! Our first trip 5 yrs ago was soooo wonderful we just had to return! The company is top notch and goes way above and beyond expectations. Every staff member is wonderful! The marketing/scheduling staff (Evania and Salim) pay close attention to every detail….and are amazing to work with prior to the trip….very quick to respond and always eager to arrange anything you want…this time we were interested in adding a rhino experience at the last minute….Evania expertly got that arranged for us! During the trip, the day we were supposed to do the rhino experience the govt managed trip turned out to be a big pain in the neck! Salim from the office had to come in on Saturday and wire money from he bank and literally spending hours on the phone with the govt people and rangers to get it straightened out. He did and we had an amazing experience!
Isabelle
–
CA
Visited: February 2023
Reviewed: Apr 9, 2023
Email Isabelle | 65+ years of age | Experience level: 2-5 safaris
Great company and superb driver/guide
Bright African Safaris are a locally owned and excellent safari company. We went on our second safari in late February/March of this year. Our first safari was with another company. We thought it and their guide were excellent, but they were outdone by Bright African. We chose them after sending proposals to several companies recommended on the Trip Advisor forum. They had the best price and the best organized proposal.
They have excellent and speedy communication. Evania, their "Sales Consultant", is much more than that. Here English is flawless. She responded to our requests and needs. The proposal she issued was very organized, complete and easy to follow. She devised a trip which flowed well and made sure we were in good locations. She and the company know the various parks and take visits each year to check out accommodations. The itinerary they gave us was comprehensive and clear. We knew where we were going, where we were staying and what was included. Their clear instructions made it easy to make our deposit and final payment by bank transfer. They also accept credit cards, but with a fee, and we could have made the final payment in cash (US$).

Our driver/guide Hamis (Hamisi Mashauri) met us at the airport with a huge smile and handshakes. He was wearing a white shirt with the logo for Bright African. He led us to his very clean, well equipped, and fairly new Toyota Land Cruiser and drove us to our hotel (We wanted a budget hotel and their suggestion of the Outpost Lodge turned out to be just fine.)

The next day on our way to Tarangire, Hamis took us to Bright African Safari's headquarters which are out of town near the airport. We met Evania and Salim, another representative. Evania personally welcomed us and thanked us for choosing Bright African. She also wanted to go over our itinerary once more and make sure everything was clear. (It was!)

On our final morning Hamis drove us to the Arusha airport where we again met Evania and Salim. They wanted feedback on how our trip went. We gladly told them how exceptional everything was.

Now for our driver/ guide and new friend, Hamis! What a vibrant, intelligent, personable man he is! We so enjoyed our time with him. My husband likely bored him with his discussions on topics of science, history, etc. but Hamis always appeared interested.
Of course he knew all the roads in the parks without signs and without consulting maps. He could spot a leopard in a tree in the late afternoon shadows while driving. He would say there are two cheetah in that bush (when we could see nothing) but sure enough when we got closer, there they were! Indeed, one day while driving at about 30 KPH, he slammed on the brakes to show us a dung beetle which was in the process of making a relatively large ball of elephant dung to attract his female mates. Wow! Who knew the little beasts can be so interesting!
He possesses an intricate knowledge of the interrelationships of the various animals, what they eat, and how they behave. With Hamisi, you may be able to witness a lion, cheetah, or leopard in the act of hunting and learn how the predator uses wind direction, camouflage and patience to stock its prey. Even though it was our second safari, we saw and learned new things. He taught me to be patient and not want to rush away. Sure enough things would happen. That is how we saw a male lion mating (twice!) with a female of his pride in heat.
He used the radio a bit but most of the time it was off. Often he stopped to talk to other drivers and much of the time it was him giving information to others. We encountered other driver/guides who were new to the job and needed directions. Hamis is experienced and it showed. His conversations and descriptions of the whys and ways of not only the flora and fauna but also of the nomadic Maasai people and how they survive as cattle herders in the midst of so many predators is truly enlightening.
Hamis succeeded in finding a wide variety of animals to see. New on this trip were lions mating, lions in trees, a cheetah on the hunt, dung beetles, and several mongoose raiding a termite mound. Ndutu was new for us and in Feb/March it is a fantastic place to be! The migrating herds of wildebeest and their accompanying zebra – said to be two million strong – made a spectacular sight while they journeyed around their annual loop of the Serengeti and adjacent areas searching for fresh pasture. It was also where we saw lots of lions and thousands of flamingos.

Every morning Hamis would be ready before the agreed time and greet us with his smile and handshake. He managed to have the vehicle clean every day. He would go over the rough plan for the day. At the end of any day he could summarize what we had seen even knowing how many lions and cheetahs we encountered. (No he could not count the thousands of wildebeest and zebra!)

Lunches with Bright African Safaris are a special treat. Their Land Cruisers are custom equipped with a folding table. This along with chairs allows for dining under a tree in places where it as safe to do so. Each evening at our accommodation, Hamis ordered a special lunch for the next day instead of the usual boxed lunches. We got to enjoy these with a table cloth, dishes and utensils. These had good variety, generally with rice, meats or fish with sauces, vegetables and fruit. Hamis quickly learned what we liked. Leftover food was given to workers at picnic spots or where we stayed.

To summarize, Bright African Safaris are a very professional and experienced company. I highly recommend them.





Denise
–
US
Visited: August 2022
Reviewed: Sep 24, 2022
Wonderful to work with and delivered an amazing experience!
The Bright African team was exceptional to work with! I originally reached out to several companies for itineraries and quotes, and in the end we went with Bright African as having the best of both. Our group did a 9 day safari to multiple parks plus 3 days in Zanzibar.

Like many others, we had originally planned to go in 2020, but ended up deferring until 2022 due to COVID. So I worked with Salim in sales/planning for about 3 years!! We went through many changes including changing our group size/members, adding days, locations, and activities, and Salim was so flexible and kind throughout the entire process. He was quick to respond, open to requests, and ready to provide suggestions when asked. Even when I had multiple email issues (check your spam folder!), he was always patient and professional. Our itinerary was excellent and very customizable, and we enjoyed every lodge/hotel/bush camp we stayed at that Bright African chose! Bright African also had nice eco friendly touches on safari, such as refillable (clean) water canteens and reusable metal lunch sets with plates and silverware; most other companies used paper lunch boxes (provided by the lodges which will prep the lunches for safari goers) that generate lots of waste.

On safari, our guide was Hamis. He was absolutely amazing! He was very skilled and safe behind the wheel of the Land Cruiser we were in, especially on the rough and bumpy game drive roads. He also knew everything about every animal, bird, plant, tribe, everything!!! You can tell he has so much experience as a guide, navigating the vast game roads for the best spots, chatting with other drivers to tell them what we found and vice versa to make sure nobody missed out, and of course spotting animals - one time he caught the ears of a red buck poking out of the grass!! We learned and saw so much thanks to him!! I also feel very grateful that Hamis was our guide for his personality. He was so friendly and open, always had a smile on, and was quick to laugh and eager to chat. Our whole group felt very comfortable with him. This matters a lot; you are with your guide pretty much whenever you're not sleeping, and sometimes even then even you doze off in the car!

In Zanzibar, Juma was our contact and he arranged the activities we did with local guides along with transportation. This was a completely different vacation compared to safari so we spent more time at the excellent hotel that Bright African arranged, but all activities and taxi rides we did went very smoothly. This was also very flexible; we were able to customize activities and change around what day we did them. If I could do the vacation over though, I would not have booked activities and just relaxed at the hotel the entire time!

I'm very happy we went with Bright African Safaris. Throughout my research, I saw they were very highly regarded especially in the forums here on Trip Advisor, and now having worked with them for this trip, the reputation is justified!!
charles emanuel
–
US
Visited: September 2022
Reviewed: Sep 23, 2022
Email charles emanuel | 65+ years of age | Experience level: first safari
Bright African Safaris gave us an EXECTIONAL safari experience.
We just completed - Sept 1 to Sept 14, 2022 a 14 day private tour with Bright African and were over joyed with the results. I liked the idea of working with a locally owned company and was not disappointed. Bright African is a professional, organized and extremely pleasant organization to work with. I had no problems with communication in the planning process and Salim in the office was more than happy to make adjustments we requested and answer our many questions. The pricing for the tour was reasonable . I also liked the idea they were not demanding about the timing of the final payment- a small point but shows their integrity.
Our guide Albert Mungre was a delightful person and excellent guide who had a great grasp of the plants and animals we encountered. In addition to the flora and fauna, Albert gave us a good insight to the people and country of Tanzania . We were able to see all the bucket list animals in the various parks we visited and got to see 4 migration crossing at Mara river which was an amazing experience. We traveled in a Toyota Land Cruiser with a pop-up roof for each game viewing. Considering how bad most of the roads are in the parks, the ride was fairly comfortable.
Here was the itinerary for our private safari. The lodging we selected was all mid-range type accommodations- and this can be adjusted to fit your particular tastes and requirements.
Day 1: Kilimanjaro airport/Arusha. Overnight at Kutoka lodge
Day 2: Arusha/Arusha N.park. Overnight at Kutoka lodge
Day 3: Arusha/Tarangire N.park. Overnight at Tarangire osupuko lodge
Day 4: Full day in Tarangire park. Overnight at Motto cottages
Day 5: Manyara area/Lake eyasi bushmen. Overnight at Hhando coffeelodge
Day 6: Full day in Ngorongoro crater floor. Overnight at Ngorongoro lion paw
Day 7: Ngorongoro/Serengeti N.park. Overnight at Zawadi serengeti tented camp
Day 8: Full day in endless plain of Serengeti. Overnight at Zawadi serengeti tented camp
Day 9: Another full day in endless plain of Serengeti. Overnight at Zawadi serengeti tented camp
Day 10: Central Serengeti/Northern Serengeti (special day for migration watch). Overnight at Heritage Mara migration camp
Day 11: Full day in Northern Serengeti area. Overnight at Heritage Mara migration camp
Day 12: Early morning balloon ride and Another full day in Northern Serengeti area. Overnight at Heritage Mara migration camp
Day 13: Serengeti Kogatende/Arusha airport Under the shade safari lodge
Day 14: Arusha/Kilimanjaro airport. Fly out
Each area had its charms- I would especially recommend the Lake Eyasi bushmen as something truly unique to see.
If you have the time and money take the balloon safari it offers a unique perspective and the experience is well organized and fun; plus you will have the best breakfast of your stay.
In conclusion, selecting Bright African will be the best decision you make

Suzanne
–
US
Visited: August 2022
Reviewed: Aug 18, 2022
Email Suzanne | 65+ years of age | Experience level: first safari
A Most Memorable Safari from a Great Company
This trip was an awesome experience. We visited Kenya- Lake Nakuru and the Masaii Mara, then crossed into Tanzania where we experienced 8 more days of game drives. Our accommodations, mostly tented camps, were beautiful. The service in the camps was superb. On game drives, we saw all the Big And flamingos, ostrich, an endless list of beautiful birds. Most memorable was being able to witness the crossing of the wildebeest accross the Mara River. I will never forget the thrill of seeing a grazing herd suddenly come to life and stampede together.

We had excellent guides. Ronnie in Kenya found the Big 5 for us in two days! In Tanzania we were guided by Hamis for 8 days. Hamis is passionate about his work and wanted us to have the best experience. His smile and enthusiasm made the start of everyday full of anticipation of the adventure ahead of us. Hamis could spot game and birds expertly. He shared with us his vast knowledge of wildlife. And he gave us all the time we desired to observe. Only when we said "All good" did he start the engine and move on. This meant so much to us because by quietly watching the animals we felt we really experienced their behaviors. The wildlife were so close to us too! Sometimes we would drive out to meet them in the tall grass and they would almost seem to pose for us. What a thrill to be so close!

I highly recommend Bright African Safaris and Hamis as your guide. You will have the Trip of a Lifetime.
Ken C
–
US
Visited: August 2022
Reviewed: Aug 17, 2022
Email Ken C | 65+ years of age | Experience level: first safari
Bright African Safaris delivers the Best Trips at the Best Price.
We just returned from our African safari. For three years we had been planning this "trip of a lifetime" and Bright African Safaris truly made it happen! Through numerous postponements and reschedules Salim communicated promptly and worked tirelessly planning our custom itinerary and securing quality lodging for our adventure.

We began in Kenya and Ronny (our driver/guide) expertly located game for us (four of the "Big Five" in our first game drive)! After four days Ronny handed us off to Hamis at the Tanzanian boarder. Hamis proved to be worthy of being called "a guides guide". Not only was he an expert at locating game he was also a wealth of knowledge about the animals, their behavior, habits and charistics. Likewise he was equally informative about the various native tribes, their culture, customs and their relations with each other. All this shared information made our safari more than just a trip to see animals - it opened us up to a truly enlightening and learning experience. (I highly recommend both of these guides - request them if you get a chance.)

All in all Bright African Safaris fulfilled all of our expectations and exceeded every one of them!

Barbara
–
US
Visited: August 2022
Reviewed: Aug 16, 2022
Email Barbara | 65+ years of age | Experience level: first safari
The BEST guides and professional company, exceeded expectations
We planned our Safari with Bright African Safaris in 2019, and had to reschedule several times due to Covid. With each change, Bright African Safaris was flexible and were able to maintain our original agenda. We FINALLY did our our "trip of a lifetime" in August 2022. We started in Nairobi, where we were met at the airport. We then went to Lake Nakuru, the Maasai Mara, Northern and Central Serengeti, Ngorongoro Crater, Tangire National Park, and Amboselli NP. A total of 13 days. Our guides, Ronny in Kenya (4 days) , and Hamis in Tanzania (8 days) , were so professional and extremely knowledgeable about all the animals we saw, as well as the flora and culture of all the areas we visited. We saw dozens of lions, cheatas, elephants, zebras, ostriches, wildebeest, impalas, gazelles, giraffes, warthogs, buffaloes, and even a very rare sighting of a southern white rhino mother and baby! Also a huge variety of birds, which was unexpected. Some of our sightings were so close we could almost touch them if we weren't in the protection of our Safari vehicle. A highlight was Hamis finding two wildebeest herds crossing the Mara River. It was so exciting to see them jumping, swimming and struggling to reach the Kenya side of the river. Hamis knew just where to go and how to position ourselves to witness this amazing spectacle. Our guides were expert at spotting animals, and then educating us on the biology, ecology, history and characteristics of each animal. We learned so much that we hadn't expected. We also visited a Masai Village, which was so interesting. We were so warmly greeted and educated on this important tribe. Our lodging was excellent and somewhat unique- a bucket shower in the Serengeti was actually pretty fun! Some of the lodges were top notch, and all of the staff were so accommodating. We can't say enough about how important the guide is to a fulfilling Safari experience, and ours were just simply the very best. We felt like "friends " by the end of the trip, and were sad to say goodbye. We highly recommend using Bright African Safaris for your Safari. We hope another Safari with them is in our future.
kornel temesvari
–
HU
Visited: April 2021
Reviewed: Apr 12, 2021
Email kornel temesvari | 50-65 years of age | Experience level: 2-5 safaris
first class service, outstanding experience
We have got a well written, personalised itinerary. The guide, Salim was perfect, we have seen lot more than we would dreamed of. He have superb stories/facts on animals.
We have travelled the would but this 4 days safari was the best experience so far.
Highly recommended!
Roy
–
Visited: October 2019
Reviewed: Nov 27, 2019
Experience of safari and stay organised by Bright Safari
Our safari guide Salim was very good on all the 3 parks vsited, very knowledgeable and made sure we drove around to see as many wild life as possible. The pick up from Arusha airport and drop off back to airport was all arranged by BS.
We had an issue with the first night hotel in Arusha, and when we expressed our concern to Msangi Charema the owner of BS, he transfered us on the 3rd night to the Olerai Lodge which was top class.
I will recommend BS as a company with integrity.
KristenM
–
US
Visited: September 2019
Reviewed: Oct 6, 2019
Email KristenM | 50-65 years of age | Experience level: first safari
Trip of a lifetime with Bright African Safaris!
I apologize for the length of this review, but it's hard to be brief when singing the praises of Bright African Safaris. This wonderful company recently organized an adventure of a lifetime for me and my husband, and we have so many good things to say about it. When we decided to do this trip, we looked for a local tour operator, as we wanted all of our money to stay in Africa. After reading reviews, we sent inquiries to several companies, and quickly settled on Bright African, because they were the most responsive and offered the most reasonable prices. Their trip planner, Salim, patiently answered our questions and reworked our itinerary many times to fit our interests and budget. We had the pleasure of meeting Salim upon our arrival in Arusha, where he introduced us to "the other Salim", who was to be our safari guide in Tarangire, the Serengeti and Ngorongoro Crater.

I knew we'd really hit the jackpot when I heard this second Salim was our guide, as I had read so many positive reviews about him. After spending eight days with him, I can confirm that all the rave reviews are bang on. Salim is a very kind, conscientious and caring person who made sure we were always happy and comfortable. He speaks perfect English and, to my delight, he is also very fluent in French. He is very engaging and intelligent. He has so much experience that he brought us to three Mara River crossings with virtually no wait time, and led us to the most remote corners of the Serengeti (without a single wrong turn!) for up-close animal encounters with no other jeeps in sight. He even took us to the Eastern Serengeti, where other jeeps do not seem to venture much, and although the wildlife was less plentiful there, we were very excited to discover a hyena den. He taught us the value of patience! The other guides have great respect for Salim and call him a walking encyclopedia, as he knows pretty much everything you'd ever want to know about every animal in East Africa. He is also absolutely amazing at finding the animals. I truly think he has eyes in the side of his head, as he is able to look left and right to spot animals, all while navigating very bumpy and challenging roads in the parks. With his eagle eyes, we were able to see pretty much every non-nocturnal animal in his wildlife handbook, even an African wild dog, which is apparently very rare in Tanzania. The only exception was the elusive rhino. Salim tried very hard to find rhinos in the Ngorongoro Crater for us, even stopping rangers to ask if they had seen them, but alas, the rhinos had decided to sleep in the deep forest that day, and not even the rangers had seen them or heard of anyone who had. We were one of the last jeeps to leave the crater, as Salim wanted to give us every possible chance to spot them. We have decided we will just have to go back one day to see the rhino, and if we do, we would certainly ask for Salim as our guide. Other than the magnificent animals, he was the best part of our safari!

We were also very happy with the tent camps and lodges arranged by Bright African, with their luxurious beds, hot showers and good food. Our favorites were the Tanzania Migration Bush Camp at Mara River and the Serengeti Safari Lodge. We were also particularly thrilled with our amazing lunches, usually eaten in the middle of nowhere! The few times we did eat at picnic grounds, we felt sorry for all the other tourists, whose companies just provide boring brown bag lunches, for not only did they have to see us set up a beautiful table, with a tablecloth and proper plates and cutlery, they then had to watch in envy as we indulged in a large selection of delicious food that had been kept warm in environmentally-friendly stainless steel containers. We even had coffee made fresh in a French press every day, and Salim always made sure I could top off my meal with chocolate! He kindly spent his own money picking up treats like avocadoes and bananas from roadside stands. He also got up early every morning to make sure our jeep was spotless and stocked with everything we'd need. Extra touches like these make all the difference and really set Bright African apart from other companies.

Bright African's excellence even crosses borders, for we got the same royal treatment when we went on to the next part of our trip, in Rwanda and Uganda. Upon arrival in Kigali, we met our second wonderful guide, Bosco. He is also a very conscientious and kind person, and he did a great job driving us through the beautiful Rwandan countryside, with stops at the quaint Migano Café with spectacular drinks (Try the Bob Marley!), and a very fun roadside eating area where we got kebabs, hot sauce and banana beer. Bosco set up WiFi in his car so we could catch up on messages while driving, and he even got a link to a Canadian radio station to make us feel totally at home! We told him that we were so comfortable that we could happily spend the rest of our holiday in his car, but in fact, the highlight of our trip was yet to come….a gorilla trek in Bwindi Impenetrable Forest! I didn't think anything could be more exciting than our safari, but seeing a gorilla in its own habitat is an experience like no other. Gorillas are so like humans, and being in their presence is indeed a magical experience that I'd suggest to anyone with a little adventure in their souls (and lots of money in their pocket, as it is quite expensive!)

We are very grateful to Bright African for arranging all of these wonderful adventures, and would heartily recommend them to anyone interested in travelling to East Africa. They are also looking at expansion into South Africa, and we hope to use them there one day. After our trip, I had a lovely email exchange with one of the founders, Msangi, who told me that after working as a waiter, and then as a driver/guide, he built Bright African from scratch. What a fantastic job he has done! In addition to our excellent guides, we had many lovely drivers on our journey, and each one of them seemed to take great pride in their work and their company. Many congratulations to Msangi and all of his team for creating such a special company, and many thanks for giving us the trip of a lifetime. I was a little nervous about everything that could go wrong on this trip (insect-borne diseases, tummy troubles, security concerns, etc.), but all of my fears were unfounded. We had nothing but pleasure on our holiday thanks to the excellent work of Bright African Safaris.

A few last useful tips:
We wished we had bought our Tanzanian visas online ahead of time. Although the visa process was very smooth in all other countries we visited, Tanzania is in the process of converting from a manual system, and the line-ups to purchase a visa can be extremely long, so I would not suggest waiting to get the visa upon arrival.
I would not fret too much about insects in the dry season. We sprayed all our clothing with permethrin and brought 100% Deet, but never actually saw a mosquito. It's probably better to be safe than sorry when mosquitoes carry malaria, but having spent much time in Canadian woods, Africa in September seemed like an insect-free paradise in comparison!
If you travel with Bright African, you probably don't need to worry about bringing binoculars. They had excellent ones in the jeep. We also could have left behind our anti-bacterial wipes, as they provided them for us.
The toilets in East Africa were surprisingly clean, and we tipped every bathroom attendant to show our gratitude (After a recent trip to China where the bathrooms were filthy, I was hugely relieved!) That being said, there are not a lot of them in the parks, so you will need to be ready for "bush pees". Bright African kindly supplies toilet paper, but I must say I was grateful not to have any tummy troubles!!

Disclaimer
All corporate and/or tour info is provided by Bright African Safaris, not SafariBookings