Weather & Climate – Solio Ranch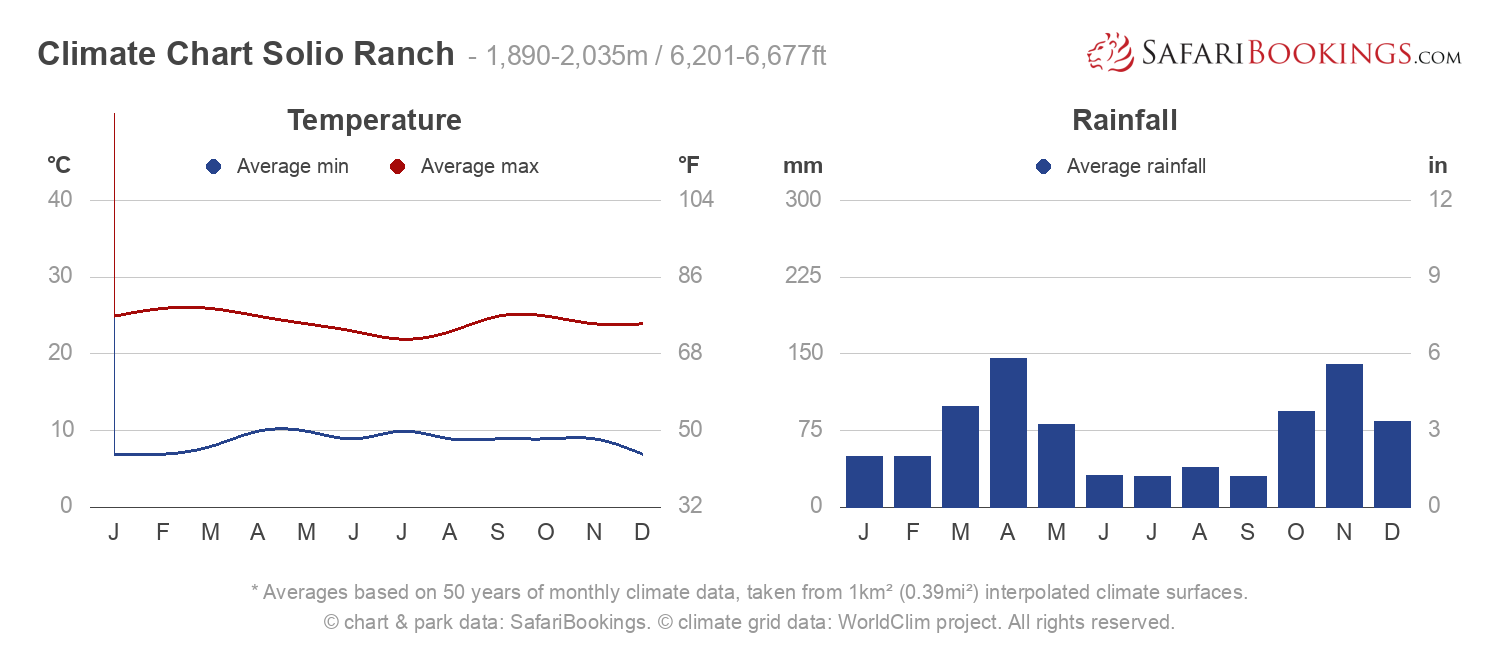 Climate Chart Solio Ranch
– 1,890-2,035m / 6,201-6,677ft
* Averages based on 50 years of monthly climate data, taken from 1km² (0.39mi²) interpolated climate surfaces.
© chart & park data: SafariBookings. © climate grid data: WorldClim project. All rights reserved.
Solio's high altitude ensures a cool climate. The reserve is close to the equator, which keeps temperatures from varying much any time of the year. Early to mid-twenties are characteristic in the daytime, although it's much cooler once the sun sets. Pack warm clothes for game drives in the early morning. The long rains, which constitute the main Wet season, are from March to May. The short rains are a wet period peaking in November.
Dry season
–

June to September
It's nice and sunny during the Dry season, although showers can sometimes interrupt the sunshine. The climate is temperate with average temperatures around 23°C/73°F. Warm clothing is needed at nighttime and during early mornings with temperatures around 9°C/48°F.
June & July – The sunny weather in these months is sometimes interrupted with a shower of rain. A lovely afternoon temperature of 23°C/73°F is the norm.
August & September – In August there is a small increase in rainfall, and also in temperature. An afternoon average of 24°C/75°F is typical.
Wet season
–

October to May
The so called 'short rains' and 'long rains' mark this period from October to May – they are separated by a drier stretch (December to February). The sun struggles to break through the clouds, but it doesn't usually rain all day. It is chilly on morning game drives, with temperatures around 8°C/46°F.
October & November – 'Short rains': October usually sees the beginning of the rains. Average afternoon temperature is around 25°C/77°F.
December, January & February – This period is marked by less rain – it divides the short and long rains. It's difficult to predict exactly when it will begin, and there will still be rain some days.
March, April and May – 'Long rains': April is the dampest month. It rains most days for at least part of the day. Driving becomes difficult on water-sodden tracks. It's not quite as cold in the early morning – the temperature is around 9°C/48°F.
Want to Visit Solio Ranch?
Solio Ranch
Solio Ranch Photos
View Photos
(10)