​Wildlife & Animals – Ethiopia
Ethiopia's wildlife is remarkably diverse. Many mainstream safari animals such as elephant and lion are present in small numbers, but it's really Ethiopia's unusual creatures that steal the show. Ethiopian wolf, Walia ibex, Swayne's hartebeest and mountain nyala are all endemic. A boat trip on Lake Tana is great for hippos, while monstrous crocodiles can be seen in Nechisar National Park.
Abundant
Common
Occasional
Rare
None
Wildlife Highlights
Primate-lovers are in for a treat, since several species are unique to Ethiopia. Undoubtedly the most handsome of these endemics is the golden-maned gelada monkey. The rare hamadryas baboon lives alongside the more widespread olive baboon in Awash NP. Bale Mountains NP is one of many places where you'll be able to see the acrobatic black-and-white colobus monkey, and it is also home to the recently discovered Bale monkey.
Best Time for Wildlife Viewing
Wildlife viewing in Ethiopia is good throughout the year and doesn't really depend on the seasons. However, Simien and Bale Mountains, the main strongholds of Ethiopia's endemic wildlife, can be unpleasant to visit when it is raining (especially if you intend to hike or camp). The Dry season months from November to March usually have clear, warm days.
Wildlife Rating per Major Park
Recommended Wildlife Books
Mammals of Ethiopia, Eritrea, Djibouti and Somalia


Trevor Jenner

The Kingdon Pocket Guide to African Mammals: Second Edition


Johnathan Kingdon
Want To Visit Ethiopia?
Wildlife Rating
Wildlife Photos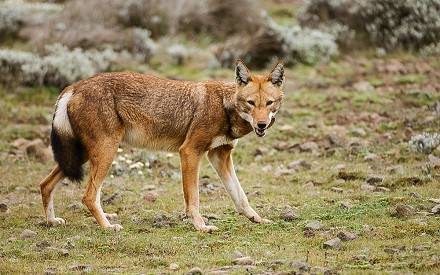 View Photos
(25)