​Best Time To Visit – Ethiopia
Jan
Feb
Mar
Apr
May
Jun
Jul
Aug
Sep
Oct
Nov
Dec
Watching wildlife in Ethiopia is not very season dependent. However, July and August are the wettest months and travel over that period isn't recommended (especially if you intend to do some hiking or camping). Ethiopia's spectacular scenery is at its best from September to December, when days are sunny, the landscape is green and lush and the sky is free of haze after the rains.
Best Time
October to December

(Beautiful scenery, little rain)
High Season
October to January

(Main historical sites and some parks get busy)
Low Season
May to September

(Few travelers and low-season rates)
Best Weather
October to April

(Little rainfall, sunny days)
Worst Weather
July to August

(Wettest months)
May to October
–

Dry Season
Days are mostly dry and sunny
Scenery is lush from October to December after the rains
Conditions are perfect for hiking and camping
Best time for bird watching and migratory birds are present
Main tourist sites get busy from October to April
Wildlife Photos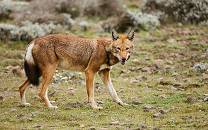 View Photos
(25)
November to April
–

Wet Season
Scenery is at its best
There are many wild flowers in September
Many overcast and rainy days in July and August
Cold and wet in Bale and Simien Mountains
July and August are not recommended for hiking and camping
Best Time To Go by Major Park
Most of Ethiopia's parks can be visited throughout the year. You'll see animals at any time. However, the scenery, which is a huge attraction of the parks, is at its best after the rains from October to December. The higher slopes of Bale and Simien Mountains NP can be very cold and unpleasant in the rains. April and August to October are generally less favorable for Bale Mountains, and the wettest months in the Simiens are July and August.
Want To Visit Ethiopia?