Weather & Climate – Gombe NP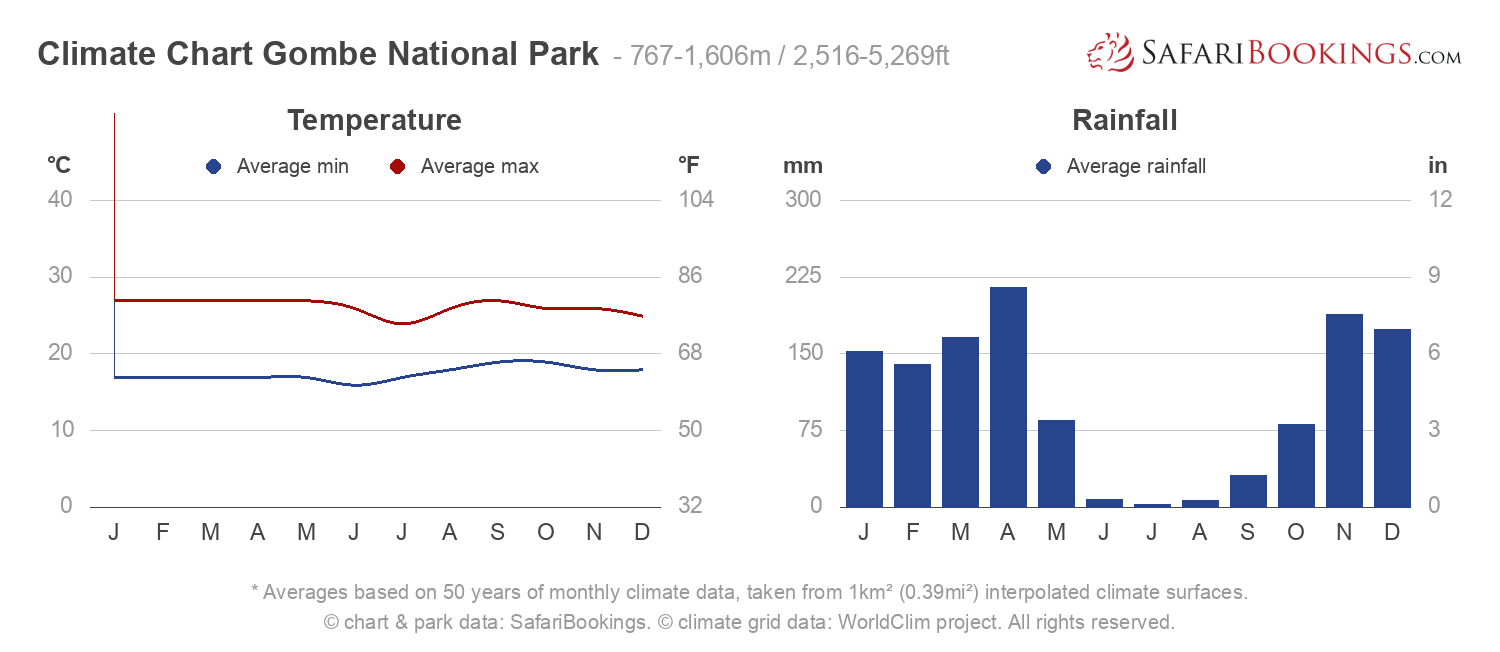 Climate Chart Gombe National Park
– 767-1,606m / 2,516-5,269ft
* Averages based on 50 years of monthly climate data, taken from 1km² (0.39mi²) interpolated climate surfaces.
© chart & park data: SafariBookings. © climate grid data: WorldClim project. All rights reserved.
The climate in Gombe is warm to hot and humid. Unlike the northern parks, the nights in Gombe are not cold but comfortable year-round. Daytime temperatures are around 26°C/79°F, and it cools down at night to around 16°C/61°F. The altitude in Gombe is varied, from 767 to 1,606m (2,516-5,269ft). This results in variations in climate within the park. Temperatures drop by about 6.5°C for every 1,000m you climb (or 3.5°F per 1,000ft). The area accessible to tourists is mostly at lower altitudes.

The Dry season is from May to October. Unlike the coastal areas and northern parks (which have two Wet seasons with a dry spell in between), Gombe has one continuous Wet season from November to April. It rarely rains all day, but afternoon thundershowers can be expected.
Dry season
–

May to October
May – This is the end of the Wet season. It might still rain a bit over this month.
June, July & August – Afternoon temperatures are usually around 27°C/81°F. Skies are mostly cloud-free and full of sun. It rarely rains over these months. June to August have the coldest nights but are still moderate with minimum temperatures of about 15°C/59°F on average.
September & October – September and October have the highest temperatures of the year, but the difference from other months is just a few degrees. October is the end of the Dry season. Rain can be expected some days and humidity will slowly increase.
Wet season
–

November to April
November, December, January, February, March & April – It is slightly cooler in the Wet season, but the humidity is higher, and it might feel oppressively hot. Afternoon temperatures are usually about 25°C/77°F and night temperatures are about 17°C/63°F. It will rain most days, but it will be rare to have rain all day. Afternoon showers with thunder can be expected.
Want to Visit Gombe NP?
Gombe National Park
Gombe NP Photos
View Photos
(25)