Weather & Climate – Ithala GR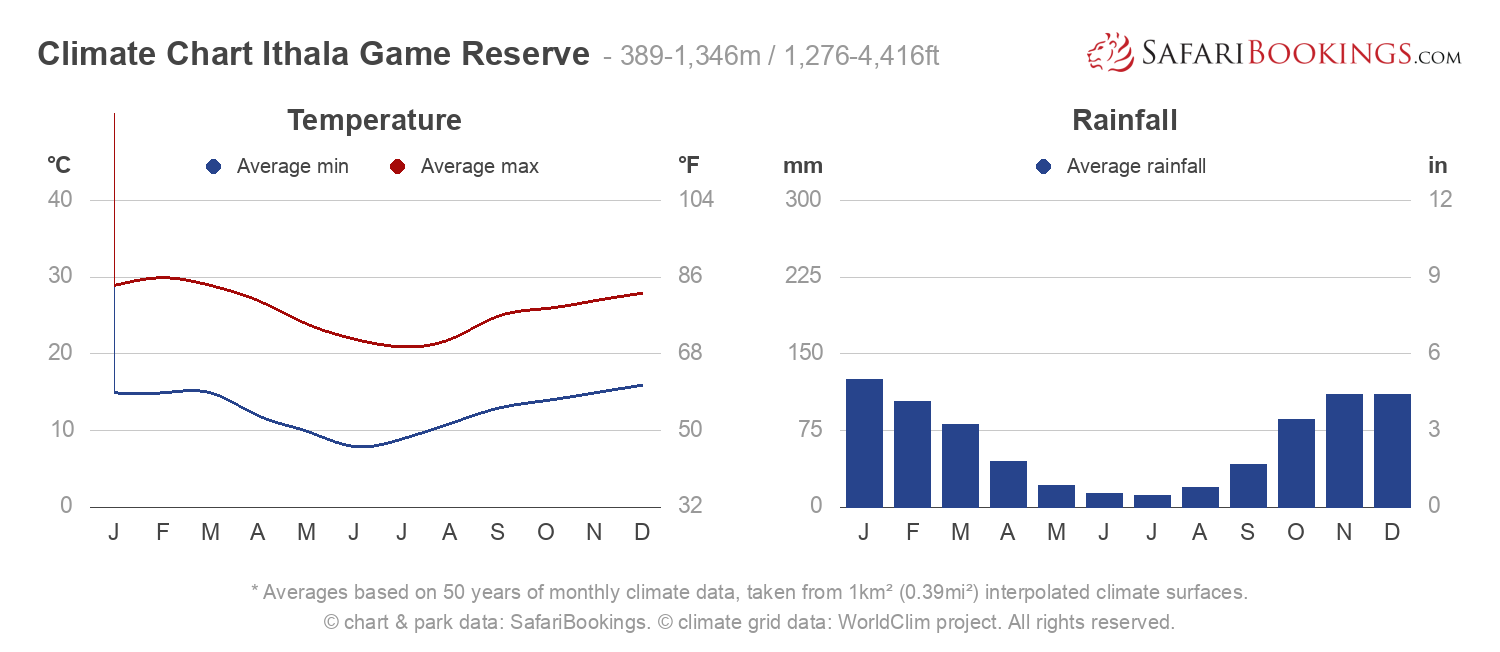 Climate Chart Ithala National Park
– 389-1,346m / 1,276-4,416ft
* Averages based on 50 years of monthly climate data, taken from 1km² (0.39mi²) interpolated climate surfaces.
© chart & park data: SafariBookings. © climate grid data: WorldClim project. All rights reserved.
Ithala experiences winter and summer at opposite times of the year than North America and Europe. Summer is from October to April and corresponds to the Wet season: it gets hot and humid. The Dry season occurs during the winter, from May to September: warm days but cold nights.

The altitude in Ithala varies widely from 389 to 1,346m (1,276 to 4,416ft). Temperatures drop by about 6.5°C for every 1,000m climbed (or 3.5°F per 1,000ft), so within the park, the climate tends to vary.
Dry season
–

May to September – Winter
Winter experiences very little rainfall, and on most days the sky is sunny and free of clouds. Nights and early mornings are cold, and it is essential to bring warm clothing.
May – Humidity drops toward the end of summer as there is less rain. Temperatures cool to an average of 10°C/50°F in the morning and 24°C/75°F in the afternoon.
June, July & August – Temperatures are pleasant in the afternoon, averaging around 22°C/72°F, but drop to 8°C/46°F at night, which makes for very cold mornings. There is often a strong, unpleasant wind during these months and warm clothing is needed.
September – This is springtime. Temperatures gradually rise to a daytime average of 25°C/77°F and in the mornings to around 11°C/52°F. Rains become more frequent and come in the form of occasional thundershowers.
Wet season
–

October to April – Summer
Summers are warm and humid. It rains most days, but seldom all day. Afternoon thunderstorms are a common occurrence.
October & November – Rain in the afternoon is common. Temperatures are between 15°C/59°F in the morning and 26°C/79°F in the afternoon.
December, January & February – This is a warm, humid time of year. Most days will experience afternoon storms, with possible rain all day. Midday temperatures average 28°C/82°F, but peak temperatures can range higher. Early morning is cooler with temperatures of 17°C/63°F.
March & April – It cools down to an average of 26°C/79°F in the afternoon. It rains less and the humidity decreases. Mornings are still mild at 15°C/59°F.
Want to Visit Ithala GR?
Ithala Game Reserve
Ithala GR Photos
View Photos
(30)