Weather & Climate – Kapama GR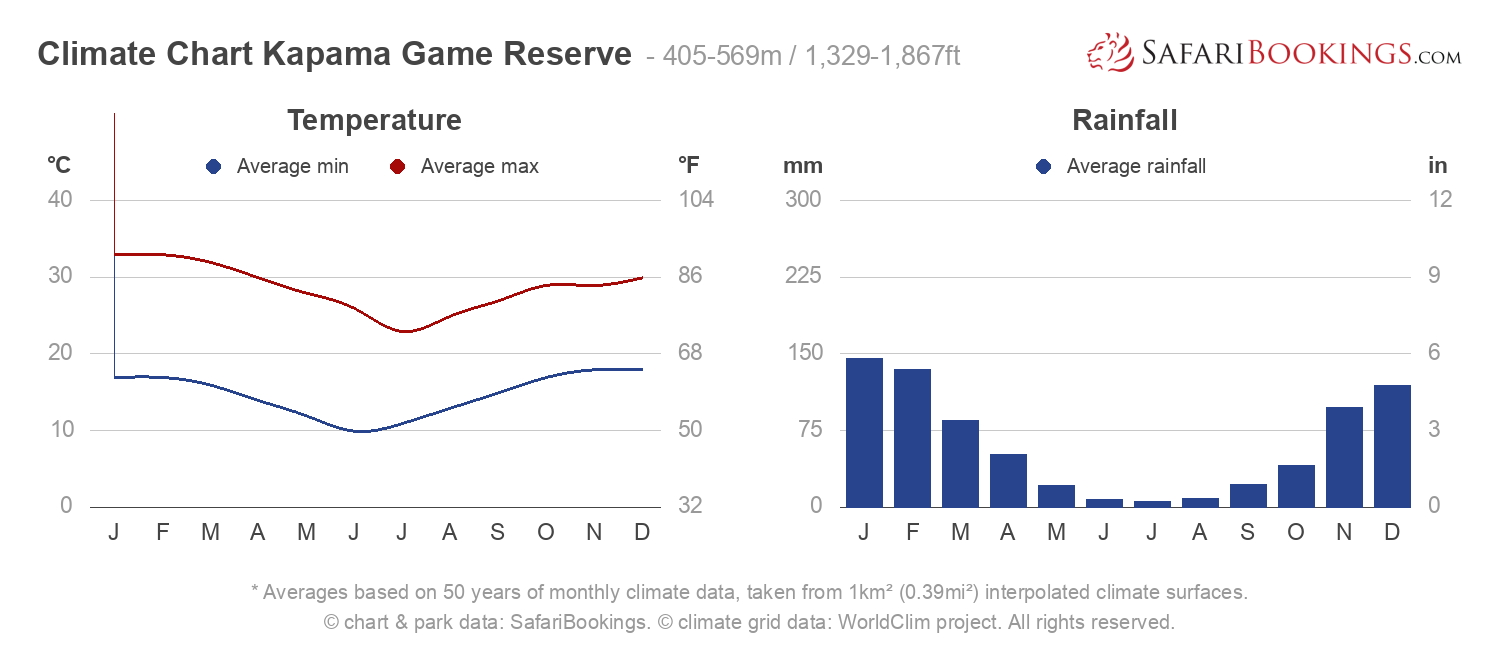 Climate Chart Kapama Game Reserve
– 405-569m / 1,329-1,867ft
* Averages based on 50 years of monthly climate data, taken from 1km² (0.39mi²) interpolated climate surfaces.
© chart & park data: SafariBookings. © climate grid data: WorldClim project. All rights reserved.
Winter and summer seasons in Kapama occur at opposite times to Europe and North America. The hot and humid summer is known as the Wet season, from October through April. The dry and mild winter months, from May to September, are the Dry season. It is necessary to pack warm clothing if visiting during the winter as early morning game drives tend to be chilly. During the wet summertime, thunderstorms occur during most afternoons, although it rarely rains throughout the whole day.
Dry season
–

May to September – Winter
There is virtually no rainfall in the winter season, so animals come out of the dry bush in search of water. They tend to congregate around permanent sources, such as waterholes and rivers, making them easier to spot.
May – Temperatures decrease to an average range of 11°C/52°F at night to 27°C/81°F in the afternoon, as summer transitions into winter.
June, July & August – Average temperatures range from 9°C/48°F in the morning to 26°C/79°F in the afternoon. The skies are mostly clear and the weather sunny. Keeping warm clothing on hand for early morning game drives is recommended.
September – Average temperatures range from a brisk 13°C/55°F in the morning to a nice 29°C/84°F at midday. The year's first rains start, bringing the Dry season to its end.
Wet seasons
–

October to April – Summer
The heat and humidity of the summer can be relentless. Temperatures can regularly ascend to well over 40°C/104°F. Average daytime temperatures are about 31°C/88°F with damp, steamy conditions. Afternoon storms are normal, although day-long rains would be unusual.
October & November – Average temperatures range from between 17°C/63°F in the morning to 31°C/88°F in the afternoon. The heat gradually builds as afternoon rains become more frequent.
December, January & February – The highest temperatures and the most rain (creating high humidity) occurs during this time. Downpours in the afternoon are common. The extreme heat at 40°C/104°F or higher, can make conditions almost intolerable. Afternoon temperatures average around 31°C/88°F.
March & April – There is a decrease in rainfall, and the weather cools. This trend continues throughout April, which is a lovely, temperate month. Nights remain cooler, yet fine, averaging 16°C/61°F. Daytime temperatures are around 29°C/84°F.
Want to Visit Kapama GR?
Kapama Game Reserve
Kapama GR Photos
View Photos
(34)