Weather & Climate – Kibale NP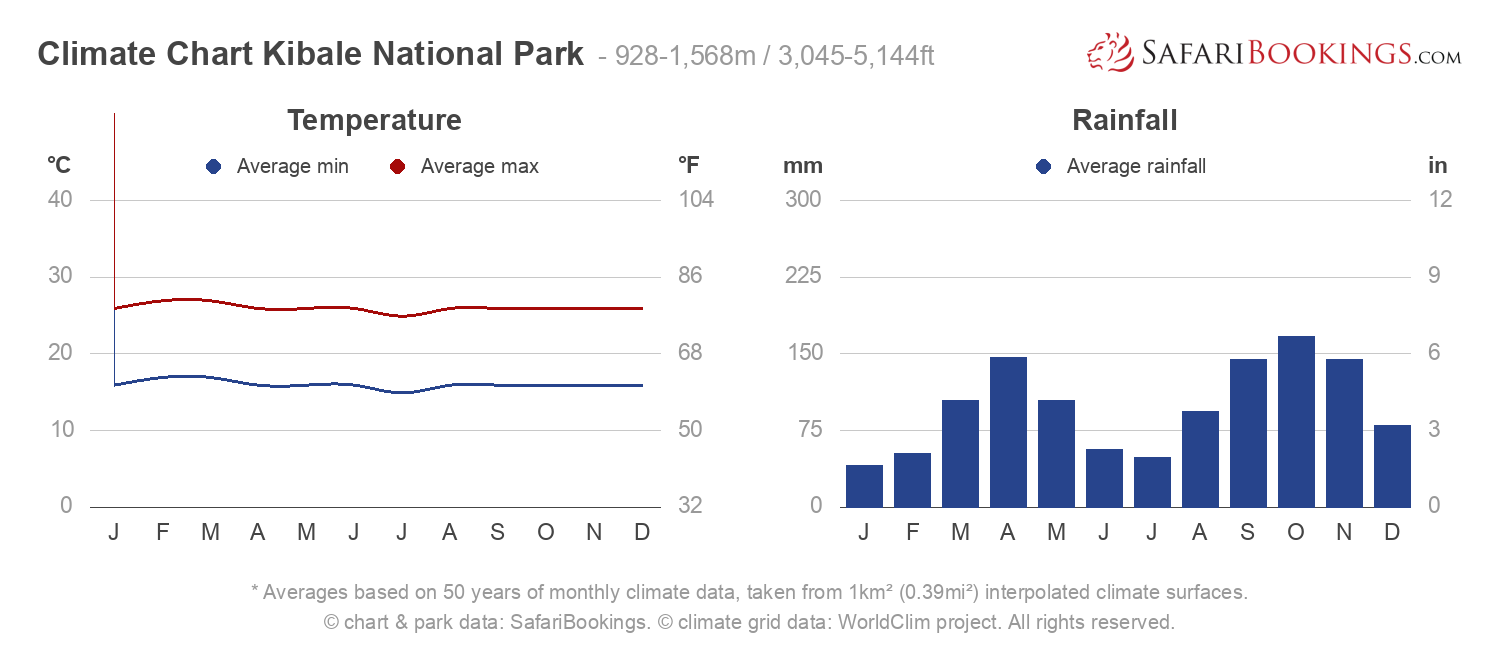 Climate Chart Kibale National Park
– 928-1,568m / 3,045-5,144ft
* Averages based on 50 years of monthly climate data, taken from 1km² (0.39mi²) interpolated climate surfaces.
© chart & park data: SafariBookings. © climate grid data: WorldClim project. All rights reserved.
The climate in Kibale is moist and temperate. The temperatures stay the same, almost year-round since it's close to the equator. During the day temperatures are about 27°C/81°F, cooling off nightly to about 15°C/59°F. In the south, the altitude level drops down to the rift valley floor, and forest gives way to open grassland. As a result, rainfall is lower, and temperatures are higher.

Kibale lacks a real Dry season, so rain is possible anytime, although the months of December through February are typically drier. June and July also experience drier weather. Two Wet seasons exist: March to May and August through November. It is recommended to bring waterproof clothing and shoes.
Dry seasons
–

December to February and June to July
December, January & February – Rain is possible, despite these being the driest months. It is an excellent time for chimpanzee trekking. Daytime temperatures are 28°C/82°F on average, and drop down to about 14°C/57°F at night.
June & July – This time is relatively dry, but there is still potential for rain – even for several days on end. Average temperatures are around 27°C/81°F in the afternoon and 15°C/59°F in the early morning.
Wet seasons
–

March to May and September to November
March, April & May – Wet weather is typical, with rainfall peaking in April. The forest trails can become slippery, making chimpanzee trekking more challenging.
August, September, October & November – These are the rainiest months of the year. The amount of rain reaches its high point in October or November. A 4WD vehicle must be used on the access roads. Temperatures max at around 27°C/81°F and fall on average as low as 15°C/59°.
Want to Visit Kibale NP?
Kibale National Park
Kibale NP Photos
View Photos
(25)