Weather & Climate – Kwandwe GR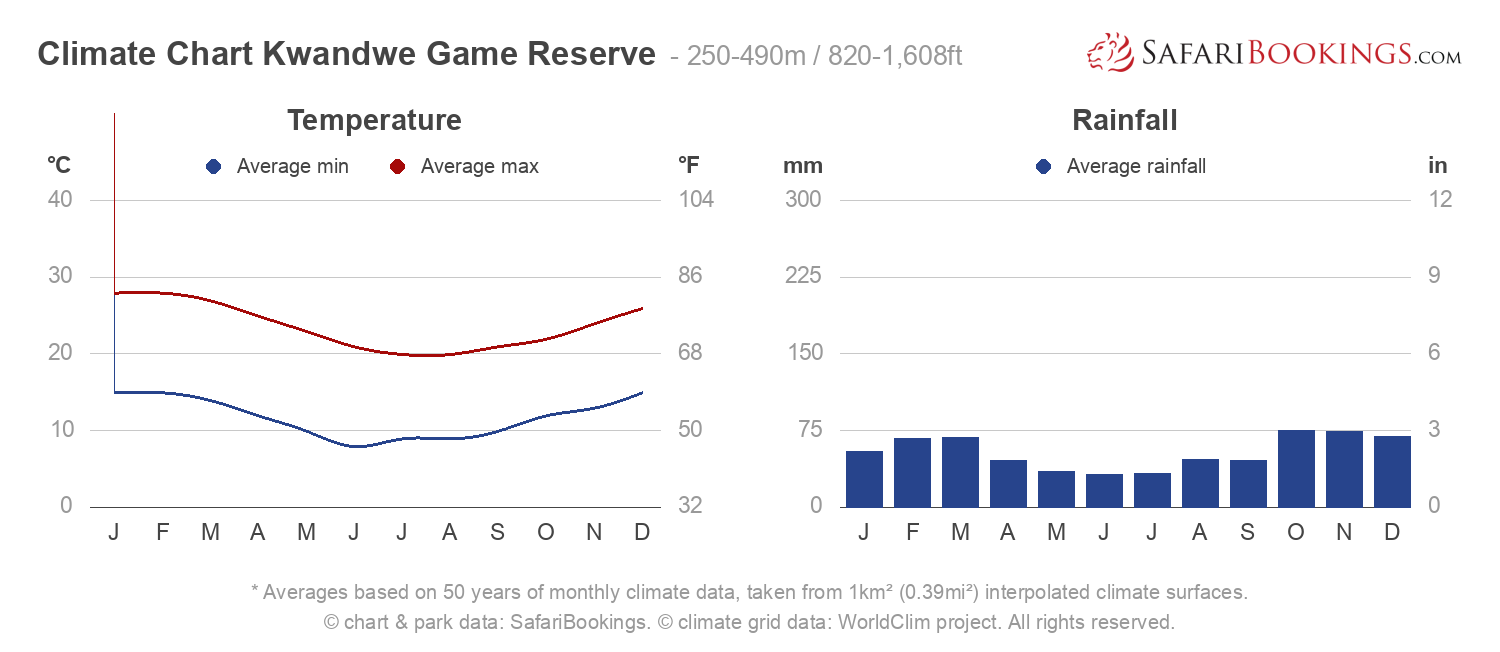 Climate Chart Kwandwe Game Reserve
– 250-490m / 820-1,608ft
* Averages based on 50 years of monthly climate data, taken from 1km² (0.39mi²) interpolated climate surfaces.
© chart & park data: SafariBookings. © climate grid data: WorldClim project. All rights reserved.
Kwandwe enjoys a temperate climate. Daytime temperatures are quite comfortable throughout the year, but it does get colder at night in the winter months (May to September). Winter and summer are at the opposite time as compared to Europe and North America. Unlike the summer rainfall pattern in the rest of the country, it rains throughout the year. It doesn't rain that much, but most of it falls in the summer months, from October to March.
Winter
–

May to September
The winter months are chilly at night and early in the morning. It is essential to bring warm winter clothing for early morning drives in open vehicles. Winter skies are clear, with less rainfall than in the summertime.
May – Temperatures decrease to around 10°C/50°F in the morning and 22°C/72°F in the afternoon. This is the beginning of winter.
June & July – Afternoons temperatures are around 21°C/72°F, while morning temperatures average 7°C/45°F. These months are the coldest of the year.
August & September – The temperatures gradually increase to an average of 22°C/72°F during afternoons. The typical morning temperature is around 9°C/48°F.
Summer
–

October to April
Nights and mornings are generally more comfortable during the summer, with slightly more rainfall. Sometimes it rains for days, and off-road driving will stop until the ground dries up sufficiently to protect the delicate environment.
October & November – Temperatures are between 11°C/52°F in the morning and 24°C/75°F in the afternoon. October is a peak month for rain, but it doesn't fall every day. When it does, it can drizzle for the whole day.
December, January & February – Average afternoon temperatures reach 27°C/81°F during the warmest months of the year. Mornings are pleasant, averaging 16°C/61°F. This period sees less rain.
March & April – March is a wet month, but it seldom rains for days on end. It starts to cool down again with an average day temperature of 25°C/77°F in the afternoon and 14°C/57°F in the morning.
Want to Visit Kwandwe GR?
Kwandwe Game Reserve
Kwandwe GR Photos
View Photos
(20)