Weather & Climate – Majete WR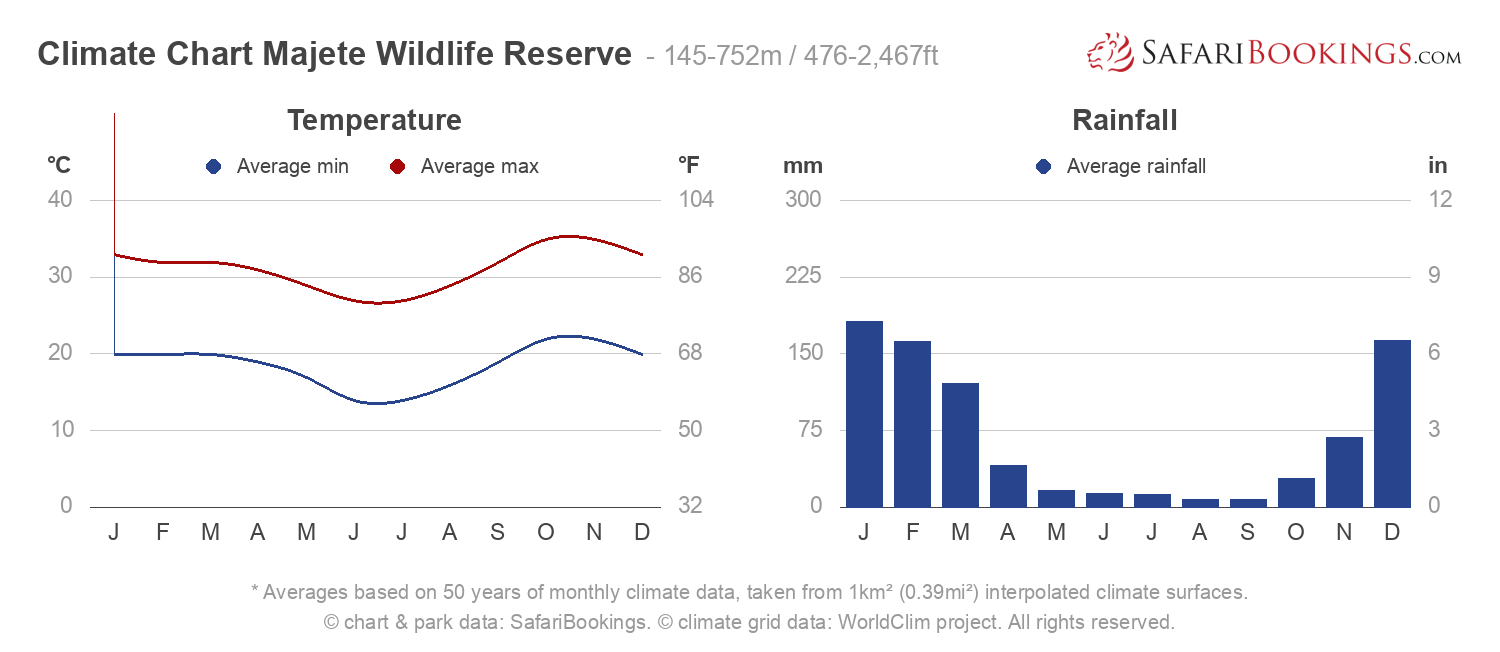 Climate Chart Majete Wildlife Reserve
– 145-752m / 476-2,467ft
* Averages based on 50 years of monthly climate data, taken from 1km² (0.39mi²) interpolated climate surfaces.
© chart & park data: SafariBookings. © climate grid data: WorldClim project. All rights reserved.
The climate in Majete is hot and there are two distinct seasons: the Dry season and the Wet season. Conditions are typically tropical – the average temperature is unchanging throughout the year, with the exception of October before the rains (when the temperature rises considerably). From May to September, in the Dry season, it gets considerably cooler.
Dry season
–

May to October
The lack of rain means the bush gets drier as the season progresses, with animals congregating around the waterholes. This makes it the best time for wildlife viewing and it improves later into the season. The days are still hot but the nights are cool.
May – The rains have mostly finished but there is still plenty of water around for the animals and the bush looks lush and inviting.
June & July – The bush is noticeably drier now. The coolest months of the year with daytime averaging around 26°C/79°F. Nights get cold at 14°C/57°F, which makes for great sleeping conditions. Don't forget warm clothing for early morning drives – it's essential.
August & September – With no rainfall, the bush is beginning to look parched. It is warming up too, and September's average daytime temperature is 29°C/84°F. Mornings are also warmer.
October – Daytime temperatures average around 35°C/95°F. Peak temperatures though can be much higher, and the heat can become intolerable. With temperatures around 21°C/70°F, mornings are lovely. The first rain normally falls this month, which sees a welcome drop in temperatures.
Wet season
–

November to April
Afternoon showers are common during the warm Wet season and thunderstorms are often a sight to behold. The sky is clear and the bush is lush.
November – The rains usually start in November and bring much-needed relief from the oppressive conditions. It is extremely hot and humid. The average daytime temperature is 34°C/93°F. Rain mostly comes in afternoon thunderstorms, but not every day.
December, January, February & March – The wettest months bring a lot of rainfall, although rain doesn't often last the whole day. It is around 31°C/88°F during the day, while night and early morning temperatures hit an average of 22°C/72°F.
April – A lovely month in the reserve as the rain is winding down and the countryside is lush and green.
Want to Visit Majete WR?
Majete Wildlife Reserve
Majete WR Photos
View Photos
(25)