Weather & Climate – Mana Pools NP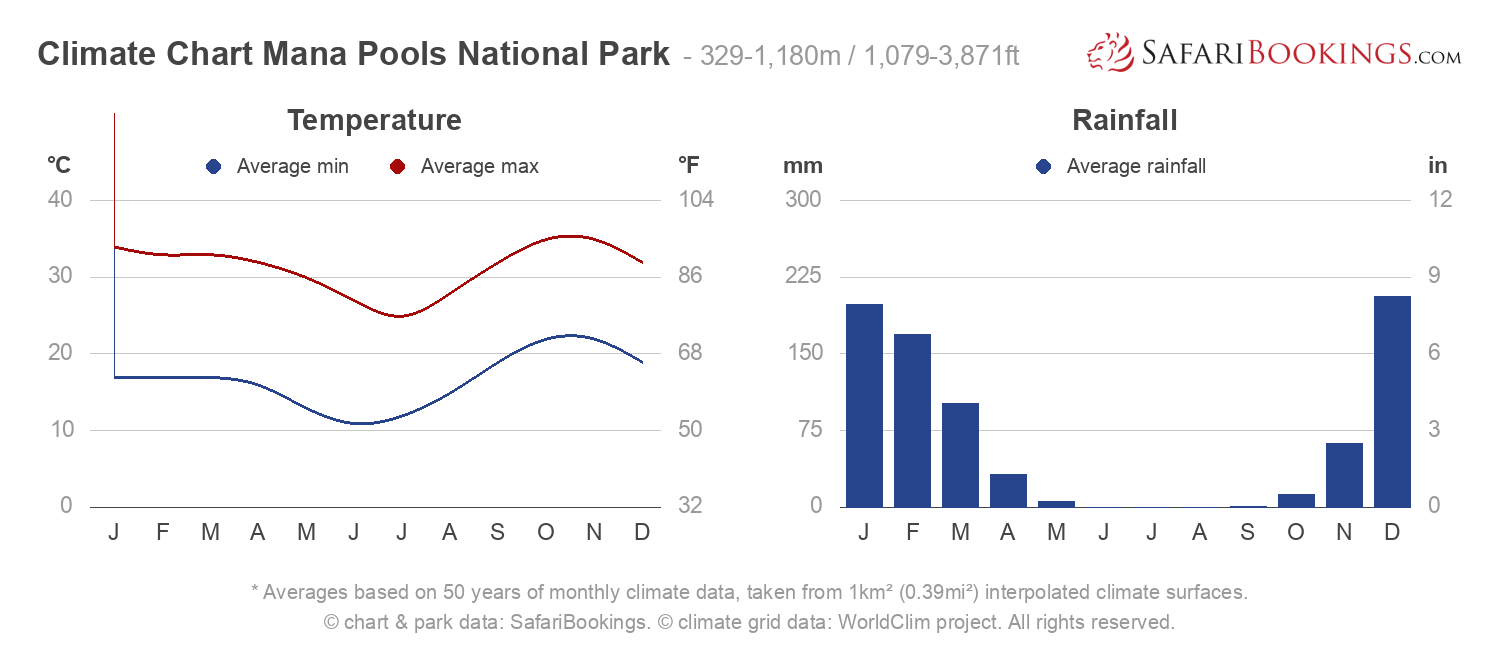 Climate Chart Mana Pools National Park
– 329-1,180m / 1,079-3,871ft
* Averages based on 50 years of monthly climate data, taken from 1km² (0.39mi²) interpolated climate surfaces.
© chart & park data: SafariBookings. © climate grid data: WorldClim project. All rights reserved.
Mana Pools has a climate that is warm and hot. September to March is the warmest time of the year, while May to August makes up the coldest period. Mana Pools has greatly varying altitudes (from 329 to 1,180m or 1,079 to 3,871ft) which cause rather wide temperature changes within the park. Temperatures decrease by about 6.5°C for every 1,000m traveled upward (or 3.5°F per 1,000ft).

The Dry season is from April to October, bringing pleasant weather and a bright, clear sky. Downpours followed by sunny skies are typical of the Wet season (November to March), although it can sometimes lightly shower for days at a time. Winter and summer occur at opposite times from Europe and North America, and they are consistent with the Dry and Wet seasons respectively.
Dry season
–

April to October – Winter
April – This is when the Wet season ends. It cools down – particularly at night, and the rains occur with less and less frequency.
May, June, July & August – Although there is a warming trend in August, these months are typically the coldest and driest. Daytime temperatures are around 28°C/82°F, but at night and during the early mornings the temperature hovers around 12°C/54°F. Warm clothes are essential for early morning game drives.
September & October – The first rains take place in late October, which brings a much-needed break from the dry weather. The heat reaches its peak in October, with average temperatures of 35°C/95°F during the day (with it frequently rising to well over 40°C/104°F). The high temperatures and increased humidity (once the rains have begun) can make it feel oppressive and uncomfortable.
Wet season
–

November to March – Summer
November – The rains are in full force, although it would be unusual for them to occur every day. It often feels uncomfortably hot due to the high temperatures (33°C/91°F on average) and increased humidity.
December, January & February – During the wettest months, it rarely rains all day, but it rains almost every day. Afternoon showers are followed by bright skies, but rain can also come in the form of a continuous drizzle lasting days. Daytime temperatures average 30°C/86°F, while night and early morning average 20°C/68°F.
March – The Wet season ends as rains decrease. Temperatures average between 30°C/86°F and 19°C/66°F.
Want to Visit Mana Pools NP?
Mana Pools National Park
Mana Pools NP Photos
View Photos
(30)