Weather & Climate – Mgahinga Gorilla NP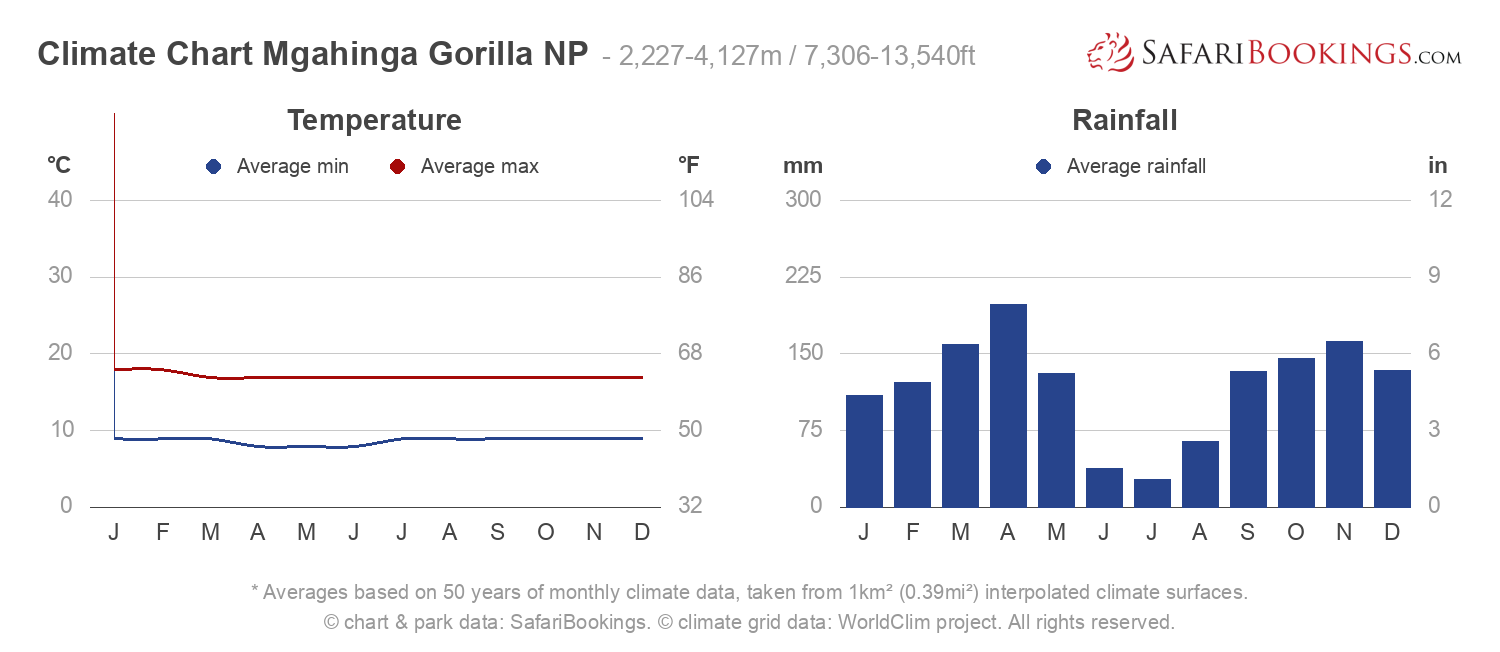 Climate Chart Mgahinga Gorilla National Park
– 2,227-4,127m / 7,306-13,540ft
* Averages based on 50 years of monthly climate data, taken from 1km² (0.39mi²) interpolated climate surfaces.
© chart & park data: SafariBookings. © climate grid data: WorldClim project. All rights reserved.
The climate in Mgahinga is mild to cold and wet. The high altitude (2,227-4,127m or 7,306-13,540ft) makes this one of the coldest destinations in the country. It is on average 20°C/68°F during the day, becoming cold in the evening (9°C/48°F). The climate is quite varied because of the park's wide range of altitudes. Temperatures drop by about 6.5°C for every 1,000m you climb (or 3.5°F per 1,000ft). The lower altitude range is the area most visited by tourists.

Mgahinga experiences no real Dry season, so rain is always possible, but there tends to be less rainfall in December to January, while June and July receive the least amount of rain. There are two recognizable Wet seasons: from February to May and from September to November. It is advised to pack decent hiking shoes and waterproof clothing.
Dry seasons
–

June to August and December to January
June, July & August – Generally the driest time, but rain is still possible. This is an excellent time for gorilla trekking. Daytime temperatures average 20°C/68°F, with an average of 8°C/46°F at night.
December & January – Rainfall is lower than in the Wet seasons but higher than June, July and August. Temperatures will be around 21°C/68°F during the day but will differ depending on altitude.
Wet seasons
–

February to May and September to November
February, March, April & May – Rainfall peaks in April. The road to Mgahinga can become tough to travel, and a 4WD is necessary. Hiking wet forest trails can be difficult. The park tends to be covered in mist, and hailstorms are not uncommon.
September, October & November – These months are comparable to February to May. Average temperatures will hover around 20°C/68°F in the afternoon and 9°C/48°F at night.
Want to Visit Mgahinga Gorilla NP?
Mgahinga Gorilla National Park
Mgahinga Gorilla NP Photos
View Photos
(10)