Weather & Climate – Mokala NP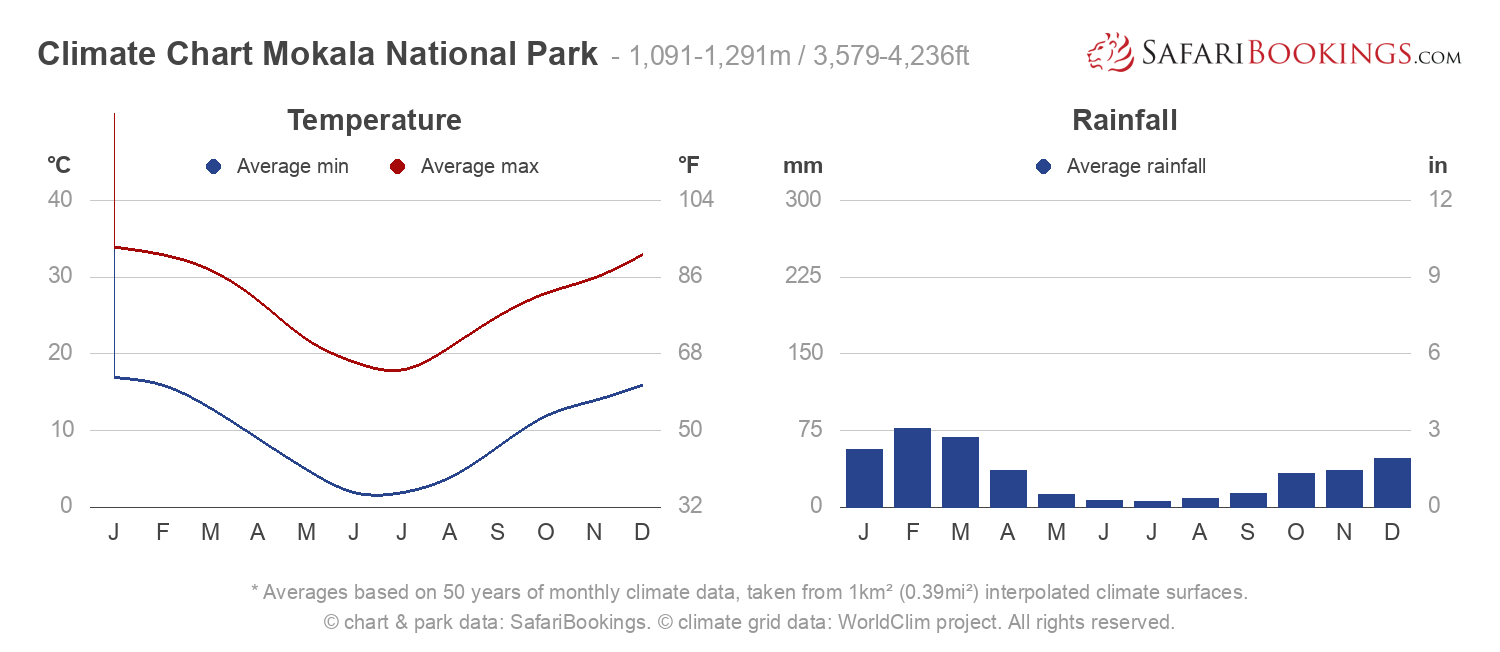 Climate Chart Mokala National Park
– 1,091-1,291m / 3,579-4,236ft
* Averages based on 50 years of monthly climate data, taken from 1km² (0.39mi²) interpolated climate surfaces.
© chart & park data: SafariBookings. © climate grid data: WorldClim project. All rights reserved.
As with most semi-arid regions, Mokala's climate is characterized by extreme variations in temperature and little rainfall. There is a Wet season that occurs from October to April, but rainfall is still low. The rain that does fall typically manifests in the form of strong winds and heavy thunderstorms. However, periods of drought are not uncommon. Due to its locale in the southern hemisphere, the seasons are experienced at opposite times in comparison to North America and Europe.
Dry season
–

May to September – Winter
Frost typically occurs during the nights, as it is very cold and warm winter clothing is a necessity. Rainfall is extremely low during the winter season. Days aren't very warm, but pleasant in the sun.
May – It is cold in the morning with average temperatures of around 4°C/39°F, but afternoons are mild at around 21°C/70°F. Summertime comes to an end.
June, July & August – It is essential to bring warm clothing. The average morning temperature is 1°C/34°F, but it can be much colder, and frost is common. Pleasant afternoon temperatures are typical, with an average of 19°C/66°F.
September – Temperatures become more pleasant with a daytime average of 25°C/77°F. Mornings aren't as chilly, with temperatures around 6°C/43°F.
Wet season
–

October to April – Summer
Rains occur very randomly during the summer season, and temperatures are very high. Humidity remains low, causing the heat to be more bearable. Average daytime temperatures are around 30°C/86°F but can peak at 40°C/104°F and higher. Rains are typically in the form of torrential storms.
October & November – Temperatures increase and rainfall increases, although long periods of drought can happen. Rainfall usually comes in the form of afternoon downpours. Average temperatures hover between 12°C/54°F in the morning and 29°C/84°F in the afternoon.
December, January & February – Peak temperatures occur during this time. The afternoon average is around 32°C/90°F, but temperatures can rise much higher. Early mornings are cool with temperatures around 16°C/61°F. Random showers bring a refreshing pause to the extreme heat.
March & April – Daytime temperatures average around 28°C/82°F. Nights are typically mild, averaging 12°C/54°F. Rain decreases rapidly in April.
Want to Visit Mokala NP?
Mokala National Park
Mokala NP Photos
View Photos
(25)