Weather & Climate – Mudumu NP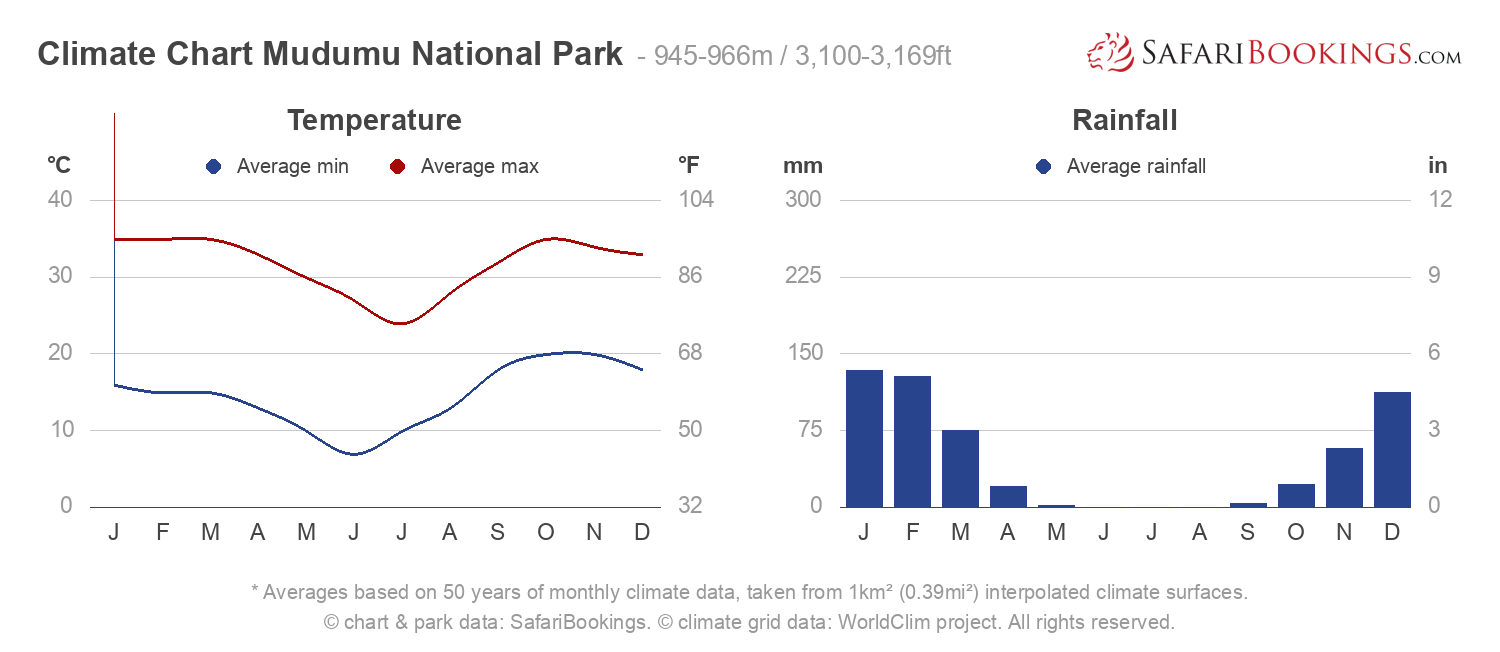 Climate Chart Mudumu National Park
– 948-961m / 3,110-3,153ft
* Averages based on 50 years of monthly climate data, taken from 1km² (0.39mi²) interpolated climate surfaces.
© chart & park data: SafariBookings. © climate grid data: WorldClim project. All rights reserved.
Mudumu's climate is hot and predominantly dry. When rainfall occurs, it is generally in the form of afternoon thunderstorms. November to April (summer) signifies the Wet season, while the winter months of May to October represent the Dry season.
Dry season
–

May to October – Winter
These are the coolest months and the mornings in particular get cold. The warm afternoons, however, are ideal conditions for seeking out wildlife. Rain is virtually non-existent throughout this period.
May, June, July & August – Plenty of sun and drought is typical. Afternoon temperatures usually hover around 27°C/80°F, but mornings get quite cold with temperatures averaging 8°C/47°F. Warm winter clothing is essential for early morning game drives.
September & October – Warmth increases in September. Early morning temperatures of 15°C/59°F are common. October is the hottest month, and temperatures average 35°C/95°F, though it will frequently spike higher. The rains usually begin toward the end of October or early November.
Wet Season
–

November to April – Summer
The summer months are hot and with the heat comes the Wet season. Rainfall is not particularly high, but afternoon showers do occur. Most days are sunny and mornings are mild.
Novermber & December – The rains usually begin in late October or early November and bring relief from the dry conditions. Most of the day will be dry, but afternoon thundershowers are common. Daily temperatures average 32°C/90°F.
January, February & March – The most precipitation of the year falls during January and February, with afternoon showers becoming common. Daytime temps hover around 31°C/88°F and drop a bit after rainfall.
April – April sees a dramatic decrease in rainfall and temperatures begin to slowly drop as summer comes to an end.
Want to Visit Mudumu NP?
Mudumu National Park
Mudumu NP Photos
View Photos
(13)