Weather & Climate – Murchison Falls NP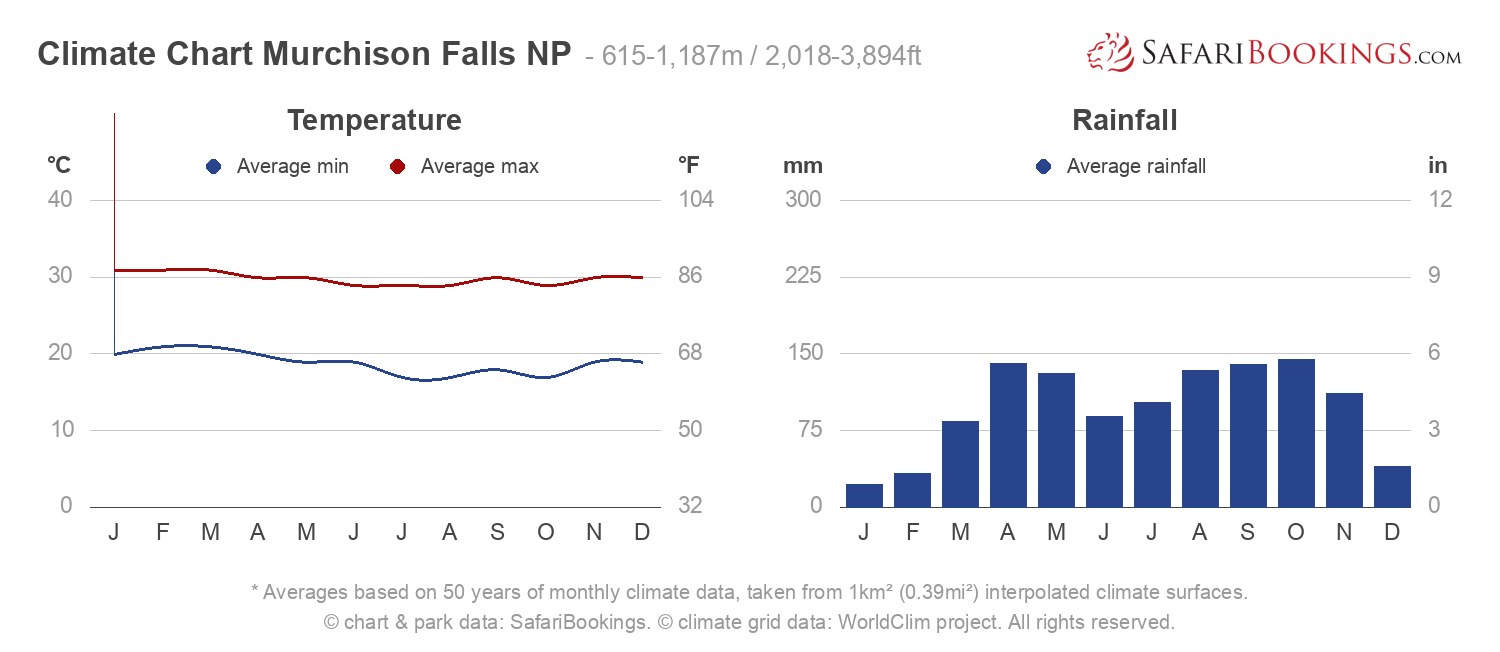 Climate Chart Murchison Falls National Park
– 615-1,187m / 2,018-3,894ft
* Averages based on 50 years of monthly climate data, taken from 1km² (0.39mi²) interpolated climate surfaces.
© chart & park data: SafariBookings. © climate grid data: WorldClim project. All rights reserved.
The climate in Murchison Falls is tropical and hot. Being close to the equator, temperatures are quite uniform throughout the year. Daytime temperatures of around 31°C/88°F are common, with it cooling down at night to around 18°C/64°F. The altitude ranges from 615-1,187m (2,018-3,894ft) , so climatic variations occur within the park as temperatures drop by about 6.5°C for every 1,000m you climb (or 3.5°F per 1,000ft).

The Wet season runs from March to November, with a period of less rain from June to July. There is little rain during the Dry season, which occurs from December to February. It doesn't rain that much in the Wet season either, but heavy storms can be expected.
Dry season
–

December to February
December, January & February – These are the driest months. It is mostly sunny with clear skies. These are also the hottest months, with average temperatures of 33°C/91°F during the afternoon. It cools off at night to about 18°C/64°F. The heat is dry and doesn't feel overly oppressive.
Wet season
–

March to November
March, April & May – By March the rains are starting, and there are more overcast skies. April and May experience more rainfall. Daytime temperatures average 31°C/88°F, while at night they average 20°C/68°F.
June & July – This is a bit of a drier spell, but rain should still be expected. Average daytime temperatures are around 30°C/86°F.
August, September, October & November – These are the wettest months, reaching a peak in October. It doesn't rain every day, but when it does, it tends to be torrential storms. Temperatures start to slowly increase by November.
Want to Visit Murchison Falls NP?
Murchison Falls National Park
Murchison Falls NP Photos
View Photos
(25)