Weather & Climate – Ngorongoro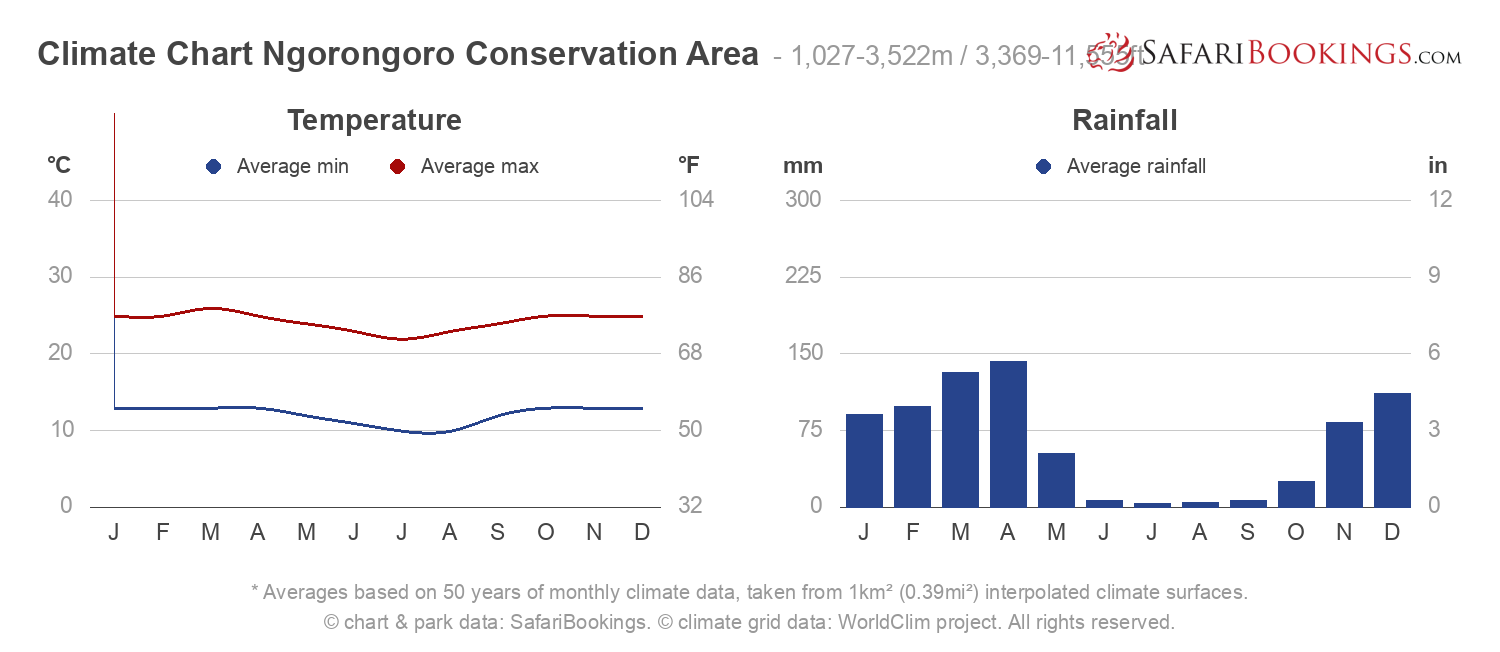 Climate Chart Ngorongoro Conservation Area
– 1,027-3,522m / 3,369-11,555ft
* Averages based on 50 years of monthly climate data, taken from 1km² (0.39mi²) interpolated climate surfaces.
© chart & park data: SafariBookings. © climate grid data: WorldClim project. All rights reserved.
Ngorongoro CA has a mild, temperate climate. The area experiences two Wet seasons. From October to November are the 'short' rains, followed by the 'long rains' from March to May. Rainfall is experienced in the form of showers and thunder in the afternoon, yet it would be odd for it to rain the whole day. The crater never gets very hot during the day, but the crater rim gets cold, and it can freeze at night. Warm clothing for early morning game drives is a necessity.
Ngorongoro CA's climate compared to the Ngorongoro Crater
The Ngorongoro Conservation Area is a vast area with altitude ranging from 1,027 to 3,522m (3,369-11,555ft). Most people only visit the Ngorongoro Crater. They spend the night in a lodge or campsite on the crater rim and visit the crater floor for wildlife viewing. Both the rim (about 2,300m/8,530ft) and floor (about 1,700m/5,577ft) are at higher altitudes and are colder than the overall conservation area. Temperatures drop by about 6.5°C for every 1,000m you climb (or 3.5°F per 1,000ft). The difference is more noticeable during the night. Afternoons on the crater floor will be pleasant, but it can freeze on the crater rim at night. The rim also receives quite a lot of rain.
Dry season
–

June to October
June, July, August, September & October – Afternoon temperatures are usually around 19°C/66°F on the crater floor. Sunny, cloudless skies are normal, but if the 'short rains' arrive early, they could begin in October. It gets cold at night, and it can freeze on the crater rim.
Wet season
–

November to May
It gets warmer during the day when compared to the Dry season, but mornings are still cold. Afternoon temperatures are usually around 23°C/73°F on the crater floor, while night temperatures are around 6°C/43°F on the crater rim. There is a chance for freezing temperatures.
November & December – 'Short rains' – These rains are highly unlikely to impact your safari as it won't rain all day. Showers usually happen in the afternoon. The 'short rains' last about one month and can occur anytime between October and December.
January & February – It isn't possible to guess when it will happen with accuracy, but there is usually a time of dry weather between the Wet seasons.
March, April & May – 'Long rains' – This is when wetness is at its peak. Most days will have rain, but it will not last the entire day. The average maximum and minimum temperatures are 21°C/70°F on the crater floor and 6°C/43°F on the crater rim. April and May could experience colder weather due to cold fronts.
Want to Visit Ngorongoro?
Ngorongoro Crater
Ngorongoro Photos
View Photos
(24)