Weather & Climate – Ol Pejeta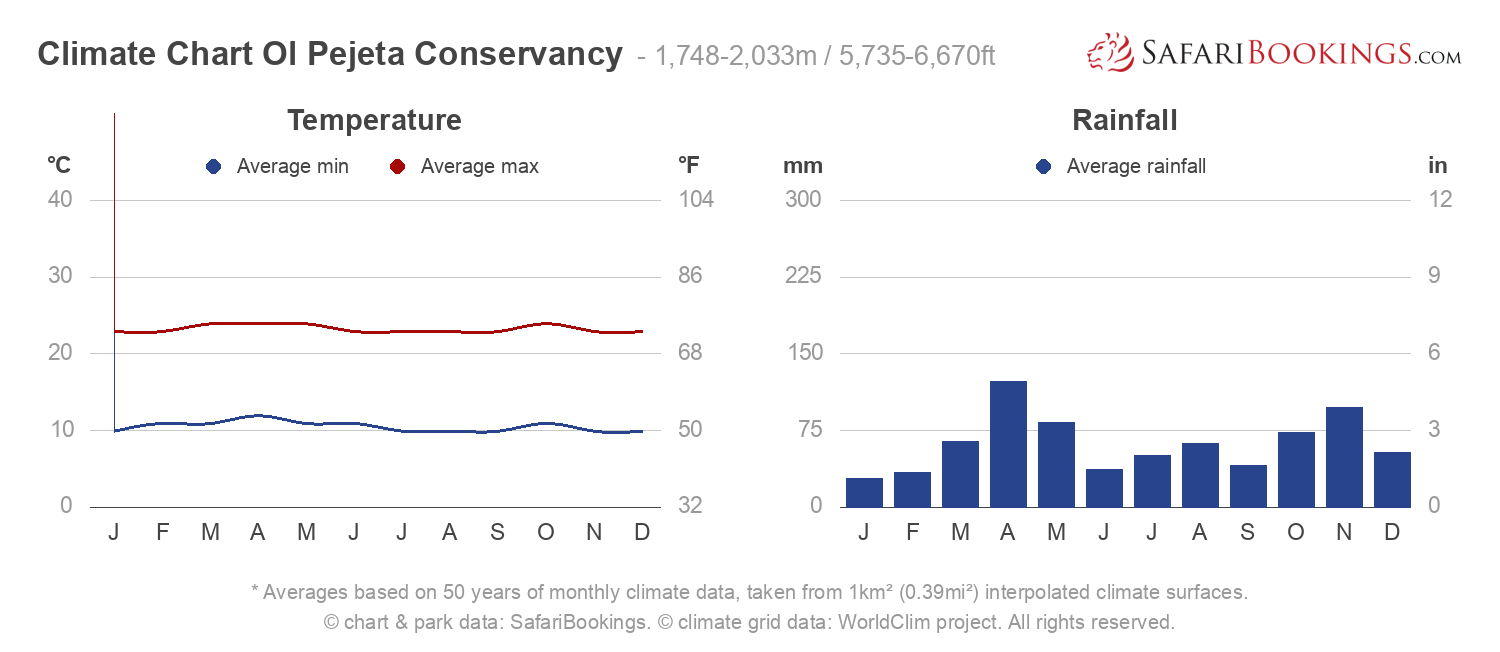 Climate Chart Ol Pejeta Conservancy
– 1,748-2,033m / 5,735-6,670ft
* Averages based on 50 years of monthly climate data, taken from 1km² (0.39mi²) interpolated climate surfaces.
© chart & park data: SafariBookings. © climate grid data: WorldClim project. All rights reserved.
The high altitude of Ol Pejeta means the climate is cooler than otherwise would be expected this close to the equator. Temperatures are fairly constant all year – during the day, it creeps into the mid-twenties, while nights are far cooler. Game drives in the morning can be chilly in an open-air vehicle, so bring warm clothes. The main Wet season (the long rains) is from March to May while there is a shorter wet period (the short rains), which peaks in November.
Dry season
–

June to September
The Dry season has mostly sunny days, although rainfall is possible at any time. Temperatures of around 24°C/75°F are common. At 10°C/50°F nighttime and early mornings are cold.
June & July – Conditions at this time of year are very pleasant in Ol Pejeta with an average afternoon temperature of 24°C/75°F. Overall, it is generally sunny with an occasional burst of rain.
August & September – These months are similar, although rain increases in August and temperatures do pick up – however, increases of both are small. In the afternoon the temperature will normally get to 24°C/75°F.
Wet season
–

October to May
Even though the Wet season is between October and May, a period of much lesser rainfall runs from December to February. This period separates the so called 'short rains' and 'long rains'. Overcast days are not unusual. Warm clothing in the early morning is advisable as the temperature is 9°C/48°F on average.
October & November – 'Short rains': It normally starts raining in October. The temperature in the afternoon averages a very pleasant 25°C/77°F.
December, January & February – These are the months separating the short and long rains when it is much drier. Its exact timing differs each year and it will still be wet some days.
March, April and May – 'Long rains': April sees the most rainfall. Although it doesn't rain for the whole day, tracks might become challenging to navigate. It is warmer in the morning with average temperatures of about 10°C/50°F.
Want to Visit Ol Pejeta?
Ol Pejeta Conservancy
Ol Pejeta Photos
View Photos
(25)