​Weather & Climate – Réunion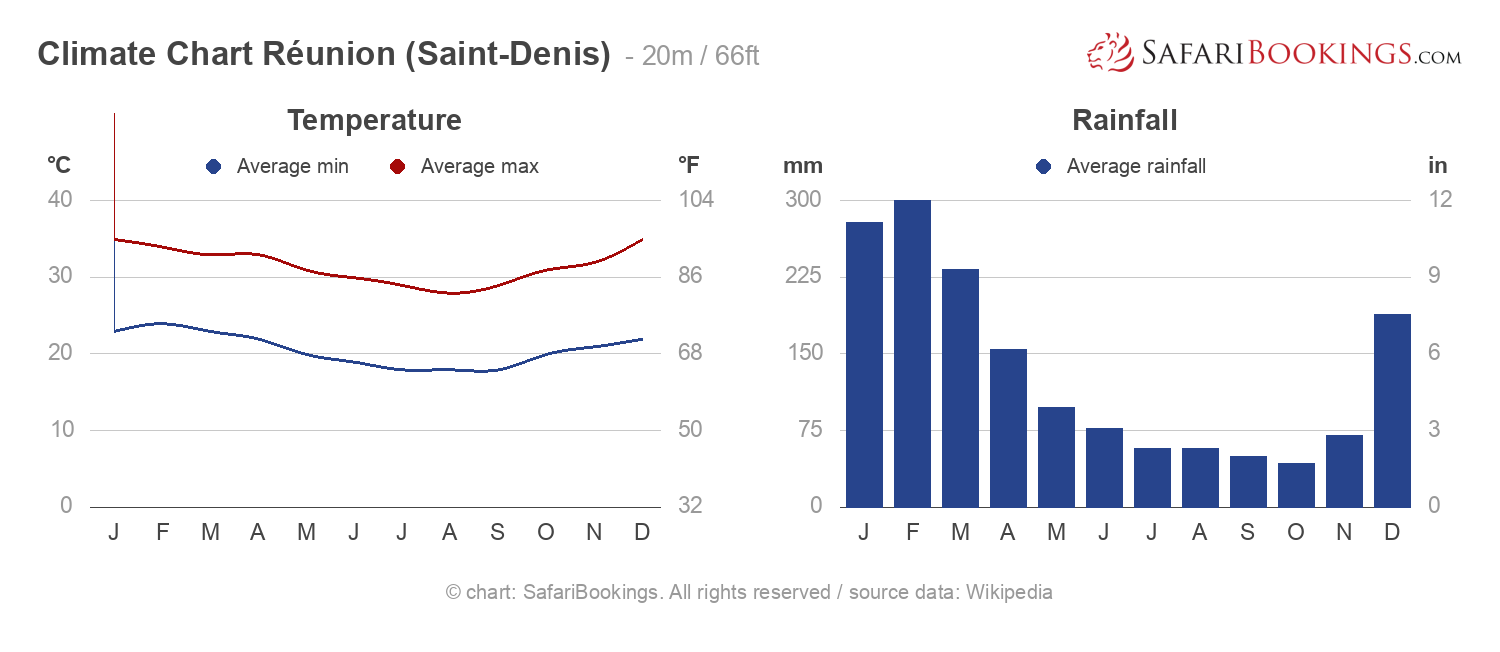 Climate Chart Saint-Denis
– 20m / 66ft
Réunion has a tropical monsoon climate with two distinct seasons: a hot and humid Wet season from December to April (Summer), and a warm, drier season from May to November (Winter). There is a chance of cyclones from January to March.
Saint-Denis' climate compared to the rest of the country
Saint-Denis is located on the north coast. The south coast of Réunion tends to be windier, especially in the Dry season. The eastern region sees the highest rainfall and the mountainous interior of Réunion is much colder than the coast; expect an average low in winter of 4°C/39°F and a high of 15°C/59°F.
Dry Season

–

May to November – Winter
Although it is mostly dry, it can still rain anytime. It is very warm on the coast but the humidity is lower than in the Wet season.
May & June – It's about 27°C/81°F during the day, but nights are cooler at about 19°C/66°.
July, August, September & October – These are the driest months, but you still need to be prepared for rain when heading out in the mountains. Daytime is lovely at about 25°C/77°F.
November – It warms up and the average daytime temperature is 28°C/82°F. It starts to rain more regularly.
Wet Season

–

December to April – Summer
December to April sees a lot of rain. January to March are cyclone months and not ideal for visiting.
December – Rains pick up in the middle of the month. The humidity increases and the average daytime temperature is 29°C/84°F.
January, February & March – These months are challenging. There is a real chance of a cyclone hitting the island and even if it doesn't, rainfall is very high.
April – The rainfall subsides and the temperature drops slightly. The cyclone season comes to an end.
Want To Visit Réunion?