Go Touch Down Travel & Tours
4.4/5 – 144 Reviews
Offices In:

United States

Canada

Size:

20-50 employees (Founded in

2010

)

Tour Types:

Small & medium group tours (Mid-range & luxury)

Destinations:

Price Range:

$300 to $800

pp

per person

per day

(USD, excl. int'l flights)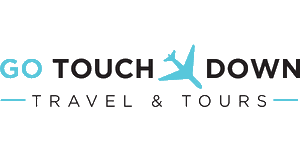 Go Touch Down Travel & Tours
Margaret - Sarasota, FL.
–
US
Visited: March 2014
Reviewed: Jan 3, 2015
65+ years of age | Experience level: first safari
Cape Town and Safari - 2 Weeks Of Bliss In South Africa
My husband and I were more than a little skeptical when we purchased 2 weeklong vacation packages in South Africa, back in 2013, at an invitation only event in Sarasota, Florida. The Travel Ambassador who represented the tour operator, Go Touch Down Travel and Tours, and her Manager, made us an offer that seemed too good to be true - but we took a deep breath and decided to take the plunge. Both their Cape Town and Safari Packages included almost everything one could ask for ... all ground-transportation, meals, accommodations, all excursions (and there were stacks of these) ... and even gratuity at the amazing restaurants we would visit ... plus a tour guide for both weeks, and a tracker during the safari week ... and even a South African cell phone, so that we were constantly in touch with our guide and family back in the US could reach us. Best of all were the terms. Firstly they gave us a fantastic promotional price at the event, that saved us thousands of dollars overall . Secondly, they asked only for a small 12% down-payment, and gave us 36 months to pay-off the balance, interest free! Well, we simply could not say 'no', but understandably, until we actually took the trip, we still had a few doubts.

Well, the reality was as good, if not better than, what we had been promised. Yes the flight was long, and at times the bar service was a little slow, but that had nothing to do with the tour operator, as we flew Delta from Atlanta, using our frequent flyer miles. As we touched down in Cape Town however, we were greeted by our smiling guide for the week, who took us under his wing, and made us feel like family.

We had two other couples in our group for the Cape Town week, one from the UK and the other from Toronto, Canada, and we quickly all became great friends (and have stayed in-touch via facebook ever since). My personal Cape Town highlight was our visit to Robben Island and learning about Nelson Mandela's incarceration there. Second favorite for my husband and me were the amazing restaurants we visited, followed by out trip up table mountain and then the visit to Hermanus.

The Safari week was also outstanding. The resorts, towns and sights we visited were all superb and the memories will be etched in my mind forever. The 3 days we spent at Kapama Private Game Reserve, managing to see and photograph 4 of the Big Five (we unfortunately never got to see Leopard, but our trekker did find their 'spoor'), were the highlight of the Safari week. Again the meals, transportation, game drives, and accommodations were simply superb, and we made more friends with whom we have remained in touch ever since.

Go Touch Down Travel And Tours offered outstanding communications both before, during and after the tours, and excellent service all round. For anyone thinking of visiting South Africa for the first time, or who is looking for an all inclusive, activity packed stay, this company will be hard to beat - and their prices and terms are simply unmatched by anything we have ever seen anywhere else. Unless you are prepared to pay a lot, lot more, we would recommend this company for all round value, outstanding service and unbeatable terms.
David
–
US
Visited: September 2016
Reviewed: Nov 2, 2016
Email David | 65+ years of age | Experience level: first safari
Our dream trip going on Safari became a reality
We have just returned from our 8 day trip on safari in South Africa. Africa has always been on our wishlist. South Africa offered a variety of what we wanted, and we signed up for a Go Touch Down tour in 2015 and traveled Sept 2016. My wife wanted the other tour they offered, the city one, in cape town, but I was not going to go to Africa and not see wildlife. Safari offerd a sample of everything, so we settled for that. We stayed at 3 properties, Dukeld Estate, Seasons Spa, and Humala lodge. We arrived a day early on the Tuesday and stayed a night at Seasons before the tour kicked off the next day. The spa helped to recover from the 15 hr flight. Overall the guides 9/10, the value of the tour 9/10, the properties 8/10, Humala gets a 9/10, the activities 8/10, the staff service at the lodges 9/10, the friendliness 9/10, and the food - well that gets a 10/10. Braaai is my new favorite word. It is a barbecue but S. African style. It is to die for. Only negative was the excursion at a very dry Kruger park, as this SA reserve has been experiencing a drought.
The trip and flights (economy) cost us 10K. We would recommend this tour and company. Overall I give them 4.5 stars
WWGill
–
US
Visited: October 2016
Reviewed: Mar 18, 2017
Email WWGill | 65+ years of age | Experience level: first safari
The review below is the personal opinion of WWGill and not that of SafariBookings.
Marred Vacation Experience
My husband and I planned this trip for about three years; we are retired educators. The trip included two weeks in South Africa(Capetown, Safari, and the remainder of the trip spent in Victoria Falls. The first two weeks of the trip went very smoothly, and we had an excellent experience. Our nightmare began after the Victoria Falls part of the trip. When my husband and I arrived to the Victoria Falls Airport for the return flight to JoBurg for the connecting flight to the USA, South African Air could not process my husbands reservation. We waited for two hours anxious, and stressed to get the reservation corrected. South African Air blamed
Go Touch Down, Go Touch Down blamed South African Air. There were two other individuals in our party and on the same reservation. My husband and I dealt with Go Touch Down; all of the arrangement were made by this travel agency. They readily took our money for this trip, promising a quality experience. When contacted, and asked to refund some of the money,(800.00) they sent us $25.00 which was suppose to cover failure to provide an aisle seat for my husband on the return flight. We were informed by Go Touch Down that South African Air charged for a seat on the Aisle. Needless to say the Vacation was marred, and should not have been. I understand that mishaps occur. I also expect to be made whole when treated poorly. Deon Barnard, President/CEO was useless in helping us. I share this information, so that potential clients will know that should something go wrong, Go Touch Down will not do the right by you. Please contact me if you have questions or wish more information about our experience.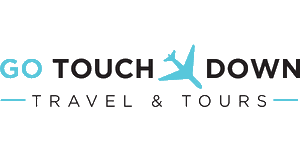 Reply
from

Go Touch Down Travel & Tours

Posted on Aug 11, 2020

Dear WWGill,

As discussed, regretfully SAA made the changes on the ground. We have shared our emails and correspondence to SAA with you, indicating that we have gone from pillar to post to get SAA to own up. Your air ticket costs $800 and Go Touch Down's admin/commission is $25. We no longer use SAA on the Vic falls leg.

We are sorry that this aisle seat incident at Vic Falls left a bad taste.

Sincerely,
the COO
Gail
–
CA
Visited: March 2017
Reviewed: Apr 19, 2017
Email Gail | 65+ years of age | Experience level: first safari
Safari experience met bucket list expectations
We travelled March 1 - 15 2017 with Go Touch Down, one week in Capetown and one week on the Johannesburg tour which included 3 days safari at Kapama River Lodge. Our stay in Capetown met more than our expectations from the one bedroom apartment to the "Gordon Ramsay" meals to our efficient guide. The only bump in the road was our two day stay at Dunkeld Estates prior to our safari. We travelled as a group of 4 and had booked the trip in 2015. Upon arrival we were told that they were overbooked and that we would have to stay in a Fisherman's Cabin 10 min walk away from our friends who were put in a guest suite. When I questioned the manager why we were separated from our friends when the booking was placed in 2015 she told me room assignment did not have anything to do with when the reservation was made, and that it was not her problem. What we found in the cabin was one hanger in the closet, a front door that would not latch, to keep it closed one had to lock it, no safe, television that did not work, and no phone to call someone for assistance so we had to walk the 10 min back to reception to get someone, no lighting at night to walk back to the cabin all the while hoping that we were able to spot the horse dung that had been deposited along the way. Service in the restaurant very slow. We were the only table for all 3 meals we had there, and dinner took 2 hours to complete. Our friend who was in a guest suite found what looked like potato bugs walking on the bathroom floor both nights of our stay. I sent a letter to the C.O.O. of Go Touch Down 4 weeks ago outlining my experience and to date no reply and at this point do not expect one.
I found Go Touch Down in Oakville to be more than accommodating and organized. I would recommend travelling with them for the Capetown tour, but as Dunkeld Estates is owned and operated by Go Touch Down
avoid the Johannesburg tour, and book with someone else. The safari portion at Kapana River Lodge was outstanding . It provided excellent accommodations and the thrill of seeing 4 of the 5 Big Five up close and personal. Never did I expect to have a male lion walk right passed the safari vehicle or a giraffe standing two feet away.

Carolyn
–
CA
Visited: April 2017
Reviewed: May 4, 2017
Email Carolyn | 65+ years of age | Experience level: first safari
Once you started the tour it was Very Good. You just need to get past the office.
My husband and I were travelling for 2 1/2 months before we arrived in Cape Town. Before we left we got in touch and asked if there was any other information that was needed. We were told they had everything and an itinerary would be sent to us 60 days prior to arrival. We had to ask for this 3 days before arrival. During those 2 1/2 months on the road we were asked 3 and 4 times for the same information and sometimes by the same person. When I complained I was told that several people had to touch the file and sometimes things got lost. Information requested were flight arrivals and departures, emergency numbers etc. We then received a charge for $250 and were told this had to be paid before final arrangements could be made. After many emails we found out that a flight had been charged to our account that was not ours. Each email we sent we asked for confirmation and most of the time did not receive it. After many emails about flights the office still did not send the correct information to the guide that was waiting for us. We spent another hour at the airport waiting for this to be sorted out. It was very frustrating and we were concerned about the complete trip.
Then the guides took over. They were wonderful. The accomodations were good and the guides were knowledgeable, courteous and bent over backwards to help you out. The meals were fantastic and actually too much. We decided not to go for dinner one evening because we were not hungry. I think it would be best for us (not everyone) if you just had 2 big meals a day and a snack. We spent many hours in restaurants. The restaurants were wonderful but sitting and waiting 2 hours for lunch was not for us. You could pick anything off the menu so everyone was satisfied. The tours were great and the adventures were over the top.
Edward
–
US
Visited: August 2018
Reviewed: Sep 9, 2018
Email Edward | 65+ years of age | Experience level: first safari
Overwhelmingly positive
We chanced upon Go Touchdown Tours at a South African art display in Sarasota, FL and entered to win a South African safari vacation. We did not win a trip, but we did receive discount coupons that, with trip prepayment, made the trip (for two adults and a teenage grandson) affordable. We were very pleased with the attention to detail, generally rapid response to questions, accommodations included, staff friendliness, dedicated driver while in SA (James), and overall value. Meals were "order anything off the menu" with no restrictions so we ate well and got to try local cuisine. We enjoyed Dunkeld Estate but especially liked our time at Humala River Lodge and the intimate game experience in the Songimvelo Reserve. In hindsight, we would have preferred another day at Humala rather than the trek to and disappointing quick day at Kruger, where we had a fairly "grumpy" Jeep driver who kept to the main road and did not give us much opportunity to see wildlife hiding off in the less exposed side areas. We saw the most wildlife at the Pilanesberg National Park, but enjoyed the most "in the bush" experience at Humala. Definitely worthwhile trip!
Melanie
–
US
Visited: November 2017
Reviewed: Feb 21, 2019
Email Melanie | 35-50 years of age | Experience level: first safari
The most amazing experience of my life time and I have lived and traveled all over the world!
If you have ever wanted to visit South Africa and go on safari Go Touch Down Travels is the way to go. It is first class all the way. My group did a week in Cape Town and a week Safari. Having a small group of only 6 is key. I wouldn't want to do it any other way. Cape Town was amazing. We saw and did everything and more. We also ate at the best restaurants breakfast lunch and dinner. The accommodations were above my expectations. We had excellent communication before the trip. During the trip I couldn't believe the care and attention each of us was given. We were a demanding group and our guides exceeded our expectations as well.
The safari week was even better. Their reserve is special as are the accommodations. A magical place. The places we visited outside of the reserve were world wonders. Everyday I had tears in my eyes with the beauty. The value is excellent. My family and friends who have done similar tours with other companies paid much more, had huge groups, the accommodations didn't compare and the places they ate were not nearly as high end as Go Touch Down. Especially if you have a family or a group this is the company to use. Thank you Go Touch Down for the trip of a lifetime.
Nancie La Pointe
–
US
Visited: December 2018
Reviewed: Feb 21, 2019
Email Nancie La Pointe | 65+ years of age | Experience level: first safari
Trip of a lifetime!
I booked my trip at a travel show not knowing what to expect since I booked my trip at the first table I stopped at. Traveling to Africa had always been on my mind since I was 10 years old. Now being retired, I figured it was out of my reach. After talking with Marie, I realized this was a trip I was willing to take a chance on as a single traveler. I only have positive things to say about my trip to South Africa. From the time I was met at the airport, to the time I was dropped off at the airport, I was treated with the utmost respect. I wasn't sure how I would fit in with my four other fellow travelers but my driver Bill and guide Richard made me feel welcomed every minute of the trip. The staff is very professional while having a casual sense of humor to keep things moving in a positive direction. My experience in the bush while at Humala Lodge surpassed anything I could have ever dreamed up in my mind. I would highly recommend traveling with Go Touchdown Tours and hope to travel with them to South Africa again in the future. I am forever grateful that I ended up traveling with a tour group that focused on making sure I was happy while I was traveling on this big adventure. I loved every minute of it!
Judith Horn
–
US
Visited: April 2017
Reviewed: Feb 21, 2019
Email Judith Horn | 65+ years of age | Experience level: first safari
More than expected
This was a trip of a lifetime for me. My expectations went over and beyond. Cannot wait to go back and will not travel with anyone but Go Touchdown. They made my dream come true
Jim Carmichael
–
CA
Visited: November 2018
Reviewed: Feb 21, 2019
Email Jim Carmichael | 50-65 years of age | Experience level: first safari
Every moment was carefully planned, at times to exhaustion, but very good
Very happy, especially with our time at Songimvelo

Disclaimer
All corporate and/or tour info is provided by Go Touch Down Travel & Tours, not SafariBookings
The tours offered by Go Touch Down Travel & Tours are subject to their terms & conditions