Go Touch Down Travel & Tours
4.4/5 – 143 Reviews
Offices In:

United States

Canada

Size:

20-50 employees (Founded in

2010

)

Tour Types:

Small & medium group tours (Mid-range & luxury)

Destinations:

Price Range:

$300 to $800

pp

per person

per day

(USD, excl. int'l flights)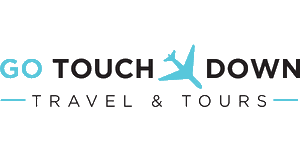 Go Touch Down Travel & Tours
Rating Breakdown
Janet
–
US
Visited: April 2023
Reviewed: Jul 5, 2023
Email Janet | 50-65 years of age | Experience level: first safari
Fanatastic!! A joy to be around and very informative.
The scenery and animals of Africa were amazing. They guides were all very knowledgeable and friendly. The tour offered a great variety of food during our trip.
Alex
–
US
Visited: March 2023
Reviewed: May 9, 2023
Email Alex | 65+ years of age | Experience level: first safari
Almost made it to Excellent!
It truly was a trip of a lifetime! The people we met, the animals we saw, the scenery...all just amazing! Our drivers and guides were wonderful, especially James who went above and beyond to make sure we got to see and do as much as possible and was so informative as well. The staff at all of the accommodation sites were welcoming and delightful to be around. The food was very good and we were never hungry!! We stayed at 5 different Go Touch Down properties and 4 of them were lovely. We would have been happy staying at any of them the whole time! However, the Belle Maroc was not up to the standards of the other properties. Our sliding glass door to our balcony did not close properly so there was no way to lock it. We had no hot water in the shower the first day. There was what looked like black mold in the shower. There was no hair dryer in the room but I was able to get one from the front desk. And speaking of the front desk, everyone working there was extremely nice but apparently filling several different positions at the hotel, ie desk clerk, waitress, barista

I was glad that we did not end our trip there as I would have left with a sour feeling about Cape Town. Aside from this, it was one of the best trips we've ever taken and have told everyone who would listen that they really should put South Africa on their bucket list!

Dan
–
US
Visited: November 2022
Reviewed: Dec 21, 2022
Email Dan | 65+ years of age | Experience level: 2-5 safaris
Good safari experience, but promises/hype in sales result in frustration.
We found the people were generally friendly and mostly knowledgeable about the safaris and animals. The weather was good and we saw the big 5 animals and more and also the ugly 5 (we did not know this was a thing!) as well.

Now the hype mentioned above, in what is sold as a luxury safari. We were told transport would be in vehicles - turns out they were soccer-mom mini vans. They promised no more than 4 people each vehicle. In reality there were 5 or 6 adults crammed in. Promised were safaris with no more than 2 people in each row, for comfort and better views. That happened on one day, the rest of the time was three across. The lodges were crowded as well. Some in the group had been promised single rooms, but they were forced to share rooms in the lodges.

Giant pity because we did get to see the animals we wanted to see, in their habitat. But none of the 16 on this tour said they would go back on this tour.

If you promise a luxury safari experience, please deliver a luxury safari experience.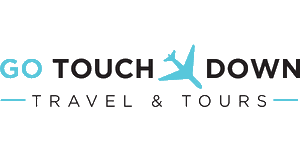 Reply
from

Go Touch Down Travel & Tours

Posted on Jan 25, 2023

Dear Dan,

We are sorry to read the promised 4 people and no more than 2 people in a row comments above. Perhaps it was an oversight on your side?

We can assure you, we have never had this complaint before and that in the history of our company, we have never sold our tours that way. Please see page 1 of your sales agreement signed on 4/2/22. It refers to no more than 6 pax per van/group. On safari, the jeeps can seat up to 3 pax in a row very comfortably. This was addressed in the documents attached to your itinerary.

Re: Nov 2022 when you traveled. We don't agree with your statement. See the 3 x reviews below that visited at the same time as you Nov 2022.

Welcome back and thank you for taking the time to give us feedback. GTD.
Joanne
–
US
Visited: October 2022
Reviewed: Nov 24, 2022
Email Joanne | 65+ years of age | Experience level: first safari
Once in a lifetime trip with a few hiccups
Overall, the trip was quite memorable . The Cape Town portion was go, go, go. Jonathan, our Go Touchdown driver and guide was very good and got us to the excursions on time but each day was filled with perhaps too many excursions (not Jonathon's fault). Jonathon even got Go Touchdown to compensate the "girls" on the trip with a massage when one sea excursion was canceled due to inclement weather. On the safari portion the guides were knowledgeable and quite entertaining. Shadrack at Tsukudu was the BEST. We felt fortunate that he found 4 of the big 5 for us. On the other hand, at Humala our guide said a "saying" that I felt was a racial slur. It was said only on one day (repeatedly) and if it continued during the rest of the trip I would have brought it up with the management. All in all, Cape Town and the Safari was worth the flight time it took for us to get there (51 hours total) !!!
Robyn
–
Visited: October 2022
Reviewed: Nov 8, 2022
Email Robyn | 50-65 years of age | Experience level: first safari
Exceeded expectations
Well organised, great value for money. Small boutique hotels in lovely locations. A very full itinerary for the Capetown tour. We could easily have stayed extra nights in the V and A waterfront area as there was so much to see and do, as well as extra days in Johannesburg to explore the city and surrounds. The safaris were excellent. Overall the food was good although Humala River lodge food could be improved. Some administrative issues which caused a degree of anxiety but these were dealt with promptly. Service was always friendly and efficient. Overall we were very satisfied and would recommend Go touchdown our friends.
Nancy
–
CA
Visited: September 2022
Reviewed: Oct 10, 2022
Ambitious but needs some fine tuning.
Just returned from two and a half weeks in South Africa. One week around Capetown and the east and west coasts. Second week was spent north of Johannesburg on safari.
South Africa is a beautiful place and having our time organized by Go Touch Down was a huge relief. It's a busy place and a logistical nightmare if done on your own. The tour guide around Capetown, JP was knowledgeable, friendly and made us feel safe.
The safari week did not disappoint. So many opportunities to see wildlife in a natural habitat. Truly amazing. However, two game drives a day got to be a bit much, in the end. The safari week did have more free time between game drives, thank goodness. It's nice to recharge when on vacation.
If I had a criticism it would be that the days were too jam packed and busy. Very little time to relax and unwind. A few things could have been omitted and it wouldn't have affected the experience.
Also, I think it would be important to mention some level of physical fitness is essential. A lot of older or physically limited folks struggled getting into the jeeps for safari or couldn't walk down to see some places.
Additionally, nothing was mentioned about "load shedding". South Africa's idea to save electricity. Entire grids of electricity are shut off for hours at least twice a day. It was an inconvenience and a nuisance. There has to be a better way.
Bryan
–
US
Visited: August 2022
Reviewed: Sep 23, 2022
Email Bryan | 65+ years of age | Experience level: first safari
Dana was extremely busy. There were questions we had that we needed an appointment to have answered.
We were met at the airport by Joseph, who was very professional and friendly. Our accommodations at Seasons were nice and included a wonderful breakfast.
Humala lodge was a wonderful adventure with good food, excellent staff, and our game driver Tandy was excellent! The Boma Zulu dancers were really fun!
James transported us to Tshukudu via the Panorama route and was very helpful, answered questions and took care of transfers and accommodations questions for us for our Victoria Falls excursion.
Our Tshukudu cabin was nice, but there were ants everywhere. The food was excellent! Our game driver Tyler was excellent as well.
Our accommodations at Victoria Falls at the Ilala Lodge was magnificent! Beautiful room, excellent food and wonderful staff. Lucky picked us up at Victoria Falls airport and transported us to Victoria Falls and the Chobi river package. He was excellent and very helpful.
Our Victoria Falls accommodations only included breakfast. We were surprised that we had to pay for lunch and dinner!
VW
–
US
Visited: August 2022
Reviewed: Sep 5, 2022
Email VW | 20-35 years of age | Experience level: first safari
Super accommodating and makes sure everyone is having a great time
Our experience with GoTouchDown has been great! We're the type of travellers who don't typically work with multi-day tour operators just because we prefer to explore on our own with a flexible schedule, but when we decided on South Africa as our "big trip", GoTouchDown definitely helped made it a huge success. We didn't know much about South Africa, but from reading online travel guides about the country, we knew we needed local experts to ensure we had a safe and memorable trip. The ground staff in the US were professional and had helped us a lot in providing the necessary documentations when we had to apply for visas to enter South Africa. Our local tour guide, Tabo, was with our small group of six 24/7...from Day 1 of when we started our trip in Johannesburg to Day 7 for when we depart from Hoedspruit back to Johannesburg, he made sure everything was good in our group, and tried to do as much as possible if we had any issues. He was super knowledgeable, friendly and professional, and a great personality that made the long drives a very enjoyable one! The rangers that we had at Songimvelo Game Reserve - Tandi, and at Tshukudu Game Reserve - Tyler, were both super knowledgeable and entertaining, and they were going the extra mile to make sure our group's wishes of seeing certain animals was fulfilled. Hands down, I would say the lodging at Humala was one of the most comfortable and luxurious "glamping" experience, and would definitely love to stay there again to unplug and be with nature.
Possibly because of all the things that happened in the last 2 years with the pandemic, the changes that was made to our initial booking (which was back in 2020) could have been communicated better and could have given the travellers more choice on what we wanted to do with the upgrade vs original itinerary. Sometimes the ground staff in the US was a bit hard to get to when we had questions in regards to visas and getting some help on documentations. I would say the tour may be a little bit expensive for travellers who don't want to splurge. Otherwise, if you want to know that you'll be well taken care of, don't want to worry about planning for the next day's activity and just have a great time, we would definitely recommend GoTouchDown.
GW
–
US
Visited: July 2022
Reviewed: Jul 15, 2022
Email GW | 35-50 years of age | Experience level: 2-5 safaris
Excellent Time and Wonderful Tour But a Rocky Start
The vacation was wonderful and the staff in South Africa were helpful. However the staff in the United States was not helpful when I was on the ground in South Africa. They only communicated with one of the travelers (my friend) and did not send me my itinerary until I touched down. I reached out through email while on the long flight to send me my itinerary so that I knew who was meeting me at the airport. This caused problems with meeting the gotouchdown guide on the ground. They also didn't keep my contact information for communication so that the guide could call me in an emergency. I was only given the contact information of the South African contact from my friend who they did keep in contact with. Nonetheless when I was able to get in contact with the SA staff they were responsive and apologetic. However, I ended up spending money on a cab that wasn't needed. After the initial hick-up the trip went smoothly. The resorts were great and the experience on the safaris was life-changing. I would do it again as the resorts and value for the money was excellent. However, I would only work with the South African contacts as they were the best.
Craig
–
US
Visited: April 2022
Reviewed: Jun 20, 2022
Email Craig | 50-65 years of age | Experience level: first safari
Great itinerary and guides, and but a couple things need to be tightened up.
Generally, for less than a two week trip, the itinerary was perfect to get a great flavor and feel for what South Africa has to offer. Essentially the first week is for a Safari out of Johannesburg with the second portion being a number of days in Cape Town. We cannot say enough great things about the guides and drivers at all locations. Top notch! They went above and beyond what could have been expected catering to our schedule and "off tour" trips and experiences.
The price was really a great value considering all that was included. You get to see and do so much. For a ten day tour, you come away feeling that you have accomplished a lot of what you need to say you have seen and gotten a feel for South Africa.
However, there are a couple things which need to be tightened up to make this a true five star experience. There is no way to say this that doesn't sound like an entitled tourist, but here goes. The bar set up at Hamala Lodge has to be updated to service its guests. One example. on the first morning of our several day Safari tour based at the Humala River Lodge, one of our party ordered a Bloody Mary. The bartender, a great young gentleman named Blessing, could not have been more accommodating and was able to make several Bloody Marys. The other half of the group also staying in the Hamala River Lodge at the same time, heard our order and also ordered Bloody Marys. Turned out that the 6–7 Bloody Marys completely wiped out the bar's ability to make Bloody Marys for the rest of our stay. It would appear to be a very easy fix to have either a greater supply of Bloody Mary mix available to the bar or have someone run out the approximately 45 minutes – one hour to the town right outside the reserve to resupply the bar with Bloody Mary mix. Again, not a big deal, but such an easy fix.
The seafood restaurant for lunch in Cape Town prior to the boat tour should be deleted from the itinerary. It's a tourist trap with no real flavor or anything special to either Africa or Cape Town. A more traditional African restaurant would be a much better option.
More importantly, there was some transfer issues that, again, would appear to be easily addressed and corrected. On the first day on our arrival from the US following a 14 hour flight, 9 passengers were transported from the airport in an 8 passenger van to the Seasons Resort. The last thing I needed was to have to sit on an armrest of the van for about the hour transfer to the Resort following that long flight. Again, not. a deal breaker, but Go Touchdown knew how many would be on the transfer, and could easily have provided more suitable transportation.
Lastly, one of group was completely left off the flight to Cape Town. Fortunately, we caught the error and we're able to have the fourth person in our group added to the flight. Inexplicably, that same person was given a different flight back from Cape Town to Johannesburg. We were unable to get them on our same flight. They had to take a much later flight which was delayed causing a big rush in Johannesburg to make the flight home. Lastly, and again, as all the flight arrangements had to be left to Go Touchdown, and particularly after leaving this person off the flight to Cape Town, not having them booked on the same flight as the rest of our party to Johannesburg is just inexcusable.
Disclaimer
All corporate and/or tour info is provided by Go Touch Down Travel & Tours, not SafariBookings
The tours offered by Go Touch Down Travel & Tours are subject to their terms & conditions