Go Touch Down Travel & Tours
4.4/5 – 143 Reviews
Offices In:

United States

Canada

Size:

20-50 employees (Founded in

2010

)

Tour Types:

Small & medium group tours (Mid-range & luxury)

Destinations:

Price Range:

$300 to $800

pp

per person

per day

(USD, excl. int'l flights)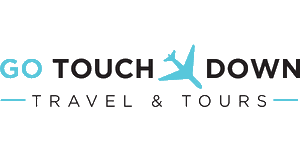 Go Touch Down Travel & Tours
The Go Touch Down team certainly know how to showcase South Africa.
The whole Touch Down team made our recent trip to South Africa so perfect.
Everything ran like clockwork, there were no hidden costs and the signature safari package proved to be great value for money.

When we booked the holiday at the Travel Show in London, the team assured us it would be the holiday of a lifetime and it certainly did not disappoint. We enjoyed every minute.

Lashan H.
–
US
Visited: October 2023
Reviewed: Oct 31, 2023
Email Lashan H. | 35-50 years of age | Experience level: first safari
Fantastic Tour
My husband and I took the 10 Day Signature Adventure Tour. We were celebrating our 19th wedding anniversary. The Go Touch Down team acknowledge our special day at every accommodation. This company was so organized, I was really impressed with the level of detail and access to our trip itinerary. Everything went as planned and adjustments were communicated. Very reliable. The accommodations were great, and all of the activities planned maximized your visit.

The guides, drivers and other staff were extremely knowledgeable, friendly and accommodating. The food was also very good! The value for the money matched the tour expectations. I would highly recommend this tour and Go Touch Down.

Brenda
–
US
Visited: September 2023
Reviewed: Oct 29, 2023
Email Brenda | 65+ years of age | Experience level: first safari
Great to work with, I appreciate all she did.
We had a wonderful time. James was a great tour guide. Tyler made our Safari experiences really enjoyable. Chris was a wonderful guide in Cape Town. Rachel at Stillwater was such a joy. The meals were excellent. Our tour group was small but we were treated royally. I really enjoyed this trip.
Therese Coutre Schaller
–
US
Visited: October 2023
Reviewed: Oct 25, 2023
Email Therese Coutre Schaller | 65+ years of age | Experience level: first safari
Very knowledgeable, courtesy, personable and always on time following up on all activities.
Our tour to South Africa (10 day signature tour) was nothing but awesome. The accommodations for our safari at the private game lodge, Tshukudu were beautiful. The game drives were surreal and our game driver was so amazingly knowledgeable about the animals and their habitat. We were truly blown away and astonished. The food and service was great and the lodge personnel were so very polite and attentive.
The optional excursions were well worth the time and money. We especially enjoyed Robben Island and the Bo-Kaap Museum. I can't say
enough about how enjoyable this trip was. All of our tour guides ( Cape Town, Johannesburg and Victoria Falls) went out of their way to make our tour so meaningful and fun! Also providing us with an app to view our daily itinerary was a God-send. This is by far the best tour we've ever taken. It will be a cherished memory forever. I highly reccommend Go Touch Down.
Thank you "GO TOUCH DOWN.""


Dr. John Persico Jr.
–
US
Visited: October 2023
Reviewed: Oct 17, 2023
Email Dr. John Persico Jr. | 65+ years of age | Experience level: first safari
Thoughtful, well organized and very thorough.
Hi, Karen and I left for a Touch Down tour of South Africa on September 29 and arrived back in the USA on October 17th. We contracted with Touch Down to save us the time and effort to organize a trip. We have been to 35 other countries and usually arranged our own tours. This time I decided to spend some money and save the effort. It was money worth every penny spent. Touch Down was thoughtful and well organized and every part of our trip went off like clockwork. Guides arrived when they were scheduled. Accommodations were beyond our expectations. Food was great. The best part was the wonderful service that everyone gave us on all parts of the trip. We could not have received better service nor been better treated. I highly recommend the staff and services of Touch Down for any trip that you want take. My wife described it as our "Trip of a Lifetime." John
Janet Shelfer
–
US
Visited: September 2023
Reviewed: Oct 14, 2023
Email Janet Shelfer | 65+ years of age | Experience level: first safari
Outstanding service and personal warmth
This trip was one of high expectations as a once in a lifetime trip for myself and two lifetime friends. The trip was postponed from 2019 due to Covid and Go Touch Down was extremely accommodating and understanding of the need to make these changes. We were not disappointed!!
My interaction with Angie and Yolanda were very easy and consistently responsive to my questions and plans as I was the coordinator for my friends. Upon arrival in Johannesburg, and after a pleasant stay at the City Lodge Hotel,, we were met with the most engaging gentleman, James, our escort during the Safari part of this trip. James was very helpful and knowledgeable of the area giving us an air of confidence and comfort as we began this adventure.
Once at the Tshukudu
Bush Camp we enjoyed wonderful meals, including their catering to my special vegetarian request. Not only was the presentation lovely and food delicious, the service staff were just a delight.
As we ventured out on safari Tyler, our Safari guide at the camp, and at the Kruger National Park was incredibly knowledgeable, and clearly loved his work as he expressed enthusiasm for the conservation efforts, and the mission of the preservation and health of these majestic animals. We were able to see all of the big five animals as well as a wide variety of other wildlife.
As we traveled to Cape Town we met a new escort, Chris, In the same spirit as we had been enjoying, was very pleasant and knowledgeable. He provided a wonderful escort throughout the city of Cape Town, and into the breathtaking wine country and coastal areas. Our stay at the Stillness Manor reminded me a little bit of the lushness of the beautiful stay we initially encountered at the equestrian center. The Manor is stately as it sits on a hill overlooking Cape Town, which was absolutely beautiful in the evenings with the moon shining over it.
Not to be disappointed, we found the food, exceptional and the service equivalent to any fine restaurant. The chef was very kind in greeting us and asking if he could make any special provisions and once again, my vegetarian request were wonderfully fulfilled.
The service staff were so very pleasant and attentive. We grew quite fond of them all, especially Rachel. As our time drew to a close, we all felt a little sad as we headed to the airport, but thrilled to have experienced the magic of this enchanting country with hopes that perhaps some day, once again, we may travel this path.
Erica
–
US
Visited: July 2023
Reviewed: Sep 28, 2023
Email Erica | 35-50 years of age | Experience level: first safari
The review below is the personal opinion of Erica and not that of SafariBookings.
Beware of contract language!
My family's experience with Go Touch Down for our "safari tour" was a complete disaster. I would absolutely NEVER book with them again, even if offered a trip at a fraction of the cost. They are able to lean heavily on clauses in their stock contract that allow them to entirely modify their itinerary.

Taken directly from the contract: "Go Touch Down shall not be responsible or held liable to secure the originally intended vacation package, which in many cases may not be available or its procurement may not be practicable due to forces of nature, market factors, or other related reasons" and "…when deemed necessary in its sole discretion reserves the right to: (1) cancel any itinerary or any part of it for any reason; (2) make any alterations to the itinerary (including, but not limited to, alterations or substitutions of hotels)."

In other words, they can promise WHATEVER they want and then dump you into whatever itinerary they come up with! I stupidly assumed this was boilerplate language that we'd have no choice but to agree to in order to sign up for any safari. But even if it is common contract language, most of us have to trust that tour companies wouldn't dare abuse it; our experience with Go Touch Down revealed that this is not a company worthy of our trust.

My story is a long one, but here is the gist of key issues (though there were many more, too numerous to cover in detail). Go Touch Down closed one of our two safari lodges six months before our trip. They did not reveal this to me, but I instead discovered it on my own…even as I was having multiple phone conversations with our agent (the owner's wife) about our stay at that very lodge because I was trying to make some arrival arrangements. Of note, Go Touch Down manages the lodges they use on their South African tours, so they knew of the closure, and I found they'd actually removed this lodge from a prominent corporate branding image months prior. When I asked our agent about the lodge closure, she became extremely rude and combative. Go Touch Down then used contract language to prevent us from getting a refund even though this was going to cut the safari portion of our trip in half and dump us at a freezing cold trout fishing timeshare they manage instead (this was the unfortunate fate for months of guests; we got last-minute lucky when they opened a new lodge just before our arrival and spared us the fish pond).

While we may have gotten a safari in the end (after so much grief and stress), it wasn't the one we were sold. The number one reason I chose this tour had been the promise of a maximum of six people on game drives. In fact, the brief Go Town Down self-written bio on social media is "small group tours of max 6 people." Upon arrival, we discovered that we would have ten people on our game drives – every seat in the truck filled, including the one up with the driver. Those squished into the middle seats could barely see anything, especially since nearly all of our drives were in covered-top vehicles and some fellow passengers were quite tall. Even the most barebones budget safari packages generally guarantee an outside seat. One high-level staff member brought up specifically how unacceptable this was and explained that many game drive vehicles no longer even have middle seats and instead place storage compartments down the middle! (I'm intentionally leaving out specific details like staff titles and names because I don't want any of these wonderful people to get in trouble – we encountered so many who were very candid with us about their extreme frustration with Go Touch Down, and it is a testament to their own professionalism that they did not take out this frustration on their guests.) The entirety of our Morubisi stay was packed in like this, as was our full day in Kruger (even though in the latter case, we were assured the day prior that we would all ride together to Kruger and that a second game drive vehicle would be waiting to collect half of us for the smaller tour we'd been promised, but this didn't actually happen).

Once again, Go Touch Down chose to lean heavily on contract language as an excuse. We certainly were not the only ones on our tour who were extremely upset, as many had chosen Go Touch Down for the six-person cap just as we had. One fellow traveler then astutely observed that the final documents we received the week of departure had been tweaked to state that any "outsourced" activities, including game drives, may have more than six people. First of all, Go Touch Down runs the game lodges, so the drives are hardly "outsourced." Furthermore, this left only the transport from the airport and between lodges as what they'd deem non-outsourced. Who cares how many people we ride from the airport to the hotel with, it's the game drives where that actually matters!

There were numerous other key advertised features of the tour that never came to fruition. For example, there was supposed to be a cultural music performance that never happened. There was also supposed to be a walking safari, but this was never offered. In addition, we were supposed to traverse the Panorama Route, a famous region of South Africa, when we were going to travel from Humala to Tshukudu. With the closure of Humala, we still faced a six-hour drive (not including a lunch stop), but we lost the morning game drive that was supposed to happen on that day and traveled a rather dull route to Tshukudu without scenic stops. And when we learned we'd be going to Morubisi, we were told of a wide variety of optional activities to choose from, such as a river cruise, to fill the long period between morning and evening game drives. But when we asked about this on site, we were told that only the reserve owner could drive the boat, and he wasn't available to do so. In the end, there were no activities offered to fill the mid-day hours at Morubisi. Lodge staff were very apologetic and told us that Go Touch Down had frequently shifted financial priorities and was in the process of opening multiple new lodges which was causing not-atypical disruptions that were frustrating for them as well.

To be clear, this review is about Go Touch Down and why I would never recommend booking with them. The staff at the properties were almost uniformly lovely, and they were very candid about their own hatred of Go Touch Down management and about how guests constantly arrive having been entirely misled and taken advantage of. "They only know hotels" said one frustrated high-level staff member who was doing everything possible to give guests the safari experience they thought they'd purchased in the context of a management tour agency that seemed to think we were there for fancy rooms and meals that they attempted to spin as "upgrades." So if your goal is to book an African safari, I would say this is NOT the company with which to do so – their contract is written in such a way that they may ultimately decide not to bring you to a safari property after all, and even if they do, it doesn't have to be the safari you were promised.

South Africa is a lovely place, and there were many wonderful staff, animals, meals, fellow tour members, and hotel amenities that allowed us to make the most of our trip despite its many uncertainties and unkept promises. I have a lot of travel experience and love discovering joy in even the worst of situations. But ultimately what it comes down to is that Go Touch Down is a company that repeatedly made excuses for not delivering what we as clients were sold. Maybe they sometimes pull through, but it doesn't seem like a risk worth taking when there are so many other options out there. This review has nothing to do with whether I would return to South Africa for a safari or whether the lodges we stayed at were nice. It is instead about warning people that there are thousands of actual SAFARI booking agencies, so I would highly recommend staying away from what was in our experience the unreliable, contract-abusing Go Touch Down when booking something as special as a safari.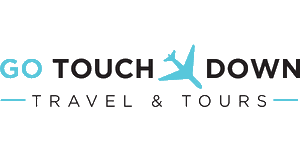 Reply
from

Go Touch Down Travel & Tours

Posted on Sep 29, 2023

Dear Erica,

Yes, Humala Lodge came as a surprise to all of us, but I know we made the right call.

My team and I are surprised to read the context of your review, and sadly we do not agree with you. Below are the facts on your file:

1. you bought a safari for 8 days that included 2x lodges (both 4 star). Humala Lodge was not big 5 reserve and has no lion or cheetah (keep that in mind, as that's what you paid for)
2. in Nov and Dec of 2022 there was ongoing unrest in the village outside Humala and Go Touch Down made a decision to stop sending clients to Humala (for safety reasons)
3. Jan 13th, 2023 Humala closed its camp. You were informed of this on *Jan 19th, 2023 (6 days later - we have the recorded call). *remember this date because we will address it again below.
4. Your new itinerary was going to incl. Dunkeld Estate for the 1st 3 days and it included a full day in Panorama Route plus Gumboot Dancers in the evening (you were not happy about this new change and wanted a full refund)
5. We then changed your itinerary and upgraded you to the 5-star Royal Morubisi (Big Five reserve that incl. Lions, cheetahs, and many wildlife that Humala did not offer).
6. The 5-star lodge opened June 2023 and you traveled July 2023. The Riverboat (was not included in the sale) was not available during your visit as it needed a qualified captain on that river (hippo's, rocks, etc.). (this is no longer an issue as we have a full-time staff that can)
7. Your sale docs are very clear about "Groups and Transport", and in addition, this sentence was included in your itinerary under Docs before you traveled to SA - I quote: "Our fleet of vehicles consists of Hyundai H1 9 seater vehicles. Our tour bus seating will not exceed 6 passengers; excluding your driver, for all our Exclusive Safari and Cape Town tours. However, outsourced excursions such as Table Mountain cable car, Robben Island Ferry, Cultural Township Tour, Game Drives, and airport transfers may exceed 6 passengers. Please be considerate and rotate tour bus seating with fellow travelers daily"

Your family of 3 would have occupied an entire row on your own during safaris. On the 4 days on safari at Tshukudu, you were only 5 people total on the jeep (your family of 3 and 2 others).

Regarding your comments about the Resort staff hating us and giving their opinions about our financial responsibilities - I have no comment, other than:

We asked the GM at Tshukudu about 'hate' statement, and he replied "These international clients from Go Touch Down are our bread & butter. The rangers and guides will never speak badly or get involved in politics. There are always cameras and videos around that can record ill behavior. We are not stupid to bite the hand that feeds us. This client is stirring".

The GM at Royal Moribisi replied and said: "Please get names from the client because we would never say that. The client told us that she only found out about Humala in the van on the way to Royal. We would like to know who she is quoting."

Go Touch Down's statement: "We send 2,000 + travelers from North America, Europe, and Australia to these lodges each year and we have never heard any other client say what you just did"

Covid and the 2 years that followed was a huge challenge for us. Many suppliers, airlines, and vendors closed their doors. So many tours had to be honored in the years that followed, and we made it all happen, and 'none' of our clients lost their investment they made pre covid.

9 out 10 clients are happy with our product. We are sorry that you did not see the value in this tour.

In closing: We sent you all the links and details prior to the trip, and Your email reply to us on May 2nd, 2023 said (and I quote): "Thank you for your very helpful responses! I've reviewed all of the materials, and only two quick additional questions come to mind....." You then continued to ask general questions, one of which was about the cost of the riverboat.

Sincerely,
JC - Corporate
Debbie Pereira
–
Visited: September 2023
Reviewed: Sep 27, 2023
Email Debbie Pereira | 50-65 years of age | Experience level: first safari
Outstanding Service
This trip has been my dream all my life. Everyone from Go Touch Down were outstanding. From start to finish the trip was so much more than we expected. From the beautiful accommodations, so much excellent food, very friendly staff thank you Backkies, Zandile, Johnson and Chris to mention just a few. Also a huge thank you to Shelley and Inge for organising our trip of a lifetime. Both of you always available for my many questions. This trip was so well organised that we didn't have to think of anything. We will definitely be going back to South Africa and we highly recommend Go Touch Down Travels and Tours.
Steve and Sue
–
Visited: August 2023
Reviewed: Sep 8, 2023
Email Steve and Sue | 50-65 years of age | Experience level: first safari
A very well run operation.
We would like to say how this trip exceeded all our expectations and more, from the communication lines always being open, receiving replies before we left, to the staff and tour operators once we arrived.
Everyone was helpful, knowledgeable and punctual.
The accommodation, food and transport were all excellent.
The amazing thing was seeing all the African wildlife, fauna and scenery, I don't think there was too much we missed.
Steve and Sue
Queensland


Janet
–
US
Visited: April 2023
Reviewed: Jul 5, 2023
Email Janet | 50-65 years of age | Experience level: first safari
Fanatastic!! A joy to be around and very informative.
The scenery and animals of Africa were amazing. They guides were all very knowledgeable and friendly. The tour offered a great variety of food during our trip.
Disclaimer
All corporate and/or tour info is provided by Go Touch Down Travel & Tours, not SafariBookings
The tours offered by Go Touch Down Travel & Tours are subject to their terms & conditions