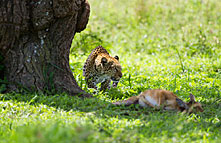 Simba Safaris
4.9/5 – 16 Reviews
Located In:

Destinations:

Website:
Rating Breakdown
Eleanor
–
US
Visited: September 2022
Reviewed: Sep 17, 2022
Email Eleanor | 50-65 years of age | Experience level: over 5 safaris
Phenomenal guide,
Our guide, Joachim Andrew, was nothing short of amazing. We was our guide for 12 days (9/1/22-9/12/22), as we traveled to 4 different camps, starting in Northern Serengeti then going to Central Serengeti and ending up in the Ngorongoro Crater. He is so knowledgeable, made us feel like family, and could spot animals so easily. For example, one day he spotted four separate leopards! We saw 4 wildebeest river crossings due to his ability to predict their movement. Every day we were amazed at what he showed us and we are not new to safaris. We will unconditionally recommend him to anyone we know going to Tanzania for safari. He exceeded all of our very high expectations.
RB
–
CA
Visited: January 2019
Reviewed: Jan 25, 2019
Email RB | 20-35 years of age | Experience level: 2-5 safaris
A once in a lifetime experience with a trusted operator!!
I just finished the 8 northern safari circut, which covered Tarangire, Manyara, Serengeti, and Ngorogoro Crater National Parks. I had a wonderful stay at all 3 Simba lodges, and was more then happy with the outstanding accommodation and food provided.

I must say my driver/guide Spunk (also with Simba Safari) made my trip! He was professional, fun, knowledgeable, and always willing to go an extra step for me. Which is how I saw so much big game and wildlife only a few feet from our car. I would 100 percent recommend him to my family, friends, and those booking with Simba Safari.

I can only say good things about my experience with Simba Safari and I hope this review helps with your booking.
Mu
–
SG
Visited: September 2018
Reviewed: Oct 2, 2018
Email Mu | 50-65 years of age | Experience level: 2-5 safaris
wonderful experience
My first time with Simba Safaris. I had booked my tour through Safari Hub who finally put me through Simba Safaris.

The driver cum guide - Mathew was an excellent guy. He knew the way around and drove really well. Not sure if there is an improvement needed around his wildlife knowledge.. i guess yes. But his overall attitude and behaviour kind of made up for any lack of knowledge that he had on wildlfe.

Vehicle was good and in good condition. Interios were maintained well.

Choice of lodges/tents were really nice. enjoyed every place and food in all locations.

Simba represetative - Mark was there at Arusha to see us off on the first day of the safari and was available to take feedback on the last day was aswell. Which was a good gestrure and felt that there are people available to take care of us incase of any emergency.

The only negative about the whole trip was the delay in pick up from my arusha hotel on the first day... i still dont have an explanation to it .but overall i had a good trip

Peter Brockbank
–
Visited: July 2016
Reviewed: Jul 22, 2016
Email Peter Brockbank | 50-65 years of age | Experience level: first safari
An amazing experience
My wife and 2 sons spent 5 days with Sham covering Lake Manyara, Ngorongoro Crater and the Serengeti.
The game he was able to show us surpassed what was seen by most other people and his knowledge of the animals and birds was immense.
His good humour and patience and the amount of time spent driving us was beyond expectations and it was 5 days we will never forget.
The tour was well thought out and organised and I would strongly recommend it.
Howard
–
Visited: January 2016
Reviewed: Feb 7, 2016
Email Howard | 50-65 years of age | Experience level: first safari
Beyond Expectation
All arrangements came to fruition without any problems. Everyone was there to meet us at each destination with a very friendly welcome. Hotels very good and in great locations. Great guide, very friendly and knowledgeable and was able to find many animals (including the big 5) for us to see at close quarters. Driving safe and secure. Hotels very good. Vehicle was very competent for the job but an upgrade may be needed shortly and that is the only reason this doesn't get an 'excellent' marking. Would pick this company and country (Tanzania) again.
P. & N. Heuss
–
CH
Visited: November 2015
Reviewed: Nov 22, 2015
Email P. & N. Heuss | 20-35 years of age | Experience level: first safari
Wonderfull Safari Tour
We had a great time in Tanzania. We saw a lot of animals. the guide and the driver maked a very good job an we had a good time together. it couldent be better. if somewone ask us about the safari we tell them that simba safari is a very good adress to book a safari tour. thank you for an unforgetebal time
Stephan and family
–
CH
Visited: October 2015
Reviewed: Oct 26, 2015
Email Stephan and family | 35-50 years of age | Experience level: first safari
A perfect guide team (driver and guide)
Our driver Shiza and the guide Patrick (very good German knowledge) were a perfect team. Very polite, helpful and flexibel and the knew lots about animals and plants and very experienced in discovering animals. Everything was well organized and ready on time. We just could relax and enjoy.
Marian Tims
–
NL
Visited: February 2015
Reviewed: Oct 17, 2015
Email Marian Tims | 65+ years of age | Experience level: 2-5 safaris
Thirdtime with Simba
This year it was the third time I travelled with Simba. The first two times I booked in Holland and the last straight with Simba. In Holland they have a complete journey and its not easy to chance things as I would. I travel alone so easy to make little chance. The last time I booked straight via internet . Because I cannot walk very good there where special whishes from me. I try to make my own journey with whishes and sent it to them. I know that there are things that maybe is not possible if you cannot walk very good. Together with Arif (and I hear later my guide, same as the other 2 times) we made the trip. Every time an ok from Tz or me and than we had all ok. The trip was more than marvelous. Have been everywhere I like to come, saw so many animals too, in all different ways. Alive and also dead, vultures and hyeans eating a zebra, but also that a little wildebeest is born and after 13 minutes, the little one can walk, more than amazing. . But also visit Detoga and Hadzabe tribes.
For next year, 2016, I like to see the migration at Maasai Mara and again we made together my trip, also again with my whishes. I cannot wait till july, But the program is so nice again, it wil be amazing again.
If you travel alone or you have whishes, they can make it for you and you have the time of your live.
I can give only 5 stars but 10 is better
Joe C.
–
US
Visited: September 2015
Reviewed: Oct 4, 2015
Email Joe C. | 50-65 years of age | Experience level: first safari
The best traveling experience ever !!!
My wife and I returned home yesterday from a 2 week trip to Tanzania and Rwanda. While the entire trip was outstanding, our expereince with Simba Safaris was, without question, the high point of the trip. Everyting about the service, from connections, vehicle and accomidations was excellent. However, there was one aspect of the trip that made the entire experience beyond compare....our driver and guide Ndossy. There is no questions in my mind that he truly made the experince unforgetable. We enjoyed his insight and vast knowldege on the animals and plants of Tanzania and always felt like we were being cared for by an old friend. He is certainly an excellent representative of your firm and Tanzania and will be our requested companion when we return for our next adventure.





Anne Mette
–
DK
Visited: July 2015
Reviewed: Aug 5, 2015
Email Anne Mette | 35-50 years of age | Experience level: first safari
There is just one word to describe Simba Safaris: Excellent!!!
Simba Safaris have been most competent and professional in all regards. We have had a perfectly planned safari trip and have been taken perfectly care of by our guide, Peter, and chef, Richard. They have been very competent, considerate and service-minded and Peter has given us a wonderful tour of the magnificent nature and wildlife of Tanzania through Tarangire, Ngorongoro, Serengeti and Lake Manyara.
We will definitely choose Simba Safari again anytime. Thank you so much for a great safari experience.