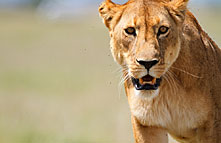 Meru Mountain Treks & Safaris
4.0/5 – 27 Reviews
Located In:

Size:

10-20 employees (Founded in

2004

)

Member Of:

Kilimanjaro Association of Tour Operators

Tour Types:

Budget & mid-range tours with set start dates and a fixed itinerary

Destinations:

Price Range:

$160 to $550

pp

per person

per day

(USD, excl. int'l flights)

Meru Mountain Treks & Safaris
Rating Breakdown
Miriam Little
–
Visited: March 2015
Reviewed: Apr 18, 2015
20-35 years of age | Experience level: 2-5 safaris
The review below is the personal opinion of Miriam Little and not that of SafariBookings.
Not recommenable at all
I booked a 4-days-Safari to Lake Manyara National Park, Ngorongoro Crater and Serengeti National Park and ended up doing the tour with a very friendly french family. At first, also the owner of the company seemed to be a nice guy. Later that turned out to be a false first impression.

The first day we stayed in small bomas, the dinner was reasonable and their was enough food.
We found out the next morning that a another guy would join us for the next three days. Unfortunatly, we had to wait for him, which delayed our drive to the next park, but was of course not the fault of the very friendly south korean guy, who told us that he actually didn't book his safari with the same company we did. Before he joined us, we also spend about an hour at a garage to get the shocker of the jeep repeared.

The time we spend in the parks was great, we saw many animals and really enjoyed it. The smallest problem we had, was that the zippers of the tents that the safari company provided couldn't be closed. One of the things we really got annoyed about was that the driver and the cook didn't stick to the programm which was given to us when me made the booking. One morning, we should have left at six, but they said seven would be early enough because we would have been at another park to early. This would have ment an extra payment, as it was planned for us to stay until afternoon the next day (as you might know the entrance fee is only valid for 24 hours) and only goes to show that the programm was actually full of promises that weren't kept.

Another problem was the fact that there was not enough food for 5 people. When we came to the campsites after a long day, we had to wait for our food for more than an hour twice, while all the other travellers from other companies were already served. It made me upset, when the cook even delayed our moring game drive because he obivously didn't get up early enough to prepare breakfast. The portions were small and compared to what we were served the first evening and what people from other budget safari tours were having, the choice was too.

Also, I had the impression that our driver had no idea where he was going and didn't seem to have control over the car at all. On the way out of the Serengeti we almost overturned after a speed bump and drove into the bushes. How could the driver or the cook even dare to ask for a tip after their services had been so horrible?

When we came back to Arsuha and spoke to Ibrahim, the owner of the company, he wouldn't even listen to us. I was in his office with the french lady and her son. The cook had been taking pictures of some rice and a tiny bit of sauce we left over, so Ibrahim shouted at us and said we were lying when saying there was not enough food. He wouldn't even listen when we told him that we didn't finsh the food because their was no meat, no vegetables, barely some sauce and only this pile of rice left over. It was not possible to have a proper conversion with him and after he had called me a "bitch"and said "fuck you" to me, I decided to leave the office, because this was just getting ridiculous. The french lady asked me to stay which was not a good idea at all, because Ibrahim got very aggressive. We asked him again to stop shouting at us and really felt like I was in kindergarten. When I told him he was behaving like a child, he got up, took my glasses, cracked them into pieces and threw them on the floor. He even shouted silly things about us being christans, complained about us using up to much of the milk powder, claimed he had never had any complaints like this and reproached us for having too high expectations concerning the food. I really could't believe it! Just because he didn't want to take the critism of his clients serious, especially not from a white yound lady, he got violent. Moreover, he pushed the french lady out his office and might have broke her arm. I didn't find out, because they left the next morning.

I haven't experienced anything like that in the last 7 months in Tansania and Uganda. Next time I would definetly spend a hundred dollars more to avoid this kind of hassle. There is still no guarantee that everything will work out fine then, but I think in this case it's worth spending a little bit more money!
Tom
–
FR
Visited: March 2015
Reviewed: Mar 22, 2015
35-50 years of age | Experience level: first safari
The review below is the personal opinion of Tom and not that of SafariBookings.
agence to be absolutely run away from
Your experience(experiment) confirms in 2015. The man did not change.
a very unpleasant experience with Meru treks and Safari. Violent person in charge on the customers who are not satisfied.
Insufficient food, guide - driver novice. Cook hooligan and liar to get out of trouble. Never at the hour. End-of-life vehicle
We asked ourselves the question to know if he did not get back the rests of the other agencies to feed his customers. To verify.
Agency to be absolutely run away from.
You know now
Olivia
–
FR
Visited: May 2017
Reviewed: May 20, 2017
Email Olivia | 20-35 years of age | Experience level: first safari
The review below is the personal opinion of Olivia and not that of SafariBookings.
Ibrahim the monster
I don't recommand meru treks at all frist of all the boss Ibrahim he's an asshole I would even say worse but I'll stay polite. It's an horrible person. We booked a 2 days safari with him for 280€ which extremely cheap, he was really nice friendly and professional at the beginning, so we were so happy to get a safari that cheap that we asked him if we could book a excursion to see the waterfalls, to do the coffee tour and to see the kilimanjaro. He said sure it's going to be 30€ more he said we'll take you from your place to the montain. We thought we were going by car obviously so we said yes . So the day after we were supposed to go at 7:30 no one came. We waited and called him he said the guide he's comming. And at 9am so 1:30 late 2 guides came and one of them was drunk and we were supposed to have only one guide. We told the drunk one to leave we went with the other one. And after 5min in car to get to the city centrer he told us that we were going to take the public transports to moshi which is at 2hours from arusha we were so angry because we paid to not take the public transports we could have done it ourselves. When we arrived in moshi we had to take another daladala to get to the mountain and we waited 1hour for the daladala to leave moshi and the guide was smoking talking to his friends so unprofessional. So basically we left at 9am to arrive at the place at 2pm. So we did the visit it was cool but the guide made us rush because he didn't want to miss the last dalala to get back to moshi so we couldn't take our time and enjoy. At the end obviously we missed the last daladala and the guide who was supposed to pay us everything didn't have enough money to pay for the motorbikes to take us to moshi so we had to pay. When we arrive in moshi we spend an hour in the street waiting for him to find money walking around the city to pay the bus to arusha, it was 8pm. Organisation 0 ! And then he finally got the money and we took the bus to Arusha and arrived at 10pm and we had the safari the day after at 7:30 am we didn't even have time to eat. My friend and I were so pissed off then we decided to complain to the boss. So we went to the office before going on safari. And ibrahim's real face appears, we talk to him very politely and he started shouting on us he got crazy he didn't even let us speak he had an answer for everything and he started saying "if you complain for that you're going to complain for the safari so don't go" we were so angry because we wanted to do the safari still but we had to complain about the day before because it was horrible. So he started to take off our bags from the car of the safari and he kept shouting waiting for us to apologise but we didn't, fortunately the driver was great and told him to let us go so we went on safari. Do you imagine 30€ for that ! And he didn't give us the money back obviously. But fortunately the driver joseph was amazing and the safari went well and we saw all the animals. So the 1 star I put is only for the safari and because at least it was cheap. But if you can avoid this company avoid it and especially Ibrahim this monster shouting on two 21 years old girls when he is the on who is wrong.
Roxana Barbuceanu
–
RO
Visited: October 2019
Reviewed: Nov 4, 2019
Email Roxana Barbuceanu | 35-50 years of age | Experience level: 2-5 safaris
The review below is the personal opinion of Roxana Barbuceanu and not that of SafariBookings.
Avoid them!
Ibrahim, the manager, is an asshole! He was rude and unprofessional. The accomodation provided was terrible. I would never ever book another safari with this guy.
The driver, Johnson, was ok and also the lady working for him, who arranged our transfers, was ok. But Ibrahim, the man who owns the bussiness, should find something elso to do for living, as in tourism he's a disaster.
Stephan
–
RO
Visited: April 2018
Reviewed: May 4, 2018
Email Stephan | 20-35 years of age | Experience level: first safari
The review below is the personal opinion of Stephan and not that of SafariBookings.
Unprofessional behavior and old cars! Do not go with them!
1st of all I can tell you that you can have a good experience with them but don't risk it.

Part 1. The manager, I think Ibrahim, took us from airport and went to a restaurant, it wa OK.

Part 2 We went to the hotel which had no hot water... Whatever we were going in Safari next morning, he told us that the car will arrive at 8am. It arrived at 8.20 with the problem of windshields. We lost like anotjer 30 mins.

P4 The driver was ok and had the knowledge of the parks (Tarangire and Ngorngoro).

P5 In the first day of the trip it rained in the car, it was during the rain season.

P6 The accomodation in the Manyara Igloo was ok.

P7 CUT TO THE CASE... We should have had another night in that Peace hotel we stayed in the first night. We went to Arusha wit a taxi driver coz' the Safari driver should have stayed in Safari for another day. AND THERE the manager told us that we wont stay at the hotel because président it's in town and there are no rooms left. When I asked him why it wasn't already payed he said that the room was "complementary", not like it was in tha package we paid. Like we should have stayed on the streets if it wasn't so 'kind' to offer us a "technical room" at the Meru Treks offices, with a llt of lound and unclean bed.

DO NOT GO WITH THEM!!!

This guy is full of surpises.

Actally the car broke in the Safari and we stayed there 45 mins...
Elena
–
IT
Visited: August 2015
Reviewed: Aug 24, 2015
Email Elena | 35-50 years of age | Experience level: first safari
The review below is the personal opinion of Elena and not that of SafariBookings.
To be avoided. Poor equipment and agressive manager.
We booked a 4days/3nights safari at Tarangire, Serengeti and Ngorongoro crater. No complaints about the safari itself (we saw a lot of animals and enjoy our time) but about the old/ruined equipment used by Meru Trek Company and about the rude modes used by his manager, Ibrahim.

We had 5 flat tires in less than 2 days!!! I can understand some bad luck…but 5 tires punctured is not a matter of bad luck. It means you have a problem with the tires you are using!! I work for the tire industry and I know what I am talking about. The tires mounted in our jeep had almost no remaining tread and this is, beside a legal issue, a safety problem!!! These 5 flat tires caused not just loosing time from our safari, but also late arrivals to the campsites, to have to mount the tents with almost no light, late dinners and the disadvantage to remain for 3 hours in the middle of Serengeti waiting for someone to come to help us. Not just the tires were not at an adequate level, the driver did not have a proper torch to illuminate while performing the changing operations, the lifter use to lift up the car was getting blocked from time to time and once risked to catch up the driver while changing the tire under the car. Tents used by this company have zips broken, meaning cold and insects getting into your tent and in case of rain, also the rain (by the way, not all the tents were waterproof either).

When we went back to Arusha and we were taken to the main office, we tried to explain to the manager, Ibrahim that the equipment was not the appropriate and beside not even asking for any excuse, he just became very aggressive, not listening and not allowing anyone except by him to speak. He accused us to ask for a refund (we never mention this word or ask for any money back). Our purpose was to give him a constructive feedback to improve few things, but he did not listen to any reason. He started blaming us we were liars, and saying God will judge us in the Final Day….Honestly speaking if someone has to be judged is not me….but the person whose last sentence is: "you should be just happy to be back ALIVE from your safari…". This is the person you will face if things do not go smooth.

It is up to you the choice, but to me it is not worthy to put your life at risk with bad car equipment, to loose time of your safari, to arrive to campsites late, to suffer cold because of bad equipment and to deal with this kind of person… at the end cheap turns to be more expensive!

Disclaimer
All corporate and/or tour info is provided by Meru Mountain Treks & Safaris, not SafariBookings
The tours offered by Meru Mountain Treks & Safaris are subject to their terms & conditions