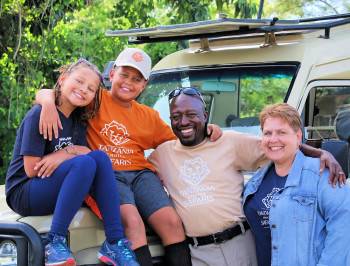 Tanzania Choice Safaris
5.0/5 – 208 Reviews
Located In:

Size:

5-10 employees (Founded in

2007

)

Member Of:

Tanzania Association of Tour Operators

Tour Types:

Custom mid-range & luxury tours that can start every day

Destinations:

Price Range:

$400 to $1,200

pp

per person

per day

(USD, excl. int'l flights)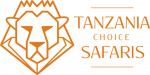 Rating Breakdown
Kattie
–
US
Visited: December 2009
Reviewed: Jul 29, 2014
Email Kattie | 20-35 years of age | Experience level: first safari
Kakasii is the best - you will be glad he was your guide!
I absolutely loved my Tanzania Choice Safari. Everything from the number and variety of animals we saw to the delicious food we ate exceeded my expectations. Kakasii was born to lead safaris. His sense of humor, knowledge of where to find animals and when, and the fact that he seems to know EVERYONE in Tanzania means that no matter what, he is going to make sure your experience is the best it can be. When I visited, the highlight was seeing literally hundreds of elephants as they migrated, including a momma and her baby RIGHT on the road.

His wife, Brenda, is American, and does an excellent job of managing the itinerary and booking. She is conscious of the little things that non-Tanzanians value in travel planning, like prompt and clear communications, attention to detail, and options. She anticipates your needs and works hard to make sure you get the experience you want to have.
Carla
–
US
Visited: May 2014
Reviewed: Oct 14, 2014
Email Carla | 50-65 years of age | Experience level: 2-5 safaris
You won't be disappointed with Tanzania Choice Safaris
I have had the opportunity to go on safari with Tanzania Choice Safaris twice. The first time was in June 2012 and then again in May 2014. It doesn't take long to see that Kakasii loves what he does and wants to be sure you have a wonderful experience. He is attentive, willing to share his knowledge and was very patient as we took dozens of pictures.

I really appreciated all of the pre-safari communication and help in planning the itinerary and preparing for the trip. They really left no detail to chance in the preparation and made sure I knew everything I needed to know before and during the trips. Both of my trips went smoothly and without a hitch.

When friends and co-workers have expressed interest in going on safari, I quickly recommend Tanzania Choice Safaris because I know they won't be disappointed!

Melanie G.
–
US
Visited: May 2013
Reviewed: Nov 9, 2014
20-35 years of age | Experience level: first safari
Awesome experience with an awesome company!
As part of a broader trip to Tanzania, my companions and I had the opportunity to go on a half-day safari with Tanzania Choice Safaris. In addition to being a world class driver (you want one of those when you're in an unfamiliar place!), Kakasii is also probably the friendliest, kindest person you will ever hope to meet, and a fountain of knowledge. I was amazed by his ability to spot the smallest bird while we were traveling to and once we were inside the park - he could identify it instantly and tell us all about it.

We went to a park that is a bit off the beaten path, since it was en route to our other destination, and we may have been the only vehicle in the park. It truly felt like we were in the wilderness, and not just a tourist destination. It was incredible to be there, surrounded by gorgeous hills and mountains, plants and animals. I was awe struck. I so appreciated Kakasii's patience and expertise as we simply sat and waited for things to happen around us (they did!) or spot something from a distance and somehow get there quickly and without disturbing the animals.

I would definitely do this again, and recommend this to anyone heading to East Africa!
Clement
–
US
Visited: November 2014
Reviewed: Dec 4, 2014
Email Clement | 20-35 years of age | Experience level: 2-5 safaris
Your bucket list should include a safari trip specifically with Tanzania Choice Safaris!
Being from the United states, I was extremely pleased with how prompt the communication between Brenda, Kakasii and I was. From the moment I sent the first email, to the time I said goodbye, their service was first class. The Land Rover was emaculate, the lodging choices were beyond amazing, especially the Katikati camp, and the tour guide himself, Mr Kakasii Kimaro is the epitome of what a tour guide is suppose to be. He has a sixth sense for finding the animals. His brain has the GPS for the entire Ngorogoro Crater and the serengeti plains, he is very knowledgeable about Tanzania, the birds and animals, and his love for nature is infectious and contagious. The trip was by far the best vacation I've ever been on and exceeded all my expectations. If you ever want to visit the plains of the Serengeti and the Ngorogoro Crater, contact Tanzania Choice Safaris!
Shaylynn Skene
–
US
Visited: November 2014
Reviewed: Dec 6, 2014
20-35 years of age | Experience level: first safari
Such an amazing experience!!
My Tanzania Choice Safari experience was so much more than I could have imagined! The safari trip, lodge experience, food, service, and entertainment was wonderful! I can't wait to go back! I learned so much and made so many memories with Tanzania Choice Safari! Thank you Brenda and Kakasii for such a great trip and hospitality!
Chad Brekke
–
US
Visited: January 2015
Reviewed: Apr 21, 2015
Email Chad Brekke | 50-65 years of age | Experience level: over 5 safaris
A World Class Safari Experience Combined With Authentic Local Flavor
I serve as the senior pastor of a large church in Minnesota and have been bringing groups to visit Tanzania for many years. Kakasii Kimaro is always my first choice as a driver/guide. If my group is large and requires several vehicles, Kakasii is always the lead driver in the group as he is widely respected by both his clients and colleagues. Over the years, I have spent hundreds of hours with Kakasii at the wheel and I consider both his driving and safari guiding skills to be unmatched.

The value added in working with Tanzania Choice Safaris is the unique combination of Brenda's attention to detail and communication during the booking process and the deep connection to the local communities Kakasii is so eager to share. On my most recent visit, Brenda had suggested that rather than spending our last couple days prior to our departure in a hotel in town, we may enjoy staying at a unique Maasai Lodge which I had never heard of before. Proceeds from the lodge go to support outreach to the local Maasai people, including a primary school. Our experience at that lodge was a highlight of the whole trip. We enjoyed an authentic experience among the local Maasai people. That opportunity may never have been suggested without the personal attention afforded by this unique local company (TCS).

A gifted safari driver/guide makes all the difference and Kakasii is blessed with instincts born of loving the land of his birth. I could not count the number of times Kakasii has taken the route less traveled while out on safari, which resulted in close encounters with magnificent creatures. Sitting next to a lion pride with our engines turned off as ten small cubs take turns stalking their mothers tail. Following a hunch derived from some fresh tracks to find ourselves parked alone next to two large male lions feeding on a rare giraffe kill due to drought conditions diminishing more usual lion fare. Sitting in the midst of a large group of elephants, so close we had to duck as they joyfully splashed in the mud! I could fill many pages with Kakasii led adventures of a lifetime!

And yet, none of those experiences out in the breathtaking beauty of Tanzania's wild national parks can compare to the people of Tanzania. Whether in the bustling cities or rural villages, the people of Tanzania are joyful, intelligent, and welcoming. Tanzania Choice Safaris are perfectly positioned to help you experience the full breadth and depth of one of the most amazing places on earth. And if you are blessed to explore the region with Kakasii as your guide, you will find you are greeted as long lost friends everywhere you go!



Margo
–
US
Visited: May 2015
Reviewed: Jun 16, 2015
20-35 years of age | Experience level: first safari
Unforgettable
Thank you again for the amazing trip you provided us to Tanzania! It was unforgettable nonetheless and I haven't stopped talking about it since I have been home.. I see another visit in the future! It couldn't have been more personalized, seriously! We took a short trip to Tanzania mid May, the weather was perfect.. Not too hot, not too cool! We visited the Ngorongoro Crater and Tarangire, both absolutely thrilling! Tarangire had an abundance of elephants where you were able to be up close and personal with them! Ngora offered a true safari experience with breathtaking views in addition to a wide variety of animals. We were lucky enough to see baby cubs, and rhinos! Kakasii was a great tour guide, his English was excellent and his knowledge of the parks and Tanzania was even better.. Our trip was truly unforgettable!
Lise G and Eric V
–
CA
Visited: June 2015
Reviewed: Jun 25, 2015
20-35 years of age | Experience level: first safari
A totally amazing and unforgettable safari with Kakasii!
Tanzania Choice Safaris was extremely helpful and professional from our first contact with them to the end of our safari. Brenda was so amazing to cater the safari to our needs and budget and Kakasii was the best guide! We got to see and photo all of the animals we were hoping to and so many more! Often we were the first truck to spot an animal and other driver guides would ask him for tips or if they can follow us through the Serengeti. Kakasii knows all of the roads through the parks so well and seems to have a sixth sense for finding game, we are so incredibly happy we went with Brenda and Kakasii and will definitely book with them again on our next safari in Tanzania and will recommend them to all of our friends!
Wendi
–
US
Visited: May 2015
Reviewed: Jul 9, 2015
20-35 years of age | Experience level: 2-5 safaris
An amazing way to see an amazing place
This was everything a safari should be: fun, adventurous, low-stress, full of incredible animals and sights. This company really knows how to ensure that you see a variety of animals and enjoy your time in one of the most beautiful places on earth. It's really the driver who makes the experience--we saw other drivers who weren't patient enough to wait for animals to come into view or for visitors to take the photos they wanted. Our driver was kind, incredibly knowledgeable, familiar with the park and other drivers, and a fantastic host. If you are planning to come to Tanzania for safari, you will not regret going with Tanzania Choice Safaris!
Alexa
–
US
Visited: July 2015
Reviewed: Aug 17, 2015
Email Alexa | 20-35 years of age | Experience level: first safari
Excellent Experience in Every Way
Tanzania Choice Safaris is an excellent choice! They made our whole trip easy, comfortable, and full of wonderful adventures. During the planning process they were responsive, extremely helpful, and really listened to what we wanted. During the trip they made us feel welcome, and they were attentive to our needs. Kakasii is a wonderful, knowledgeable, and extremely passionate safari guide who spent 10+ hours with us each day in the safari car looking for animals. Our Mt. Kilimanjaro team was supportive, kind, and helpful. We highly recommend Tanzania Choice Safaris!
Disclaimer
All corporate and/or tour info is provided by Tanzania Choice Safaris, not SafariBookings
The tours offered by Tanzania Choice Safaris are subject to their terms & conditions