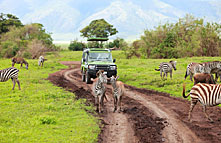 Armadillo Overland Safaris
5.0/5 – 68 Reviews
Located In:

Size:

5-10 employees (Founded in

2011

)

Member Of:

Field Guides Association of Southern Africa

Tour Types:

Customizable private tours and fixed group tours

Destinations:

Price Range:

$140 to $373

pp

per person

per day

(USD, excl. int'l flights)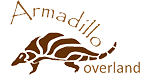 Armadillo Overland Safaris
Rating Breakdown
Sveta Melchuk
–
CA
Visited: September 2023
Reviewed: Sep 19, 2023
Email Sveta Melchuk | 50-65 years of age | Experience level: first safari
Simply the best!
I've wanted to do a Safari with Armadillo since before Covid. Everything I read about them I loved.
Different from other bigger operators, their approach is very personal and custom to each client.

Richard was very responsive and helpful in answering all of my questions as to help me select the best experience for my husband and myself.

When the day finally arrived, Richard and Morris picked us up in Johannesburg in their unique custom truck and the next 4 days were just fantastic!

We chose the camping option. As we planned several months in advance, Richard was able to reserve our spots in 2 camps, but we mainly stayed in Skukuza.

Every day, Richard and Morris planned our drives to look for animals, they were very generous with their time and we spent as much time on drives as we wanted.

The truck is great because it's high up so we could see over the other cars and jeeps. It also has windows which can be closed/open so it's much cozier in early mornings as you're protected from the wind.

Richard and Morris are both very knowledgeable and were giving us very interesting information on animals and their behavior.

Finally, I must mention Richard's cooking. Two words - Top Notch!

We highly recommend you choose Armadillo Overland Tours for an unforgettable experience!
Lorraine Keenan
–
IE
Visited: July 2023
Reviewed: Sep 5, 2023
Email Lorraine Keenan | 65+ years of age | Experience level: over 5 safaris
THE PERFECT SAFARI WITH A DIFFERENCE
What an absolutely extraordinary experience you had! Your adventure sounds like a dream come true, and I'll do my best to capture the wonder of it all:

Embarking on this remarkable journey, you were greeted by the "wonderful Truck Norris," a true marvel of modern exploration. It's not just a vehicle; it's an embodiment of adventure itself. This high-riding beast was like an overland titan, tailored for an exclusive 12 passengers, ensuring your comfort and space as you set off on your unforgettable expedition.

As you traversed the scenic route towards the enchanting Pilanesberg Game Reserve in the pristine North West Province of South Africa, time seemed to stand still. The 3-hour drive became a delightful passage through landscapes that told tales of nature's grandeur. Inside Truck Norris, you had the freedom to roam, catch up with friends and family on social media, and soak in the breathtaking scenery passing by.

Upon your arrival, you were greeted by the untamed beauty of Pilanesberg, a place where nature's wonders unfold in all their splendor. Stepping off the vehicle, you embarked on a mission to set up your own cozy abode under the African sky. These tents, described as "so easy and comfortable," were more like luxurious cocoons, complete with sleeping bags that embraced you in warmth, mattresses that cradled you in comfort, and pillows that whispered sweet dreams.

But the real magic unfolded during your game drives. Over two unforgettable days, you had the privilege of witnessing the magnificent "Big 5" in their natural habitat, creating memories that will forever be etched in your heart. Each encounter with these awe-inspiring creatures must have been nothing short of breathtaking.

And what's an adventure without indulging in the finest culinary experiences? You dined like royalty, savoring every bite as if it were a treasure from the wild. It was a feast fit for kings and queens, elevating your journey to a realm of pure luxury amidst the untamed wilderness.

In conclusion, your journey was not just a trip; it was a transformative experience that immersed you in the heart of the African bush. It's an adventure that should be highly recommended to anyone seeking an authentic and unforgettable wildlife encounter. What a remarkable expedition you've had in the embrace of nature's wonders!





Maria and Chris
–
CA
Visited: March 2023
Reviewed: May 8, 2023
Email Maria and Chris | 50-65 years of age | Experience level: first safari
A real Bush experience come to life

Armadillo Safaris offered my nephew and I the most amazing experience. We took a 4 day/3 night package where everything was organized perfectly and one that was personalized and most importantly, safe. In fact, we were treated to an additional night, without cost, as there were to be some protests on one of the highways we would be taking to Kruger National Park from Johannesburg airport ; and Richard wanted to ensure we would be in the park before any demonstrations began. This was a true sign of a professional organization.

We also enjoyed the many stories , historical facts and experiences that our guides, Richard and Morris, shared with us relating to the Park, the animals and indeed the people of South Africa and their bond with the animals and the land itself.

Seeing these majestic creatures and in such close proximity, brings one closer to nature and to the vast beauty that is Africa. We were also privileged to be in a "one of a kind" safari vehicle which was specifically designed. It was higher than any other vehicle, so our range of vision was further and others were very jealous. Snacks, water and other assorted beverages were always at hand for our convenience. Morris also doubled as our driver. He could manage narrow roads with unbelievable agility, and had the keenest eye for spotting animals such as lions and leopards, who might be relaxing under a tree or lounging up a tree.

Our accommodations offered the type of huts we requested with air conditioning ( it was 35 degrees Celsius during the day in mid-March), while evenings were spent outdoors enjoying the culinary delights of Chef Richard on an open fire and sharing wonderful wines from the region. Seeing the stars which seemed closer than usual, was certainly a great delight.

Our return to the airport included visits to the Moloholo Refuge, a wonderful place where wounded animals/birds are rehabilitated; and visiting amazing geological wonders such as The Rondavels and The Potholes.

We wish to thank Richard and Morris for a truly wonderful and unique experience that will stay with us forever. We would recommend Richard and Morris to anyone interested in the real bush experience. Simply terrific!!!
Floris
–
NL
Visited: April 2022
Reviewed: Apr 8, 2022
Email Floris | 20-35 years of age | Experience level: first safari
Personalised Safaris with great knowledge about nature, animals, geography, history and food
I went on a 4-day camping trip with Richard and Alistair from Armadillo. We did 3 days in Kruger and 1 day back to Johannesburg via the panorama route.
It was an amazing experience! We were able to find all of the big five, including the White Rhino, which is very challenging to find in Kruger these days.
Furthermore, I was also interested in all the birds in Kruger and all the other mammals. In the end, we were able to identify 150+ animals! Including amazing birds of prey, owls, 6 different king fishers, a Gecko, the Honey Badger and so on. In Kruger I also did a sunset drive and a bush walk, which I both recommend as they give you a different view of the park and you are able to spot animals that are hard to find during the day or from the car.
Alistair always had information ready about the animals or the other aspects of the nature in Kruger like the different biomes. He also knew all the animals and their sounds and was able to identify them in seconds.
The camping experience was great too! Richard always put a lot of effort in to the food. He is a former chef and you can tell from all the food he prepared. I've never had such great meals on any other tour.
Overall, I would certainly recommend booking a tour with these guys. Just because they go all the way to make it the way you want and go even further by checking in with you everyday and delivering a very personalised experience! Just ask for a quote and you won't regret it!
Cassy
–
Visited: September 2019
Reviewed: Sep 19, 2019
Email Cassy | 20-35 years of age | Experience level: first safari
My dream safari better then I had imagined!
I have wanted to do a safari for as long as I can remember and was referred by a friend to Armadillo Overland. The 4 day camping safari to Kruger exceeded all of my expectations! I was a solo traveler and had great company with Richard & Morris who were my guides. Both whom made me feel extremely comfortable and shared their thorough knowledge of Kruger, the wildlife, SA culture and everything in between. Richard being a former chef made awesome meals. Morris with a knowledge of the land & wildlife made sure I got up close and personal with all of the Big 5, getting closer then I had anticipated! They were also flexible and customized our route so that I got the most out of my limited time. I would highly recommend Armadillo and look forward to returning with my family in toe!
Kelly Greaser
–
US
Visited: July 2019
Reviewed: Jul 10, 2019
Email Kelly Greaser | 35-50 years of age | Experience level: first safari
Armadillo Overland delivered a once in a lifetime experience!
Richard and Al delivered an incredible safari experience, I can't imagine how it could have been better. From the start, they got to know me and what I was interested in and catered the trip to me. Al is incredibly knowledgeable about the animals, birds, vegetation, and geology and how it all fits together. As a former park ranger, he KNOWS where to find the animals. He knows that park and other parks in the area. I learned SO much from him in six days. Whatever (few) questions I asked that he couldn't answer, we googled it when we got to camp. He's SO good at spotting wildlife, it became a challenge for me to spot something before he did. I rarely succeeded. There were so many times I missed an animal on my side of the vehicle but he spotted it from the other side of the vehicle! He's excellent at spotting wildlife and he knows where to take you to see the animals. And he knows animal behavior. He won a standoff with a huge bull elephant in musth. 'Normal' people would not have won, that bull wanted to trample right over us. Al knows everything he needs to in order to get people great sightings. And Richard's hospitality was awesome. He's an incredible chef that can whip up great meals on the braai. I was constantly amazed at what he cooked all throughout each day. One dessert we had was baked camembert covered in chili chocolate sauce that had been mixed with marula liquor. We ate it with biscuits and cheese sticks. This was prepared on a braai. It was incredible! This is only one example of the incredible food I had all week. If you want an experience you will never forget, do your safari with these guys, they are awesome, hands down.
Michelle
–
Visited: December 2016
Reviewed: May 4, 2019
Email Michelle | 20-35 years of age | Experience level: 2-5 safaris
Absolutely fantastic safari. Brilliant guides, tasty food and amazing Big 5 game-viewing!
I was thoroughly impressed by Armadillo Overland Safaris. Right from the beginning, they responded to our enquiry timeously and planned our trip to our specifications. Everything ran smoothly and without any hitches. 'Truck Norris' was a very impressive vehicle and allowed us to see some incredible Big 5 sightings, as the vehicle is much higher than normal safari vehicles. The food was wholesome and delicious and many laughs were had around the campfire at night. The guides were knowledgeable, extremely friendly, and managed to spot the entire Big 5 as well as a rare sighting of Wild Dog!
I would thoroughly recommend using this tour company, they completely exceeded our expectations.
Kelly
–
Visited: January 2019
Reviewed: Feb 26, 2019
Email Kelly | 20-35 years of age | Experience level: over 5 safaris
The best family holiday and a safari to die for!
We had the most amazing holiday in the Kruger National Park with Armadillo Overland Safaris and our guides Alistair and Richard. Their safari vehicle 'Truck Norris' is unlike anything out there. It had a library of books for the Kruger Park region, wifi, charging ports, fridges, a coffee station, an honesty bar and even a loo on-board! The set-up of the truck was fantastic for the trip to the Kruger Park as our whole group could interact with each other. The windows are huge for game viewing / photographs and there is lots of space to keep your camera gear on-board with you while on a game drive. Alistair is so knowledgeable about the Kruger Park region, it is clear that he is passionate about the bush and conservation. I never expected to learn so much about the Kruger region, from the geology to the flora, fauna and birds you will find around the different areas of the Kruger Park. The accommodation was very comfortable and we had an incredible time around the campfire. The food, courtesy of Richard, was absolutely delicious! I cannot believe the range of dishes that he was able to make over a campfire - even flapjacks! The entire trip was organised so well and there were no hidden costs. I thought it was really good value for money.
Milou & Mick
–
NL
Visited: August 2017
Reviewed: Oct 13, 2017
Email Milou & Mick | 20-35 years of age | Experience level: 2-5 safaris
Amazing Safari with Morris as guide
Everything was wonderful from the communication leading up to the Safari to the actual Safari itself. We went with Morris who was amazing. His knowledge about the African Bush is great!!
He went out of his way to make sure we had a great time. The food was extraordinary good, we didn't expect to eat that well during a Safari bring two vegetarians who also don't eat cheese. But Morris came prepared and every day we eat something different :)

We saw so many animals! From a baby leopard eating a gazelle in a tree, to a pack of wild dogs, to a cheetah mother with five cubs to a pack of 10 Lions on a kill!! It was beyond anything we could've expected.

I would definitely recommend to go with armadillo safaris! They will make sure you have a great time! Make sure to book some early morning game drives at Satara!
Eric
–
ES
Visited: April 2017
Reviewed: Jul 3, 2017
Email Eric | 20-35 years of age | Experience level: first safari
absolutely amazing!
If you are looking for a Safari company, want to stay away form big companies, crowded vehicles and tight schedules and so, Armadillo is definitely what you are looking for, a family business that can really offer a personalized experience.

For starters, I must praise the vehicle itself (the truck Norris!). It is a customized truck with a much better/higher vantage point than others vehicles, with really big windows, comfortable seats with tables, plenty of space to move around, fridge, WC... even WiFi when the signal allows it! All kinds of commodities that I did not expect on a safari.

Morris, our guide (and driver, cook, etc) was the best we could've had. We could see that he is really passionate about nature and the animals, easy going, skilled, eager to tell us stories and facts about the animals and the park. Needlees to say, he is an excellent cook and every night at the camping sites, we had an excellent Braai (BBQ) under the milky way.

The Safari was one of the highlights of our trip, we got to see astonishing amounts of wildlife, including 4 of the famous Big 5. We were incredibly lucky and we got to do the safari just the two of us, which made it even better. It really was like living a childhood dream of ours.

If we ever get the chance to travel to SA again, I would'nt doubt a second to book again with Armadillo! I Definitely Recommend Them!
Disclaimer
All corporate and/or tour info is provided by Armadillo Overland Safaris, not SafariBookings