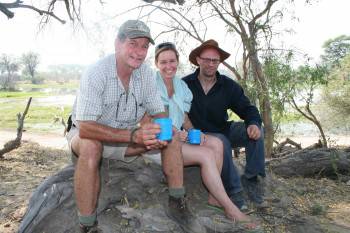 Gondwana Tours & Safaris
5.0/5 – 78 Reviews
Offices In:

Portugal

Germany

Size:

10-20 employees (Founded in

2008

)

Tour Types:

Custom mid-range & luxury tours that can start every day

Destinations:

Price Range:

$100 to $1,200

pp

per person

per day

(USD, excl. int'l flights)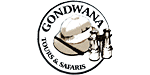 Mike Nissen
–
US
Visited: November 2017
Reviewed: Dec 7, 2017
Email Mike Nissen | 65+ years of age | Experience level: first safari
Mark at Gondwana set up a safari tour that was all I was hoping for and more!
From our initial email to being met by Gondwana rep when I arrived in Botswana, Gondwana made me feel extremely comfortable about my trip. I had informed Mark that my main goal of this trip was to view as many animals as possible, with a emphasis on elephants. He did not disappoint. From the first morning at the Nxai Pans camp when I walked out of my cabin to see a group of elephants drinking at the waterhole about 150 yards from me, to the last game drive of my trip, I saw elephants every game drive for the entire 10 day trip.
All 4 camps were staffed with very knowledgeable guides who made each drive a unique and memorable experience. This safari tour more than lived up to my expectations and I would recommend Gondwana to family and friends in a heartbeat. I will use Gondwana for my next safari without a doubt.
Lisa
–
DE
Visited: February 2017
Reviewed: Jul 21, 2017
Email Lisa | 20-35 years of age | Experience level: over 5 safaris
Individually tailored safaris, awesome expertise and a wonderful trip - highly recommended!
After having travelled to Botswana with Gondwana Tours & Safaris in May 2015 and falling in love with the bush, we decided to return to Botswana in green season this February and experience the country in a different season. As we were more than happy with our first trip, it was absolutely clear that we will book our travels again with Mark Hathaway from Gondwana Tours. His expertise of the lodges and parks is outstanding and you notice constantly that he has been living in Botswana (Africa) for considerable time. It is remarkable, you always get a quick, friendly and competent answer no matter at what day or time you contact him and for longer planning sessions it is easy to arrange skype calls. We were welcomed met by the airport again flying in and out of Maun and the travel and transfers between the lodges were smoothly and accurately organized. Experiencing Botswana in the rainy season and seeing the country so green was definitely a very interesting and different experience. I can only recommend you to book with Gondwana Tours & Safaris! Thank you again, Mark for planning such an unforgettable journey for us.
Sarah
–
NZ
Visited: January 2017
Reviewed: Jun 28, 2017
Email Sarah | 35-50 years of age | Experience level: 2-5 safaris
Honeymoon in the Delta
We were initially mind boggled with options on how to best spend time in Southern Africa, and definitely wanted to go to the Delta. We didn't have a huge budget and were starting to think it wouldn't be possible, but then came across this company: Gondwana Tours & Safaris. Mark Hathaway was superb in his dealings with us: all the advice, knowledge, patience and expertise he had was fantastic. The itinerary we chose suited us perfectly for the land and water options we were keen on, and the locations and prices. We had an amazing 4 nights at Guns & Pompoms. We were surprised with a candle lit dinner by the water as a honeymoon surprise, had some memorable wildlife encounters , and everything met our expectations.Thanks Mark for all your help !
Miriam
–
DE
Visited: November 2016
Reviewed: Dec 27, 2016
Email Miriam | 50-65 years of age | Experience level: first safari
Unbelievable and stunning experience in Okawango Delta
I wanted to go to the Delta already for years and never had the time to organize it and on top I knew that my budget would be very tide. Finally I got in touch with Steffi from Gondwana tours and Safari. She gave me her ideas and actually she had to convince me into some things. And lucky enough - she did. Everything surpassed my expectations. Every pick up, every appoinment was on time. The communication went very good. The camps where great, the experience and the game drives excellent, the service incredable nice and good food. Steffi was even able to organize the super moon on top of the stars during my stay. So I can highly recommand Gondwana tours and Safari - also for single travelers like me.

Link to this review

Lewis
–
US
Visited: April 2016
Reviewed: Apr 20, 2016
Email Lewis | 65+ years of age | Experience level: 2-5 safaris
Gondwana Tours and Safaris understood our passions and developed a perfect custom itinerary for us!
This trip, put together by Steffi, who immediately understood our passions and expectations, was absolutely, positively the best travel experience of our life.  I'd rate it higher than 5 stars, but I guess there is no such astronomical rating.  But the trip and her advice and booking does certainly rate in that category.

Of special notation are several things . . .

1 — All the accommodations recommended were superb!  The transports to and from were perfect, flights beautiful and convenient, always taking into account our wishes for as many game drive opportunities as possible, and various transfers and border crossings easy and without incident.
2 — The choice of Kwando for most of our trip was exactly right for us, because of their deep and intense focus on wildlife and all of the resultant knowledge, tracking and photo opportunities then available because of their staff's expertise.
3 — The pristine wilderness of especially the Tau Pan (CKGR) and Kwara (Okavango Delta) areas was mindblowing!  I took night sky photographs from our deck at Tau Pan, leaving the room's door open for possible escape since there were lions roaring in the background!
4 — We experienced amazing wildlife at all locations, and I'll take months and months to go through all of the photos. I'm certain I have some great shots, and several are good enough that I'm going to enter the Kwando Safaris photo contest — and, regardless of that result, we are sure to be back!
5 -- Due to the expertise and sensitive quality of the guiding, Cheryl often had the opportunity to sketch from the vehicle the scene in her journal, even those events involving wild painted dogs(!), cheetahs and leopards. 
Margaret
Visited: May 2014
Reviewed: Jun 8, 2014
Gondwana provided us with the best holiday in nearly 50 years of traveling.
Our safari in Botswana was spectacular. Mark Hathaway helped us plan the trip; he was responsive from the first email. Everything we asked for he provided, quickly and pleasantly. Mark met our plane at the Maun airport when we arrived; he met us again the next morning to see us off on the safari. He even sent us a bottle of wine to one of the camps, as well as a birthday card to me. We've never experienced such great service from a tour company before.
The safari itself surpassed our expectations. The accommodations were lovely, the food fabulous and the camp personnel friendly and professional. If (when) we book another safari, it will be through Mark.
Morgan
–
US
Visited: September 2022
Reviewed: Oct 10, 2022
Email Morgan | 20-35 years of age | Experience level: first safari
Outstanding Operator
This was my first safari, and everything down to the tiniest detail was amazing. Christelle and Gondwana Tours did the best job at creating a unique and personalized trip for us. There was no need to worry about anything - they were attentive and exceeded at fulfilling our wants. It was a vacation of a lifetime. Our 6 night safari started in Victoria Falls, passed through Chobe, and ended in the Okavango Delta. I'm not used to having so much help with planning and coordinating a trip, and it was such a treat to have everything taken cared of. We were afraid that it could be touristy or cookie cutter, and it ended up being the most thoughtful trip we've ever taken. I cannot recommend Christelle and Gondwana Tours enough.
Victoria
–
DE
Visited: August 2022
Reviewed: Aug 22, 2022
Email Victoria | 20-35 years of age | Experience level: first safari
Perfect Honeymoon - Safari and beach
Steffi Presske and her team from Gondwana tours and safaris planned a magical honeymoon trip for us.
We started of visiting the Victoria Falls, continued to Chobe National Park, then two different camps in the Okavango Delta and ended the trip with a few days at the beach in Mozambique.
The organization was perfect, Steffi took all our special wishes/ ideas into account, she was always good to reach (through email, the German landline or even via Skype or WhatsApp).
The route and the hotels/ lodges/ Camps were chosen very well, and we were especially amazed by the camps in the delta.
The assistance was very good and we can just recommend booking a trip with Gondwana.

It was a great trip :)
Jan & Dick Purssell
–
PT
Visited: August 2019
Reviewed: Sep 5, 2019
Email Jan & Dick Purssell | 65+ years of age | Experience level: over 5 safaris
Zimbabwe Adventure
The organisation, transfers, flights etc were excellent Victoria Falls hotel for the first 2 nights lived up to all expectations and of course the Falls were truly magnificent. Everything about Verneys Camp was superb - the staff, the accommodation, the food and good wildlife spotting there - including 2 male and 3 female lions and the 2 painted dogs in the Conservation Roan and Sable antelope and elephants at the water hole, with hyena etc. Rhino Camp at Matusadona was a bit disappointing. The Camp was run very well but there was no wildlife to see except elephants and impala. Zambezi Expeditions Camp was again the accommodation, guides and staff were everything you could wish for. We even saw 3 painted female dogs, 2 male cheetah and loads of elephants, impala, zebra etc.

All in all a good holiday but not the best safari we have been on in other African counties regarding wildlife.
Daniel
–
US
Visited: February 2019
Reviewed: Feb 13, 2019
Email Daniel | 20-35 years of age | Experience level: first safari
Life time experience exceedi expectations for a very spoiled and seasoned traveler and nature lover.
I always wanted to go to subsaharian africa to experience safari. I had the chance to go in February this year, as I was on work related matters in Botswana. I had no idea about how it works, what are the options, tourist traps and so on. I also had a limited time to plan. My first encouter with gondwana was on Safaribookings where I was ghoing through offers and reviews. I wrote a generic and very simple and naive set of requests and sent it out to 5 tour operators. I had a fixed date for the Safari, between 31 January and 8th February. Did I mention that first contact made was on 21st January? Yes. it took only 10 days between my first contact with Mark Hathaway from Gondwana to the actual start of my safari. apparently people plan it months ahead. I had not the luxury to do so.

anyway, based on my very rudimentary perspective what I want and what I THINK I want, Mark was a perfect consultant. dont get me wrong, the other offers I received were also interesting, at least I had three final contenders. However Mark was the must responsive, quickest in responses and grasping what my wishes are and what I can have in such a short time frame. I also had the feeling like talking to a real person doing a personalized safari for me, not like being tossed a prepared safari schedule.

I gave my financial limit so we can plan more easily and Mark came up with several options, in my opinion stretching as much as possible the benefit for me. I know for sure he could have sent me to some mediocre places and have another customer in his pocket.
I to four different places, Splash camp by kwando, Lagoon by Kwando, Pangolin in Chobe, and one night at Vic Falls. everything was seamles, meticoulusly planned. The camps were faboulous. when Mark suggested one site I was not so much sure about given my preferences I have not raised before, he was responsiove and changed the offer and customized it - to my absolute satisfaction. I went during !low season! but I have not seen anything low in my experience, except of the number of people - there were times when it was just three people in the whole camp with all the activities. Or the animales, the game, I had encouters I would never dream off. Marks choices of the sites was perfect. the staff at kwando properties is super professional, friendly, and curteous. I really enjoyed every minute spent there. Pangolin in Chobe with their photographic equipment was an amazing end for the safari, before I went to the Vic Falls. Mark knew exactly what I wanted, or at least he had enough customers to help lost causes like myself who want to see as much as possible but dont know enough. I really assure you that it is worth going with gondwana, instead of the usual safaris I have seen in chobe, overcrowded cars with 9 people staring and trying to get a picture of one animal. tracking, walking safari, boat cruises, in lagoon and rivers, mokoro, all that was perfectly managed and complemented with the professional attitude of the Kwando staff either in camps or outside such as the guides or trackers. superb Job!

I would definitely recommend Mark and Gondwana Tours. And I am definitely coming back.


Average User Rating
Rating Breakdown
5 star

78
4 star

0
3 star

0
2 star

0
1 star

0
Write a Review
Disclaimer
All corporate and/or tour info is provided by Gondwana Tours & Safaris, not SafariBookings
The tours offered by Gondwana Tours & Safaris are subject to their terms & conditions