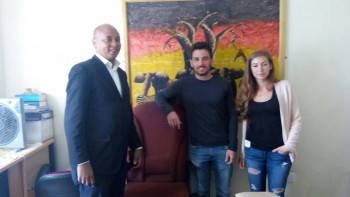 Meru Slopes Tours & Safaris
5.0/5 – 241 Reviews
Located In:

Size:

20-50 employees (Founded in

2013

)

Tour Types:

Small & medium group tours (Budget & mid-range)

Destinations:

Price Range:

$50 to $480

pp

per person

per day

(USD, excl. int'l flights)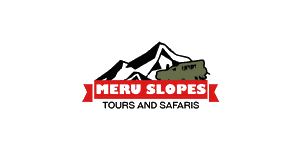 Meru Slopes Tours & Safaris
Juan Diego
–
NO
Visited: December 2021
Reviewed: Dec 30, 2021
Email Juan Diego | 20-35 years of age | Experience level: first safari
6-day safari. An amazing experience with a highly professional company. Recommended!!
Meru Slopes Tours & Safaris was the correct choice for us from the very beginning. Booking a safari tour in Tanzania is a complex task, full of uncertainty. There are thousands of companies offering a wide variety of safari experiences, but most of the time it is extremely difficult to obtain reliable information about them. We were looking for a budget, more authentic experience, away from luxury lodges in natural areas. After doing some research, we contacted Meru Slopes, as it showed to be a company with a large number of positive reviews on TripAdvisor. To my surprise, and thankfully, Geofrey, the company manager, answered back within one hour, and provided us with all the necessary information, and moreover, answered all our (too many) questions in the following days.

Meru Slopes Tours & Safaris is a really professional and well-organized company. They were able to re-schedule our tour after a two-day delay of arrival in Tanzania due to flight cancellations (not covid-related). Plus, we requested the meals to be vegetarian, to which they agreed and comply in an excellent way.

Speaking of the safari experience, it was everything Meru Slopes promised. We didn't have to worry about anything but enjoy the trip. The trip started with us being picked up at Arusha airport, and from there a 2 hour trip to Jambo lodge in Mto Wa Mbu (Mosquito River), close to Lake Manyara National Park. There we met the rest (3) of the passengers, And the crew formed by Jacob, the guide and driver, And Rasheed, our cook. They would be with us for the following 6 days. We visited Lake Manyara National Park for the first encounter with the so promised African wildlife. The result did not disappoint: lots of elephants, gazelles,
antelopes, and even the famous tree-climbing lions. After a full day game drive, we headed back to Jambo lodge, where we enjoyed dinner with local food cooked by Rasheed, and experienced some traditional dance exhibitions by the local people from the village.

On the second day, Jacob headed to the famous Serengeti National Park. After 3 hours, we entered the majestic landscape of Serengeti, and spend the afternoon on a game drive before stetting our camp in Nguchiro campsite. The camping place has everything you need to enjoy a good time in Serengeti (kitchen, closed dining area, bathrooms with WC and shower). The camping experience in the middle of a national park surrounded by wildlife is something unique. Nguchiro campsite is one of the many campsites in central Serengeti, all equipped in the same way. We spent 2 nights there, for a total of 2 complete days of game drive in Serengeti (afternoon – full day – morning) from day 2 to 4, something that I personally recommend a lot. Spend 2 days in Serengeti, it is worth it. No need to describe our game drives here, pictures are self-explanatory. But in short, we saw 4 out of the big 5 within the first 24hs in Serengeti, only missing Rhino, which is easier to spot in Ngorongoro.

After lunch on Nguchiro camping site on day 4, we left Serengeti NP, and visited the Serengeti Visitors center, where we learned a lot about the history, ecology, and geography of the Serengeti Ecosystem. Later that day, our adventure took us to Simba campsite A, just outside Ngorongoro crater, where we set our camp again, not before stopping by a Massai Village (Massai Dorf in google maps) to enjoy a Massai cultural experience with the local pastoralists, and buy some of their artisanal work, which help them to maintain their lifestyle. Simba campsite welcomed us with some elephant crossing in between the tents, buffalo grazing, and even hyenas scouting for food leftovers from the kitchen :P.

Day 5 took us to the famous Ngorongoro crater, famous for its high density of animals in a confined area protected by the largest complete crater on earth. Here, the rare and elusive Black Rhino showed at last, allowing us to complete the big 5 (lion, leopard, buffalo, elephant, and rhino). Ngorongoro also allowed us to witness predatory animals (hyenas and lions) feeding on early-morning hunts. After leaving the crater and packing our camp, we headed back for a well-deserved chill night at Jambo Logde (yay, hot shower again). That afternoon, Prisca, who works for Meru Slopes, took us for a cultural tour in Mto Wa Mbu (Mosquito River, the local village where the lodge is located), and showed us the local lifestyle, agriculture production (banana, cassava, jackfruit, bread fruit, mango, rice, etc.), the local, artisanal wood products and paintings, and most important, the banana wine, which we enjoyed together. Thanks so much Prisca, for your dedicated and complete explanations about the life in Mosquito River.

Our 6th and last day took us Tarangire National Park (River of the Warthogs, or "pumba" as everyone in Tanzania call them since 1993), famous for its large number of elephants (and also warthogs, though they are not so famous :P). Indeed, there were a lot of elephants, and we got a couple of really close encounters. We also spotted some beautiful baobab trees. Another interesting fact is that in Tarangire we got to see a large number of carcasses being scavenged by vultures and stokes. The dryness of Tarangire during December makes it hard for wildlife to survive, and sometimes animals die from droughts or stuck in the mud while trying to reach the remaining water in the drying lakes. Beware of the monkeys here during lunch break. They'd steal your lunch, phone, keys… and you might mind a good repellent because it is full of tse-tse flies hehe…

After 6 days, we were taken back to Arusha where we spent the last night, all arranged by Meru Slopes, which also arranged our transport to the airport the following day, to close a 6-day amazing experience.

One last mention for the company Staff, who behaved incredibly professional, we have no other words than a big "THANK YOU". Thank you to our guide Jacob, whom with his "pole pole, hakuna matata" style, drove us for uncountable hours every day making sure we were comfortable and enjoying, and was so kind to stop every time we wanted to take pictures, explaining us everything he knew about the East African wildlife, while teaching us some Swahili in the meantime. And also, a big applause to our cook Rasheed, who prepared the best imaginable breakfasts everyday before we even woke up, and delicious local meals for lunch and dinner. We really enjoyed it, everything was perfect. Thank you so much! Asante sana!

Carol Diaz
–
Visited: October 2021
Reviewed: Oct 27, 2021
Email Carol Diaz | 20-35 years of age | Experience level: first safari
Amazing!
It has been an amazing experience!
The first thing we did was the kilimanjaro, the guides and equipment were very friendly and professional, the food was very good and the accommodation was very pleasant.
Then we did a two-day tour of Arusha in the hands of Seth, by the way, a 100% recommended guide, if you decide to book do not hesitate to ask for him and the Nuru driver, they made a perfect stay in Arusha!
Last 6 days of safari, we have no words to describe it ... Simply awesome !!!
The very comfortable car, the driver Idd Mshana always attentive to show us each animal and explain everything and the chef Andrew delighted us every day with his delicious food.
A complementary activity with the safari was a cultural visit at the hands of Prica, it is optional and free but do not hesitate to do it!

It was very easy and safe to book thanks to Geofrey, he is always ready to answer your questions and help you to book exactly what you are looking for.

Thank you very much to the whole team, we are in love with this beautiful country!

(automatic translation from Spanish)
Hugo Berteloot
–
FR
Visited: September 2021
Reviewed: Oct 25, 2021
Email Hugo Berteloot | 20-35 years of age | Experience level: first safari
Memorable experience with a really great company
I recommend Meru Slopes company to organize safari in Tanzania. I took the "6 days group camping tour" option. The price is very good for the services offered (pick up at the airport, night before/after safari at the hotel, all entrance fees included...). They provide really experienced guides. Our guide, Doulgas, had a really good knowledge about east african wildlife. He is a good driver, he knows the parks very well and is oppened to any suggestion (if you want to stop to take pictures, go back to a particular place...).
Also, the manager, Geoffery, is very responsive and makes the reservation very easy.
If I come back in a few years, I will certainly take the same company.
Donna A
–
US
Visited: September 2021
Reviewed: Oct 5, 2021
Email Donna A | 50-65 years of age | Experience level: first safari
MERU SLOPES is the best!
We enjoyed our 6 day Safari from the beginning to end. I researched several Safari companies and had extensive communications with my top three and I am so glad that I chose MERU SLOPES. They exceeded my expectations. They are a well run professional Safari company that I would highly recommend. They provided top notch 5* accommodations in all three lodges/hotels that we stayed at and we truly felt like we were treated like VIPs by them and the resorts that we stayed at. For what we paid, I would say it was very reasonable. Coming from the US it was overwhelming planning the trip but Meru helped us tremendously including getting our local flights from Zanzibar to Arusha to Kilimanjaro.

ABOUT THE SAFARI

We visited Tarangire National Park, Serengeti and Ngorongoro Crater. One of our accommodations was a lodge in the Serengeti where the animals (lions, leopards etc.) roam freely and can literally be on your doorstep. We were never afraid; we heard so many animals at night some of which were outside our bedroom. What an experience! It is difficult to put into words. Our accommodation at Ngorongoro Crater was at the top of the crater with the most gorgeous view I have ever seen in my life! Spectacular! Again we were treated like royalty and had the best cuisine and massages that were ideal after a long game drive. Our driver was also excellent and a very careful driver.

We saw 4 of the big 5 and thanks to Meru we witnessed the Wildebeest migration AND them crossing the Mara River into Kenya. This is HUGE as people camp out for days and never get to see this.

Thanks to Meru we also met the Maasai tribe at their village and interacted with them including dancing with them which I loved. Again, once in a lifetime opportunity.

This company prides itself on providing the highest standards and safety and made my dream come true and for that I am truly grateful.
Julita
–
PL
Visited: September 2021
Reviewed: Oct 1, 2021
Email Julita | 20-35 years of age | Experience level: first safari
The Best Safari Ever !
It was our the Best trip ever. We were on 5 days safari with the Mudi who was our guide and Richi who was our cook. Mudi is the best guide, thanks to him we saw more animals than we expected. He know all the corners and was driving perfectly. He was very engaged and always were doing more than expected to see a lot of animals and have the best adventure :) And of course we highly reccomend to have Richi as a cook because it was the best cousine I could imagine. The pizza was the Best one I've ever ate - even better Thank in Italy :D We were eating even more and more tasty than at home :D
Additionally Meru Slopes organized for us "walking safari" through the city where we had a lodge and it was amazing because we saw a real life of local people. Our Guide, the gril who go with us for walking safari was very nice and she explaind everything about bananas, banana beer, another plants and how people build the houses. We were excited !
I am really appreciate because everything was organized perfectly from the begining to the end. I hope to back soon with family and friends
Chantal Cascales
–
FR
Visited: September 2021
Reviewed: Oct 1, 2021
Email Chantal Cascales | 65+ years of age | Experience level: 2-5 safaris
Serious amiability and very professional
The price is reasonable for an unparalleled service, everything is provided for a super professional guide and driver. Coking chef for us Europeans repetitive but still very good food

Listening to the customer
Lodges and camping are worth 2 stars
The perfect set to recommend
His manager always listened to his customers and very available bravo

(automatic translation from French)
Kenny
–
BE
Visited: September 2021
Reviewed: Sep 24, 2021
Email Kenny | 20-35 years of age | Experience level: first safari
Amazing safari experience with tour guide Salehe and chef Halid!!
Me (Belgian) and my girlfriend (German) had an amazing safari experience with our tour guide Salehe and chef Halid. It was a wonderful experience to see all the wild animals. Salehe is very knowledgable about all the wild animals, nature, national parks and much more. Moreover, he is also a mechanic which is very useful on these kind of roads. When we arrived back at the camp, chef Halid cooked amazing, tasty, local meals. He is also very helpful with setting-up the tents and other tasks at the camp.

We saw all the animals we wanted to see, including the Rhino which is very difficult to spot in this kind of period. Be aware that you might not see all the wild animals, as Salehe always says: "this is not a zoo, these are wild animals".

The business owner Geoffrey is also very helpful and seems to be able to handle any complications. Everything went simple and smooth.

Overall: highly recommend Meru slopes! 6-day camping was an amazing experience. Very glad we had this team!
Tami
–
US
Visited: August 2021
Reviewed: Sep 12, 2021
Email Tami | 35-50 years of age | Experience level: 2-5 safaris
Amazing Camping Experience!
AMAZING! I can't say enough good things about Meru. We had such a wonderful experience from start to finish. 6 day budget camping safari.
Booking Process: After reaching out to Meru via email, the owner Geofrey Nasari finalized all trip details on Whatsapp. To be honest, the booking process and the communications with Geofrey seemed too easy and I thought it might be too good to be true. We did have to send a bank wire transfer of 15% to reserve our spot. I was worried sending this money because I thought we might get ripped off. Not at all – this company is legit and the reviews as accurate. We paid for the remainder of the trip when we arrived in Arusha. We paid a portion via credit card and a portion via cash.
Pick Up/Drop Off: When we walked out of the Arusha airport, we were picked up a driver named Neuro (sp?). He was also our driver back to the airport after the safari and was very knowledgeable about the area and things to do. He also gave us some great tips and places to check out for our next leg of the trip to Zanzibar.
Safari: Our guide, named Moody (sp?) was great! He was funny, friendly, and really wanted to make sure we had a great time. Every time we would stop for animals, he always made sure that we had enough time to view the animals and would confirm with everyone that we were ready to move on to the next spot. Our cook named, Mathayo (sp?) was equally amazing! I have no idea how he was able to prepare such tasty meals while we were camping. He is a very skilled chef. Some of our best meals during the entire trip were prepared by him. Moody and Mathayo were a great team together and made sure that everything was taken care of, and we were able to enjoy ourselves. While we were at some of the park entrances, I could overhear other tourists (booked on other tour companies) complaining about the permits not being ready or having to wait before they could enter the parks. We never ran into that situation. Moody and Mathayo ran the safari schedule so smoothly and we never ran into any issues like that. We did get 2 flat tires (once you have been on the dirt roads you will understand how easy it is to get flat tires there!) They were so quick and efficient at changing the tire, it was no more than an unplanned bathroom break. So grateful that we had Moody and Mathayo for our trip! Can't say enough good things about them.
Overall: highly recommend Meru! Camping was an amazing experience and Meru goes above and beyond to make sure you enjoy yourself. I can't imagine a better safari for the same price. They know what they are doing.

Tibor
–
HU
Visited: July 2021
Reviewed: Aug 2, 2021
Email Tibor | 35-50 years of age | Experience level: first safari
Perfect job
The best of all. The company made us a perfect experience. The driver and the cook were perfect also. We saw so many beautiful things, that we did not hope. Had lions, cheetah, rhino, buffalo, elephants, zebra, gnu, jackal, hyena, and so on. The food was perfect, the tent was clear and big, the driver had big experience in finding animals and had the answer for all of our questions. The washroom was perfect clear at all locations (in camps and on the road also).
Lauren Dill
–
US
Visited: July 2021
Reviewed: Jul 6, 2021
Amazing experience!
Short version: I cannot recommend Meru Slopes enough! I went on the 5 day budget safari. The safari itself was fantastic and the food was delicious and plentiful. Jacob (guide) is amazing!

Long version: I found Meru Slopes online while planning my trip to Tanzania. I found Geofrey (owner?) to be responsive and helpfully answered my endless questions. He arranged pickup from the airport and was at the hotel to greet me upon arrival. The hotel is centrally located in Arusha with immaculately clean rooms, good free breakfast and helpful staff. Day 1 of the safari, Geofrey was there again to personally introduce me to the safari guide, Jacob, and cook, Richard.

Throughout the five days, Jacob was kind, charismatic, and incredibly knowledgeable about animals, plants, and local cultures. His eagle eyes spotted everything while still managing to masterfully navigate African roads. Richard consistently delivered delicious meals that were varied and massive! I frequently felt bad for the other groups we saw eating dry sandwiches from their packed lunch boxes. Not one member of our group had a single complaint for the duration of the safari. After the safari, geofrey provide additional assistance and transportation to the bus station. Book your safari with Meru Slopes!
Disclaimer
All corporate and/or tour info is provided by Meru Slopes Tours & Safaris, not SafariBookings