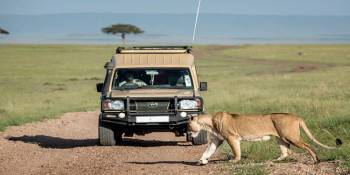 African Breeze Tours
4.3/5 – 45 Reviews
Office In:

Size:

5-10 employees (Founded in

2011

)

Tour Types:

Small & medium group tours (Mid-range & luxury)

Destinations:

Price Range:

$150 to $500

pp

per person

per day

(USD, excl. int'l flights)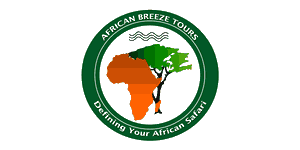 Request a Quote ›
Your request will be sent directly to the operator
If preferred, you can contact the operator directly
Armando
–
MX
Visited: December 2019
Reviewed: Jan 12, 2020
Email Armando | 20-35 years of age | Experience level: first safari
Excellent experience
We strongly recommend African Breeze Safaris for all those who want to have an exciting experience in the Kenyan savannah. We were a group of nine and all agree that Cate and her team organized the safari with great skill and commitment. The drivers - tourist guides (Felix & Charles) are very professional as well as kind and nice people and fully trained about the African flora and fauna. Hotels are comfortable; food is simple but tasty and abundant. Just avoid purchasing souvenirs in the places they stop for refreshing; they are expensive; even in the airport you can get better prices.

Kwamboka
–
Visited: November 2019
Reviewed: Nov 26, 2019
Email Kwamboka | 35-50 years of age | Experience level: 2-5 safaris
Excellent service ,very communicative I really enjoyed my safari.
African breeze went above and beyond making sure my family and I were comfortable during the entire trip.They were quick to respond to any queries we had before and during the safari..The driver Felix was very knowledgeable and informative about where to go to see all the animals we wanted to see. Best experience for 2019 yet.
Fred
–
Visited: November 2019
Reviewed: Nov 26, 2019
Email Fred | 35-50 years of age | Experience level: over 5 safaris
Experience was worth more than each and every coin....
African Breeze Tours are very efficient. The logistical organization, choice of hotel, selection of tour sites was unlevelled : I have never enjoyed my vacation in the North Coast of Kenya (Malindi and Watamu) as I did. Looking forward to the next vacation with them!
Patrick
–
US
Visited: October 2019
Reviewed: Oct 26, 2019
Email Patrick | 20-35 years of age | Experience level: first safari
OUR TRIP WAS FANTASTIC
Booked a safari tour in Kenya for 8 days. Perfect organization for our first trip to Kenya. Most of the highlights were covered. But realistically .... not all is feasible in 8 days unless one takes the plane. All the lodges were well selected and the handling in Kenya went very smoothly. I never felt abandoned or lost as the driver took care of everything in a very professional way.
Thanks very much for the well organized tour by Cate. I really feel comfortable with this organization and would recommend it.
Sofia
–
MX
Visited: October 2019
Reviewed: Oct 24, 2019
Email Sofia | 20-35 years of age | Experience level: first safari
Most affordable agency (by far)
Cate was a good agent for us. We had a limited budget and she was able to organize a 9 day Safari for us. We would recommend her and our drivers Rufus and Francis.

Positive things:
- excellent prices
- reliable drivers
- she gaves us a private tour even that we only paid for shared safaris
- she also included an extra day in Nairobi for free where a driver took us to the Giraffe Center

Negative things:
- lack of clarity on which hotels we would be staying, mainly because some of them closed down.
- Samburu camp was really bad (Hamashi Best Camping was the name)
Emelinda Openiano lugan
–
PH
Visited: January 2019
Reviewed: Oct 20, 2019
Email Emelinda Openiano lugan | 50-65 years of age | Experience level: over 5 safaris
Waoo!
I was recoomended by my work mate to use this tour guide and they didnt dissapoint me even thou it was last minute booking . good job My daughter enjoyed her late birthday surprise as we had a few days stop over in naiobi from S.A

Steve Hannington
–
AE
Visited: July 2019
Reviewed: Oct 20, 2019
Email Steve Hannington | 35-50 years of age | Experience level: first safari
Good better then the best
At the time i landed in Africa thr weather amd the environment was so welcoming, the experience at the entire stay was just superb cant wait to jet back for more escursions and great adventure #willbebacksoon##
Grace
–
US
Visited: March 2019
Reviewed: Oct 9, 2019
Email Grace | 35-50 years of age | Experience level: 2-5 safaris
Exceptional
I highly recommend African breeze tours to anyone trying to have a personalized holiday,from tickets to airport transfers,hotel stays and the tours everything was excellent.
Chloe
–
Visited: September 2019
Reviewed: Sep 27, 2019
Email Chloe | 20-35 years of age | Experience level: 2-5 safaris
The review below is the personal opinion of Chloe and not that of SafariBookings.
Avoid at all costs - nightmare tour operator!
DO NOT BOOK with African breeze tours – warning! Cate is at best, disorganised, unresponsive and manulipative, and at worst a con artist. AVOID AVOID AVOID

We booked our honeymoon with Cate at African Breeze tours – we were super impressed with her communication, putting together a bespoke package, and offering a great price.

We arrived at the airport, expecting a driver to pick us up from arrival. We landed at 5am, and Cate told us that we would have to wait until 7.30am for her and a driver – which we did.

The next few days were fine, although we hadn't booked a private tour, no one else joined us, and it was great. We stayed at Treetops (highly recommend a stay here), Samburu Lodge (again a great hotel), and our driver/guide Solomon was good, he was a little maverick, and at times I wasn't too sure if he was totally sure where he was going or whether we were lost.

The second half of the week though was horrendous, stressful and has really tainted my view of the honeymoon. We arrived after an 8hour drive from Samburu to Lake Nakuru (although Cate told us it was a morning drive, and we would be there by lunchtime – we left at 8am and arrived gone 4pm!). Our driver struggled to find the hotel (Eagle Palace), which was in the city centre, not a hotel you would expect on a safari. Once we checked in, the driver said we should go for a drive around Lake Nakuru, but Cate hadn't sent all of the money, and so we would need to pay $200USD. With the park only open for another hour, we decided it wasn't worth it, but we were now worried that our driver didn't have any money for fuel, and wasn't prepared to drive us to Maasai Mara until he was paid. Cate didn't pick up anyone's calls, said she was having bank issues, and couldn't pay until the morning. She didn't read the WhatsApp messages and we had a strife night in Nakuru.

Cate paid the driver his fuel money so we left Nakuru, and headed for the Maasai Mara. En route we switched vehicles and drivers, and it appeared that Cate had booked us onto a tour with another company (Bencia tours – who were amazing!), we checked into the lodge (Ol Moran) and went for a drive the next day. When we arrived back at the lodge the staff were waiting for us and said our agent hadn't paid for the room and so we were unable to get into our room until we paid $360USD. They had tried to get hold of Cate all day and she had promised to pay, but didn't. After over 2 hours we managed to scramble together all the money the lodge required and paid it over, only then did Cate pay the lodge and our money was returned later that night. The lodge had told us that Cate had booked us into the lodge on the day we arrived, despite us booking with Cate 9 months before we arrived, and she had confirmed the lodge name and booking with us.
Overall the Safari was great, but African breeze were a nightmare. The company address is a PO box at JIKA airport – and this should be a warning sign to anyone.

AVOID AFRICAN BREEZE TOURS AT ALL COSTS, if you already have booked with them, I suggest you double check that all the accommodation has been booked and paid for before you leave, and that the driver has all the money and park fees before you leave for Safari.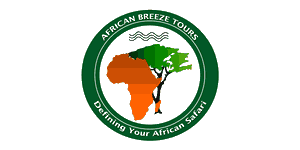 Reply
from

African Breeze Tours

Posted on Oct 4, 2019

The world can judge by reading your review Chloe, BUT a careful reader will judge it fairly.

We appreciate that Chloe confessed, at least ,that they were super impressed with Cate's communication, putting together a bespoke package, and offering a great price and that You arrived at 5:00 am and Cate told you to wait until 7:30 am. The company's safari itinerary to you Chloe stated that departure time was 8:00 am. You were not late to be picked,at least Cate and driver were there before your pick up time.

You really appreciate the first bit of the safari as well, going to an extent of recommending the Tree tops lodge, Samburu Lodge and the driver Solomon.

The second phase is where you state that it was horrendous. You left Samburu Lodge at 8:00 am and arrived in Nakuru at 4:00 pm. Anyone reading this review can google the location of Samburu lodge and they can tell that the lodge's location is inside the park, so you definitely had an enroute game viewing as you exited the park before even getting to the main gate of Samburu national reserve. Leaving at 8:00 am from Samburu ,arriving to Nakuru at 4:00 pm totally depends with our roads, and that was no one's fault. The parks entrance fee to Lake Nakuru national park was usd 120 for both of you and still it is until now and the driver had all the park fees, you clearly state that YOU DECIDED it wasn't worth a visit. It was your decision to have a restful evening since you thought you had a long day. Anyone can see that.
You forgot to point out that you had spoken to Cate that evening and she said she was coming from Arusha, though on the way the network wasnt good but atleast you managed to communicate. Chloe, the safari you took was a group safari but the company did go an extra mile of giving you half exclusively private safari, and when you were just about to complete your safari you joined a group, anyone can see you didnt like the last bit of joining other travelers but remember that you were very much aware that your safari was supposed to be a group joining safari.

We called the hotel and they confirmed that they didnt take any money from you,we can still call or email them if any one needs clarification,network in Masai Mara(the wild) is not always consistent and calling Cate from there and didnt get hold of her doesnt mean she didnt pay the hotel or she hadnt booked you on time, you were on the 2nd night and Cate forwarded the payment ref number that very evening. Anyone who has stayed in big hotels/camps knows that the billing is done only when you are checking out ! Right? The following morning you checked out of the camp without any issues, right? what does that imply? Did any one fuel you Chloe?
We tried to tried reach you out after you were back in your country just to see what you were not happy about since the last day of your safari you did not have time, your flight was departing sooner, but you said were not willing to say what exactly made you so angry. Was the other agent i work with my competitor instead of a partner ????

Treetops lodge and Samburu lodge are expensive lodges than Olmoran tented camp, The company paid those as well, if any one was a CON ARTIST as you imply, then you would not have had any of those! You didnt say you wanted to visit our office in the first place, we would have gladly taken you for a tour in there. its wrong to accuse anyone falsely.

We regret that you say your honeymoon was tainted, should you ever be ready to tell us exactly what transpired, we will be happy to listen to you and solve whatever problem that might have occurred.

Regards,
African Breeze Tours.









Jeong
–
KR
Visited: September 2019
Reviewed: Sep 20, 2019
Email Jeong | 20-35 years of age | Experience level: first safari
The review below is the personal opinion of Jeong and not that of SafariBookings.
Don't believe them. Especially Kate.
They kept me waiting for more than two hours at the airport and didn't abide by the numerous provisions stipulated in the contract. The airport dropoff was a contract, but they dropped me off in downtown Nairobi. I questioned her(Kate) but ignored it. They change when they get paid.

Disclaimer
All corporate and/or tour info is provided by African Breeze Tours, not SafariBookings
The tours offered by African Breeze Tours are subject to their terms & conditions