Sunway Safaris
4.4/5 – 28 Reviews
Office In:

Size:

50-100 employees (Founded in

1994

)

Member Of:

ATTA

,

SATSA

,

ASA

&

HATAB

Tour Types:

Budget & mid-range tours with set start dates and a fixed itinerary

Destinations:

Price Range:

$66 to $198

pp

per person

per day

(USD, excl. int'l flights)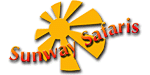 Rating Breakdown
Paula
–
US
Visited: July 2023
Reviewed: Nov 26, 2023
Email Paula | 50-65 years of age | Experience level: 2-5 safaris
Well organized, good communication, good value
I did the Sunways Elephant Safari tour in July. There were 9 of us in the tour. We saw a lot of animals especially elephants. There is a lot of time spent driving, so be prepared for long hours in the bus. The lodges/tents we stayed at were pretty nice. The one thing I would change is getting more time in Botswana's Chobe national park. We arrived in the afternoon, and had a lovely trip on the river. However, I would have loved to spend a day, or at least half a day at the park. Instead we had to pay extra for 2.5 hours in the park with another company, and because it was so rushed, we didn't really get to see much.

The guides Aloyis and Allen were knowledgeable and professional. When things went wrong (like running into a sandstorm) they acted responsibly and with ingenuity.


Helen McPherson
–
TH
Visited: July 2023
Reviewed: Aug 21, 2023
Email Helen McPherson | 50-65 years of age | Experience level: first safari
Life changing experience
I started at Victoria Falls and travelled through Botswana and Namibia, camping for most of 21 nights. I was a bit apprehensive as my trip had been delayed 3 years, but Bruce and Grace's communication was helpful, friendly and positive and made me feel happy.
The trip itself was magnificent, it surpassed any expectations I had. My guides, Patrick and Moses were knowledgeable, humorous, hard working and catered meals to a high standard. I was well briefed each day about the itinerary, what to expect and lists of highlights. Geography, political and social information as well as superb information about the wildlife was constant and I gained such insights. I was comfortable in my tent and in the van - P and M always made sure to check I was okay.
I really felt like I saw what was special, the itinerary was well set. I left Livingstone and Africa feeling like I left home, with a love that grew because my experience was so enriching. I can't thank Sunways, Patrick and Moses enough for the experience of a lifetime. My tour was NB21 and I would do it all again - though I have been told of the Malawi Mozambique tour and am saving my pennies.
Stephen Kirby
–
Visited: August 2022
Reviewed: Sep 24, 2022
Email Stephen Kirby | 65+ years of age | Experience level: first safari
Sunway Safaris make dreams a reality
Superbly organised safari.
Great interaction with our guides,fabulous knowledge of animals etc.The wild camping was a
terrific experience sitting around the fire at nights hearing the animals and
seeing the star filled skies.Food prepared was extremely good,catered
for all tastes.Everyone helped each other.To see wild animals in their natural habitat and absorbing the
grandeur of the landscape was a dream come true,thank you Sunway.
Value for money 10/10
BT14 tour,28th August-10 September
Nancy and Michal Bardecki
–
CA
Visited: August 2022
Reviewed: Sep 22, 2022
Email Nancy and Michal Bardecki | 65+ years of age | Experience level: first safari
Awesome; everything we had hoped for and more
We took the 16 day accommodated Game Tracker through South Africa, Zimbabwe and Botswana. We enjoyed every day of our trip. It was our first safari and so everything was new to us; we never tired of seeing the birds and animals and even just driving though the countryside.

Our guides Chris and Joseph were outstanding. They always gave us a briefing about what to expect the next day, after dinner in the evening. They provided a wealth of information about the birds, animals, the culture and the landscape and even the economies of the countries we visited.

We had a nice mix off meals in lodges/restaurants and meals made by the guides. Everything was delicious and by and large very healthy as well. While we were in Okavango, we had koodoo (farmed, not wild) stew.

The lodges selected by Sunway were great- very comfortable and they usually had very nice grounds that were good for bird watching.

Some of the restaurants are still learning about the logistics of serving customers and getting them their bills. But the guides are aware of this and so we usually placed our orders ahead of time so there were not long delays getting our meals.

We absolutely detest camping, so we were not big fans of the accommodation in the Okavango Delta. If you like camping, it would be great. But anyway, we loved the whole Okavango experience. It was definitely worth any shortcomings with the accommodation.

The local guides selected by Sunway for the most part were excellent. for example, our guide for Thebes River in Botswana seemed to know exactly how to position the boat and the safari vehicle to get the best pictures.

Our favourite parts of the trip were the Thebes River cruise and game drive and the salt pan (for the birds).

The vehicle we used to get from venue to venue was called the red elephant. It is a custom designed truck. The seating was comfortable and you got good views from the windows. We always had snacks available, mostly local fruits.

Of course what everyone goes on a safari for is the animals. We got great views of lions, buffalo, hippos, elephants, rhinos, giraffes, koodoos, impala, monkeys and much more in many of the places we visited.

The Sunway trip was great value and we would definitely consider another trip with Sunway


James
–
US
Visited: August 2012
Reviewed: May 8, 2021
Email James | 20-35 years of age | Experience level: first safari
Good Company
Hint: other travelers will love reading about your experience of the communications, service, value for money, reliability and the tour itsel
Lorraine
–
CA
Visited: March 2020
Reviewed: Mar 14, 2020
Email Lorraine | 50-65 years of age | Experience level: first safari
Amazing adventure across South Africa
I did the rainbow route and it was amazing! Our tour guides Jeff and Norman were the best! They should really be chefs, as their cooking was fantastic! They always did everything in their power to ensure everyone was happy
Jens and Anett
–
DE
Visited: October 2019
Reviewed: Nov 28, 2019
Email Jens and Anett | 50-65 years of age | Experience level: first safari
The review below is the personal opinion of Jens and Anett and not that of SafariBookings.
Not again in this way !
1.Vehicle:
"The vehicle was more suitable for a short-term off-road tour. Definitely not for a longer tour! Seats as in a 3rd class rail wagon – plastic cover (very suitable for sweating at outdoor temperatures at 40 °C and without air conditioning (defective from the beginning/–no armrests/-no adjustable backrests! With up to 10 hours in the vehicle you can already get problems with the intervertebral discs. We have seen the same design equipped in a different way! Furthermore, the vehicle was very under-motorized, which was very noticeable on mountainous routes! Temporarily defective freezer box! Cleanliness left a lot to be desired. I personally took the brooms in my hand! Discs were not cleaned throughout. "So there can be no question of comfortable travel here.

2.Supply
"We are proud to offer our travelers high quality, tasty and healthy meals three times a day." –Statement from Sunway Safaris in the travel text!
One of the most disappointing experiences of the trip was the supply. Unfortunately, only finished products packaged in the supermarket were purchased on a low-cost basis. (e.g. canned vegetables and canned fruit) Lots of pork products! I tried to shop with myself. It worked out sometimes. If there were fresh bread rolls instead of pre-packaged toast bread, the baker bought them and then what was not eaten was also given away. But then in the same breath bought in the supermarket cardboard packaged toast bread. Fresh fish was supposedly bought from the boat in front of our nose for us, but we haven't seen it! Repackaged marinated fish from the supermarket was served! Fresh fruit from the village farmer was basically not bought! Why always? Better supermarket products again! We did so ourselves in part. We then tried to buy some decent beef steaks/kudu or impala in private shops of the reserves. Then we realized what we wanted. It didn't help much. It is important to think more healthily and, above all, to buy higher-quality products as described above all. We have experienced and seen directly that it is possible and there is everything. It may not have been due to the costs either, since the prices were quite reasonable. Maybe everything has to go fast. "Furthermore, the great loss of time due to constant shopping in the supermarkets was not comprehensible to us! 1-1.5 hours, sometimes almost daily. If I know that long distances have to be driven, then I get my things in time and leave accordingly earlier! Conclusion: The care was like a camping holiday corresponding to a youth trip. But it shouldn't be like that. They were all adult people!

The country has so much good and, above all, tasty things to offer. We could not understand and accept this approach on the part of Sunways.

3.Itin' itinerary - Sunway Safari hasn't been able to get the organization of the Soweto tour for us! Started in Johannesburg, where the start was to take place at 6:30 a.m. We were especially rather there to accept the desired briefing in time. After more than 1, 5 hours later, the departure took place. We should feel the loss of time. • Very long journey to the 1st accommodation Zululand. Unfortunately we couldn't do anything there anymore, because we arrived very late! (The loss of time from the morning) Actually very bad, because this accommodation and surroundings was very nice. Why we had to drive around the next day again in order to get to a supermarket remains a mystery. About 1.5 hours stay at a gas station to shop in the supermarket. Again a loss of time and unusable time of our holiday. This went on almost every day! Very late breakfast and late departure to the next station. • Arriving in the direction of Kosi Bay, there was no way to do anything, as the darkness had already arrived. What a pity! E.g. kayaking was not possible. Also in the direction of Swaziland we left very late in Kosi Bay and arrived late in the accommodation despite fast border clearance. Again, no time to do anything else. Beautiful accommodation, but no use! Very nice environment. Highly recommended for follow-up tours. Again a very late departure (8:30 a.m.) the next day. •
In Maputo again late arrival! There was not much time left to see something of the city. Quick sightseeing tour with the tour bus! Then to the Hotel Cardoso which should be kept in any case! Very good level and above all a very good breakfast. We organized a taxi and drove to a restaurant on the beach! Highly recommended! We also had no concerns about any problems with locals or criminals! Even during the night tour in the area, we did not have a negative experience. (certainly it always depends on the area) We felt everything very safe and got to know very friendly people. "Take back, relax and enjoy the warm sea water and the wide white beaches. Boat tour in the Dhau, a traditional wooden sailboat of Arabic design, fishing, snorkeling, surfing or diving between paradisiacal coral reefs are also possible (own cost)". This is such a real advertising slogan! There can be no talk of relaxation and enjoyment! Boat tour with Dhau? Not a chance! Good accommodation- Yes. But nothing more. Going far too far - benefit - effort-ratio was just not right. • Again the whole route back towards Bilene. Attention! Bilene with lagoons description was not approached -First in the tour bus we were told that we would stay somewhere else! Sand dune landscape very nice! Accommodation good! Restaurant very good! But there was nothing to do with swimming! Not a calm lagoon, but very high waves in the sea! Again nothing as it was actually described! That's it with the beach tour-without swimming! Because this stretch of coast is something for surfers and anglers! You could have used the mini pool for a short time! But take on these hardships? So the disappointment took its course. In addition, my wife
because of your injury had been looking forward to the lagoon to go into the water. Joy there!
Then continue towards the South Africa border to Kruger NP. Unfortunately, without looking to the right or left, it was really snapped to reach the next destination (border) as quickly as possible. There was something to photograph on the left and right (LandscapeNative bush hut dwellers and so on. But both (driver and guide) lacked the sensitivity that could be interesting or you just didn't want to stop in some places. (Safety concerns ?– we can't imagine) " In the Kruger itself we arrived again very late in the Letaba camp (by the way the worst and smallest accommodation). It was again just a quick quick – process until the night safari! Making food (I helped yourself otherwise it would have become very tight) in the dark! Showers and go! Rest and relaxation - out of place! The next morning on to the nearest accommodation Makuwa Lodge. Driving and driving! Surely we have also seen animals! Luckily! • Arrival also late! No more activities possible! Makuwa Lodge is highly recommended and also has a decent level and very friendly operators. Last day – without the planned activities - just didn't happen-Just go back to Johannesburg!

4. Driver and Guide
Driver -JoJo: - very good attentive, safe and friendly driver-very helpful
Guide – Ferell:-- a lot of knowledge is available - not always easy to understand - should work on its exterior - partly very dirty clothing - should deal with time management. When shopping, take a more thoughtful approach and shop more health-consciously! Especially not at the time of the travelers, who then only sit around at parking spaces and petrol stations! Maybe camping is closer to him. He had already made this known in person.

Overall conclusion:
The journey wasn't the hit. For the fact that you are sitting almost only in an uncomfortable vehicle and actually have very little of the destinations reached, we would not want to do this tour again in this form. The price-performance ratio just wasn't right. Neither from the course of the tour nor from the supply. In hindsight and the current findings, a self-driving tour (even with a driver) would have been possible without hesitation. (Have hit some on the way) You would also have coped very well in terms of price! The road conditions definitely gave that away. For us, it was like a Paris-Dakar rally. Reach intermediate destinations as quickly as possible and then continue. Just to say I was there once? That was not our idea and it was not really intended and, above all, not described.
In addition, my daily help, with breakfast, packing and tidying up, didn't really help anything. The Routine has been retained! Very annoying!

Anna and family
–
IT
Visited: August 2019
Reviewed: Sep 18, 2019
Email Anna and family | 65+ years of age | Experience level: first safari
Wonderful safari, perfect organization, knowledgeable guide
We recently returned from a safari through South Africa and Mozambique, including stops in Zululand and Swaziland. This was our first trip to South Africa, so it was not without some trepidation. Well, our holiday was up to, and actually exceeded, all our expectations. The places visited, accommodations, activities, food and general organization were excellent. Our guide, Clinton J Venter, did everything to make this trip amazing. He was really professional and knowledgeable of wildlife, and at the same time friendly and good humored. A perfect driver. We've always felt safe! I would highly recommend this trip to everyone. Thank you Sunway Safaris for excellent organization, we'll travel with you again.

Ulli and Thomas from Austria
–
AT
Visited: August 2019
Reviewed: Sep 2, 2019
Email Ulli and Thomas from Austria | 50-65 years of age | Experience level: first safari
Great safari, bush walks and hiking!
Our hiking tour through South Africa, Swasiland an Zululand was wonderful. Our guides Colly and Cloud from Sunway did a fantastic job spotting moving rocks as animals from far away, sharing all their huge knowledge about wild animals, history and living conditions with us and showing us very beatiful scenery on our hiking tours. They are very kind guys, well organised, excellent cooks and deal with all upcoming questions in a way everybody can feel well.
The accomodations were fine, it´s a good idea to stay two nights and than move on to the next. The small group of five made the bus to our mobile living room.
Thank you so much for the gorgeous experience!

B.N.
–
DE
Visited: April 2019
Reviewed: May 11, 2019
Email B.N. | 50-65 years of age | Experience level: over 5 safaris
First time and very recommandable !!!
Just back from an unforgettable Sunway-Safaris Tour to Okavango Delta and Victoria Falls with German speaking, perfect guide Wouter ("as almost a part of the group", always available and left no questions open) Driver William also a very experienced, carefully driver.
Because both of them, we have discoverd the "Big Five" at the first days already.
Our "Red Elephant" (Safari Chariot) was perfect suited for all "challenges".
Thanks for the great time, will recommand to others !

Disclaimer
All corporate and/or tour info is provided by Sunway Safaris, not SafariBookings
The tours offered by Sunway Safaris are subject to their terms & conditions