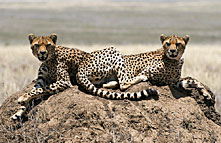 Siafu Tanzania Safaris
5.0/5 – 72 Reviews
Located In:

Denmark

Size:

10-20 employees (Founded in

2014

)

Member Of:

TATO

&

TTB

Tour Types:

Custom mid-range & luxury tours that can start every day

Destinations:

Price Range:

$130 to $400

pp

per person

per day

(USD, excl. int'l flights)
Kadri
–
EE
Visited: July 2021
Reviewed: Aug 22, 2021
Email Kadri | 35-50 years of age | Experience level: 2-5 safaris
The most professional safari tour operator
We went to Tanzania trip with the whole family - me, my husband and three small children. The youngest one was only 1 year old and others were 3 and 7 years old. So, before the trip I was a bit worried if safari trip is suitable for so young children. But thanks to the professional team of Siafu Tanzania Safaris the trip was excellent, our children loved it and the trip turned out much better than we expected.

We highly recommend Siafu Tanzania Safaris to everyone!

Thank you so much (and... we will be back :)!
Heli Kiis
–
EE
Visited: June 2021
Reviewed: Aug 2, 2021
Email Heli Kiis | 50-65 years of age | Experience level: first safari
Exellent!
Great days in Tanzania with the Siafu Tanzania safari team.

At least once a year we are organizing a trip with group of friends abroad to experience different people, places and cultures. This year choice of destination was Tanzania where we were hoping to visit nature parks, experience the hospitality of Tanzanian people, experience urban life with the lively markets as well as rest on the beautiful beaches in Zansibar.

Estravel helped us purchase flight tickets and we received information from our friends about Siafu Tanzania safari team who had previously helped them to organize their vacation. We got in touch with the team and they helped us to achieve a dream vacation.

At Kilimanjaro Airport we were met by hospitality by Siafu Tanzania team as Ene Lepp and Emmanuel were expecting us at arrivals and helped us to helped us with practicalities such exchanging money and finding our hotel. Ene's experience and expertise in visiting Arusha markets and discovering the city's sights helped us everywhere, with ease we were able to achieve best purchase prices and make choose best possible options for us. We visited the Tanzanini Museum in Arusha, the Maasai market and many other sites. In order to experience local life and culture in its authentic way we used local services. Ene took as for ice cream in fabulous local ice cream café and she always entertained us with endless stories about her adventures in Tanzania. We stayed at the Tulia Hotel and Spa in Arusha, which was also booked by the team of Siafu Tanzania Ltd. The hotel was comfortable and nice without breaking the budget; with a swimming pool and a bar where we spend nice relaxing time.

Following adoption to African culture in Arusha were moved further for an exciting 3 days in Tarangire, Lake Manyara and Ngorongoro National Parks with an excellent guide Emmanuel, whose professional knowledge of nature, friendliness and safe driving only deserve praise. We enjoyed experiencing lives of lions, elephants, zebras, zebras, buffaloes, giraffes, gazelles, monkeys and many more animals like mummy ostriches and hippos looking for shelter in the water. Excellent lunches at the stops of national parks with coffee and wine were a unique experience. During Safari Days, accommodation with breakfasts and dinners was offered by the excellent hotel Fanaka Lodge, which was also booked by the team of Siafu Tanzania Ltd.

A meeting with residents in the Mto Wa Mbu community and Maasai village was a another fabulous experience. Accompanied by Deo Kibungara, we learned about the village liffe, visited their homes, took part in nature education in the banana farm and rice field as well as watched craftsmen work in their wooden workshop. Of course, the visits included opportunity to purchase interesting local items that will remind us of Africa. Selling style of locals was intense and when they realized that we were a bit overwhelmed they calmed us by saying 'pole, pole' (in Estonian, peace, peace) and eventually deals were made for everyone's satisfaction. In the villages we met a lot of great people including children who cheerfully shouted us in the village tour. Local children were grateful and exited when we offered them some gifs such as candies and school supplies that we had brought with us

Together with Ene and Emmanuel, we visited several Tanzania schools to see children enjoying fun learning experiences together. We also visited Maasai village, met their way of life and enjoyed their welcome dance, handicrafts and genuine hospitality.

At the end of our time in Arusha was time to move on to Zansibar. Ene and Emmanuel kindly took us to the airport where we said our goodbyes: it was hard to leave as we had become good friends and we thoroughly enjoyed their company.
Our visits to the city of Arusha and to the national parks of the Kilimanjaro region left us with unforgettable memories of natural richness of the nature and the genuine friendliness of people. Of course what made this trip a fabulous once as it was meeting and sharing time with Ene, who did not get tired of introducing us to the real life of Tanzania and sharing experiences on how to manage as an Estonian in Tanzania.

We will always remind ourselves of a friendly and hospitable phrase 'Hacuna matata' from Tanzania (in Estonian, take it easy) as this helps to keep our otherwise not so joyful Estonian spirits alive for time to come.

Thank you Ene Lepp and Emmanuel!
Marju, Heli, Kaarin and Aavo
Anete P
–
EE
Visited: July 2021
Reviewed: Jul 8, 2021
Email Anete P | under20 years of age | Experience level: first safari
Very proffecional and pleasant oprator .
Amazing opportunity to see African animals very close with guide who was very smart and new everything and told intresting stories about people in Tanzania and animals . The car was very cool and comfortable with open roof .
Offered food was very good and taste . It was so cool to have picnic in the middle of African savanns . The absolute favourites were monkeys and leopard .

Anete
Kadi
–
EE
Visited: July 2021
Reviewed: Jul 7, 2021
Email Kadi | 50-65 years of age | Experience level: first safari
Excellent experience and marvellous adventure
This Trip gave so many beautiful moments in Serengeti and in Ngorongoro, we saw all big5 and much more interesting animals and birds, different combinations of natural chain, lot of animal babies, families in their everyday life. Trip was organizing in excellent level, guide Fransis whose experiences are wonderful, gave us so many knowlidges about animals, new information about nature and Afrika, our girls are still missing this trip, our guide,very comfortable car, good food, nice atmosfere, interesting moments with animals.
Thank you very much for such plesent picture about Afrika. Highly recommended for all, even for families with children, who afraid long ride. We enjoid this every minute:)
Guido from Estonia
–
EE
Visited: July 2021
Reviewed: Jul 7, 2021
Ansolute perfect safari and the guide/driver Fancis !
The tour in Serengiti and knoroknoro was much more than we expected in comfortable safari car and very good guide . Even our 12 year old kids enjoyd it , unless we were a littlr bit afrid of long gaimrides . But the hours went so fast with looking lot of animals and beautiful nature .

Guido from Estonia
VIKK Kilikad
–
EE
Visited: December 2020
Reviewed: May 17, 2021
Email VIKK Kilikad | 50-65 years of age | Experience level: first safari
Many thanks to our tour operator Ene Lepp and Siafu Tanzania Safari.
VIKK lased in Tanzania.
It was amazing tour. Many thanks to our tour operator Ene Lepp and Siafu Tanzania Safari.
The most important point of our tour was Kilimandjaro – we enjoyed morning's smells and voices, marvellous views and, of course, the climbing on the top – thanks a lot to our guides. They were really experienced and very supportive.
We visited Tarangire national park and to see a lion, giraffa or elephants almost next to us – it was unbelievable.
Ene tried to fulfill all our wishes. We visited Maasais' village and school, saw local people's life and work. This was very interesting. Really surprising for us was visiting the technical college in Arusha – it was as modern as ours are or maybe even better!
Our accommodations were comfortable, food and beer super.
Tanzania and Kilimandjaro –it was our dream and it came true! Thank you!

Katrin Kalev
–
EE
Visited: March 2021
Reviewed: Apr 29, 2021
Email Katrin Kalev | 50-65 years of age | Experience level: first safari
the tour operator was super, friendly and helpful, took full care of our well-being
The safari and the whole trip exceeded all my expectations, we visited many interesting places, saw the authentic African life and customs of the tribes, we were able to contribute a lot ourselves. My heart remained in Tanzania and Zanzibar! Mega big and still hot thanks to Ene Lepp and Siafu Tanzania Safari! The price of the whole package is also affordable! I recommend you choose !!
Tiiu and friends
–
EE
Visited: February 2021
Reviewed: Apr 21, 2021
Email Tiiu and friends | 35-50 years of age | Experience level: first safari
The tour operator was very professional and helpful.
Everything was great. We visited Tarangiere, Lake Manyara, Ngorongoro national parks and local tribes (Maasai, Tatoga, Hadzabe). On the safari we saw many different animals (buffalo, lions, giraffes, wildebeest, mongooses, impalas, rhinos, leopard, zebras, hippos). The experience was amazing. Ene Lepp was a professional tour operator. Ene put together a program that meets your wishes. We definitely recommend Siafu to other travelers.
Kadi
–
EE
Visited: February 2021
Reviewed: Apr 20, 2021
Email Kadi | 50-65 years of age | Experience level: first safari
The tour operator was at a very professional level. Everything went well, there were no problems.
The safari was very fierce. It was powerful to see animals in the wild and so close. It was my most intense experience.
In my opinion, the price-quality ratio was in place. During the safari there was catering 3 times a day, I didn't have to worry about anything.
Priit Rebane
–
EE
Visited: February 2021
Reviewed: Apr 19, 2021
Email Priit Rebane | 50-65 years of age | Experience level: 2-5 safaris
Very nice and very welomed visit
In the first place we started to look visit to South Africa. But, after all comments we have heard from our friends decided not to go there. The next obvious alternative to visit Africa was Tansania. And then my wife Eve (yes, also Eve :) ) found a Facebook group leaded by Eve Lepp who was really helpful, offered us a travel plan and helped to adjust it to our willings. Safaris with Emmanuel were just to joy and really as mentioned already before in the comments he was able to spot animals already from the long distance. Not that we were not able to see them very close - lions were hiding from the sun in shade of our other car, we were driving thru the sebras, elephants and gnus packs very slowly and otherwise got very good comments around the surroundins. Especially I would like to point out the visit to Ngorongoro crater - it is really the place where you feel that Noah has opened his arc on there. No more comments, you just to have see that. And Eve's crue takes you there, also helping with everyday needs. For example, my baggage was somewhat lost on the way there and I got it a day later - but being in Africa without the shorts is somewhat a pain ;) So as a first thing in the morning they helped me to find a pair of suitable wearings :) Also, please pay attention to the local people outlook - always coloured, always shining clean and nice looking. And the conditions to wash clothes are almost unexisting :( Just amazing. We visited Cuba last year and expected something similar but no way - Tanzanians are much better on that.

However, what might a be little bit of minus that we don't recommend to stay in Stone Town on Sansibar for more than two days (there are much more nicer places to stay) - although it is world famous town to visit in that time you are able to see it all, visit the turtle island and eat in the night market. Otherwise it is noisy and you might need a hotel off the center because the noise from the street basically never stops and the windows are not isulated as you might think. But this is of course no minus to our travel organizer Eve because she did she's best. Recommended definitely.
Disclaimer
All corporate and/or tour info is provided by Siafu Tanzania Safaris, not SafariBookings