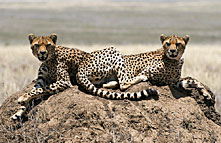 Siafu Tanzania Safaris
5.0/5 – 77 Reviews
Located In:

Denmark

Size:

10-20 employees (Founded in

2014

)

Member Of:

TATO

&

TTB

Tour Types:

Custom mid-range & luxury tours that can start every day

Destinations:

Price Range:

$130 to $400

pp

per person

per day

(USD, excl. int'l flights)
Veiko
–
EE
Visited: February 2019
Reviewed: Mar 18, 2019
Email Veiko | 35-50 years of age | Experience level: first safari
Great trip to beautiful country!
Our group of 5 people spent 21 days in Tanzania. During the visit we were summiting Meru and Kilimanjaro, went to safari in Tarangire, Serengeti and Ngorongoro and at last we spent 4 days in Zanzibar. Everything went as we have been hoping before our trip with some extra pleasant surprises – for example two nights in Kati Kati tented camp with a real campfire was something no one could expect forehand. Many thanks to Ene, Emmanuel and Freddy -they were brilliant in listening our wishes and problems and also finding solutions to them.
Piret
–
EE
Visited: February 2019
Reviewed: Mar 17, 2019
Email Piret | 35-50 years of age | Experience level: first safari
Amazing safari, good service!
We spent 4 very happy days with Ene in Tarangire and Ngorongoro. We saw much different animals and heard much interesting information about local lifestyle. Very impressive was also vist to Hadžabe tribe. We slept in tent hobuse at almost fully clear land, which was particulary nice and romantic.
Big thanks to Ene and Emmanuel for these amusing days!
Maiki
–
EE
Visited: February 2019
Reviewed: Mar 15, 2019
Email Maiki | 50-65 years of age | Experience level: over 5 safaris
Well organised safari in Serengeti
We are experienced safari tourists and wanted to have a 4-day tour in Serengeti. Communication with Ene was very efficient, the lodging brilliant (Kati Kati tented camp) and our guide Freddy quick and creative. It turned out that 4 days was too long, though, because there were almost no animals in central Serengeti, so we left a day earlier. Ene and Emmanuel organised flexibly another lodge near Ngorongoro gate for the last night.
Maia
–
EE
Visited: February 2019
Reviewed: Mar 12, 2019
Email Maia | 65+ years of age | Experience level: 2-5 safaris
Nice safary, good planning, good service
We had the group of 6 people and we spent 10 days in Lodge Safari and tour to Foot of Kilimanjaro. We start our tour from Arusha, then Tarangire, Serengeti, Ngorongoro, Easy lake and we visited Hadzabe and Datoga tribes, Maasais. Our guide Herman was so experienced and knowledgeable. He answered all our questions. We really enjoyed our time spent with him. We saw a lot of animals like, lions, hippos, cheetas, elephants, sebras, gnus, giraffes and et cetera. Trip was great and very well organised by Ene Lepp from Siafu Tanzania Safaris. Everything went well. Many thanks to Ene for making our holiday unforgettable. I'd definitely recommend Siafu Tanzania Safaris to everyone looking to visit Tanzania
Anu
–
EE
Visited: January 2019
Reviewed: Feb 8, 2019
Email Anu | 50-65 years of age | Experience level: first safari
Amazing safari tour in Selous
We went to two-day safari in Selous and the experience was amazing! All was well-organized and our guide Rami was fabulous. We managed to see a lot of animals. Many zebras, graffe, elephants, lions, wildbeests, monkeys and even a hippo.
It was great experience! Thanks!
Tiina
–
EE
Visited: December 2018
Reviewed: Jan 26, 2019
Email Tiina | 50-65 years of age | Experience level: first safari
Amazing experience. One of my dream come true.
Thank you for the great hospitality that you gave.We had wonderful time in safari.
Kersti
–
EE
Visited: October 2018
Reviewed: Dec 27, 2018
Email Kersti | 20-35 years of age | Experience level: first safari
Excellent experiance!
Fantastic. Communication was very professional. A great experience to have! Everyone should do this at least once in their life.
Leina
–
EE
Visited: December 2018
Reviewed: Dec 25, 2018
Email Leina | 65+ years of age | Experience level: first safari
Exceptional experience from Africa
Safari exceeded all our expectations and our tourguide Freddy was wonderful. We saw a lot more animals than we expected and have amazing memories from the safari. The lodging was very exotic, some were better, some quite shocking. Overall we are very happy with our African adventure.
Peeter
–
EE
Visited: December 2018
Reviewed: Dec 23, 2018
Email Peeter | 35-50 years of age | Experience level: first safari
Unforgettable experience, incredible scenery
We had a custom made trip arranged by Ene for a group of 6 persons. We had a week for safaris in Ngorongoro, Manyara, Serengeti and Tarangire, later another week rest at Zanzibar. Our group was lead into safaris by a driver´/guide Freddy, who was so incredibly friendly and nice, by the end of our journey we felt he is our brother from another mother.
Personally, I did not know what to expect as it was my first safari ever. However, already on the first day I was blown away with the scenes in Tarangire; we saw more animals I could dream of, most from very close range. As we soon found out that was just an introduction to our amazing trip, over the week we saw all animals we had dreamed about, from the big five just a rhino managed to hide from us. We witnessed activities and action, which you can expect from National Geographic programs but not happening in-front of you, such as back of lions hunting down a buffalo herd, cheetah nursing her cups just few meters from you, elephants chasing away lion herd, etc.
I had one fear before going to Tanzania, I was afraid of black mamba as one of the most poisonous and fast snakes in the world. When I asked from locals about the mamba threat-level everyone assured me that there are no mambas, you're not going to see it even from far away. Yet, at one rest stop in Serengeti when we were all out of the car, a black mamba appeared from bushes and wriggled extremely fast towards us. Before I realized what it could be the snake was already just few meters away, naturally me filming it innocently. The mamba was smarter than myself, it changed direction and hide itself into nearby termite nest. Only at the very end of this encounter a local man nearby shouted at us to keep away - it is a black mamba. Then it hit me how close it was...
As travelling around we spent nights at very different locations, some, such as Rhino lodge (more like hotel!), was extremely exotic and luxurious, the buffet was sooo tasty!!!. Some other venues, example the lodge in Serengeti, surprised from the other angle. Not that we could not survive there, but just a prior information about its modesty would of helped to prepare us. The place was extremely worn out, with broken windows, no running or warm water (water was provided in buckets), not mentioning about wifi (for few of us a permanent daily internet connection was very important due to some personal events happening at home), electricity was gone at 10... It is somewhat sad that lodge owners do not see any need to invest into their property there, they will always find someone who is looking for the roof over the head at Serengeti, the demand is obviously high. As a recommendation - do inquire information about your sleeping facilities to avoid surprises.

Ene and her team was extremely hospital and helpful throughout the trip. Even though we happened to be there at very busy time for the organizers, there were other groups coming and leaving, Ene was always available for us to answer any questions and solve problems even from far away. Just to mention another incident at Zanzibar where resort managers had improvised and relocated our group into in their words "equal" resort, which turned out to be a total s...t hole. Ene, being herself at Safari somewhere at mainland, gave us full assistance so we managed to solve the problem in few hours and were relocated to a decent resort.
Another hint: at Zanzibar you can trust beach boys to arrange trips for you. At our beach was a local man who called himself Sweet Banana. First I was suspicious towards him when he approached me at the beach, but after some French quests recommended him I started talking to him. With a little negotiation we got from him trips at half price than the same offered by the hotel. In the end, example at the snorkeling trip, we were all in the same group; these who paid at hotel and we who paid half price. In few days Mr Banana arranged for us anything we needed - a taxi service, purchasing beer at fair price, anything we needed.
There is more to share than anyone would bother to read, I have been lengthy already. To wrap up, the trip indeed was incredible. I could not imagine to witness so many special moments, I made so many photos/videos of animals and locals that already during first days my device run out of memory. Hint - take with you a sufficiently large memory card! None from our group had professional photo equipment, however, we have collectively so many incredible photos I don't think we missed anything; fortunately today's smartphones have sufficiently good cameras and we were really close to the animals. Our driver Freddy was truly exceptional in finding these special moments - he is a strongest asset for the company, very much oriented at serving clients to their highest satisfaction. And then Ene, she put it all together and made it possible, beyond what words can ever describe! Many thanks!!

Ronen
–
IL
Visited: September 2018
Reviewed: Dec 14, 2018
Email Ronen | 50-65 years of age | Experience level: first safari
Awesome experience with professional guidance
I booked for me and my 12 years old child a tour to Tanzania at September 2018 and it was very successful for both of us. We climbed Mount Meru and later on had few more days of safari experience.
It was the first time for us at Africa and for sure not the last one.
Emmanuel- Thanks for everything.
Ronen
Disclaimer
All corporate and/or tour info is provided by Siafu Tanzania Safaris, not SafariBookings