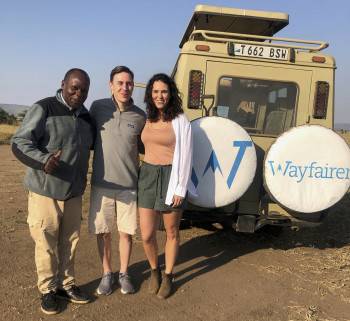 Wayfairer Travel
5.0/5 – 130 Reviews
Offices In:

Thailand

Size:

10-20 employees (Founded in

2012

)

Member Of:

ATTA

,

ATOL

& Travel Vault

Tour Types:

Custom luxury tours that can start every day

Destinations:

Price Range:

$362 to $1,808

pp

per person

per day

(USD, excl. int'l flights)
Request a Quote


for a custom tour
Your request will be sent directly to the operator
If preferred, you can contact the operator directly
Rating Breakdown
Fahad
–
CA
Visited: June 2022
Reviewed: Jul 16, 2022
Email Fahad | 20-35 years of age | Experience level: first safari
Wayfair travel made our dreams come true.
We reached out to numerous travel agencies to book our safari honeymoon adventure. We ultimately settled on Wayfair. Right from the get go they were very attentive to the experiences we were looking for and able to create a custom travel plan which suited our needs. They were also able to provide excellent recommendations which made our trip that much better. The package was also very competitively priced. Lastly, they were very responsive to any questions even after we booked our trip. First class experience from start to finish.
Camila
–
US
Visited: June 2018
Reviewed: Sep 12, 2018
Email Camila | 20-35 years of age | Experience level: 2-5 safaris
Excellent pre-trip planning and support; room for improvement during trip - solved at the end
I planned two safari trips with Wayfairer this year. The first, in Kenya in March, went without a hitch. Planning was courteous and responsive and local partners were spot on for what we were looking for. Memorable staff, beautiful lodge, and astounding animal sightings. Logistics went smoothly.

Trip two comes along in June for a longer, two week adventure spanning Rwanda, Uganda an Tanzania. Things in Rwanda and Uganda did not go well. Local partner was unprofessional. Sent a guide that did not speak English, had next to zero professionalism or knowledge and did not know the way to hotel. This would have all been OK had we received a prompt response and solution from Wayfairer. Our emails went unanswered and private messages followed the same route. Eventually, I reached out to the local tour operator hired out by Wayfairer and it happened to be the case that Wayfairer had not even communicated the situation to the local travel partner. They were appalled and immediately sent another driver. This was a world away: professional, courteous, knowledgeable. As we tried to figure out what had happened, this is what we were able to discern: Wayfairer subcontracts to a reputable local partner for Uganda and Rwanda; lets call them "A". Said local partner then subcontracted the hotel for our driver/guide. The hotel then went on a third round of subcontracting and hired a small, new, non-reputable Rwandan agency to deliver the service. Agency "A" did not know the hotel had further subcontracted. Needless to say, neither did Wayfairer.
We completely understand that hiring local partners is normal and part of the way travel works nowadays. What is problematic is that in this case communication channels were not established, we got no response from Wayfairer which were the only ones with which we had communicated, and there was no accountability for what took place while we were there.
Once we left Rwanda and got plugged into their Tanzania partner, the trip was everything it should have been from day 1: engaging, professional, surrounded by experts during the game drives and caring staff at lodges.
Wayfairer did eventually react, apologize and issue a refund for the transportation costs of the Uganda leg of the trip.

All in all, I think it is a well put together agency with its values in the right place. It just needs to smooth out and address the growing pains of receiving more bookings and keeping track of their clients all the time, regardless of who they have subcontracted out to.
Julian Bernal
–
AE
Visited: December 2022
Reviewed: Dec 30, 2022
Uganda Trip
We are very happy with the service and attention from Eleanor Roberts, the itinerary was very clear, the service of the guides and quality of the cars was really good as well. The hotels booked were amazing despite the short timeframe planning the trip.
I would recommend Wayfarer Travel.
Nigel Hussain
–
Visited: June 2022
Reviewed: Jun 27, 2022
Email Nigel Hussain | 20-35 years of age | Experience level: first safari
Remarkable Trip to Botswana and Zambia
Incredible and well-organised experience that was perfectly arranged by Toon and Josh at Wayfairer. Josh created the initial itinerary that was based off of my initial ideas/budget and Toon dealt with any other requirements or requests after the itinerary was created. This was a 2 week trip through Botswana and Zambia with multiple transfers and the professionalism, patience, communication and availability was both exceptional and reassuring. Looking forward to my next trip with Wayfairer!
Suzanne
–
US
Visited: February 2022
Reviewed: Mar 8, 2022
Email Suzanne | 50-65 years of age | Experience level: first safari
A flawless, luxury, and stress-free tour of South Africa and Rwanda.
My husband and I have traveled extensively all over the world, but we have always done it on our own. I struggled to find a tour company that I felt really understood what I was looking for in my first trip to Africa - till I talked to Maggie at Wayfairer. She developed a customized tour that was exactly what I was looking for. The logistics, the accommodations, the activities, and even dealing with covid, were all flawlessly executed. The trip exceeded all my expectations and definitely motivated some of my friends to consider a trip to Africa. I am currently planning my next trip with Wayfairer as I realized that my husband really enjoyed having someone else take care of all the details so he could just relax and enjoy!

Gabriela
–
CO
Visited: October 2021
Reviewed: Oct 23, 2021
Email Gabriela | 20-35 years of age | Experience level: first safari
Great service
This trip has exceeded my expectations! Since the time we arrived to Nairobi's airport everything was arranged so we didn't have to worry about one single thing. Every lodge from Saruni was exceptional, specially because of the masai people, they are amazing, genuine and provided such a good service to us, i really hope to see you guys again.

We were able to see every animal i dreamed of and i will never forget this amazing experience.

Thank you to our guides: Joseph in Nairobi, Jimmy in Samburu and Jhon in the Masai Mara.
Lodges: Sammy and all the people that spent time with us at the lodges
Office: Maggie and Toon

You were great!

Alyssa
–
US
Visited: June 2021
Reviewed: Aug 19, 2021
Email Alyssa | 20-35 years of age | Experience level: first safari
Trip of a lifetime that exceeded our expectations, executed seamlessly during tough travel times.
From our first conversation with Cat it was clear we wanted to go with Wayfairer (we spoke to 2 other safari agents). She understood what our desires were and put together a wonderful itinerary. This was our first safari and first time in Africa, and we were overwhelmed be the many providers and options and price ranges. We wanted locations that were responsible, both socially and ecologically. We wanted to see a variety of landscapes and animals. Cat got it right.
We had originally planned for 2020, but had to delay, and then changed our travel dates several times in 2021 due to changing circumstances. Siripun and Carmen worked tirelessly sorting out all the details, keeping us updated, and organizing everything (including required COVID tests out in the bush!:) ). We felt secure and taken care of, throughout the whole process, and everything during the trip went well! They communicated well with the providers and everything went smoothly, could not have asked for a better experience!
We joked that we wanted to go all-out for this once-in-a-lifetime trip.. but after our experience in Kenya and with Wayfairer, we might need to make this a several-times-in-a-lifetime thing:)
Meg
–
US
Visited: November 2020
Reviewed: Dec 7, 2020
Email Meg | 20-35 years of age | Experience level: first safari
Made travel in 2020 a breeze!
Overall, we are super happy we used Wayfairer Travel for our East African honeymoon. Everything was well designed and thoughtfully tailored for exactly what we were looking for. Carmen and Leonie did an incredible job to make this trip happen this year. Travel during the pandemic can certainly be a little challenging, and without their help, our dream trip wouldn't have been possible.
Both Leonie and Carmen did an excellent job communicating when plans changed due to pandemic-related reasons. They quickly found the perfect alternative to a shift in our itinerary and we loved that things were taken care of smoothly. It never felt like our trip was interrupted and we never felt stressed at all during our time in Africa.
When it came to navigating getting required COVID testing to move on to our next destination, the Wayfairer Team worked carefully with local travel team to get our tests schedule and paperwork organized while we enjoyed our honeymoon. The whole process was not troublesome at all and we were glad we could move about safely.
Traveling right now is a unique and amazing experience. It is absolutely possible to travel right now. Your tourist dollar is vital to the survival of local communities and Wayfairer values this relationship. They worked to make everything special for us and it meant so much.
There was a lot to navigate (this trip was a year in the making) and Wayfairer went above and beyond to deliver the absolute dream trip we wanted.
We highly recommend going with Wayfairer to organize your safari trip.
Salomé
–
CH
Visited: January 2020
Reviewed: Jan 20, 2020
Email Salomé | 20-35 years of age | Experience level: first safari
A once in a lifetime experience in Africa filled with nature, its animals and wonderful people
For our honeymoon, we booked with Wayfairer our African Safari. We booked on short notice and the whole team made a big effort to get us the best experience we wanted. We couldn't have booked with a better operator and we can only recommend booking with Wayfairer as our travels to Tanzania were stunning and 100% fulfilling. The experience we were looking for and more...

We first spent 4 nights at the Impala Camp in Selous. The Camp and its stuff are wonderful. The food, the Safari, and the accommodation were absolutely amazing. We loved being there and couldn't wish for more. Our tent was located in front of the river, right there where the hippos are. After the Impala Camp, we traveled to Ruaha and spent another 4 nights at the Mdonya Old River Camp. This small Camp is one of a kind because the dry River attracts lots of animals right in front of the tents. And during our time we woke up in the morning and saw already Zebras and Impalas grazing in front. The view is incredible and also Elefants are visiting the camp regularly. The staff and the camp managers Kings & Iris are wonderful people and we enjoyed a great time, the dinners are special as you meet at the fireplace first to exchange what happened during the day. It's interesting to hear what other tourists saw and experienced during the day being on Safari. Afterward, we always had dinner together which was very nice. The Safaris tour guides in Mdonya are very well trained and we could have spent easily another couple of days learning from them and hear their knowledge about the wildlife. On both Safaris we were alone during the day in an open Jeep.

Thanks a lot to the whole team of Wayfairer and especially to Josh who made a big effort to book everything in time.

Asante sana!
Julie
–
Visited: July 2019
Reviewed: Aug 16, 2019
Email Julie | 50-65 years of age | Experience level: 2-5 safaris
Personalised and knowledgeable tailor-made experience
We had a wonderful holiday in Tanzania, arranged at short notice with the Wayfairer team. They were flexible in tailoring the holiday around a week we had already booked ourselves, and patient and accommodating as we tweaked things, such as putting the safari at the end. Having a dedicated concierge on hand via email at all times is a great boon when dealing with odd glitches such as taxi no-shows and changes of plane times. The safari in Ruaha was the stand-out highlight, with a truly astonishing camp experience and expert guiding. We learned so much and ate even more. We would love to return.

Disclaimer
All corporate and/or tour info is provided by Wayfairer Travel, not SafariBookings
The tours offered by Wayfairer Travel are subject to their terms & conditions