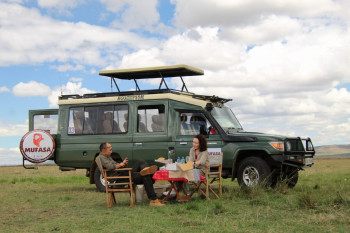 Mufasa Tours and Travels
5.0/5 – 336 Reviews
Located In:

Size:

5-10 employees (Founded in

2010

)

Tour Types:

Custom budget & mid-range tours that can start every day

Destinations:

Price Range:

$30 to $300

pp

per person

per day

(USD, excl. int'l flights)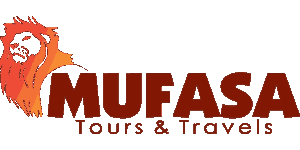 Roci Figueroa
–
NZ
Visited: January 2023
Reviewed: Feb 13, 2023
Email Roci Figueroa | 50-65 years of age | Experience level: first safari
Mufasa Tours exceeded my expectations!
Mufasa tours was incredible. From the beginning the communicated quickly and very efficiently. The price was excellent in relation to the service quality. Our guide Patrick really knew what he was doing, looking for animals and specially for those which we were interested. The lodges were amazing. Everything was organized to perfection.
Dodo
–
DE
Visited: January 2023
Reviewed: Feb 7, 2023
Email Dodo | 20-35 years of age | Experience level: first safari
Best Tour Guide ever - Daniel
We booked a Safari for mid of January 2023 just before Christmas in 2022, therefore short notice, however the communication, the planning and the money transfer went without any issues. Polly arranged everything perfectly from her office.

Our journey started in Nairobi, we were staying in Nairobi for two nights and one day, when we just came back to the hotel, our tour guide Daniel surprised us by welcoming us to Nairobi in the hotel. He was there in order to check how he could plan our pick up the next day best. (observing parking etc.) So very well organized. Finally on Monday, after two days in the busy city of Nairobi our Safari Tour started with Daniel. He picked us up at the hotel early in the morning in order to avoid the busy traffic jam during weekdays. We booked a safari starting in Nairobi ending in Mombasa, on the way to to Mombasa we went to two Nationalparks - Tsavo East + Tsavo West. The drive from Nairobi to the 1st lodge in the Nationalpark was abt 5 hrs, were we went on the autoroute to Mombasa, it was very interesting to get a view on how people live outside the cities. how they get to work and how they sell goods on the street. The drive did not feel like 5 hrs, as there was always something you could see and it was a good way to experience the african way of life. Once we got to the entrance of the first National park, Daniel explained to us that every Safari is called a "game drive". I was like, why "game drive" and he explained, because it is a game, sometimes you win, if you see a lot of animals and sometimes you loose if there are not a lot of animals around. Which in the end made total sense. Daniel also explained about the country, the people, the landscape and of course the animals while we were driving. Coming back to the game drive, it made total sense, the first nationalpark was insane in view of landscape, you get to all different landscape colours from red to green. However Kenya is lacking rain since a couple of months, therefore the bushes and trees are dry which also results in less animals in the parks because of no food. We were so excited the whole time during the game drive to try to spot animals, in the first park I think we lost the game on the first day, we saw a couple animals, however not even one elephant, but we were courious to see one and Daniel was trying to find one for us which he did on day 2. and we were super excited. Starting day two with Daniel, we were driving through the park and I saw big big grey elephant bumps, thought so, but in the end they turned out as big rocks - we were all laughing like crazy. Second and third day in the second nationalpark was totally different not only because of the landscape but also in view of the amount of animals, better to say of the elephants, we had tons of elephants crossing our way and one morning abiut 70 elephants walking to a waterhole and relaxing there together - that was insane. We were already more than happy with the Safari after seeing, elephants, many elephants, zebras, giraffes, antilopes, buffalos and an ostrich but then Daniel presented us something special. We were in the evening game drive, when all the other jeeps already went back to the hotel, I said to Daniel: hey you've missed the hotel, he was like, yes I know, I just wanted to look at something. &&&& there we go!!! LIONS!!! Six lions laying abt 500 meter from us, we were only able to see them through our binoculars (Daniel saw them without) but then something exciting happened, they got up and walked towards our Jeep, we were so excited. That was the best experience ever! Daniel really has the eye to spot the animals - it was insane to notice how he looks at things - I can only recommend Daniel as your guide. When I will come back, I will definetly request Daniel as my guide. It was such a great experience - thank you again - Daniel !!! :-)



Romana
–
US
Visited: January 2023
Reviewed: Jan 30, 2023
Email Romana | 20-35 years of age | Experience level: first safari
Memories of a lifetime...!
I booked 7 days tour with Mufasa and it was the best decision ever...! Mufasa took care of all my accomodations, meals, transport, where I just had to show up at the airport and everything onwards was taken care of, and I could solely focus on enjoying my vacation hassle free.
My experience with Joseph while booking the trip was real smooth. He was reliable and made sure to accomodate all my requests, especially my request of halal food at all accomodations was taken care of. I was pleasantly surprised when he greeted me at the hotel with a gift...! Not gonna spoil the surprise for the other travellers, but just know that Mufasa gifts were so thoughtful that I used it my entire trip and will continue using them long after I return home :)
Being a solo female traveller I was hesistant to venture on this trip alone, but my guide Nelson put all my hesistations to a rest. He is an excellent human being and always made sure that I felt safe and comfortable. There was never a single dull moment and he made sure that I saw the big5 multiple times and many more. Special thanks for taking some amazing pictures of me!
From the great Mara river to the TZ-KE border, from the masai village to the city mall, I covered it all. Thank you Nelson and always keep smiling as you do.
This was an adventure of lifetime with 100% value for money and I cannot wait to come back and tour with Mufasa again!


Alex
–
AE
Visited: January 2023
Reviewed: Jan 30, 2023
Email Alex | 20-35 years of age | Experience level: first safari
Awesome Safari with Mufasa tours and Nelson
We want to say big THANKS to Mufasa tours as we had a great experience having 4-day Safari tour with them. Our Safari captain - Nelson made our trip unforgettable and managed for us to see all African Big Five in 2 days. Tour was perfectly planned and organized, we stayed in perfect and luxury camps.
It was unique and unforgettable tour! Thank you one more time!
Subhashree Dash
–
IN
Visited: January 2023
Reviewed: Jan 27, 2023
Email Subhashree Dash | 20-35 years of age | Experience level: first safari
The best experience destination for your dream trip
One of the best experiences.

We had a 2 nights and 3 days Masai Mara safari trip with Mufasa. Polly was our point of contact from Mufasa; She planned a perfect itinerary for us, and everything was smoothly. She had given us a checklist. She was in constant contact with us.

Our guide- Peter, was a gem of a person. We felt safe with him. He was humble, knowledgeable and patient. Peter took great effort to take us to the right spots in Masai Mara, because of which we were able to experience the beauty of the Big Five, of which we were able to see 4. We loved him and will definitely recommend him.

Our stay was excellent at Zebra Plains. The camp truly gives you a feeling of luxury. Staffs were helpful and humble. The food was excellent. We saw so many animals from the camp as well, which was quite surreal. The only downside was the internet. We didn't have any issue as we had a local sim, but if you don't have a local sim then you may find it difficult.

We would definitely recommend MUFASA.
Maroun Touma
–
US
Visited: January 2023
Reviewed: Jan 26, 2023
Email Maroun Touma | 50-65 years of age | Experience level: first safari
Great Safary at Masai Mara
We had some of the best times in Kenya and truly, a life-time experience doing the safari in Masai Mara. The game drive was exceptional and our guide Collin did an outstanding job making sure we get the most out of it. He is very knowledgeable and relentless in his pursuit to make sure we got to the most out of our trip. Polly did an amazing job behind the scene organizing our trips. We will be using them again tomorrow for our National Park drive and Hells Gate Excursion.

Elizabeth Yancey
–
US
Visited: January 2023
Reviewed: Jan 18, 2023
Email Elizabeth Yancey | 65+ years of age | Experience level: 2-5 safaris
MOST PERFECT SAFARI EVER
What an absolute pleasure to deal with Mufasa Tours. We could not have been happier. Starting from the beginning the booking process was easy and they were super responsive to all of my questions. When we arrived in Nairobi the owner personally greeted us at the hotel and introduced us to our drive Collin (which I thought was a good personal touch) The next 5 days were truly MAGICAL! I cannot say enough good things about our accommodations and the kindness of the staff at Entim and The Cliffs. Oh and the meals were amazing. I really was not expecting such fine dining.
Within 10 minutes of getting to Masai Mara we saw our first leopard and then the fun really began. We saw all of the Big Five on our first day and could not wait for our next game drive. I had no idea we would be so close to so many lions. They were literally right next to our jeep on several occasions. Our guide Collin knew all the Safari secrets and made sure we had time to just watch and enjoy the whole experience. We felt very safe and in good hands with him and I was literally in tears when we had to say goodbye. I had sent some photos to a good friend along the way and she was so impressed that she was actually booked and under deposit before we returned and is going in June. One last point, I checked several other companies and the pricing was by far the best. I can't wait to go back!
Aline
–
CH
Visited: December 2022
Reviewed: Jan 17, 2023
Email Aline | 20-35 years of age | Experience level: first safari
Wonderful experience
We did a 3 night/2 day private safari with Mufasa Tours and Travels. It was a unique experience, we can only recommend it.
Peter, our driver, was great! We have always felt safe with him, he has been doing this job for more than 10 years, it was felt! Thanks to him for everything!
Polly, with whom we exchanged e-mails, was always very available and attentive to any questions. She sent us all the necessary information beforehand.
Our accommodation was the Zebra Plain, a beautiful wilderness lodge. The staff was very nice and welcoming.
We saw a lot of animals (except the rhinoceros which was shy).

It is an unforgettable experience!
THANK YOU for this game drive

(automatic translation from French)
Anne
–
Visited: January 2023
Reviewed: Jan 16, 2023
Email Anne | 50-65 years of age | Experience level: first safari
Excellent tour guide Kefa provided a perfect experience for our 7 day safari.
We have just come to the end of our 7 day safari in Kenya. The communication from Joseph when planning our trip was helpful and timely. Our guide Kefa was just amazing. He was courteous at all times and all communication was accompanied by a happy smile. His knowledge of the animals was impressive and imparted in a way that was ideal for us. Kefa always ensured we had the best view of the wildlife, expertly manoeuvring around other vehicles and he ensured we saw everything there was to see in the many parks we visited. We even got to see a leopard on the ground which is apparently a rare siting. The van was kept spotless. The accommodation was perfect for our needs, we chose mid range one. We would happily recommend Mustafa to our friends and suggest they ask for Kefa as their guide.
Hannah and Nick
–
Visited: January 2022
Reviewed: Jan 13, 2023
Email Hannah and Nick | 20-35 years of age | Experience level: first safari
Very well organised and great communication
We had a fantastic time on our safari trip with Mufasa tours. The communication from Polly was excellent throughout - from our initial enquiry, during our trip and she made sure we made it safely to our next destination. Our driver and guide Peter was also great - really friendly and made sure we saw lots of wildlife. We went for the luxury option which we thought was good value for money. The accommodation was stunning, great service and the food was good. Overall we would highly recommend Mufasa tours.
Disclaimer
All corporate and/or tour info is provided by Mufasa Tours and Travels, not SafariBookings
The tours offered by Mufasa Tours and Travels are subject to their terms & conditions