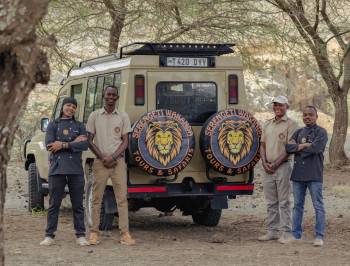 Serengeti Wakanda Tours and Safaris
5.0/5 – 372 Reviews
Office In:

Size:

5-10 employees (Founded in

2018

)

Member Of:

KATO

, TANAPA & TTBL

Tour Types:

Custom budget & mid-range tours that can start every day

Destinations:

Price Range:

$50 to $700

pp

per person

per day

(USD, excl. int'l flights)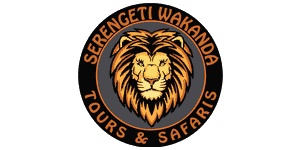 Request a Quote


for a custom tour
Your request will be sent directly to the operator
If preferred, you can contact the operator directly
Rating Breakdown
Christoph
–
DE
Visited: May 2023
Reviewed: May 23, 2023
Email Christoph | 20-35 years of age | Experience level: first safari
Professional and caring operator and drivers with amazing offroad driving skills.
We spent 7 days on a Safari with Serengeti Wakanda Tours & Safaris, and we had absolute amazing time with seeing different national parks and a lot of wild animals.

Our driver Felix knew everything about the nature, animals and it seemed, that there was no question for which he did not had an answer.

Also, the food was really good. We had breakfast, lunch and dinner which was always cooked with fresh ingredients and none of us had to stay hungry, as it was always more than enough to eat.

The accommodations were in good condition, and the night we spent in a tent felt like a like extra adventure.

I can fully recommend to plan a safari tour with these guys.

All the best from Germany!
Lucas Baquié
–
FR
Visited: May 2023
Reviewed: May 15, 2023
Email Lucas Baquié | 20-35 years of age | Experience level: first safari
Very professional tour operator for an unforgettable experience.
Exceptional stay with a team that is as professional as it is endearing. We were able to observe the most beautiful corners of Tanzanian parks, and the big five in full thanks to the great experience of our friendly guide Andrew, who always has a crisp story to tell you. Andrew knows the parks like the back of his hand, always in the right place at the right time.
The talented Aïsha was able to capture these unforgettable moments with her high quality reflex and gopro, not to mention the delicious and varied dishes of our cook Dulah. There was something for everyone ! Finally, the vehicle is very comfortable, secure, sunroof and binoculars provided so you don't miss a moment, fridge to cool off with water, coke, wine and beer. You can even recharge all your batteries.
The whole team is attentive to make your stay the best possible. A real family!
One of the best trips of my life. I sincerely recommend 300%!

(automatic translation from French)
Claudia & Julia
–
AT
Visited: February 2023
Reviewed: May 15, 2023
Email Claudia & Julia | 20-35 years of age | Experience level: first safari
6-day camping group safari - amazing adventure
The tour we booked consisted of 1 day at Tarangire, 1 day at Lake Manyara, 3 days at Serengeti and 1 day at Ngorongoro. The first two nights we slept in a budget lodge with private bathrooms and the other 3 nights we were camping in Serengeti and Ngorong, where the camping sights also offered bathrooms and dining areas.

The booking process itself was very easy with Bartho. We arranged everything via Email or Whatsapp and he always answered quickly.

We were two friends from Austria and loved our Safari group of four more people at our age around 25-30.
Moreover our safari guide Felix was the best guide we could have imagined. He was not only a very good driver, could spot so many different animals, even if they were very far away or very tiny, but he also gave us so much information about the animals and also what life in Tansania and the culture there is like.
We had our own cook who really did his best by serving us various different dishes three times a day.
Our safari group inkluding our guide became friends quickly and so we helped each other whenever is was necessary and also spent the evenings together and had often great fun.

For us the 6-day Safari was perfect with the four different national parks because we could see different animals in each of them.
Also the driving distance to Serengeti (which was our favorite) is quite far, so 6 days made the most sense to us.

The camping Safari is definitely an adventure with the bumpy roads, big animals and also sleeping in tents in the national parks.
Sometimes we could even hear animals in or close to the camping sights, but all in all we felt safe at any time.

Summing all of this up, we can totally recommend this camping safari, if you're up for an adventurous way of exploring the wilderness of Tansania
Quentin
–
FR
Visited: May 2023
Reviewed: May 13, 2023
Email Quentin | 20-35 years of age | Experience level: first safari
Tanzania's Best Safari!
Excellent experience! This safari is fantastic.
We spent 6 days with Andrew (our guide), Dullah (our cook) and Aisha (our photographer) who are really great people!

Andrew has a perfect knowledge of the different parks and gave us an unforgettable experience. He has anecdotes about all the animals/plants and thanks to him we saw all the animals we wanted.

We spent 2 nights in a lodge and 3 nights in tents in the middle of the parks. Meals were excellent and substantial.

The stay took place at the beginning of May 2023, a favorable period because fewer tourists and breathtaking landscapes!

Thank you Andrew, Dullah and Anisha, I will not soon forget this stay!

Quentin (Happy)

(automatic translation from French)
Theo Brunel
–
FR
Visited: May 2023
Reviewed: May 13, 2023
Email Theo Brunel | 20-35 years of age | Experience level: first safari
Experience of a lifetime!
What an incredible experience we had!
One of the best experiences of our lives. We booked a 6 day safari tour to see Manyara, Tarangire, Serengeti and Ngorongoro in lodge for 2 nights and camping for 3 nights.
The Wakanda team that took us was just amazing Andrew, our guide was fabulous, the best guide ever. He tells you all his stories and anecdotes about the park and shares his broad knowledge of animals with you, which is much appreciated. He is also very knowledgeable about the parks so you can see all the animals up close (big five). Aisha, our photographer was lovely and did an amazing job and her photos are sublime. Dullah, our chef cooked us delicious meals morning noon and evening in gargantuan proportions, so we all gained weight at the end of the stay, you will not miss anything and you will even be entitled to wine, beers and apps.
I recommend this company without any hesitation, you can go there with your eyes closed and I'm sure to come back one day when passing through Wakanda. Thank you for everything !

(automatic translation from French)
RIHO
–
JP
Visited: April 2023
Reviewed: May 5, 2023
Email RIHO | 20-35 years of age | Experience level: first safari
Kind and dependable man!!!
It was a wonderful adventure. We saw BIG FIVE. Also gnu of migration, lion family.
Every meal were really good. It was like a hotel restaurant in nature.
Every experience was better than we expected.
Thank you for having us .
想像を超えた最高の思い出ができました!


yeongjun
–
JP
Visited: April 2023
Reviewed: Apr 20, 2023
Email yeongjun | 20-35 years of age | Experience level: first safari
Spectacular Tanzanian Safari Experience: Wildlife, Food, and Exceptional Guiding
I had an incredible experience on my safari tour in Tanzania! Not only did I see a ton of animals, but I was able to check off all of the BIG5 from my list. Seeing lions, elephants, leopards, cheetahs, and more up close was truly awe-inspiring.

But the amazing wildlife sightings weren't the only highlight of the trip. The food was also delicious, and our guide was incredibly knowledgeable and attentive. Even though my group wasn't the strongest in English, he went out of his way to make sure we understood everything and had an amazing time.

Overall, this was an unforgettable experience, and I'm already dreaming of going back for another safari adventure.
julia
–
DE
Visited: April 2023
Reviewed: Apr 18, 2023
Email julia | 20-35 years of age | Experience level: first safari
Andrew was a very friendly, kind and funny guide with a lot of experience.
7 of us experienced a 4-day safari over Serengeti Wakanda, which I can recommend to everyone. We saw 4 of the Big 5s and were able to collect a lot of unforgettable impressions.
Andrew as a guide and Abdullah as a cook were great and gave us a wonderful stay.
Even if we were they at rain seasion we were very lucky with the weather und could see some rainbows.
Anita Zhang
–
CN
Visited: April 2023
Reviewed: Apr 5, 2023
Serengeti Wakanda Tours and Safaris is one of the best tour operators I have ever deal with.
We took 10day private safari ( 7nights lodges & 3nights camping, which is brilliant!

All the staff speak pretty good English, which makes communication go smoothly. Meanwhile, they got to know our personalities so that they can offer us something really attractive. Before choosing Serengeti Wakanda Tours and Safaris I tried to contact the six other tours agent, however, Serengeti Wakanda Tours and Safaris was the one who responded fastest and offer the full board service with the great value for money.
Driver Andrew is super professional for safari in all four National parks we have experienced. We saw all Big-5 including leopard, two groups of cheetahs playing around… … He is really good at tracking the animals so that we were always the first group to approach animals and always got the best location for viewing and pictures. Andrew is a caring person for sure. During those ten days journey, he was always welcoming and warm-hearted. We never got any chance to worry about anything everything is so organized, when we got Andrew.
Chef Dula was cooking local cuisine for us for five days. Those taste is lovely and even better than the food from some lodges.
For Safari in all, I highly recommend to take at least one camping night. You can hear zebras pecking by your ears and find a dropping from elephant just outside of your tent. Sunrise and sunset are both attractive you should not miss. Besides the beautiful view of sky, you can meet more animals during that period of time.

Over all, those ten days are amazing. Wakanda is definite a sound choice for me.

Angèle
–
FR
Visited: February 2023
Reviewed: Mar 23, 2023
Email Angèle | 20-35 years of age | Experience level: first safari
Amazing Safaris
What a great experience!
We had a wonderful stay with Félix, our guide during our Safari. Félix was very professional, attentive to our needs and all this in a good mood.
The chef, Idrissa, cooked us the best meals we have eaten in Tanzania, it was AMAZING!!!
I highly recommend this agency for your safari.

(automatic translation from French)
Disclaimer
All corporate and/or tour info is provided by Serengeti Wakanda Tours and Safaris, not SafariBookings