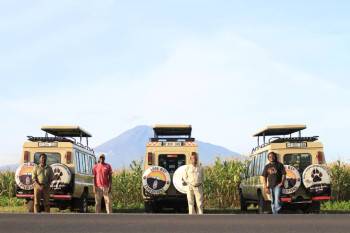 LongWay Expeditions
5.0/5 – 29 Reviews
Located In:

Size:

5-10 employees (Founded in

2017

)

Tour Types:

Custom mid-range tours that can start every day

Destinations:

Price Range:

$200 to $450

pp

per person

per day

(USD, excl. int'l flights)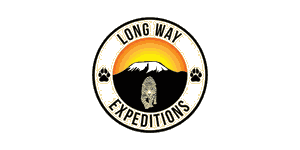 Rating Breakdown
5 star

29
4 star

0
3 star

0
2 star

0
1 star

0
Muriel
–
FR
Visited: January 2020
Reviewed: Apr 18, 2020
Email Muriel | 50-65 years of age | Experience level: first safari
Beautiful animal and human encounters
I was fortunate to travel to Tanzania in January 2020 and to be guided by Abu who is considerate. From Lake Victoria, to Serengeti, in the crater of N'Gorongoro and to Lake Manyara Abu knows how to observe and find the magnificent animals that inhabit his country. In English or French he can explain the life of the bush. I keep the memory of beautiful spaces and the kindness of Abu, I hope to be able to return to Tanzania to witness the migration of wildebeest, zebras ... guided by Abu.

Arthur
–
US
Visited: February 2020
Reviewed: May 11, 2020
Email Arthur | 20-35 years of age | Experience level: first safari
Cross the country!
My family was able to do the cross country tour with longway! Abu the owner was our guide and his positivity and knowledge was a true highlight of the trip. We really enjoyed the cross country travel as it got us away from the heavily trafficked areas to more
rural and authentic locations. The usambara mountains were a highlight as well as lake Chala and visiting a quiet part of the coastline. Thank you Abu and Ann for making our trip to Tanzania a great experience!
Don
–
US
Visited: January 2020
Reviewed: Feb 6, 2020
Email Don | 50-65 years of age | Experience level: first safari
Great Safari to Lake Manyara and Ngorongoro Crater
We very much enjoyed our two-day Safari with LongWay. Abu did a great job explaining everything, answering questions, and giving us great views of the animals. We based out of Farm of Dreams in Karatu which I also recommend if you are going to visit Lake Manyara or the Crater.
Thank you Ann and Abu!
Elizabeth
–
US
Visited: December 2017
Reviewed: Feb 27, 2019
Email Elizabeth | 35-50 years of age | Experience level: 2-5 safaris
The best experience! Professional and experienced tour guards! I will go back!
Excellent, on time, knowledgeable , professional personnel.
Jack C
–
Visited: July 2023
Reviewed: Jul 10, 2023
Email Jack C | 20-35 years of age | Experience level: first safari
A life-changing holiday experience in so many ways.
I've never been more impacted by a wildlife experience than I was by my safari with Long Way Expeditions.

For the seven days that my partner & I were on our safari through Northern Tanzania with Abu, we saw more incredible nature, animals & scenes than I've seen in my entire life.

I knew that safari would be busy with other tourists, but Abu & his 15 years of experience with not only travel & running a safari business, but as a guide too, made my partner & I feel like the national parks were entirely our own.

He knew exactly which roads to take, how to spot signs of animals nearby, where to look for them, & how to avoid crowds. Some of the most outrageous experiences we had with animals were had with next to no one around.

These included:
- 15 lions & lion cubs on a morning stroll.
- A group of baby elephants playing hide & seek.
- A mother cheetah & her two babies mid-hunt.
- Thousands of wilderbeast mid-migration.
- Two leopards mating at sunset.

We saw other guides taking a far less experienced approach to the way they toured the parks. We caught a number of guides near-antagonising animals, clearly in an effort to rouse them for photo opportunities, resulting in their immediate distress. This lack of experience by others was also felt in just how quickly we saw some groups leaving parks, with companies clearly content at a more minimal amount of time with & exposure to animals.

Even in the little moments, like our lunch, we felt this difference. Whenever we would peek into other cars around lunchtime, we would notice what they were eating, usually chicken & chips with the occasional sandwich. But each day with Abu we were treated to phenomenal local food, still warm, with fruit, juice & coffee on demand.

Outside of the wildlife, the moments in between were spent chatting with Abu endlessly. His knowledge of not only animals & safari's history, but the greater climate of Tanzania left a huge impact on us both, & captivated us for hours.

Our only regret is that Ann, his parter, & who he runs the business with, could not come also!

Their local experience, knowledge & care came through in everything that we did throughout our time. Abu knew everyone & every route to take. Every piece of incredible accommodation that we stayed at, both inside & outside of national parks was locally owned too. We learned not only about the animals we saw, but the infrastructure that supported our appreciation of them, & the local efforts to help conserve their future.

When you travel with a big international tour, it's easy to feel like you're just being ferried around from place to place. But when you book with a small business, that clearly cares deeply for what they're doing, what you experience is something entirely individual to you.

When you support a local company, your money isn't being sent via international payment gateways to offshore accounts that don't stay within the country you're holidaying in. Long Way may be young when compared to some other more 'traditional' safari companies, but in our eyes, supporting a locally owned business when the vast majority of safari companies are based overseas, was incredibly important to us.

Ann & Abu, Long Way's owners, told us in our conversations that they have been working on getting a payment gateway that travellers are familiar with, when right now operators like PayPal can't actually operate within Tanzania. We can assure you, through our experience, that they are absolutely to be trusted.

We're so glad to have had our holiday with Long Way, & feel all the better for having met them. They've earned lifelong supporters not only because of the holiday we had, but because of the impact we felt from going with them.
Lauren (Zelani)
–
US
Visited: June 2023
Reviewed: Jun 29, 2023
Email Lauren (Zelani) | 20-35 years of age | Experience level: 2-5 safaris
There is no way to describe Abu in one sentence other than that he's absolutely incredible.
OH MY GOSH, WOW! I cannot say enough wonderful things about Ann and Abu. Both were very accommodating, kind and so loving. They took me in as a parent would a daughter, and made me feel safe and cared for. Abu listened to my requests and made them happen. As I have lived in Arusha before, Abu made it possible for me to take a walk down memory lane before and after my safari. He joined me for dinners mid safari so I didn't have to eat by myself and the conversations we had were absolutely lovely. Abu and I had so much drive and chat time, I now feel like I've known him my whole life. Abu found so much wildlife and patiently for me to decide when I was done and ready to move to the next thing. You can tell Abu and Ann are experts in the field and in business. My only wish is that next time, Ann join in on safari, I missed her! I am excited because Abu and Ann would like to begin to give back to the community, and asked for pointers and ideas on how to do so. I am really looking forward to working closely with them to accomplish some big projects. Asante Sana, Ann and Abu!
María
–
DE
Visited: April 2023
Reviewed: Apr 18, 2023
Email María | 50-65 years of age | Experience level: 2-5 safaris
The best team I have ever travel with (and I have traveled)
The walking safaris and the day Kilimanjaro hike were unforgettable experiences, and we have so many wonderful memories that we will cherish for a lifetime.

Your team's attention to detail and professionalism throughout the trip was exceptional. I appreciated how well-organized everything was, and it was clear that a lot of thought and planning had gone into the itinerary. The accommodations were beautiful and comfortable and the food was delicious.

I cannot thank our guides, particularly Abu, enough for their expertise and enthusiasm. They were knowledgeable about the wildlife and the local culture, and they made the entire experience even more enjoyable. They were accommodating and ensured that we were safe and comfortable throughout the trip.

Ann the head of the customer service team was extremely responsive and helpful in answering my queries before and during the trip. Your team's professionalism and dedication to ensuring a great experience for your customers are truly commendable.

Overall, we had an incredible experience with Long Way Expeditions, and I would highly recommend your services to anyone looking to explore Tanzania. Thank you once again for providing us with an unforgettable adventure.
Maria Camilo
–
PT
Visited: February 2023
Reviewed: Mar 6, 2023
Email Maria Camilo | 65+ years of age | Experience level: over 5 safaris
LongWay Expeditions thrive to share with us their knowledge/love of Tanzanian wondrous wildlife
I got acquainted with Ann+Abu (the knowledgeable organizers) via Responsible Travel in 2022. Communications with both are very easy since they are both very professional and have a great command of English, both spoken and written. Via many e-mails, I did organize with Ann my first trip with my son and in-law which we thoroughly enjoyed during 8 days in early September 2022; Abu was the attentive and caring Driver/Guide. During our many conversations Abu mentioned the Migration calving in Ndutu area as something very special. A few months after my return I started friendly communications with Ann in order to organize my solo safari, this time 10 days which just happened in February. I have enjoyed safaris before, but the inner quality, professionalism and care of Abu raise these safaris to another level of friendly interaction where we learn to appreciate animal behavior details, that enhance the whole experience. This time I always stayed inside the Parks: 1 day Tarangire, 4 days Ndutu, 2 days central Serengeti, it was awesome. I must say that I never read anything about Tanzania tourism, hence these wondrous experiences rely on their profound knowledge and love of Tanzania. I cannot wait to go again with my new friends ANN and ABU to those mesmerizing Tanzanian Parks. I know how extremely reliable they are in every sense, organize safaris with great care both in the perspective of enjoying the diversity of scenery and animals whilst paying attention to the client budget and choice of Parks and Lodge .



Brigitte
–
DE
Visited: October 2022
Reviewed: Jan 22, 2023
Email Brigitte | 50-65 years of age | Experience level: 2-5 safaris
Super Safari experience
We had a great time with Abu on the safari. Abu is very patient and we saw so many nice animals really close to us.
Anna
–
Visited: December 2022
Reviewed: Jan 16, 2023
Email Anna | 35-50 years of age | Experience level: first safari
Great Experience with LongWay Expeditions
We went on a 4 day safari as a family of 3 (2 adults + child) with LongWay Expeditions. They were recommended to us by a UK Travel Agent "Responsible Travel" as their local partner. It was important for us to be able to tailor the length of the trip and locations to our needs, as well as to travel with a local tour operator. Ann has been very accommodating and helped us pick the best options, and was available to answer the queries as and when needed. We ended up picking the Tarangire National Park, the Ngorongoro Crater and the Lake Manyara; all completely different and absolutely worth visiting.

Nathan is a brilliant guide, not only did we see lots of animals, but his approach was very environmentally conscious and ethical. This was also of extreme importance to us when choosing a tour operator for our safari trip, and I can say I've sadly witnessed some other operators bending over backwards to satisfy the request of their customers, sometimes at the expense of safety or potential harm to wildlife.

We really appreciated Ann checking in on us before the start of the tour and afterwards, and loved the welcome gift!

I'll definitely be recommending LongWay Expeditions to friends and family!
Average User Rating
Rating Breakdown
5 star

29
4 star

0
3 star

0
2 star

0
1 star

0
Write a Review
Disclaimer
All corporate and/or tour info is provided by LongWay Expeditions, not SafariBookings
The tours offered by LongWay Expeditions are subject to their terms & conditions