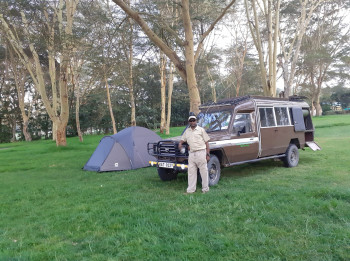 Gametrackers K
5.0/5 – 52 Reviews
Office In:

Size:

10-20 employees (Founded in

1981

)

Member Of:

KATO

& Ecotourism

Tour Types:

Custom mid-range tours that can start every day

Destinations:

Price Range:

$100 to $1,000

pp

per person

per day

(USD, excl. int'l flights)
Request a Quote


for a custom tour
Your request will be sent directly to the operator
If preferred, you can contact the operator directly
Rating Breakdown
Reshma Patel
–
Visited: December 2022
Reviewed: Mar 16, 2023
Email Reshma Patel | 35-50 years of age | Experience level: first safari
Excellent
We had a beautiful memorable trip to Turkana with gametrackers. The truck was very comfy and the driver was so caring and helpful. Vegetarian food at all the lodgings were pretty good.
Kat
–
Visited: February 2023
Reviewed: Mar 10, 2023
Email Kat | 35-50 years of age | Experience level: over 5 safaris
An amazing experience, definitely doing it again!
The tour was amazing. We saw 6 lions, hippo, giraffe and all sorts of other animals. Adrian was a great guide. Thank you so much!!! He was so knowledgeable and knew where to find all the animals. He also knew so much about plants and medicinal purpose of them, so interesting!

The tour was really easy to book and arrange. It really was such great value for money. Will definitely be using them again soon.

Elke
–
Visited: December 2022
Reviewed: Jan 6, 2023
Email Elke | 50-65 years of age | Experience level: first safari
Very professional and helpful from the first contact all the way through the safari experience
The bottom line: highly recommended company - Stacey brilliant, reliable, quick to reply and finding solutions for requirements;
Zack, our guide: very experienced - amazing at spotting wild life whilst negotiating at times tricky driving conditions, always happy to go the extra mile, very patient with and kind to my teenage boys! He is very knowledgeable, flexible and super company. He made us feel very safe, secure, extremely well looked after and even looked with us for a place in Nairobi to get some great coffee to take home. Nothing too difficult or too much for him.
We went the week before Christmas and came back New Year's Eve. Before Christmas, we were picked up at the airport in Nairobi, went to Ol Pajeta and then to Lake Nakuru. Both destinations had great wild life and Zack was just happy to spent as much time as we wanted on game drives. I was impressed by the good relationships the guides from different companies have in terms of sharing information on sightings of animals and it gave a real nice feel of NOT competition, but the desire to make the experience really great for us and also demonstrated the passion of Zack for the job and him enjoying the wildlife, landscapes, the country really. It's lovely to be in the company of someone who clearly enjoys sharing his amazing country.
Gametrackers then had made it possible for us to spent 2.5days over Christmas with our friends in Molo. Zack took as there and picked us up and even during our stay in Molo made sure we were ok and didn't need anything else.
After Christmas we had a brief overnight stop in Naivasha - did a boat safari for the hippos. Didn't go to Hell's gate as a) gorge was still closed after the incident of flash flooding a few yrs ago and it was also raining. The next day we went on to go to the Masai Mara which was truly spectacular. Again, Zack spent plenty of time to do game drives with us, even went into Tanzania and made great effort (and showed amazing driving skills in mud without getting stuck unlike several other vehicles) for us to see any animal he could spot far away or close by.
A brilliant experience, feeling safe and well looked after.
We all got on fantastically with Zack as he is so approachable. Would always go with Gametrackers again and of course ask for Zack to be our guide!
Fantastic country, great company

Tzippy Herman
–
IL
Visited: August 2022
Reviewed: Sep 24, 2022
Email Tzippy Herman | 35-50 years of age | Experience level: 2-5 safaris
Professional and helpful
Stacey the tour operator set us up on a perfect safari that met all of our requirements. The driver she paired us with was kind and patient for our family and a perfect match , we had a great time !
John Ulferts
–
US
Visited: July 2022
Reviewed: Aug 7, 2022
Email John Ulferts | 50-65 years of age | Experience level: over 5 safaris
Reliable, excellent company
We have completed three trips with Gametrackers K in Kenya and each trip has been exceptional. Gametrackers makes your Africa dreams come true. We put together an itinerary of parks we want to visit, and they make it happen. Gametrackers always maximizes game drives so that you have as much time as possible with the wildlife. Whether camping in the bush or staying in lodges, Gametrackers makes sure you have a quality experience. I highly recommend the company. Request Rufus as your driver if you can and Benard as your cook if you are camping.
Susanne
–
US
Visited: March 2022
Reviewed: Apr 5, 2022
Email Susanne | 50-65 years of age | Experience level: first safari
Very experienced tour operator with excellent service and outstanding guides
I planned our trip pre-pandemic in 2019 and initially I booked with Gametrackers an 8-day safari only, but when at the end of January 2022, we decided to start to travel again, I planned our whole trip with them to have one place of contact if we had to cancel again. This turned out to be a great decision because everything was organized perfectly. We did not have to worry about anything because every accommodation, transport, activity, and PCR test were taken care of.

When I selected Gametrackers I compared them with 4 other tour companies that were mentioned in my travel guides and I chose them because of their long experience, the company exists since over 40 years, and their reasonable pricing – some other companies offered the same safari, with the same accommodations and transport for up to 18% more. It tuned out that Gametrackers have also the most experienced and knowledgeable guides. Rufus who traveled with us for 10 days is amazing. Not only he can answer every question you could think of, but he also knows where the lions are climbing trees, giraffes are drinking water, the leopards are hunting. He is the best travel companion you can think of, we just had to express our wishes, and he took care of them. We were so spoiled.

One other thing that is very important for a safari is the vehicle and Gametrackers has simply the best. Their cars are specifically adapted for game viewing. You can lift the roof so that you have a 360 view, and you are still protected from the sun.
Before the travel we had our doubts if it is safe to travel again, but now we are so happy we did it. I read in my guidebooks that in high season it can get busy to the extent that you have 20 cars parked next to every sleeping lion, but we had it all undisturbed. Gametrackers guides are all vaccinated and tested before the start of the trip. The hotels are arranging a doctor to come in the hotel to take the PCR test if needed. Everything was much easier than expected.

Our trip started in Nairobi. The safari included in Kenya: Masai Mara, Lake Naivasha, and Amboseli, in Tanzania: Ngorongoro Crater and Serengeti National Park. Then we flew from Arusha to Zanzibar visiting Stone Town and Chumbe Island. At the end we travelled home from Dar es Saalam. It was an amazing experience.

Jayne Mc
–
Visited: January 2022
Reviewed: Feb 28, 2022
Email Jayne Mc | 35-50 years of age | Experience level: over 5 safaris
Stacey in the office was so patient in helping with the perfect custom itinerary for us!
After some lengthy research I decided to book my Northern Kenya trip with Gametrackers and I am very glad I did. They were very understanding when I had to postpone due to covid travel restrictions with international travel. They communicated promptly and helped me work out the perfect itinerary. I made many adjustments to the original itinerary and Stacey was always accomodating. We had a great trip!
SANTI FABIENNE
–
FR
Visited: July 2021
Reviewed: Jul 21, 2021
Email SANTI FABIENNE | 50-65 years of age | Experience level: 2-5 safaris
An unforgettable trip to North Kenya. Real professionals in the field and very friendly
We organized with Gametrackers a tailor-made solo trip to North Kenya (Turkana Lake, Kalacha, Marsabit, Samburu Reserve). The team is very attentive. The trip was beyond my expectations. First of all in terms of logistics, very good all-terrain vehicle. A driver guide who knows the terrain well and who was able to organize and offer me all the tribal visits on site. An outstanding cook with varied and excellent meals. A permanent exchange on the culture of the country. A very safe trip in terms of security and compliance with measures against the Covid. All this in a very happy atmosphere. In short, a very good value for money and a wonderful human experience in breathtaking landscapes. If I have just one tip, book with Gametrackers and travel, travel. Asanti Sana Zack and Peter. Asanti Sana Gametrackers.
David Hensley
–
Visited: November 2020
Reviewed: Dec 1, 2020
Email David Hensley | 50-65 years of age | Experience level: over 5 safaris
Wonderful - and varied - safari experiences with a first-class guide
On a recent trip to Nairobi we booked a trip to Naivasha with Gametrackers which was so good we booked a trip to Amboseli for the following weekend. On both occasions we were really lucky to have Adrian to guide us. He has a degree in wildlife conservation, and knows a remarkable amount about the birds and animals, and about conservation and the ways in which the human environment is encroaching on the wildlife. Adrian also has quite remarkable eyesight, with an ability to spot and recognise animals in the distance that we could hardly see, which hugely enhanced our experience of the trips.
I would also recommend all of the trips we took.
The boat trip on Lake Naivasha was wonderful, not just seeing fish eagles, king-fishers and hippopotamus on the lake, but also seeing game onshore from the lake.
We took the cycle tour of the Hells Gate park, just near Naivasha, which is an extraordinary trip. Not only the freedom of being able to cycle through the park, past warthogs and buffalo, zebra and wildebeest, but also the geography of the park, with dramatic cliffs and gorges.
The the second weekend we went to Amboseli - a four hour drive but well worth it. The Amboseli reserve has a range of environments from marsh and swamp to dry savannah, all under the enormous presence of Kilamanjaro. We saw lions after a kill, elephants walking past the camp at breakfast, and most memorably, when Adrian spotted some bat-eared foxes with cubs, a Martial Eagle flew down and took one of the cubs.
I'd strongly recommend Gametrackers for putting together a custom tour to meet your needs. We had tremendous trips.
Christopher Buchel
–
US
Visited: August 2019
Reviewed: Sep 8, 2019
Email Christopher Buchel | 20-35 years of age | Experience level: first safari
4-Day Masai Mara Safari with Accommodation at Crocodile Camp
When searching for a safari in Kenya, it is very easy to become overwhelmed by the sheer quantity of safari companies available, especially when booking from abroad, with no real possibility of face-to-face communication. Compounding this quandary is the lack of online reviews and resources with which to evaluate choices in a decision in which one is likely to make a significant investment.

What originally drew us to Gametrackers, therefore, was the fact that the company has existed for over 35 years, is an Eco-Tourism Kenya Corporate Member and is a member of KATO, a key tourism trade association in Kenya that has instituted high standards and a code of conduct that must be upheld in order to retain membership. Such safeguards protect against unscrupulous tour companies that deceive and exploit potential clients.

At a customer service level, however, Gametrackers proved to be superior in both response time and thoroughness. Our contact via e-mail, Judy, always responded to our messages the business day after receiving them and was helpful in addressing any of our questions and concerns. With such care, it was easy to place our trust in this safari company. Adding to this was the multitude of options of safari packages of varying length and location.

Concerning the safari experience itself, we will both easily state that it is and will remain one of the most memorable experiences of our lives. Lending to that was, of course, our sighting of a multitude of animals, from wildebeest, to lions, to hippos, to cheetahs, and elephants, all in their natural environment of the Maasai Mara, a landscape breathtakingly beautiful in itself. However, none of such sightings would have been possible without the expertise of our driver, guide and tracker Tim, whose knowledge, professionalism, and attentiveness to our needs were paramount. Tim is an encyclopedia of wildlife knowledge, able to answer almost any of our questions regarding the wildlife we spotted on our trip. And if he did not possess the answer himself, he was quick to extract a book that did or made a note to answer the question after returning to camp in the evening. He is also an incredible resource to two curious travelers, such as ourselves, who wished to know more about Kenyan culture, politics and society. But beyond that, Tim is an amazing person, whose intellect, care, eloquence, and affability contributed to our experience more than we could ever state. He is someone we were happy to spend our meals with, and who we would gladly continue to do so if he were not a continent away.

Accommodation at Crocodile Camp exceeded our expectations in both amenities and service. We expected to be sleeping on the ground in a small, pop-up tent, but instead spent each night sleeping in a mosquito-netted bed in a large, screened permanent tent with an attached bathroom, lulled to sleep by the sounds of the Maasai Mara night. All meals were home-cooked, and tasty, perfectly fitting to nourish after a long day of safari.

We would, without hesitation, recommend Gametrackers to anyone seeking an experience in Kenya to be remembered for a lifetime. We feel it is important to state that there certainly are accommodations available surrounding Maasai Mara with fancier rooms in 4-star resorts, more modern vehicles to drive around in, a pool to swim in, et cetera, and if such things are important to you, we were told that Gametrackers would gladly meet any of these requests. Simply stated, this is a company that deserves your business and will work to meet any of your needs.
Disclaimer
All corporate and/or tour info is provided by Gametrackers K, not SafariBookings
The tours offered by Gametrackers K are subject to their terms & conditions