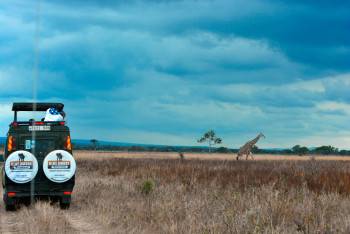 Rede Amore African Safari and Tours
5.0/5 – 10 Reviews
Located In:

Size:

5-10 employees (Founded in

2021

)

Member Of:

Tanzania Tourist Board

Tour Types:

Custom budget & mid-range tours that can start every day

Destinations:

Price Range:

$100 to $1,000

pp

per person

per day

(USD, excl. int'l flights)
Rede Amore African Safari and Tours
Rating Breakdown
5 star

10
4 star

0
3 star

0
2 star

0
1 star

0
Stella
–
PL
Visited: March 2023
Reviewed: Mar 31, 2023
Email Stella | 20-35 years of age | Experience level: 2-5 safaris
Tanzania Safari Magical Experience
5 Days Tanzania Safari and 7 Days Kilimanjaro Climbing
With the best Kilimanjaro Climbing operator in Moshi Tanzania.

7 Days Machame Route Kilimanjaro Climbing was the lifetime experience. We paid $750 per person to do this climb in a group of 7 people.

Thanks to my team for best service and hospitality.

Nalisis made our experience awesome from start to end.

I recommend them 100% percent.
Nadya Sudi
–
FR
Visited: September 2022
Reviewed: Nov 17, 2022
Email Nadya Sudi | 20-35 years of age | Experience level: first safari
Unforgettable Tanzania Safari Experience
I wanted to travel to Zanzibar for this summer of 2022, I went through google search process finally I met Amore African Safari. I shared my trip plan with them. After 1 day the proposal was sent via email showing every detail regarding to Tanzania Safari, Zanzibar Vacation and hotels plus what is included and not included.

Thanks to Nalisis was beneath with me and my wife to make sure we are part of the planning process. Finally the tour begun, at Kilimanjaro International Airport was what I dreamed for, here I met Nalisis at Aiport waiting for Us with Flowers, `it was Waaaaoooh. The next day we went for 5 Days Tanzania Safari to Tarangire National park, then Serengeti National park spending 2 nights and then Ngorongoro Crater. The last 5 days were spent in Zanzibar doing excursions and beach relaxing. Thanks to Nalisis for the best experience from start to end. He made us to feel we are part of our experience from the idea, plan and itinerary finally in adventure it self. Thanks to Mr. Mtaita our beloved tour Guide was very professional and knowledgeable.



Maria aa
–
FR
Visited: September 2022
Reviewed: Nov 11, 2022
Email Maria aa | 20-35 years of age | Experience level: over 5 safaris
Awesome Experience for best moment in Africa
Thanks to Amore African Safari team for best experience. I do appreciates for service provided to us. The Guide was very knowledgeable and well experienced has he was able to spot all animals and explain to us everything regarding to animal specie and lifestyle.

Betzalel Janusz
–
US
Visited: July 2021
Reviewed: Sep 20, 2021
Email Betzalel Janusz | 20-35 years of age | Experience level: first safari
Incredible Safari Experience in Tanzania
I was "what amazing island is this ..?". That was Zanzibar during my holiday ,I had a time there with my family. It was really good vacation with my family, I never had such amazing vacation in my lifetime before. I can say it was incredible Safari Experience.

Our tour begun when we started to book with Rede Tours for Tanzania Safari and Zanzibar Holiday. This was a family tour me, my wife and 3 children. It can be termed as buckelist. Thanks to Rede Tours for amazing Tanzania Safari and Incredible Zanzibar Holiday.

Hotels were good, also services during the tour were also good. We enjoyed to be in Tanzania as a family having a breakfast while watching animals in Lake Manyara National Park, also in Serengeti. Actually the whole trip to our country Tanzania was the main word this shows how Rede Tours and Safaris prayed a big role in planning a good trip for family. I recommend Rede Tours and Safaris for Family Tour in Tanzania Africa.

Thanks to the whole team, actually you were also incredible.
Joowon Kim
–
HK
Visited: August 2021
Reviewed: Sep 17, 2021
Email Joowon Kim | 20-35 years of age | Experience level: first safari
Tanzania Safari Adventure
Tanzania Safari Experience,
Tanzania is among growing countries in East Africa in terms of Tourism. I didn't wonder when Rede Tours Sales Manager told me I have found for you the luxury Lodge in serengeti and I had to pay 400$ just for a night and if two 700$ Based on full board. For sure That Safari I couldn't believe what I experienced. The tour was nice plus the hotel were both good Serena Ngorongoro was extra More good to me since I enjoyed the view of Ngorongoro from My room with My wife.

Rede Tours Organised everything perfect. I decided even to book with them in Zanzibar and it was enjoyable tour.

Serengeti and Ngorongoro were the best places were I seen many animals elephants, Zebra, Lion and other animals. The Guide was good to us and tried to explain everything to us. We enjoyed a lot about the natural landscape and view of mountains.

Services were good and fantastic.
Thanks for the best experience in Africa.
Whap Arkson
–
RU
Visited: July 2021
Reviewed: Sep 14, 2021
Email Whap Arkson | 20-35 years of age | Experience level: first safari
My Dream to Tanzania Africa
Tanzania is among countries in Africa, Idream to go, as I was younger my Father used to tell me the good things from Tanzania. He was inspiring me to reach such dream before I became old. The time reached after finishing my studies where I had to travel the world Tanzania being the first county in Africa to Visit. I searched for best tour operator in Tanzania and Africa in general ,I thanks God my first selection was right for me and I negotiated the price for 10 days Tanzania Safari including Zanzibar and Tanzania Safari.
I thanks to Nalisis who helped me from the start to the end.
Rede Tours was nice for me and I thought if the world could know , they could be booking their tour with Rede Tours and Safaris the best tour company in Africa and Tanzania in general.

Tanzania Safari was nice: Serengeti is a nice place to go and Ngorongoro. My 5 days Tanzania Safari was awesome and fantastic.
Next adventure was Zanzibar where Rede Tours booked for me to Double Tree by Hilton it was nice and reasonable rate and price for all activities for 5 days in Zanzibar.

Culture and lifestyle , hospitality is made from them I can say. I enjoyed a lot my time to Zanzibar thanks to the whole team for amazing experience in Tanzania.

Thanks Nalisis.
Ekaterina Alexander
–
RU
Visited: August 2021
Reviewed: Sep 13, 2021
Email Ekaterina Alexander | 35-50 years of age | Experience level: first safari
Best Tanzania Safari Operator
Booked a 2 day Zanzibar Plus Tanzania Safari experience which I used them to organize our car transportation and all activities in Tanzania.

I found the service and response of this travel agency to be excellent. Easy 5 stars. My emails were immediately reacted and everyone showed up when they should. The $ 110 charged transfer fee for my family seemed to be very good value.

The only reason I give this travel agency a 5-star is because our experience tour was very good and overly fantastic, so there is little room for improvement (or, for travelers, for whatever reason, consider other options). While a good tour, we found our private guide's Russian guide to be just good, not excellent (I could only understand 85 to 90% of what he said) and the tour was somewhat "standard. He took us A bit off the beaten path on the sites, however, it was a very enjoyable tour.As the guide and driver were friendly and polite and they constantly rely on the freedom of bottled water (and you need this, Even in the "cool" winter months) 6am sunrise in the Sernegeti National Park was an amalizing etam (my favorite shots are elephants and hundreds of other tourists, snapped photos), but I would do it again "for the experience"

(automatic translation from Russian)
Henry Lucas
–
Visited: August 2021
Reviewed: Sep 11, 2021
Email Henry Lucas | 35-50 years of age | Experience level: 2-5 safaris
Tanzania Safari for Journalist with Rede Tours
Zanzibar is among small Island with about 1.5 population. It's the best place to go since it's has luxurious Hotels and amazing activities to when you spend for holiday there. I with my friends as journalist we had an amazing moment in July 2021. The trip was nice and good. We booked with Rede Amore African Safari for the hotels and activities in Zanzibar. We thanks them for being kind to us and planned everything good and it's a nice adventure. They don't look for high but only your satisfaction, and enjoying the time in Zanzibar. Stone town was interesting part during our tour, followed by Prison, jozan Forest and Snorkeling.
We did all these when we were in Stone Town. The in Nungwi we experienced Safari Blue, Nakupenda and Beach plus Sun set. I thanks our Guide John for being kind to us. Thanks to the whole team of Rede Tours for organizing amazing trip for Us.

Hotels
Double Tree by Hilton was good and amazing we really enjoyed our stay.

Let's keep in touch hopefully to see you again.
Thanks
Hakuna Matata.
Naska John
–
SG
Visited: July 2021
Reviewed: Sep 9, 2021
Email Naska John | 20-35 years of age | Experience level: first safari
My Trip to Africa
My trip to Africa especially Tanzania was amazing trip. I booked with Rede Tours when I was in Dubai. Then they offered me free transfer from Kilimanjaro International Airport.

The Safari begun from Moshi to Arusha where I had a City tour in Arusha by visiting different areas example the historical heritage of Arusha.

The late afternoon the Safari to Serengeti continued where we had a moment in Ngorongoro the in evening we reached to Serengeti National park. I was waoooooohh.

I enjoyed the Sunset in Serengeti. Then it was already night.
My night was at Serena Serengeti
It was awesome night.

In the next day it was full game drive in Serengeti.

I enjoyed a lot and best moment in Serengeti.
Thanks to Rede Tours Guide for best experience and explanation.

Then after Tanzania Safari I went for Zanzibar , I couldn't go without visiting Zanzibar.

Zanzibar is the small island but with a lot of attractions.
The lifestyle, culture and behavior of these people is extremely amazing.
They have hospitality and all good things.

Excursions were good and amazing.
Thanks to the whole team of Rede Amore African Safari for best experience in Africa.
#ThisisAfrica.
Tata Navilish
–
TH
Visited: July 2021
Reviewed: Aug 30, 2021
Email Tata Navilish | 20-35 years of age | Experience level: first safari
Tanzania Safari Experience as Journalist
Zanzibar Is among the fascinating place in the world. My tour to this Island opened my eyes and made me me to discover new lifestyle, culture, food, excursions, how do people lives a long the Coast and there daily activities. I had to learn and practice some things, My Excursions were good and enjoyable. If you are planning the Tour to Africa I would recommend to pass in Zanzibar and book with these Guys Rede Tours they are good and Nice they don't chase for money but only to pay little that will help them to run all activities well and in safe side.

My Guide Nalisis was a nice person He taught me a lot about there culture and Language. Example "Hakuna Matata" means No problem. ," Jambo" means Hello.

These are some words you have to understand before getting to Zanzibar they will help you.

Thanks Rede Tours and Safaris for nice tour to Africa.

Average User Rating
Rating Breakdown
5 star

10
4 star

0
3 star

0
2 star

0
1 star

0
Write a Review
Disclaimer
All corporate and/or tour info is provided by Rede Amore African Safari and Tours, not SafariBookings