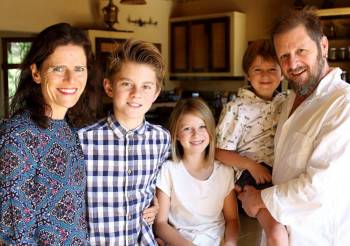 Compass Odyssey
5.0/5 – 251 Reviews
Located In:

Size:

1-5 employees (Founded in

2006

)

Member Of:

Southern Africa Tourism Services Association

Tour Types:

Custom mid-range & luxury tours that can start every day

Destinations:

Price Range:

$150 to $1,000

pp

per person

per day

(USD, excl. int'l flights)
Request a Quote


for a custom tour
Your request will be sent directly to the operator
If preferred, you can contact the operator directly
Rating Breakdown
5 star

247
4 star

4
3 star

0
2 star

0
1 star

0
Gabi
–
CH
Visited: November 2022
Reviewed: Nov 28, 2022
Email Gabi | 50-65 years of age | Experience level: first safari
It was a wonderful round trip, with many landscape impressions and animal diversity that Namibia has
From the beginning, Compass Odyssey tried very hard to fulfill our wishes. Even though we live far away from Namibia, everything worked wonderfully with the communication.
In Windhoeck we were personally welcomed by the guide and he helped us with all our wishes with words and deeds.
During the trip, the guide gave us a lot of information about his country.
He was a very careful driver.
I can only recommend the Compass Odyssey.
Joy
–
US
Visited: November 2022
Reviewed: Nov 28, 2022
Email Joy | 50-65 years of age | Experience level: 2-5 safaris
Another incredible safari with Compass Odyssey!
This is my second safari booked with Darren "Crusty" & Kate Humphries of Compass Odyssey. Crusty has put together a team that brings a level of expertise, attention to detail, & knowledge that are unmatched. They meticulously plan out your personalized safari to ensure it's exactly what YOU want and take care of all the details (attraction reservations, flights while in Africa, lodges/camps, etc.) so you can relax and enjoy your holiday. Before arrival, you are provided a VERY clear & concise dossier that lays out everything you need to know about your safari.

A bit about my safari. It started with a short stay in Zimbabwe with a day trip to Zambia where I "lived on the edge" at Devil's Pool in Victoria Falls. If it's not on your list… it should be. ;) Delicious dinners @ the Boma & The Lookout Cafe (The ostrich is fabulous!). Then it was off to Cape Town, where I had 3 of the most incredible days that included Table Mountain, Robben Island, Cape of Good Hope, Cape Penguins, and so much more. The next stop is the bush of Botswana, both in the Kalahari Desert & Okavango Delta. I was treated to lions, leopards, kudu, eland, zebra, elephants, and giraffes. I was lucky enough to witness the birth of a wildebeest and watch in awe as it took its first steps.

I would be remiss if I didn't mention and thank my primary guides & hosts while on holiday. Alan/guide in Joburg; Mortimer, Ruth, & family/guides in Zimbabwe; Garth/guide, Utah, Ivan, & Sean/hosts - Tintagel Guest House in South Africa; Leana & Cornel/hosts - Thamalakane River Lodge in Botswana; bush guides, Happy, Cindy, Simon, Bonno, & Bathusi. They are some of the most knowledgeable and amazing people I have ever met. They ensured I was well-taken care of from the moment I landed in Joburg until I had to leave for home.

Thank you, Crusty, Kate, & Compass Odyssey for another magical safari!!   
Nicola Lategan
–
QA
Visited: October 2022
Reviewed: Nov 26, 2022
Email Nicola Lategan | 35-50 years of age | Experience level: 2-5 safaris
Amazing experience, best operator we've ever dealt with!
Right from the start Compass Odyssey was the obvious choice. Communication with Darren and Kate was a breeze, they were super responsive & gave the right amount of information to keep us informed but not overwhelmed. They were happy to customize our trip & also gave us different budgeting options to keep us in our range. Their attention to detail is what really gave me confidence, and allowed our group of 4 friends to have an amazing trip!
We spent time in Vic Falls (perfect gateway to Africa - the Zambezi river is a must!) and then went on to Botswana with time in Chobe and the edge of the Okavango Delta. Transit was so smooth, and we were really well taken care of. Food, drinks, game drives and boat cruises were all so special, and every person we met was so welcoming and hospitable.
The Compass Odyssey team have a fantastic network of people that they work with, and their knowledge of this region is priceless. I highly recommend them!

Colleen and Phil Mewett
–
US
Visited: September 2022
Reviewed: Nov 8, 2022
Email Colleen and Phil Mewett | 65+ years of age | Experience level: first safari
Compass Odyssey is an excellent Company to work with and plan a safari - highly recommended.
After reading all the 5 star reviews about Compass Odyssey, I decided to write them an email saying that they are the company I would like to deal with regarding an African Safari for my wife and I. Choosing this company was the best thing I could have done!! We have just returned from the trip of a lifetime to Africa thanks to the expert travel planning skills of Darren and Kate. We spent 12 days in South Africa, Zambia, Zimbabwe and Botswana.

My first email to Compass Odyssey was back in June 2021 during the height of Covid and travel was almost impossible. I indicated that we would like to visit Kruger/Zambezi River/Victoria Falls/Chobe NP/Okavango Delta in September/October 2022 for between 10-14 days, hopefully Covid restrictions would be over by then. From this limited information Darren and Kate put together a wonderful trip for us which we will always remember.

Our safari started and ended in Johannesburg, with 3 days in Kruger National Park, 3 days in Victoria Falls, 3 days in Chobe National Park and 3 days in the Okavango Delta, before flying back to Johannesburg. The whole trip went like clockwork and every place we stayed was perfect for us. (We also spent 2 days on either side of our safari in Johannesburg to ensure some relaxation time on either end of our safari, and ensure that missed or late flights from the US were not a problem).

Our email communications with Darren and Kate during the 15 months leading up to our trip was absolutely first class – all my emails were answered promptly, usually within 24 hours, and I never felt any pressure at all to commit to anything during those long 15 months. The attention to detail in our pre-trip agenda was fantastic, from what travel documents were required, current Covid requirements and restrictions in the different countries, flight details, pickup times, meeting places, transfer names and times, Victoria Falls activities, etc, etc.

As for the safari itself...there were so many highlights. We saw the Big Five while we were at Kruger but the three that top my list were:

1. Being about 30 feet from watching 8 lions feasting on a recent cape buffalo kill...apparently there were 18 lions gorging themselves at this kill and some were just hiding and relaxing in the grass after having their fill This was at Chobe NP.

2. Again, being up close and personal watching 3 lionesses nursing 10 baby lions about 2 months old. Once they'd had their fill they just rolled over on their backs and chilled, taking no notice of their viewing audience. This was at Okavango Delta.

3. Following a leopard walking through some grass and climbing a dead tree where it continued to pose for us as we closed in and took pictures of this magnificent animal. This was also at Okavango Delta.

Add to these seeing wild dogs, hyenas and jackals at Kruger, rhinos with babies on the Rhino Walk, the magnificence of Victoria Falls, being up close and personal with crocodiles, elephants and hippos, unbelievable sunsets like you see in National Geographic, and so many other highlights. I have almost 2,500 photos from this trip.

All of the people we met on our trip were great, extremely friendly, and could not do enough for us.

I cannot emphasize how much we enjoyed this trip that Darren and Kate planned for us – it was wonderful and I highly recommend Compass Odyssey for anyone thinking about booking a safari.
Linda and Andrew Radomski
–
CA
Visited: September 2022
Reviewed: Oct 30, 2022
Email Linda and Andrew Radomski | 50-65 years of age | Experience level: first safari
Super detailed, friendly and alway in touch with us during our trip
We chose Compass Odyssey's 14 day, 13 night trip as it was exactly what we were looking for. Dealing with Darren was a joy. He was very personable and tailored his initial package to correspond with the flights we already had booked for travel to South Africa. We did 4 nights in Cape Town, 3 nights in Franschhoek in the winelands region, 2 nights at Senalala Lodge (for game drives) in the Klaserie Private Game Reserve (Kruger), 2 nights in Victoria Falls and 2 nights in Botswana by the Chobe River (for river and game drives).

The tour was private and everything was planned for us down to the smallest detail. Upon landing in Cape Town we were picked up by Keith our guide for the next 6 days. He was super friendly and very knowledgeable about the sights we were visiting and highly recommended.

At Senalala Safari Lodge we did morning and evening game drives and the animals we saw were beyond our expectations. There are only 6 guest rooms and we were treated as a family, eating our meals together (including the managers and guides). It was a wonderful experience.

In Victoria Falls we were picked up at the airport by Mortimer, toured the falls on both the Zambia and Zimbabwe side. We also did a helicopter tour over the Falls and up and down the Zambezi River. Mortimer took us across the borders which we were grateful for as there is a lot activity at the border crossings (trucks, people, etc). We really enjoyed his company as well. We stayed at Batonka Guest Lodge in Victoria Falls.

Chobe River (a 2 hour drive from Victoria Falls) is a special place which is home to hundreds of elephant, impala, hippos, crocodile to name a few animals. It was amazing to watch herds of elephants swim across from the mainland to the islands and back daily. We stayed at Chobe River lodge right on the river. This is a lovely intimate lodge and our guide Tefo was outstanding. We did morning game drives and evening river safaris.

To summarize, all of the accommodations, guides and local flights Darren coordinated were top notch. He totally prepared us for every move we made during our safari and we would highly recommend his company and tours. Well done Darren!
Brandy Hughes and family
–
CA
Visited: October 2022
Reviewed: Oct 26, 2022
Email Brandy Hughes and family | 50-65 years of age | Experience level: 2-5 safaris
An experience that exceeded our expectations in every way
I feel so fortunate that all my hours of online research into a safari company lead me to Compass Odyssey. From the initial booking, to years of delays due to the pandemic, to re-booking, and finally the safari experience itself, Darren and Kate were always quick to respond to any questions and concerns and did everything they could to make sure my family and I were able to fulfill our safari dream.

It would be wrong for me to say that our safari was exactly as described. In fact, it exceeded our expectations at every step of the way. Multiple times during the trip my husband and I looked at each other in awe and wondered "Is this really happening?!?". Even our moody teenagers were impressed. This was hands down the best family vacation we have ever had.

Our itinerary was perfectly balanced between a variety of activities and downtime; our local contacts and guides were friendly, experienced, and extremely knowledgable; and our accommodations were perfect.

I have already recommended Compass Odyssey to many of my friends and would without hesitation use them for future safari bookings. If you've spent as much time researching a safari company as I did, you can rest now and let Darren, Kate, and Compass Odyssey look after you from here.
Jean and Kathy
–
US
Visited: September 2022
Reviewed: Oct 16, 2022
Email Jean and Kathy | 65+ years of age | Experience level: over 5 safaris
Extraordinary Namibia Experience by a truly fantastic tour company
Elvis was the consummate guide- knowledgeable, companionable, and eager to show us Namibia. Every aspect of our Compass Odyssey tour was impeccably arranged. The level and extent of our pre-tour communication with Darren was remarkable- our regular tour company (OAT) could not hold a candle to the service and flexibility demonstrated by Compass Odyssey, and we would gladly travel with the company again. Our experiences ranged from the haunting, majestic dunes to the glorious seashore to the wildlife rich Etosha National Park- truly the adventure of a lifetime. And we had traveled to Africa 4 times previously! I'm just glad we found out about Compass Odyssey and were able to travel with them. The 4 of us in our little group had a fabulous time, and it was absolutely a terrific value. The only drawback was the time spent transiting from one area to the next on very dusty roads-
Brett and Cindy
–
US
Visited: September 2022
Reviewed: Oct 15, 2022
Email Brett and Cindy | 50-65 years of age | Experience level: first safari
Amazing trip, the attention to detail was outstanding!
This was absolutely an incredible trip. I believe it is the first time I have ever seen best-laid plans actually work. The communication with Darren was very quick and detailed. He was always there for us from the beginning of the planning stages to the end of the trip, including checking on us during the trip. The information in the itinerary he sent us covered every detail and smoothly guided us through four countries. At every new location there was always someone waiting for us to continue our journey. The guides (Brendan, Garth and Mortimer) and the safari guides were all outstanding, they took such good care of us. It truly was the trip of a lifetime, and it was all made possible by Kate and Darren Humphrys. I will always use and recommend Compass Odyssey for any travel to Southern Africa.
Alan and Andie Ramage-Brown
–
NZ
Visited: September 2022
Reviewed: Sep 27, 2022
Email Alan and Andie Ramage-Brown | 50-65 years of age | Experience level: 2-5 safaris
Superb attention to detail
Right from the start of our contact with Compass Odyssey, Darren and Kate were incredibly helpful, professional and we felt like they adopted us as friends. Their communication was extremely prompt and clear. The thorough information supplied about every aspect of our week in Botswana was on point. They went above and beyond giving detailed info regarding aspects of our African trip that we had booked independently from CO. Botswana was a dream. Loved our time in Chobe, especially time spent on the boats. The Chobe River Lodge was perfect for a two night stay and the meals were superb. Mma Dinare Camp in the Okavango Delta suited our budget and the staff were very attentive. Everything went perfectly according to plan with no hiccups along the way. A massive thank you to Compass Odyssey for helping making our African dreams come true.
Cathy and Nigel
–
Visited: August 2022
Reviewed: Sep 26, 2022
Email Cathy and Nigel | 50-65 years of age | Experience level: 2-5 safaris
Professional, honest, generous team….dreams come true
This is not a short review but please bear with me…..
I first got in touch with Compass Odyssey after reading a number of reviews way back in 2019. Their bio was encouraging given that Darren and Kate are both Australian expats with travel, tourism and nature based backgrounds. My background is travel and tourism and Australian so I knew what i was looking for in an agent to handle our booking (namely good knowledge, great level of service and efficiency). What I discovered very quickly was I had found exactly the people upon whom I could trust.
Initially the plan was to visited South Africa in March 2020 …… and we all know what happened that year!
Granted I had some ideas of what we wanted to do for our trip but Darren spent time (over email) getting an even deeper understanding of our style of travel (independent), standard and type of accommodation we preferred and how we saw the trip unfolding all of which was evident when Darren presented the initial itinerary to me. Not much changed from then in terms of itinerary structure which looked like:
3 nights Cape Town, self drive along the Garden Route to the Eastern Cape and the Drakensburg Mountains to Hoedspruit for 2 weeks (approx 3500 kilometres), 3 nights our at a private game reserve in Greater Kruger, flights to and from Victoria Falls (2 nights) and 3 nights back in Johannesburg ….just a little over 4 weeks.
Things were ticking along nicely and the nasty little bug called COVID-19 struck, Australia closed its international borders on the day we were due to depart! This is when Darren and Kate really earned their stripes with us. Our travel insurance was problematic, we still wanted to go to South Africa and we'd paid in full. What to do? Darren and Kate negotiated with the various accommodation properties whom agreed to hold our monies until late 2021. Excellent! But our borders remained closed and more negotiating saw monies being held until the end of 2022.
Our borders opened at the end of 2021, I changed our dates to Aug/Sep departure, Darren weaved his magic with the operators and we have just completed an amazing 4 weeks in South Africa. Granted a few places had closed their doors due to the pandemic but Darren was able to find same for same in most cases so there was some out of pocket but it could have been a whole lot worse.
Compass' communication is professional, timely, courteous and efficient. No question is too small or silly and in fact is encouraged throughout the process.
Compass' product knowledge is excellent.
Compass' customer service is outstanding ….nothing I've not experienced in many, many years.
Compass' final documentation to you is unbelievable….everything you need to know before you go.
Compass Odyssey are not about churning the customers through but rather befriending them and really getting to know and understand expectations with genuine care and understanding.
Whilst in Sth Af Darren communicated with us a few times to see how things were going, making sure the accommodation properties were expecting us. Again I've never experienced this level of service.
The trip was memorable, so well planned and executed….they even timed a nice luxury 2 day break in the middle of what was a very busy trip….so well timed and appreciated.
Even though the pandemic delayed our trip for 2.5 years the end result was so well worth the wait and I'm so grateful to Darren and Kate for everything they did to ensure that this was possible.
You can't go wrong in using Compass Odyssey as your African travel agent and yes I have already recommended them to friends and will use them again should we venture to back Africa (there's so much more to explore!)
5*+++

Average User Rating
Rating Breakdown
5 star

247
4 star

4
3 star

0
2 star

0
1 star

0
Write a Review
Disclaimer
All corporate and/or tour info is provided by Compass Odyssey, not SafariBookings